Abstract
To safeguard genome integrity in response to DNA double-strand breaks (DSBs), mammalian cells mobilize the neighbouring chromatin to shield DNA ends against excessive resection that could undermine repair fidelity and cause damage to healthy chromosomes1. This form of genome surveillance is orchestrated by 53BP1, whose accumulation at DSBs triggers sequential recruitment of RIF1 and the shieldin–CST–POLα complex2. How this pathway reflects and influences the three-dimensional nuclear architecture is not known. Here we use super-resolution microscopy to show that 53BP1 and RIF1 form an autonomous functional module that stabilizes three-dimensional chromatin topology at sites of DNA breakage. This process is initiated by accumulation of 53BP1 at regions of compact chromatin that colocalize with topologically associating domain (TAD) sequences, followed by recruitment of RIF1 to the boundaries between such domains. The alternating distribution of 53BP1 and RIF1 stabilizes several neighbouring TAD-sized structures at a single DBS site into an ordered, circular arrangement. Depletion of 53BP1 or RIF1 (but not shieldin) disrupts this arrangement and leads to decompaction of DSB-flanking chromatin, reduction in interchromatin space, aberrant spreading of DNA repair proteins, and hyper-resection of DNA ends. Similar topological distortions are triggered by depletion of cohesin, which suggests that the maintenance of chromatin structure after DNA breakage involves basic mechanisms that shape three-dimensional nuclear organization. As topological stabilization of DSB-flanking chromatin is independent of DNA repair, we propose that, besides providing a structural scaffold to protect DNA ends against aberrant processing, 53BP1 and RIF1 safeguard epigenetic integrity at loci that are disrupted by DNA breakage.
Relevant articles
Open Access articles citing this article.
Estelle Vincendeau

,

Wenming Wei

…

Ludovic Deriano

Nature Communications Open Access 28 June 2022

Sumin Feng

,

Sai Ma

…

Dongyi Xu

Nature Communications Open Access 17 February 2022

Qian Zhu

,

Jinzhou Huang

…

Zhenkun Lou

Nature Communications Open Access 17 November 2021
Access options
Subscribe to Nature+
Get immediate online access to the entire Nature family of 50+ journals
Subscribe to Journal
Get full journal access for 1 year
$199.00
only $3.90 per issue
All prices are NET prices.
VAT will be added later in the checkout.
Tax calculation will be finalised during checkout.
Buy article
Get time limited or full article access on ReadCube.
$32.00
All prices are NET prices.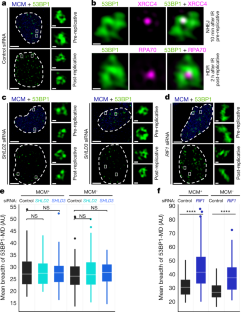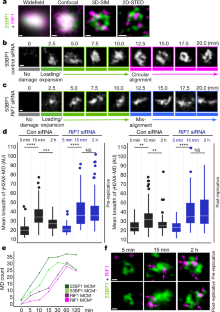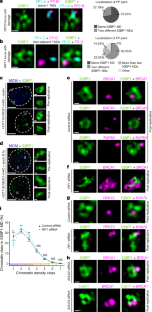 Data availability
Numerical and statistical source data for Figs. 1e, f, 2d, e, 3a, b, e–i and Extended Data Figs. 1d, e, 2c, e, f, 3b, 4d, 5b, 6c, d, 7a, b, d, 8c, d, 9c, 10b, d are provided online. Primary imaging data underlying widefield, confocal, SIM and STED images in Figs. 1a–d, 2a–c, f, 3a–h and Extended Data Figs. 1c, i–k, 2a–c, 4b, c, e, f, h, i, 5b, 6a, c, d, 7c, e, f, 8b–g, 9b, f–h, k, l have been deposited at the European Bioinformatics Institute (EBI) BioStudies database (https://www.ebi.ac.uk/biostudies/) with accession number S-BSST275. Processed imaging data sets underlying QIBC, QUANTEX, ChaiN and other analysis, including guidance on how to navigate data sets, are available from the corresponding authors. There are no restrictions on data availability.
References
Lukas, J., Lukas, C. & Bartek, J. More than just a focus: The chromatin response to DNA damage and its role in genome integrity maintenance. Nat. Cell Biol. 13, 1161–1169 (2011).

Setiaputra, D. & Durocher, D. Shieldin—the protector of DNA ends. EMBO Rep. 20, e47560 (2019).

Ochs, F. et al. 53BP1 fosters fidelity of homology-directed DNA repair. Nat. Struct. Mol. Biol. 23, 714–721 (2016).

Spies, J. et al. 53BP1 nuclear bodies enforce replication timing at under-replicated DNA to limit heritable DNA damage. Nat. Cell Biol. 21, 487–497 (2019).

Demmerle, J. et al. Strategic and practical guidelines for successful structured illumination microscopy. Nat. Protocols 12, 988–1010 (2017).

Kraus, F. et al. Quantitative 3D structured illumination microscopy of nuclear structures. Nat. Protocols 12, 1011–1028 (2017).

Wegel, E. et al. Imaging cellular structures in super-resolution with SIM, STED and localisation microscopy: a practical comparison. Sci. Rep. 6, 27290 (2016).

Chapman, J. R., Sossick, A. J., Boulton, S. J. & Jackson, S. P. BRCA1-associated exclusion of 53BP1 from DNA damage sites underlies temporal control of DNA repair. J. Cell Sci. 125, 3529–3534 (2012).

Natale, F. et al. Identification of the elementary structural units of the DNA damage response. Nat. Commun. 8, 15760 (2017).

Callen, E. et al. 53BP1 mediates productive and mutagenic DNA repair through distinct phosphoprotein interactions. Cell 153, 1266–1280 (2013).

Doil, C. et al. RNF168 binds and amplifies ubiquitin conjugates on damaged chromosomes to allow accumulation of repair proteins. Cell 136, 435–446 (2009).

Toledo, L. I. et al. ATR prohibits replication catastrophe by preventing global exhaustion of RPA. Cell 155, 1088–1103 (2013).

Bekker-Jensen, S. et al. Spatial organization of the mammalian genome surveillance machinery in response to DNA strand breaks. J. Cell Biol. 173, 195–206 (2006).

Marnef, A. & Legube, G. Organizing DNA repair in the nucleus: DSBs hit the road. Curr. Opin. Cell Biol. 46, 1–8 (2017).

Brown, J. M. et al. A tissue-specific self-interacting chromatin domain forms independently of enhancer-promoter interactions. Nat. Commun. 9, 3849 (2018).

Bintu, B. et al. Super-resolution chromatin tracing reveals domains and cooperative interactions in single cells. Science 362, eaau1783 (2018).

Cardozo Gizzi, A. M. et al. Microscopy-based chromosome conformation capture enables simultaneous visualization of genome organization and transcription in intact organisms. Mol. Cell 74, 212–222.e215 (2019).

Mateo, L. J. et al. Visualizing DNA folding and RNA in embryos at single-cell resolution. Nature 568, 49–54 (2019).

Nir, G. et al. Walking along chromosomes with super-resolution imaging, contact maps, and integrative modeling. PLoS Genet. 14, e1007872 (2018).

Szabo, Q., Bantignies, F. & Cavalli, G. Principles of genome folding into topologically associating domains. Sci. Adv. 5, eaaw1668 (2019).

Densham, R. M. & Morris, J. R. The BRCA1 ubiquitin ligase function sets a new trend for remodelling in DNA repair. Nucleus 8, 116–125 (2017).

Sobhian, B. et al. RAP80 targets BRCA1 to specific ubiquitin structures at DNA damage sites. Science 316, 1198–1202 (2007).

Miron, E. et al. Chromatin arranges in filaments of blobs with nanoscale functional zonation. Preprint at https://www.biorxiv.org/content/10.1101/566638v3 (2019).

Gupta, R. et al. DNA repair network analysis reveals shieldin as a key regulator of NHEJ and PARP inhibitor sensitivity. Cell 173, 972–988.e923 (2018).

Hein, M. Y. et al. A human interactome in three quantitative dimensions organized by stoichiometries and abundances. Cell 163, 712–723 (2015).

Ghezraoui, H. et al. 53BP1 cooperation with the REV7-shieldin complex underpins DNA structure-specific NHEJ. Nature 560, 122–127 (2018).

Rao, S. S. P. et al. Cohesin loss eliminates all loop domains. Cell 171, 305–320.e324 (2017).

Koch, B. et al. Generation and validation of homozygous fluorescent knock-in cells using CRISPR-Cas9 genome editing. Nat. Protocols 13, 1465–1487 (2018).

Cong, L. et al. Multiplex genome engineering using CRISPR/Cas systems. Science 339, 819–823 (2013).

Sartori, A. A. et al. Human CtIP promotes DNA end resection. Nature 450, 509–514 (2007).

Miron, E., Innocent, C., Heyde, S. & Schermelleh, L. In vivo and in situ replication labeling methods for super-resolution structured illumination microscopy of chromosome territories and chromatin domains. Methods Mol. Biol. 1431, 127–140 (2016).

Ball, G. et al. SIMcheck: a toolbox for successful super-resolution structured illumination microscopy. Sci. Rep. 5, 15915 (2015).

Schindelin, J. et al. Fiji: an open-source platform for biological-image analysis. Nat. Methods 9, 676–682 (2012).

Smeets, D. et al. Three-dimensional super-resolution microscopy of the inactive X chromosome territory reveals a collapse of its active nuclear compartment harboring distinct Xist RNA foci. Epigenetics Chromatin 7, 8 (2014).
Acknowledgements
The HeLa Kyoto cell line was a gift from S. Narumiya. The U2OS cell line stably expressing RINN1/SHLD3 was a gift from C. Choudhary. The HCT116 cell line with endogenously integrated RAD21–mAID–mClover was a gift from E. Lieberman Aiden. The HeLa cell line stably expressing Histone H2B–GFP was a gift from F. Barr. The pX335-U6-Chimeric_BB-CBh-hSpCas9n(D10A) plasmid was a gift from F. Zhang. The Flag-human53BP1-7A plasmid was a gift from A. Shibata. The JF585 dye was a gift from L. Lavis. Research funding for the Lukas laboratory was provided by the Novo Nordisk Foundation (grants NNF14CC0001 and NNF16CC0020906). We further acknowledge support from Wellcome Trust Strategic Awards 091911 and 107457 supporting advanced microscopy at the Micron Oxford Advanced Bioimaging Unit (L.S.), Medical Research Council award MC_UU_12009/1 (J.B. and V.B.), and the Advanced Light Microscopy Facility (ALMF) at EMBL, Heidelberg, and Abberior Instruments, Göttingen (M.L). We thank J. Dreier from the Protein Imaging Platform at Novo Nordisk Center for Protein Research for help with image analysis, and P. H. Varas from the Core Facility for Integrated Microscopy for advice on super-resolution microscopy, K. Somyajit for conceptual input to this study and all members of the Lukas laboratory for suggestions.
Ethics declarations
Competing interests
The authors declare no competing interests.
Additional information
Publisher's note Springer Nature remains neutral with regard to jurisdictional claims in published maps and institutional affiliations.
Peer review information Nature thanks Yujie Sun and the other, anonymous, reviewer(s) for their contribution to the peer review of this work.
Extended data figures and tables
Supplementary information
This figure contains all uncropped versions of the cropped western blots shown in the Extended Data Figures. Black boxes indicate cropped regions. Asterisk indicates unspecific protein band.
Methods, equipment and settings for microscopy. This table details information on imaging techniques, microscope equipment, image display, image processing, fluorophores and pseudo-colouring and sample preparation for all images shown in the main and extended data figures.
About this article
Cite this article
Ochs, F., Karemore, G., Miron, E. et al. Stabilization of chromatin topology safeguards genome integrity. Nature 574, 571–574 (2019). https://doi.org/10.1038/s41586-019-1659-4
Received:

Accepted:

Published:

Issue Date:

DOI: https://doi.org/10.1038/s41586-019-1659-4
Comments
By submitting a comment you agree to abide by our Terms and Community Guidelines. If you find something abusive or that does not comply with our terms or guidelines please flag it as inappropriate.