Abstract
The human brain has undergone substantial change since humans diverged from chimpanzees and the other great apes1,2. However, the genetic and developmental programs that underlie this divergence are not fully understood. Here we have analysed stem cell-derived cerebral organoids using single-cell transcriptomics and accessible chromatin profiling to investigate gene-regulatory changes that are specific to humans. We first analysed cell composition and reconstructed differentiation trajectories over the entire course of human cerebral organoid development from pluripotency, through neuroectoderm and neuroepithelial stages, followed by divergence into neuronal fates within the dorsal and ventral forebrain, midbrain and hindbrain regions. Brain-region composition varied in organoids from different iPSC lines, but regional gene-expression patterns remained largely reproducible across individuals. We analysed chimpanzee and macaque cerebral organoids and found that human neuronal development occurs at a slower pace relative to the other two primates. Using pseudotemporal alignment of differentiation paths, we found that human-specific gene expression resolved to distinct cell states along progenitor-to-neuron lineages in the cortex. Chromatin accessibility was dynamic during cortex development, and we identified divergence in accessibility between human and chimpanzee that correlated with human-specific gene expression and genetic change. Finally, we mapped human-specific expression in adult prefrontal cortex using single-nucleus RNA sequencing analysis and identified developmental differences that persist into adulthood, as well as cell-state-specific changes that occur exclusively in the adult brain. Our data provide a temporal cell atlas of great ape forebrain development, and illuminate dynamic gene-regulatory features that are unique to humans.
Relevant articles
Open Access articles citing this article.
Alexander L. Starr

,

David Gokhman

&

Hunter B. Fraser

Genome Biology Open Access 19 January 2023

Brianna K. Unda

,

Leon Chalil

…

Karun K. Singh

Molecular Psychiatry Open Access 06 January 2023

Ni A. An

,

Jie Zhang

…

Chuan-Yun Li

Nature Ecology & Evolution Open Access 02 January 2023
Access options
Subscribe to Nature+
Get immediate online access to Nature and 55 other Nature journal
Subscribe to Journal
Get full journal access for 1 year
$199.00
only $3.90 per issue
All prices are NET prices.
VAT will be added later in the checkout.
Tax calculation will be finalised during checkout.
Buy article
Get time limited or full article access on ReadCube.
$32.00
All prices are NET prices.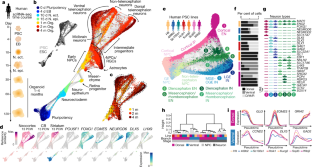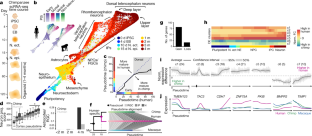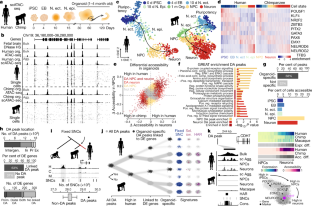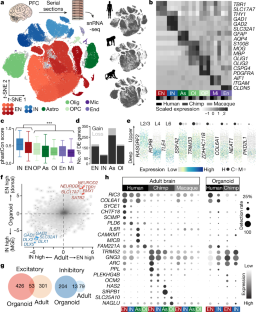 Data availability
Sequence data that support the findings of this study have been deposited in ArrayExpress with the accession codes E-MTAB-7552 (single-cell RNA-seq data based on 10x Genomics), E-MTAB-8234 (single-cell RNA-seq data based on Fluidigm C1/Smart-seq2), E-MTAB-8089 (single-cell ATAC-seq of human organoids), E-MTAB-8043 (single-cell ATAC-seq of chimpanzee organoids), E-MTAB-8083 (single-cell ATAC-seq of bonobo organoids), E-MTAB-8087 (single-cell ATAC-seq of macaque organoids), E-MTAB-8228 (the bulk ATAC-seq data), E-MTAB-8230 (snRNA-seq data of the adult brain samples) and E-MTAB-8231 (bulk RNA-seq data). The expression data are also available for exploration in scApeX via the link https://bioinf.eva.mpg.de/shiny/sample-apps/scApeX/.
References
Sousa, A. M. M., Meyer, K. A., Santpere, G., Gulden, F. O. & Sestan, N. Evolution of the human nervous system function, structure, and development. Cell 170, 226–247 (2017).

Martin, R. D. Relative brain size and basal metabolic rate in terrestrial vertebrates. Nature 293, 57–60 (1981).

He, Z. et al. Comprehensive transcriptome analysis of neocortical layers in humans, chimpanzees and macaques. Nat. Neurosci. 20, 886–895 (2017).

Sousa, A. M. M. et al. Molecular and cellular reorganization of neural circuits in the human lineage. Science 358, 1027–1032 (2017).

Somel, M. et al. Transcriptional neoteny in the human brain. Proc. Natl Acad. Sci. USA 106, 5743–5748 (2009).

Konopka, G. et al. Human-specific transcriptional networks in the brain. Neuron 75, 601–617 (2012).

Zhu, Y. et al. Spatiotemporal transcriptomic divergence across human and macaque brain development. Science 362, eaat8077 (2018).

Reilly, S. K. et al. Evolutionary genomics. Evolutionary changes in promoter and enhancer activity during human corticogenesis. Science 347, 1155–1159 (2015).

Lancaster, M. A. et al. Cerebral organoids model human brain development and microcephaly. Nature 501, 373–379 (2013).

Marchetto, M. C. N. et al. Differential L1 regulation in pluripotent stem cells of humans and apes. Nature 503, 525–529 (2013).

Camp, J. G. et al. Human cerebral organoids recapitulate gene expression programs of fetal neocortex development. Proc. Natl Acad. Sci. USA 112, 15672–15677 (2015).

Quadrato, G. et al. Cell diversity and network dynamics in photosensitive human brain organoids. Nature 545, 48–53 (2017).

Velasco, S. et al. Individual brain organoids reproducibly form cell diversity of the human cerebral cortex. Nature 570, 523–527 (2019).

Amiri, A. et al. Transcriptome and epigenome landscape of human cortical development modeled in organoids. Science 362, eaat6720 (2018).

Mora-Bermúdez, F. et al. Differences and similarities between human and chimpanzee neural progenitors during cerebral cortex development. eLife 5, e18683 (2016).

Pollen, A. A. et al. Establishing cerebral organoids as models of human-specific brain evolution. Cell 176, 743–756 (2019).

Weinreb, C., Wolock, S. & Klein, A. M. SPRING: a kinetic interface for visualizing high dimensional single-cell expression data. Bioinformatics 34, 1246–1248 (2018).

Miller, J. A. et al. Transcriptional landscape of the prenatal human brain. Nature 508, 199–206 (2014).

Nowakowski, T. J. et al. Spatiotemporal gene expression trajectories reveal developmental hierarchies of the human cortex. Science 358, 1318–1323 (2017).

La Manno, G. et al. RNA velocity of single cells. Nature 560, 494–498 (2018).

Renner, M. et al. Self-organized developmental patterning and differentiation in cerebral organoids. EMBO J. 36, 1316–1329 (2017).

Bakken, T. E. et al. A comprehensive transcriptional map of primate brain development. Nature 535, 367–375 (2016).

Leigh, S. R. Brain growth, life history, and cognition in primate and human evolution. Am. J. Primatol. 62, 139–164 (2004).

Marchetto, M. C. et al. Species-specific maturation profiles of human, chimpanzee and bonobo neural cells. eLife 8, e37527 (2019).

Otani, T., Marchetto, M. C., Gage, F. H., Simons, B. D. & Livesey, F. J. 2D and 3D stem cell models of primate cortical development identify species-specific differences in progenitor behavior contributing to brain size. Cell Stem Cell 18, 467–480 (2016).

Florio, M. et al. Evolution and cell-type specificity of human-specific genes preferentially expressed in progenitors of fetal neocortex. eLife 7, e32332 (2018).

Visel, A., Minovitsky, S., Dubchak, I. & Pennacchio, L. A. VISTA Enhancer Browser—a database of tissue-specific human enhancers. Nucleic Acids Res. 35, D88–D92 (2007).

Gregorio, I., Braghetta, P., Bonaldo, P. & Cescon, M. Collagen VI in healthy and diseased nervous system. Dis. Model. Mech. 11, dmm032946 (2018).

Schep, A. N., Wu, B., Buenrostro, J. D. & Greenleaf, W. J. chromVAR: inferring transcription-factor-associated accessibility from single-cell epigenomic data. Nat. Methods 14, 975–978 (2017).

Kilpinen, H. et al. Common genetic variation drives molecular heterogeneity in human iPSCs. Nature 546, 370–375 (2017).

Thomson, J. A. et al. Embryonic stem cell lines derived from human blastocysts. Science 282, 1145–1147 (1998).

Okita, K. et al. An efficient nonviral method to generate integration-free human-induced pluripotent stem cells from cord blood and peripheral blood cells. Stem Cells 31, 458–466 (2013).

Lancaster, M. A. & Knoblich, J. A. Generation of cerebral organoids from human pluripotent stem cells. Nat. Protoc. 9, 2329–2340 (2014).

Picelli, S. et al. Smart-seq2 for sensitive full-length transcriptome profiling in single cells. Nat. Methods 10, 1096–1098 (2013).

Kang, H. M. et al. Multiplexed droplet single-cell RNA-sequencing using natural genetic variation. Nat. Biotechnol. 36, 89–94 (2018).

Butler, A., Hoffman, P., Smibert, P., Papalexi, E. & Satija, R. Integrating single-cell transcriptomic data across different conditions, technologies, and species. Nat. Biotechnol. 36, 411–420 (2018).

Angerer, P. et al. destiny: diffusion maps for large-scale single-cell data in R. Bioinformatics 32, 1241–1243 (2016).

He, Z., Bammann, H., Han, D., Xie, G. & Khaitovich, P. Conserved expression of lincRNA during human and macaque prefrontal cortex development and maturation. RNA 20, 1103–1111 (2014).

Dougherty, M. L. et al. Transcriptional fates of human-specific segmental duplications in brain. Genome Res. 28, 1566–1576 (2018).

Fiddes, I. T. et al. Human-specific NOTCH2NL genes affect Notch signaling and cortical neurogenesis. Cell. 173, 1356–1369 (2018).

Dennis, M. Y. et al. Evolution of human-specific neural SRGAP2 genes by incomplete segmental duplication. Cell 149, 912–922 (2012).

Buenrostro, J. D., Giresi, P. G., Zaba, L. C., Chang, H. Y. & Greenleaf, W. J. Transposition of native chromatin for fast and sensitive epigenomic profiling of open chromatin, DNA-binding proteins and nucleosome position. Nat. Methods 10, 1213–1218 (2013).

Buenrostro, J. D. et al. Single-cell chromatin accessibility reveals principles of regulatory variation. Nature 523, 486–490 (2015).

Renaud, G., Stenzel, U. & Kelso, J. leeHom: adaptor trimming and merging for Illumina sequencing reads. Nucleic Acids Res. 42, e141 (2014).

Renaud, G., Stenzel, U., Maricic, T., Wiebe, V. & Kelso, J. deML: robust demultiplexing of Illumina sequences using a likelihood-based approach. Bioinformatics 31, 770–772 (2015).

Li, H. et al. The Sequence Alignment/Map format and SAMtools. Bioinformatics 25, 2078–2079 (2009).

ENCODE Project Consortium. An integrated encyclopedia of DNA elements in the human genome. Nature 489, 57–74 (2012).

Zhang, Y. et al. Model-based analysis of ChIP-seq (MACS). Genome Biol. 9, R137 (2008).

Robinson, J. T. et al. Integrative genomics viewer. Nat. Biotechnol. 29, 24–26 (2011).

Pliner, H. A. et al. Cicero predicts cis-regulatory DNA interactions from single-cell chromatin accessibility data. Mol. Cell 71, 858–871 (2018).

Preissl, S. et al. Single-nucleus analysis of accessible chromatin in developing mouse forebrain reveals cell-type-specific transcriptional regulation. Nat. Neurosci. 21, 432–439 (2018).

Suzuki, K. et al. Targeted gene correction minimally impacts whole-genome mutational load in human-disease-specific induced pluripotent stem cell clones. Cell Stem Cell 15, 31–36 (2014).

Mayer, C. et al. Developmental diversification of cortical inhibitory interneurons. Nature 555, 457–462 (2018).

McLean, C. Y. et al. GREAT improves functional interpretation of cis-regulatory regions. Nat. Biotechnol. 28, 495–501 (2010).

Quinlan, A. R. & Hall, I. M. BEDTools: a flexible suite of utilities for comparing genomic features. Bioinformatics 26, 841–842 (2010).

Lindblad-Toh, K. et al. A high-resolution map of human evolutionary constraint using 29 mammals. Nature 478, 476–482 (2011).

Prabhakar, S., Noonan, J. P., Pääbo, S. & Rubin, E. M. Accelerated evolution of conserved noncoding sequences in humans. Science 314, 786 (2006).

Gittelman, R. M. et al. Comprehensive identification and analysis of human accelerated regulatory DNA. Genome Res. 25, 1245–1255 (2015).

Cagan, A. et al. Natural selection in the great apes. Mol. Biol. Evol. 33, 3268–3283 (2016).

Peyrégne, S., Boyle, M. J., Dannemann, M. & Prüfer, K. Detecting ancient positive selection in humans using extended lineage sorting. Genome Res. 27, 1563–1572 (2017).

Prüfer, K. et al. The complete genome sequence of a Neanderthal from the Altai Mountains. Nature 505, 43–49 (2014).

Chintalapati, M., Dannemann, M. & Prüfer, K. Using the Neandertal genome to study the evolution of small insertions and deletions in modern humans. BMC Evol. Biol. 17, 179 (2017).

McLean, C. Y. et al. Human-specific loss of regulatory DNA and the evolution of human-specific traits. Nature 471, 216–219 (2011).

Fu, Y. et al. FunSeq2: a framework for prioritizing noncoding regulatory variants in cancer. Genome Biol. 15, 480 (2014).

Lambert, S. A. et al. The human transcription factors. Cell 172, 650–665 (2018).

Lake, B. B. et al. Neuronal subtypes and diversity revealed by single-nucleus RNA sequencing of the human brain. Science 352, 1586–1590 (2016).

Lake, B. B. et al. Integrative single-cell analysis of transcriptional and epigenetic states in the human adult brain. Nat. Biotechnol. 36, 70–80 (2018).

Yu, Q. & He, Z. Comprehensive investigation of temporal and autism-associated cell type composition-dependent and independent gene expression changes in human brains. Sci. Rep. 7, 4121 (2017).

Hafemeister, C. & Satija, R. Normalization and variance stabilization of single-cell RNA-seq data using regularized negative binomial regression. Preprint at bioRxiv https://doi.org/10.1101/576827 (2019).

Sloan, S.A. et al. Human astrocyte maturation captured in 3D cerebral cortical spheroids derived from pluripotent stem cells. Neuron 95, 779–790 (2017).
Acknowledgements
We thank D. Wollny, A. Brazovskaya, K. Köhler, T. Schaffer, B. Schellbach, A. Weihmann, R. Schultz, I. Bünger, M. Dannemann, R. Snabel, B. Vernot, W. Hevers, M. Schörnig, J. Kelso and K. Sekine for their help with this project; A. Fischer, M. Halbwax, K. Köhler and the Tchimpounga Sanctuary for support with generating the JoC iPSC line; L. Berninger and J. Peters for contributing Sc102a1 and SandraA organoids; B. B. Lake for sharing nuclei isolation protocols; and A. Fischer, M. Halbwax and the Lola ya Bonobo Sanctuary in Congo for contributing bonobo tissue for single-nucleus experiments. Karyotyping was supported by the Stem Cell Engineering Facility of CMCB at Technische Universität Dresden. Sorting was in part performed at the CUDZ at the Veterinary Medicine Faculty at the University of Leipzig. The silhouette images in the figures are credited to istockphoto.com for human (cole matt) and chimpanzee (A-digit), and flaticon.com for macaque (Freepik). This work was supported by the Max Planck Society (B.T.), Chan–Zuckerberg Initiative (B.T. and J.G.C.), European Research Council (Anthropoid, J.G.C.; Organomics; B.T.) and the NOMIS Foundation (S.P.). S.K. was supported by the Boehringer Ingelheim Fonds.
Ethics declarations
Competing interests
The authors declare no competing interests.
Additional information
Publisher's note Springer Nature remains neutral with regard to jurisdictional claims in published maps and institutional affiliations.
Peer review information Nature thanks Christopher Walsh and the other, anonymous, reviewer(s) for their contribution to the peer review of this work.
Extended data figures and tables
Supplementary information
This file contains a guide to Supplementary Tables 1-15, Supplementary Notes and Supplementary References.
This file contains Supplementary Tables 1-15 – see Supplementary Information document for guide.
About this article
Cite this article
Kanton, S., Boyle, M.J., He, Z. et al. Organoid single-cell genomic atlas uncovers human-specific features of brain development. Nature 574, 418–422 (2019). https://doi.org/10.1038/s41586-019-1654-9
Received:

Accepted:

Published:

Issue Date:

DOI: https://doi.org/10.1038/s41586-019-1654-9
Comments
By submitting a comment you agree to abide by our Terms and Community Guidelines. If you find something abusive or that does not comply with our terms or guidelines please flag it as inappropriate.