Abstract
Diabetes is far more prevalent in smokers than non-smokers, but the underlying mechanisms of vulnerability are unknown. Here we show that the diabetes-associated gene Tcf7l2 is densely expressed in the medial habenula (mHb) region of the rodent brain, where it regulates the function of nicotinic acetylcholine receptors. Inhibition of TCF7L2 signalling in the mHb increases nicotine intake in mice and rats. Nicotine increases levels of blood glucose by TCF7L2-dependent stimulation of the mHb. Virus-tracing experiments identify a polysynaptic connection from the mHb to the pancreas, and wild-type rats with a history of nicotine consumption show increased circulating levels of glucagon and insulin, and diabetes-like dysregulation of blood glucose homeostasis. By contrast, mutant Tcf7l2 rats are resistant to these actions of nicotine. Our findings suggest that TCF7L2 regulates the stimulatory actions of nicotine on a habenula–pancreas axis that links the addictive properties of nicotine to its diabetes-promoting actions.
Access options
Access Nature and 54 other Nature Portfolio journals
Get Nature+, our best-value online-access subscription
$29.99 / 30 days
cancel any time
Subscribe to this journal
Receive 51 print issues and online access
$199.00 per year
only $3.90 per issue
Rent or buy this article
Prices vary by article type
from$1.95
to$39.95
Prices may be subject to local taxes which are calculated during checkout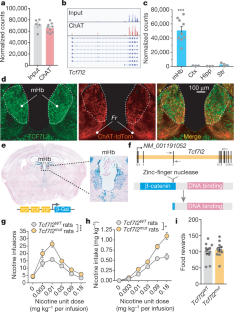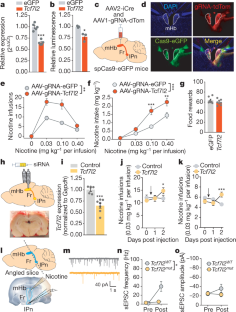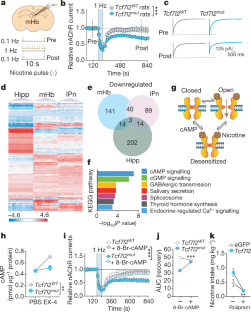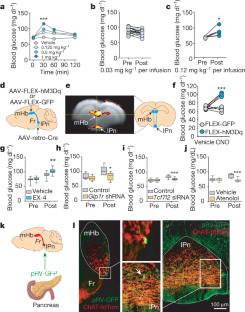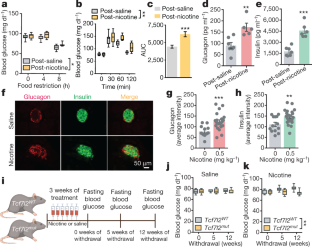 Similar content being viewed by others
Data availability
The RNA-seq data generated in this study are available at the Gene Expression Omnibus (GEO) under the accession code GSE137118. Other data that support the findings of this study are available as Extended Data and Supplementary Information, including uncropped western blot images.
References
Stolerman, I. P. & Jarvis, M. J. The scientific case that nicotine is addictive. Psychopharmacology (Berl.) 117, 2–10, discussion 14–20 (1995).

Maskos, U. et al. Nicotine reinforcement and cognition restored by targeted expression of nicotinic receptors. Nature 436, 103–107 (2005).

Fowler, C. D., Lu, Q., Johnson, P. M., Marks, M. J. & Kenny, P. J. Habenular α5 nicotinic receptor subunit signalling controls nicotine intake. Nature 471, 597–601 (2011).

Fowler, C. D. & Kenny, P. J. Nicotine aversion: neurobiological mechanisms and relevance to tobacco dependence vulnerability. Neuropharmacology 76 Pt B, 533–544 (2014).

Tuesta, L. M. et al. GLP-1 acts on habenular avoidance circuits to control nicotine intake. Nat. Neurosci. 20, 708–716 (2017).

Liu, Z. & Habener, J. F. Glucagon-like peptide-1 activation of TCF7L2-dependent Wnt signaling enhances pancreatic beta cell proliferation. J. Biol. Chem. 283, 8723–8735 (2008).

Grant, S. F. et al. Variant of transcription factor 7-like 2 (TCF7L2) gene confers risk of type 2 diabetes. Nat. Genet. 38, 320–323 (2006).

Sladek, R. et al. A genome-wide association study identifies novel risk loci for type 2 diabetes. Nature 445, 881–885 (2007).

Fuchsberger, C. et al. The genetic architecture of type 2 diabetes. Nature 536, 41–47 (2016).

Haggard, H. W. & Greenberg, L. A. The effects of cigarette smoking upon the blood sugar. Science 79, 165–166 (1934).

Sandberg, H., Roman, L., Zavodnick, J. & Kupers, N. The effect of smoking on serum somatotropin, immunoreactive insulin and blood glucose levels of young adult males. J. Pharmacol. Exp. Ther. 184, 787–791 (1973).

GBD 2015 Tobacco Collaborators. Smoking prevalence and attributable disease burden in 195 countries and territories, 1990-2015: a systematic analysis from the Global Burden of Disease Study 2015. Lancet 389, 1885–1906 (2017).

Willi, C., Bodenmann, P., Ghali, W. A., Faris, P. D. & Cornuz, J. Active smoking and the risk of type 2 diabetes: a systematic review and meta-analysis. J. Am. Med. Assoc. 298, 2654–2664 (2007).

Ren, J. et al. Habenula "cholinergic" neurons co-release glutamate and acetylcholine and activate postsynaptic neurons via distinct transmission modes. Neuron 69, 445–452 (2011).

Görlich, A. et al. Reexposure to nicotine during withdrawal increases the pacemaking activity of cholinergic habenular neurons. Proc. Natl Acad. Sci. USA 110, 17077–17082 (2013).

Dougherty, J. D., Schmidt, E. F., Nakajima, M. & Heintz, N. Analytical approaches to RNA profiling data for the identification of genes enriched in specific cells. Nucleic Acids Res. 38, 4218–4230 (2010).

Ables, J. L. et al. Retrograde inhibition by a specific subset of interpeduncular α5 nicotinic neurons regulates nicotine preference. Proc. Natl Acad. Sci. USA 114, 13012–13017 (2017).

Boj, S. F. et al. Diabetes risk gene and Wnt effector Tcf7l2/TCF4 controls hepatic response to perinatal and adult metabolic demand. Cell 151, 1595–1607 (2012).

Korinek, V. et al. Depletion of epithelial stem-cell compartments in the small intestine of mice lacking Tcf-4. Nat. Genet. 19, 379–383 (1998).

Geurts, A. M. et al. Knockout rats via embryo microinjection of zinc-finger nucleases. Science 325, 433 (2009).

Graham, T. A., Ferkey, D. M., Mao, F., Kimelman, D. & Xu, W. Tcf4 can specifically recognize β-catenin using alternative conformations. Nat. Struct. Biol. 8, 1048–1052 (2001).

Molenaar, M. et al. XTcf-3 transcription factor mediates beta-catenin-induced axis formation in Xenopus embryos. Cell 86, 391–399 (1996).

Ip, W., Shao, W., Chiang, Y. T. & Jin, T. The Wnt signaling pathway effector TCF7L2 is upregulated by insulin and represses hepatic gluconeogenesis. Am. J. Physiol. Endocrinol. Metab. 303, E1166–E1176 (2012).

Huang, S. M. et al. Tankyrase inhibition stabilizes axin and antagonizes Wnt signalling. Nature 461, 614–620 (2009).

McGehee, D. S., Heath, M. J., Gelber, S., Devay, P. & Role, L. W. Nicotine enhancement of fast excitatory synaptic transmission in CNS by presynaptic receptors. Science 269, 1692–1696 (1995).

Zoli, M., Léna, C., Picciotto, M. R. & Changeux, J. P. Identification of four classes of brain nicotinic receptors using β2 mutant mice. J. Neurosci. 18, 4461–4472 (1998).

Murray, K. D., Choudary, P. V. & Jones, E. G. Nucleus- and cell-specific gene expression in monkey thalamus. Proc. Natl Acad. Sci. USA 104, 1989–1994 (2007).

Skoglund, G., Hussain, M. A. & Holz, G. G. Glucagon-like peptide 1 stimulates insulin gene promoter activity by protein kinase A-independent activation of the rat insulin I gene cAMP response element. Diabetes 49, 1156–1164 (2000).

Giniatullin, R., Nistri, A. & Yakel, J. L. Desensitization of nicotinic ACh receptors: shaping cholinergic signaling. Trends Neurosci. 28, 371–378 (2005).

Paradiso, K. & Brehm, P. Long-term desensitization of nicotinic acetylcholine receptors is regulated via protein kinase A-mediated phosphorylation. J. Neurosci. 18, 9227–9237 (1998).

Huganir, R. L., Delcour, A. H., Greengard, P. & Hess, G. P. Phosphorylation of the nicotinic acetylcholine receptor regulates its rate of desensitization. Nature 321, 774–776 (1986).

Li, Y. F. et al. Antidepressant- and anxiolytic-like effects of the phosphodiesterase-4 inhibitor rolipram on behavior depend on cyclic AMP response element binding protein-mediated neurogenesis in the hippocampus. Neuropsychopharmacology 34, 2404–2419 (2009).

Zhao, T. J. et al. Ghrelin secretion stimulated by β1-adrenergic receptors in cultured ghrelinoma cells and in fasted mice. Proc. Natl Acad. Sci. USA 107, 15868–15873 (2010).

Neil-Dwyer, G., Bartlett, J., McAinsh, J. & Cruickshank, J. M. β-adrenoceptor blockers and the blood–brian barrier. Br. J. Clin. Pharmacol. 11, 549–553 (1981).

O'Dell, L. E. & Nazarian, A. Enhanced vulnerability to tobacco use in persons with diabetes: a behavioral and neurobiological framework. Prog. Neuropsychopharmacol. Biol. Psychiatry 65, 288–296 (2016).

Perkins, K. A., Epstein, L. H., Sexton, J. E. & Pastor, S. Effects of smoking cessation on consumption of alcohol and sweet, high-fat foods. J. Subst. Abuse 2, 287–297 (1990).

Yamaguchi, T., Danjo, T., Pastan, I., Hikida, T. & Nakanishi, S. Distinct roles of segregated transmission of the septo-habenular pathway in anxiety and fear. Neuron 78, 537–544 (2013).

Soria-Gómez, E. et al. Habenular CB1 receptors control the expression of aversive memories. Neuron 88, 306–313 (2015).

Zhang, J. et al. Presynaptic excitation via GABAB receptors in habenula cholinergic neurons regulates fear memory expression. Cell 166, 716–728 (2016).

Chou, M. Y. et al. Social conflict resolution regulated by two dorsal habenular subregions in zebrafish. Science 352, 87–90 (2016).

Zhao, Z. et al. A central catecholaminergic circuit controls blood glucose levels during stress. Neuron 95, 138–152.e5 (2017).

Wang, Z. & Ma'ayan, A. An open RNA-Seq data analysis pipeline tutorial with an example of reprocessing data from a recent Zika virus study F100Res. 5, 1574 (2016).

Dobin, A. et al. STAR: ultrafast universal RNA-seq aligner. Bioinformatics 29, 15–21 (2013).

Liao, Y., Smyth, G. K. & Shi, W. featureCounts: an efficient general purpose program for assigning sequence reads to genomic features. Bioinformatics 30, 923–930 (2014).

Clark, N. R. et al. The characteristic direction: a geometrical approach to identify differentially expressed genes. BMC Bioinformatics 15, 79 (2014).

Chen, E. Y. et al. Enrichr: interactive and collaborative HTML5 gene list enrichment analysis tool. BMC Bioinformatics 14, 128 (2013).

Kuleshov, M. V. et al. Enrichr: a comprehensive gene set enrichment analysis web server 2016 update. Nucleic Acids Res. 44 (W1), W90–W97 (2016).
Acknowledgements
This work was supported by grants from the National Institute on Drug Abuse to P.J.K. (DA020686) and I.I-T. (DA035756). We thank S. Stanley for pRV-GFP virus, J. Lindstrom for the α4β2α5 nAChR cell line, M. Conkright for the EVX1-CREB-luciferase-GFP reporter, A. Stewart for INS-1 cells and M. Hayes for the AAV1-shGlp1r-GFP virus. The Lenti-7xTcf-FFluc-SV40-mCherry reporter (7TFC) and dominant-negative Tcf7l2 construct (EdTc) were gifts from R. Nusse. Oxycodone and cocaine were supplied by the NIDA Drug Supply Program.
Ethics declarations
Competing interests
P.J.K. is co-founder of Eolas Therapeutics Inc., which has a licensing agreement with AstraZeneca to develop small molecule treatments for drug dependence. P.J.K. has research support from Eli Lilly and Takeda USA.
Additional information
Publisher's note Springer Nature remains neutral with regard to jurisdictional claims in published maps and institutional affiliations.
Peer review information Nature thanks Peter Kalivas, Tamas Horvath and the other, anonymous, reviewer(s) for their contribution to the peer review of this work.
Extended data figures and tables
Supplementary information
This file contains the full-length uncropped Western blot images
About this article
Cite this article
Duncan, A., Heyer, M.P., Ishikawa, M. et al. Habenular TCF7L2 links nicotine addiction to diabetes. Nature 574, 372–377 (2019). https://doi.org/10.1038/s41586-019-1653-x
Received:

Accepted:

Published:

Issue Date:

DOI: https://doi.org/10.1038/s41586-019-1653-x
Comments
By submitting a comment you agree to abide by our Terms and Community Guidelines. If you find something abusive or that does not comply with our terms or guidelines please flag it as inappropriate.