Abstract
In cancer, recurrent somatic single-nucleotide variants—which are rare in most paediatric cancers—are confined largely to protein-coding genes1,2,3. Here we report highly recurrent hotspot mutations (r.3A>G) of U1 spliceosomal small nuclear RNAs (snRNAs) in about 50% of Sonic hedgehog (SHH) medulloblastomas. These mutations were not present across other subgroups of medulloblastoma, and we identified these hotspot mutations in U1 snRNA in only <0.1% of 2,442 cancers, across 36 other tumour types. The mutations occur in 97% of adults (subtype SHHδ) and 25% of adolescents (subtype SHHα) with SHH medulloblastoma, but are largely absent from SHH medulloblastoma in infants. The U1 snRNA mutations occur in the 5′ splice-site binding region, and snRNA-mutant tumours have significantly disrupted RNA splicing and an excess of 5′ cryptic splicing events. Alternative splicing mediated by mutant U1 snRNA inactivates tumour-suppressor genes (PTCH1) and activates oncogenes (GLI2 and CCND2), and represents a target for therapy. These U1 snRNA mutations provide an example of highly recurrent and tissue-specific mutations of a non-protein-coding gene in cancer.
Access options
Subscribe to Journal
Get full journal access for 1 year
$199.00
only $3.90 per issue
All prices are NET prices.
VAT will be added later in the checkout.
Rent or Buy article
Get time limited or full article access on ReadCube.
from$8.99
All prices are NET prices.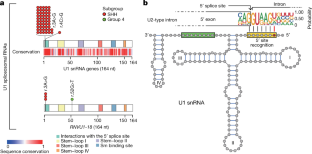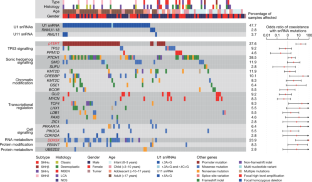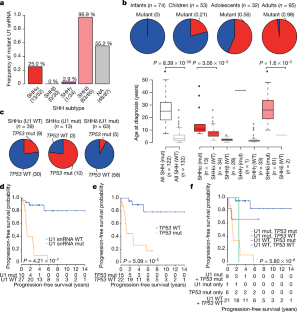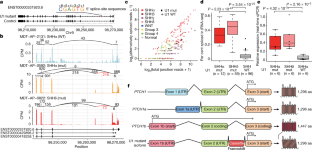 Data availability
Sequencing data have been deposited in the European Genome–Phenome Archive (EGA) and Gene Expression Omnibus (GEO): RNA-seq (EGAD00001001899 and EGAD00001004958), whole-genome sequences (EGAD00001003125 and EGAD00001004347) and RNA-seq of exogenous expression analyses (GSE128005). Materials used in this study are available from the following: GENCODE (ftp://ftp.ebi.ac.uk/pub/databases/gencode/Gencode_human/release_19/gencode.v19.annotation.gtf.gz), ICGC (https://icgc.org/), hs37d5 reference (ftp://ftp.1000genomes.ebi.ac.uk/vol1/ftp/technical/reference/phase2_reference_assembly_sequence), Burrows–Wheeler aligner (bwa) (http://bio-bwa.sourceforge.net/), Mutect2 (https://software.broadinstitute.org/gatk/), EBCall (https://github.com/friend1ws/EBCall), Varscan2 (http://dkoboldt.github.io/varscan/), Strelka (https://github.com/Illumina/strelka), SomaticSniper (http://gmt.genome.wustl.edu/packages/somatic-sniper/), Virmid (https://sourceforge.net/p/virmid/wiki/Home/), Platypus (http://www.well.ox.ac.uk/platypus), Seurat (https://sites.google.com/site/seuratsomatic/home), ENCODE (https://www.encodeproject.org/), PennCNV (http://penncnv.openbioinformatics.org/en/latest/), Database of Genomic Variants (http://dgv.tcag.ca/dgv/app/home), Genomon Project (https://github.com/Genomon-Project), SpliceRack (http://katahdin.mssm.edu/splice/index.cgi?database=spliceNew) and GEO (https://www.ncbi.nlm.nih.gov/geo/)
References
1.

Pugh, T. J. et al. Medulloblastoma exome sequencing uncovers subtype-specific somatic mutations. Nature 488, 106–110 (2012).

2.

Jones, D. T. et al. Dissecting the genomic complexity underlying medulloblastoma. Nature 488, 100–105 (2012).

3.

Northcott, P. A. et al. The whole-genome landscape of medulloblastoma subtypes. Nature 547, 311–317 (2017).

4.

Northcott, P. A., Korshunov, A., Pfister, S. M. & Taylor, M. D. The clinical implications of medulloblastoma subgroups. Nat. Rev. Neurol. 8, 340–351 (2012).

5.

Northcott, P. A. et al. Medulloblastoma comprises four distinct molecular variants. J. Clin. Oncol. 29, 1408–1414 (2011).

6.

Taylor, M. D. et al. Molecular subgroups of medulloblastoma: the current consensus. Acta Neuropathol. 123, 465–472 (2012).

7.

Cavalli, F. M. G. et al. Intertumoral heterogeneity within medulloblastoma subgroups. Cancer Cell 31, 737–754 (2017).

8.

Huang, F. W. et al. Highly recurrent TERT promoter mutations in human melanoma. Science 339, 957–959 (2013).

9.

Gan, K. A., Carrasco Pro, S., Sewell, J. A. & Fuxman Bass, J. I. Identification of single nucleotide non-coding driver mutations in cancer. Front. Genet. 9, 16 (2018).

10.

Manser, T. & Gesteland, R. F. Human U1 loci: genes for human U1 RNA have dramatically similar genomic environments. Cell 29, 257–264 (1982).

11.

Li, Y. I. et al. Annotation-free quantification of RNA splicing using LeafCutter. Nat. Genet. 50, 151–158 (2018).

12.

Shen, S. et al. rMATS: robust and flexible detection of differential alternative splicing from replicate RNA-seq data. Proc. Natl Acad. Sci. USA 111, E5593–E5601 (2014).

13.

Lee, J. H., You, J., Dobrota, E. & Skalnik, D. G. Identification and characterization of a novel human PP1 phosphatase complex. J. Biol. Chem. 285, 24466–24476 (2010).

14.

Tessema, M. et al. Differential epigenetic regulation of TOX subfamily high mobility group box genes in lung and breast cancers. PLoS ONE 7, e34850 (2012).

15.

Kogerman, P. et al. Alternative first exons of PTCH1 are differentially regulated in vivo and may confer different functions to the PTCH1 protein. Oncogene 21, 6007–6016 (2002).

16.

Sasaki, H., Nishizaki, Y., Hui, C., Nakafuku, M. & Kondoh, H. Regulation of Gli2 and Gli3 activities by an amino-terminal repression domain: implication of Gli2 and Gli3 as primary mediators of Shh signaling. Development 126, 3915–3924 (1999).

17.

Huard, J. M., Forster, C. C., Carter, M. L., Sicinski, P. & Ross, M. E. Cerebellar histogenesis is disturbed in mice lacking cyclin D2. Development 126, 1927–1935 (1999).

18.

Kenney, A. M. & Rowitch, D. H. Sonic hedgehog promotes G1 cyclin expression and sustained cell cycle progression in mammalian neuronal precursors. Mol. Cell. Biol. 20, 9055–9067 (2000).

19.

Mirzaa, G. et al. De novo CCND2 mutations leading to stabilization of cyclin D2 cause megalencephaly–polymicrogyria–polydactyly–hydrocephalus syndrome. Nat. Genet. 46, 510–515 (2014).

20.

Dvinge, H., Kim, E., Abdel-Wahab, O. & Bradley, R. K. RNA splicing factors as oncoproteins and tumour suppressors. Nat. Rev. Cancer 16, 413–430 (2016).

21.

Kim, E. et al. SRSF2 mutations contribute to myelodysplasia by mutant-specific effects on exon recognition. Cancer Cell 27, 617–630 (2015).

22.

Mullighan, C. G. et al. Genome-wide analysis of genetic alterations in acute lymphoblastic leukaemia. Nature 446, 758–764 (2007).

23.

Seiler, M. et al. H3B-8800, an orally available small-molecule splicing modulator, induces lethality in spliceosome-mutant cancers. Nat. Med. 24, 497–504 (2018).

24.

Morrissy, A. S. et al. Divergent clonal selection dominates medulloblastoma at recurrence. Nature 529, 351–357 (2016).

25.

Cibulskis, K. et al. Sensitive detection of somatic point mutations in impure and heterogeneous cancer samples. Nat. Biotechnol. 31, 213–219 (2013).

26.

Shiraishi, Y. et al. An empirical Bayesian framework for somatic mutation detection from cancer genome sequencing data. Nucleic Acids Res. 41, e89 (2013).

27.

Koboldt, D. C. et al. VarScan 2: somatic mutation and copy number alteration discovery in cancer by exome sequencing. Genome Res. 22, 568–576 (2012).

28.

Saunders, C. T. et al. Strelka: accurate somatic small-variant calling from sequenced tumor-normal sample pairs. Bioinformatics 28, 1811–1817 (2012).

29.

Larson, D. E. et al. SomaticSniper: identification of somatic point mutations in whole genome sequencing data. Bioinformatics 28, 311–317 (2012).

30.

Kim, S. et al. Virmid: accurate detection of somatic mutations with sample impurity inference. Genome Biol. 14, R90 (2013).

31.

Rimmer, A. et al. Integrating mapping-, assembly- and haplotype-based approaches for calling variants in clinical sequencing applications. Nat. Genet. 46, 912–918 (2014).

32.

Christoforides, A. et al. Identification of somatic mutations in cancer through Bayesian-based analysis of sequenced genome pairs. BMC Genomics 14, 302 (2013).

33.

Wang, K., Li, M. & Hakonarson, H. ANNOVAR: functional annotation of genetic variants from high-throughput sequencing data. Nucleic Acids Res. 38, e164 (2010).

34.

Boeva, V. et al. Control-FREEC: a tool for assessing copy number and allelic content using next-generation sequencing data. Bioinformatics 28, 423–425 (2012).

35.

Dobin, A. et al. STAR: ultrafast universal RNA-seq aligner. Bioinformatics 29, 15–21 (2013).

36.

Robinson, J. T. et al. Integrative genomics viewer. Nat. Biotechnol. 29, 24–26 (2011).

37.

Kalvari, I. et al. Rfam 13.0: shifting to a genome-centric resource for non-coding RNA families. Nucleic Acids Res. 46, D335–D342 (2018).

38.

Darty, K., Denise, A. & Ponty, Y. VARNA: interactive drawing and editing of the RNA secondary structure. Bioinformatics 25, 1974–1975 (2009).

39.

Sheth, N. et al. Comprehensive splice-site analysis using comparative genomics. Nucleic Acids Res. 34, 3955–3967 (2006).

40.

Wagih, O. ggseqlogo: a versatile R package for drawing sequence logos. Bioinformatics 33, 3645–3647 (2017).

41.

Northcott, P. A. et al. Subgroup-specific structural variation across 1,000 medulloblastoma genomes. Nature 488, 49–56 (2012).

42.

Pei, Y. et al. HDAC and PI3K antagonists cooperate to inhibit growth of MYC-driven medulloblastoma. Cancer Cell 29, 311–323 (2016).

43.

Katz, Y., Wang, E. T., Airoldi, E. M. & Burge, C. B. Analysis and design of RNA sequencing experiments for identifying isoform regulation. Nat. Methods 7, 1009–1015 (2010).

44.

Zhukova, N. et al. Subgroup-specific prognostic implications of TP53 mutation in medulloblastoma. J. Clin. Oncol. 31, 2927–2935 (2013).

45.

Langmead, B., Trapnell, C., Pop, M. & Salzberg, S. L. Ultrafast and memory-efficient alignment of short DNA sequences to the human genome. Genome Biol. 10, R25 (2009).

46.

Wang, K. et al. PennCNV: an integrated hidden Markov model designed for high-resolution copy number variation detection in whole-genome SNP genotyping data. Genome Res. 17, 1665–1674 (2007).

47.

Van Loo, P. et al. Allele-specific copy number analysis of tumors. Proc. Natl Acad. Sci. USA 107, 16910–16915 (2010).

48.

Mermel, C. H. et al. GISTIC2.0 facilitates sensitive and confident localization of the targets of focal somatic copy-number alteration in human cancers. Genome Biol. 12, R41 (2011).
Acknowledgements
M.D.T. is supported by the NIH (R01CA148699 and R01CA159859), The Pediatric Brain Tumour Foundation, The Terry Fox Research Institute, The Canadian Institutes of Health Research, The Cure Search Foundation, b.r.a.i.n.child, Meagan's Walk, Genome Canada, Genome BC, Genome Quebec, the Ontario Research Fund, Worldwide Cancer Research, V-Foundation for Cancer Research and the Ontario Institute for Cancer Research, through funding provided by the Government of Ontario. M.D.T. is also supported by a Canadian Cancer Society Research Institute Impact grant and by a Stand Up To Cancer (SU2C) St. Baldrick's Pediatric Dream Team Translational Research Grant (SU2C-AACR-DT1113) and SU2C Canada Cancer Stem Cell Dream Team Research Funding (SU2C-AACR-DT-19-15) provided by the Government of Canada through Genome Canada and the Canadian Institutes of Health Research, with supplementary support from the Ontario Institute for Cancer Research through funding provided by the Government of Ontario. SU2C is a programme of the Entertainment Industry Foundation administered by the American Association for Cancer Research. M.D.T. is also supported by the Garron Family Chair in Childhood Cancer Research at the Hospital for Sick Children and the University of Toronto. E.G.V.M. is supported by the NIH (R01-NS096236 and R01CA235162) and the CURE Childhood Cancer Foundation. X.S.P. is supported by Ministerio de Economía y Competitividad (MINECO) (SAF2013-45836-R). A.K. was supported by 2017-1.2.1-NKP-2017-00002 National Brain Research Program NAP 2.0. M.L.G. is supported by AIRC (Italian Association for Cancer Research) and by Fondazione Berlucchi. H.S. is a recipient of a Research Fellowship (Astellas Foundation for Research on Metabolic Disorders). S.A.K. is a recipient of funding from the Restracomp Research Fellowship (SickKids Research Institute) and the MD/PhD Studentship Award (Canadian Institute of Health Research). A.D.-N. is a recipient of the Department of Education of the Basque Government (PRE_2017_1_0100). J.R. is supported by Genome Canada Genome Technology Platform Grant 12505, Canada Foundation for Innovation Project 33408. Computations were partially performed on the NIG supercomputer at ROIS National Institute of Genetics and on the Niagara supercomputer at the SciNet HPC Consortium. SciNet is funded by the Canada Foundation for Innovation under the auspices of Compute Canada; the Government of Ontario; Ontario Research Fund - Research Excellence; and the University of Toronto. The authors would also like to thank M. Kamal and J. Loukides, and recognize the Labatt Brain Tumour Research Centre.
Ethics declarations
Competing interests
The authors declare no competing interests.
Additional information
Publisher's note Springer Nature remains neutral with regard to jurisdictional claims in published maps and institutional affiliations.
Peer review information Nature thanks Rotem Karni, Brandon Wainwright and the other, anonymous, reviewer(s) for their contribution to the peer review of this work.
Extended data figures and tables
Supplementary information
This file contains a guide for Supplementary Tables 1-21 (Supplementary Table files supplied separately).
This file contains Supplementary Tables 1-21 – see Supplementary Information document for full guide.
About this article
Cite this article
Suzuki, H., Kumar, S.A., Shuai, S. et al. Recurrent noncoding U1 snRNA mutations drive cryptic splicing in SHH medulloblastoma. Nature 574, 707–711 (2019). https://doi.org/10.1038/s41586-019-1650-0
Received:

Accepted:

Published:

Issue Date:
Comments
By submitting a comment you agree to abide by our Terms and Community Guidelines. If you find something abusive or that does not comply with our terms or guidelines please flag it as inappropriate.