Abstract
SF3B1 is the most commonly mutated RNA splicing factor in cancer1,2,3,4, but the mechanisms by which SF3B1 mutations promote malignancy are poorly understood. Here we integrated pan-cancer splicing analyses with a positive-enrichment CRISPR screen to prioritize splicing alterations that promote tumorigenesis. We report that diverse SF3B1 mutations converge on repression of BRD9, which is a core component of the recently described non-canonical BAF chromatin-remodelling complex that also contains GLTSCR1 and GLTSCR1L5,6,7. Mutant SF3B1 recognizes an aberrant, deep intronic branchpoint within BRD9 and thereby induces the inclusion of a poison exon that is derived from an endogenous retroviral element and subsequent degradation of BRD9 mRNA. Depletion of BRD9 causes the loss of non-canonical BAF at CTCF-associated loci and promotes melanomagenesis. BRD9 is a potent tumour suppressor in uveal melanoma, such that correcting mis-splicing of BRD9 in SF3B1-mutant cells using antisense oligonucleotides or CRISPR-directed mutagenesis suppresses tumour growth. Our results implicate the disruption of non-canonical BAF in the diverse cancer types that carry SF3B1 mutations and suggest a mechanism-based therapeutic approach for treating these malignancies.
Your institute does not have access to this article
Relevant articles
Open Access articles citing this article.
Meng Wang

,

Ishani Banik

…

Boris C. Bastian

Genome Medicine Open Access 16 June 2022

Yaxing Xu

,

Jingru Zhao

…

Hongkui Deng

Cell Research Open Access 04 May 2022

Anjiang Zhao

,

Dan Li

…

Ling Li

Cell Death & Disease Open Access 23 March 2022
Access options
Subscribe to Nature+
Get immediate online access to the entire Nature family of 50+ journals
Subscribe to Journal
Get full journal access for 1 year
$199.00
only $3.90 per issue
All prices are NET prices.
VAT will be added later in the checkout.
Tax calculation will be finalised during checkout.
Buy article
Get time limited or full article access on ReadCube.
$32.00
All prices are NET prices.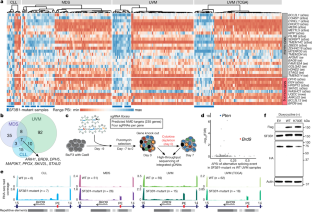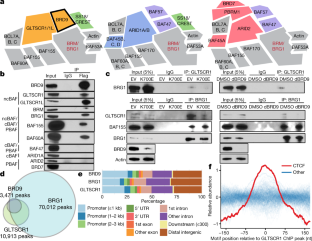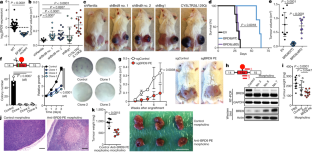 Data availability
RNA-seq and ChIP–seq data generated as part of this study were deposited in the Gene Expression Omnibus (accession number GSE124720). RNA-seq data from published studies were downloaded from CGHub (TCGA UVM59), EMBL-EBI ArrayExpress (Illumina Human BodyMap 2.0: E-MTAB-513), the Gene Expression Omnibus (accession numbers GSE72790 and GSE114922 for chronic lymphocytic leukaemia15 and myelodysplastic syndromes27, respectively), or directly obtained from the authors (for UVM10). Gel source data can be found in Supplementary Fig. 1. Other data that support the findings of this study are available from the corresponding authors upon reasonable request.
References
Yoshida, K. et al. Frequent pathway mutations of splicing machinery in myelodysplasia. Nature 478, 64–69 (2011).

Papaemmanuil, E. et al. Somatic SF3B1 mutation in myelodysplasia with ring sideroblasts. N. Engl. J. Med. 365, 1384–1395 (2011).

Wang, L. et al. SF3B1 and other novel cancer genes in chronic lymphocytic leukemia. N. Engl. J. Med. 365, 2497–2506 (2011).

Seiler, M., et al. Somatic mutational landscape of splicing factor genes and their functional consequences across 33 cancer types. Cell Rep. 23, 282–296.e284 (2018).

Alpsoy, A. & Dykhuizen, E. C. Glioma tumor suppressor candidate region gene 1 (GLTSCR1) and its paralog GLTSCR1-like form SWI/SNF chromatin remodeling subcomplexes. J. Biol. Chem. 293, 3892–3903 (2018).

Michel, B. C. et al. A non-canonical SWI/SNF complex is a synthetic lethal target in cancers driven by BAF complex perturbation. Nat. Cell Biol. 20, 1410–1420 (2018).

Gatchalian, J. et al. A non-canonical BRD9-containing BAF chromatin remodeling complex regulates naive pluripotency in mouse embryonic stem cells. Nat. Commun. 9, 5139 (2018).

Quesada, V. et al. Exome sequencing identifies recurrent mutations of the splicing factor SF3B1 gene in chronic lymphocytic leukemia. Nat. Genet. 44, 47–52 (2011).

Furney, S. J. et al. SF3B1 mutations are associated with alternative splicing in uveal melanoma. Cancer Discov. 3, 1122–1129 (2013).

Alsafadi, S. et al. Cancer-associated SF3B1 mutations affect alternative splicing by promoting alternative branchpoint usage. Nat. Commun. 7, 10615 (2016).

Harbour, J. W. et al. Recurrent mutations at codon 625 of the splicing factor SF3B1 in uveal melanoma. Nat. Genet. 45, 133–135 (2013).

Martin, M. et al. Exome sequencing identifies recurrent somatic mutations in EIF1AX and SF3B1 in uveal melanoma with disomy 3. Nat. Genet. 45, 933–936 (2013).

Cretu, C. et al. Molecular architecture of SF3b and structural consequences of its cancer-related mutations. Mol. Cell 64, 307–319 (2016).

DeBoever, C. et al. Transcriptome sequencing reveals potential mechanism of cryptic 3′ splice site selection in SF3B1-mutated cancers. PLoS Comput. Biol. 11, e1004105 (2015).

Darman, R. B. et al. Cancer-associated SF3B1 hotspot mutations induce cryptic 3′ splice site selection through use of a different branch point. Cell Rep. 13, 1033–1045 (2015).

Hohmann, A. F. et al. Sensitivity and engineered resistance of myeloid leukemia cells to BRD9 inhibition. Nat. Chem. Biol. 12, 672–679 (2016).

Gozani, O., Potashkin, J. & Reed, R. A potential role for U2AF-SAP 155 interactions in recruiting U2 snRNP to the branch site. Mol. Cell. Biol. 18, 4752–4760 (1998).

Pineda, J. M. B. & Bradley, R. K. Most human introns are recognized via multiple and tissue-specific branchpoints. Genes Dev. 32, 577–591 (2018).

Remillard, D. et al. Degradation of the BAF complex factor BRD9 by heterobifunctional ligands. Angew. Chem. Int. Edn Engl. 56, 5738–5743 (2017).

Martens, J. A. & Winston, F. Recent advances in understanding chromatin remodeling by Swi/Snf complexes. Curr. Opin. Genet. Dev. 13, 136–142 (2003).

Brien, G. L. et al. Targeted degradation of BRD9 reverses oncogenic gene expression in synovial sarcoma. eLife 7, e41305 (2018).

Moore, A. R. et al. Recurrent activating mutations of G-protein-coupled receptor CYSLTR2 in uveal melanoma. Nat. Genet. 48, 675–680 (2016).

Baldi, A. et al. The HtrA1 serine protease is down-regulated during human melanoma progression and represses growth of metastatic melanoma cells. Oncogene 21, 6684–6688 (2002).

Chien, J. et al. Serine protease HtrA1 associates with microtubules and inhibits cell migration. Mol. Cell. Biol. 29, 4177–4187 (2009).

Walker, C. J. et al. Genome-wide association study identifies an acute myeloid leukemia susceptibility locus near BICRA. Leukemia 33, 771–775 (2019).

Stein, C. A. & Castanotto, D. FDA-approved oligonucleotide therapies in 2017. Mol. Ther. 25, 1069–1075 (2017).

Pellagatti, A. et al. Impact of spliceosome mutations on RNA splicing in myelodysplasia: dysregulated genes/pathways and clinical associations. Blood 132, 1225–1240 (2018).

Smit, A., Hubley, R. & Green, P. RepeatMasker Open-4.0, http://www.repeatmasker.org (2013–2015).

Cheng, D. T. et al. Memorial Sloan Kettering-integrated mutation profiling of actionable cancer targets (MSK-IMPACT): a hybridization capture-based next-generation sequencing clinical assay for solid tumor molecular oncology. J. Mol. Diagn. 17, 251–264 (2015).

Seiler, M. et al. H3B-8800, an orally available small-molecule splicing modulator, induces lethality in spliceosome-mutant cancers. Nat. Med. 24, 497–504 (2018).

Leeksma, A. C. et al. Clonal diversity predicts adverse outcome in chronic lymphocytic leukemia. Leukemia 33, 390–402 (2019).

Kim, E. et al. SRSF2 mutations contribute to myelodysplasia by mutant-specific effects on exon recognition. Cancer Cell 27, 617–630 (2015).

Mohammed, H. et al. Endogenous purification reveals GREB1 as a key estrogen receptor regulatory factor. Cell Rep. 3, 342–349 (2013).

Fellmann, C. et al. An optimized microRNA backbone for effective single-copy RNAi. Cell Rep. 5, 1704–1713 (2013).

Pelossof, R. et al. Prediction of potent shRNAs with a sequential classification algorithm. Nat. Biotechnol. 35, 350–353 (2017).

Robinson, M. D., McCarthy, D. J. & Smyth, G. K. edgeR: a Bioconductor package for differential expression analysis of digital gene expression data. Bioinformatics 26, 139–140 (2010).

McCarthy, D. J., Chen, Y. & Smyth, G. K. Differential expression analysis of multifactor RNA-seq experiments with respect to biological variation. Nucleic Acids Res. 40, 4288–4297 (2012).

Wu, D. & Smyth, G. K. Camera: a competitive gene set test accounting for inter-gene correlation. Nucleic Acids Res. 40, e133 (2012).

Piva, F., Giulietti, M., Burini, A. B. & Principato, G. SpliceAid 2: a database of human splicing factors expression data and RNA target motifs. Hum. Mutat. 33, 81–85 (2012).

Katz, Y., Wang, E. T., Airoldi, E. M. & Burge, C. B. Analysis and design of RNA sequencing experiments for identifying isoform regulation. Nat. Methods 7, 1009–1015 (2010).

Mashtalir, N., et al. Modular organization and assembly of SWI/SNF family chromatin remodeling complexes. Cell 175, 1272–1288.e1220 (2018).

Dvinge, H. et al. Sample processing obscures cancer-specific alterations in leukemic transcriptomes. Proc. Natl Acad. Sci. USA 111, 16802–16807 (2014).

Meyer, L. R. et al. The UCSC genome browser database: extensions and updates 2013. Nucleic Acids Res. 41, D64–D69 (2013).

Flicek, P. et al. Ensembl 2013. Nucleic Acids Res. 41, D48–D55 (2013).

Li, B. & Dewey, C. N. RSEM: accurate transcript quantification from RNA-seq data with or without a reference genome. BMC Bioinformatics 12, 323 (2011).

Langmead, B., Trapnell, C., Pop, M. & Salzberg, S. L. Ultrafast and memory-efficient alignment of short DNA sequences to the human genome. Genome Biol. 10, R25 (2009).

Trapnell, C., Pachter, L. & Salzberg, S. L. TopHat: discovering splice junctions with RNA-seq. Bioinformatics 25, 1105–1111 (2009).

Robinson, M. D. & Oshlack, A. A scaling normalization method for differential expression analysis of RNA-seq data. Genome Biol. 11, R25 (2010).

Wagenmakers, E. J., Lodewyckx, T., Kuriyal, H. & Grasman, R. Bayesian hypothesis testing for psychologists: a tutorial on the Savage-Dickey method. Cognit. Psychol. 60, 158–189 (2010).

Kent, W. J. et al. The human genome browser at UCSC. Genome Res. 12, 996–1006 (2002).

Wickham, H. ggplot2: Elegant Graphics for Data Analysis (Springer, New York, 2016).

Zhang, Y. et al. Model-based analysis of ChIP–seq (MACS). Genome Biol. 9, R137 (2008).

The ENCODE Project Consortium. An integrated encyclopedia of DNA elements in the human genome. Nature 489, 57–74 (2012).

Huber, W. et al. Orchestrating high-throughput genomic analysis with Bioconductor. Nat. Methods 12, 115–121 (2015).

Dharmalingam G. & Carroll, T. soGGi: Visualise ChIP–seq, MNase-seq and motif occurrence as aggregate plots summarised over grouped genomic intervals. R package version 1.14.0, https://rdrr.io/bioc/soGGi/ (2018).

Yu, G., Wang, L. G. & He, Q. Y. ChIPseeker: an R/Bioconductor package for ChIP peak annotation, comparison and visualization. Bioinformatics 31, 2382–2383 (2015).

Tan, G. & Lenhard, B. TFBSTools: an R/bioconductor package for transcription factor binding site analysis. Bioinformatics 32, 1555–1556 (2016).

Kulakovskiy, I. V. et al. HOCOMOCO: towards a complete collection of transcription factor binding models for human and mouse via large-scale ChIP-Seq analysis. Nucleic Acids Res. 46, D252–D259 (2018).

Robertson, A.G., et al. Integrative analysis identifies four molecular and clinical subsets in uveal melanoma. Cancer cell 32, 204–220.e215 (2017).

Pollard, K. S., Hubisz, M. J., Rosenbloom, K. R. & Siepel, A. Detection of nonneutral substitution rates on mammalian phylogenies. Genome Res. 20, 110–121 (2010).

McLean, C. Y. et al. GREAT improves functional interpretation of cis-regulatory regions. Nat. Biotechnol. 28, 495–501 (2010).
Acknowledgements
We are grateful for the support of the MSK RNAi core facility for help with the CRISPR screens performed in the study, the MSK anti-tumor assessment core facility for help with patient-derived xenograft experiments and the Genomics Shared Resource of the Fred Hutchinson/University of Washington Cancer Consortium (P30 CA015704). D.I., S.C.-W.L., A.Y. and O.A.-W. are supported by the Leukemia & Lymphoma Society. D.I. is supported by grants from Lydia O'Leary Memorial Pias Dermatological Foundation and Kobayashi Foundation for Cancer Research. A.Y. is supported by grants from the Aplastic Anemia and MDS International Foundation (AA&MDSIF) and the Lauri Strauss Leukemia Foundation. S.X.L. is supported by a Conquer Cancer Foundation and ASCO Young Investigator Award, an Aplastic Anemia & Myelodysplastic Syndrome International Foundation research award, as well as an AACR Lymphoma Research Fellowship. G.-L.C. is a Mahan Fellow. O.A.-W. is supported by the Pershing Square Sohn Cancer Research Alliance, the Henry & Marilyn Taub Foundation and the Starr Cancer Consortium. R.K.B. is a Scholar of The Leukemia and Lymphoma Society (1344-18) and is supported in part by the US National Institutes of Health (R01 DK103854). O.A.-W. and R.K.B. are supported by the Evans MDS Foundation, the US National Institutes of Health (R01 HL128239) and the Department of Defense Bone Marrow Failure Research Program (BM150092 and W81XWH-12-1-0041). The results shown here are in part based upon data generated by the TCGA research network (https://cancergenome.nih.gov/).
Ethics declarations
Competing interests
C.K. is a Scientific Founder, fiduciary Board of Directors member, Scientific Advisory Board member, consultant and shareholder of Foghorn Therapeutics, none of which are related to the current manuscript. O.A.-W. has served as a consultant for H3 Biomedicine, Foundation Medicine, Merck and Janssen; O.A.-W. has received personal speaking fees from Daiichi Sankyo. O.A.-W. has received previous research funding from H3 Biomedicine unrelated to the current manuscript. D.I., O.A.-W. and R.K.B. are inventors on a provisional patent application submitted by the Fred Hutchinson Cancer Research Center that covers BRD9 activation in cancer.
Additional information
Publisher's note Springer Nature remains neutral with regard to jurisdictional claims in published maps and institutional affiliations.
Peer review information Nature thanks Boris Bastian, Rotem Karni and the other, anonymous, reviewer(s) for their contribution to the peer review of this work.
Extended data figures and tables
Supplementary information
.Images of uncropped gels presented throughout the paper. The corresponding figure is indicated for each uncropped gel with a red box indicating how the gel was cropped for presentation in the figures. DNA or protein ladders are present to the side. Probes for immunoblots are indicated when relevant
This file contains Supplementary Tables 1-11
About this article
Cite this article
Inoue, D., Chew, GL., Liu, B. et al. Spliceosomal disruption of the non-canonical BAF complex in cancer. Nature 574, 432–436 (2019). https://doi.org/10.1038/s41586-019-1646-9
Received:

Accepted:

Published:

Issue Date:

DOI: https://doi.org/10.1038/s41586-019-1646-9
Comments
By submitting a comment you agree to abide by our Terms and Community Guidelines. If you find something abusive or that does not comply with our terms or guidelines please flag it as inappropriate.