Abstract
Gene duplication is a common and powerful mechanism by which cells create new signalling pathways1,2, but recently duplicated proteins typically must become insulated from each other and from other paralogues to prevent unwanted crosstalk3. A similar challenge arises when new sensors or synthetic signalling pathways are engineered within cells or transferred between genomes. How easily new pathways can be introduced into cells depends on the density and distribution of paralogous pathways in the sequence space that is defined by their specificity-determining residues4,5. Here we directly investigate how crowded this sequence space is, by generating novel two-component signalling proteins in Escherichia coli using cell sorting coupled to deep sequencing to analyse large libraries designed on the basis of coevolutionary patterns. We produce 58 insulated pathways comprising functional kinase–substrate pairs that have different specificities than their parent proteins, and demonstrate that several of these new pairs are orthogonal to all 27 paralogous pathways in E. coli. Additionally, from the kinase–substrate pairs generated, we identify sets consisting of six pairs that are mutually orthogonal to each other, which considerably increases the two-component signalling capacity of E. coli. These results indicate that sequence space is not densely occupied. The relative sparsity of paralogues in sequence space suggests that new insulated pathways can arise easily during evolution, or be designed de novo. We demonstrate the latter by engineering a signalling pathway in E. coli that responds to a plant cytokinin, without crosstalk to extant pathways. Our work also demonstrates how coevolution-guided mutagenesis and the mapping of sequence space can be used to design large sets of orthogonal protein–protein interactions.
Relevant articles
Open Access articles citing this article.
Ross D. Jones

,

Yili Qian

…

Ron Weiss

Nature Communications Open Access 31 March 2022

Remkes A. Scheele

,

Laurens H. Lindenburg

…

Florian Hollfelder

Nature Communications Open Access 11 February 2022

Maysam Mansouri

&

Martin Fussenegger

Protein & Cell Open Access 29 September 2021
Access options
Access Nature and 54 other Nature Portfolio journals
Get Nature+, our best-value online-access subscription
$29.99 / 30 days
cancel any time
Subscribe to this journal
Receive 51 print issues and online access
$199.00 per year
only $3.90 per issue
Rent or buy this article
Get just this article for as long as you need it
$39.95
Prices may be subject to local taxes which are calculated during checkout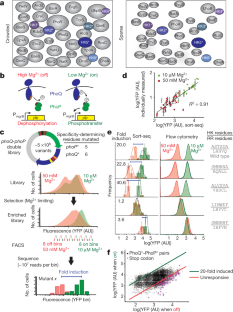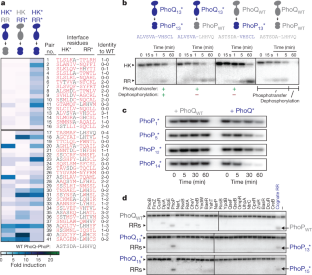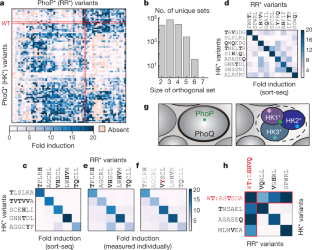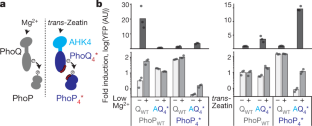 Data availability
Datasets generated during this study have been deposited in GEO. Raw reads and processed sort-seq analysis of each mutant can be found under accession numbers GSE120780 (degenerate PhoQ–PhoP library) and GSE120786 (combinatorial library of 79 PhoQ*–PhoP* variants). Raw reads and reads per kilobase of transcript per million mapped reads (RPKM) for all E. coli genes from RNA-seq are deposited with accession number GSE128611.
References
Alm, E., Huang, K. & Arkin, A. The evolution of two-component systems in bacteria reveals different strategies for niche adaptation. PLOS Comput. Biol. 2, e143 (2006).

Capra, E. J. & Laub, M. T. Evolution of two-component signal transduction systems. Annu. Rev. Microbiol. 66, 325–347 (2012).

Capra, E. J., Perchuk, B. S., Skerker, J. M. & Laub, M. T. Adaptive mutations that prevent crosstalk enable the expansion of paralogous signaling protein families. Cell 150, 222–232 (2012).

Zarrinpar, A., Park, S. H. & Lim, W. A. Optimization of specificity in a cellular protein interaction network by negative selection. Nature 426, 676–680 (2003).

Stiffler, M. A. et al. PDZ domain binding selectivity is optimized across the mouse proteome. Science 317, 364–369 (2007).

Brentjens, R. J. et al. CD19-targeted T cells rapidly induce molecular remissions in adults with chemotherapy-refractory acute lymphoblastic leukemia. Sci. Transl. Med. 5, 177ra38 (2013).

Riglar, D. T. & Silver, P. A. Engineering bacteria for diagnostic and therapeutic applications. Nat. Rev. Microbiol. 16, 214–225 (2018).

Morsut, L. et al. Engineering customized cell sensing and response behaviors using synthetic Notch receptors. Cell 164, 780–791 (2016).

Bashor, C. J., Helman, N. C., Yan, S. & Lim, W. A. Using engineered scaffold interactions to reshape MAP kinase pathway signaling dynamics. Science 319, 1539–1543 (2008).

Sockolosky, J. T. et al. Selective targeting of engineered T cells using orthogonal IL-2 cytokine-receptor complexes. Science 359, 1037–1042 (2018).

Skerker, J. M., Prasol, M. S., Perchuk, B. S., Biondi, E. G. & Laub, M. T. Two-component signal transduction pathways regulating growth and cell cycle progression in a bacterium: a system-level analysis. PLoS Biol. 3, e334 (2005).

Creixell, P. et al. Unmasking determinants of specificity in the human kinome. Cell 163, 187–201 (2015).

Thompson, K. E., Bashor, C. J., Lim, W. A. & Keating, A. E. SYNZIP protein interaction toolbox: in vitro and in vivo specifications of heterospecific coiled-coil interaction domains. ACS Synth. Biol. 1, 118–129 (2012).

Boyken, S. E. et al. De novo design of protein homo-oligomers with modular hydrogen-bond network-mediated specificity. Science 352, 680–687 (2016).

Reinke, A. W., Grant, R. A. & Keating, A. E. A synthetic coiled-coil interactome provides heterospecific modules for molecular engineering. J. Am. Chem. Soc. 132, 6025–6031 (2010).

Stock, A. M., Robinson, V. L. & Goudreau, P. N. Two-component signal transduction. Annu. Rev. Biochem. 69, 183–215 (2000).

Groban, E. S., Clarke, E. J., Salis, H. M., Miller, S. M. & Voigt, C. A. Kinetic buffering of cross talk between bacterial two-component sensors. J. Mol. Biol. 390, 380–393 (2009).

Siryaporn, A. & Goulian, M. Cross-talk suppression between the CpxA–CpxR and EnvZ–OmpR two-component systems in E. coli. Mol. Microbiol. 70, 494–506 (2008).

Capra, E. J. et al. Systematic dissection and trajectory-scanning mutagenesis of the molecular interface that ensures specificity of two-component signaling pathways. PLoS Genet. 6, e1001220 (2010).

Skerker, J. M. et al. Rewiring the specificity of two-component signal transduction systems. Cell 133, 1043–1054 (2008).

Podgornaia, A. I. & Laub, M. T. Pervasive degeneracy and epistasis in a protein–protein interface. Science 347, 673–677 (2015).

Casino, P., Rubio, V. & Marina, A. Structural insight into partner specificity and phosphoryl transfer in two-component signal transduction. Cell 139, 325–336 (2009).

Yamada, H. et al. The Arabidopsis AHK4 histidine kinase is a cytokinin-binding receptor that transduces cytokinin signals across the membrane. Plant Cell Physiol. 42, 1017–1023 (2001).

Nielsen, A. A. et al. Genetic circuit design automation. Science 352, aac7341 (2016).

Miyashiro, T. & Goulian, M. Stimulus-dependent differential regulation in the Escherichia coli PhoQ PhoP system. Proc. Natl Acad. Sci. USA 104, 16305–16310 (2007).

Mutalik, V. K. et al. Precise and reliable gene expression via standard transcription and translation initiation elements. Nat. Methods 10, 354–360 (2013).

Ashenberg, O., Keating, A. E. & Laub, M. T. Helix bundle loops determine whether histidine kinases autophosphorylate in cis or in trans. J. Mol. Biol. 425, 1198–1209 (2013).

Gibson, D. G. et al. Enzymatic assembly of DNA molecules up to several hundred kilobases. Nat. Methods 6, 343–345 (2009).

Fowler, D. M. & Fields, S. Deep mutational scanning: a new style of protein science. Nat. Methods 11, 801–807 (2014).

Starr, T. N., Picton, L. K. & Thornton, J. W. Alternative evolutionary histories in the sequence space of an ancient protein. Nature 549, 409–413 (2017).

Diss, G. & Lehner, B. The genetic landscape of a physical interaction. eLife 7, e32472 (2018).

Balakrishnan, S., Kamisetty, H., Carbonell, J. G., Lee, S. I. & Langmead, C. J. Learning generative models for protein fold families. Proteins 79, 1061–1078 (2011).

Culviner, P. H. & Laub, M. T. Global analysis of the E. coli toxin MazF reveals widespread cleavage of mRNA and the inhibition of rRNA maturation and ribosome biogenesis. Mol. Cell 70, 868–880 (2018).

Langmead, B. & Salzberg, S. L. Fast gapped-read alignment with Bowtie 2. Nat. Methods 9, 357–359 (2012).

Eddy, S. R. Accelerated profile HMM searches. PLOS Comput. Biol. 7, e1002195 (2011).

Jacomy, M., Venturini, T., Heymann, S. & Bastian, M. ForceAtlas2, a continuous graph layout algorithm for handy network visualization designed for the Gephi software. PLoS ONE 9, e98679 (2014).

Ohlendorf, R., Schumacher, C. H., Richter, F. & Möglich, A. Library-aided probing of linker determinants in hybrid photoreceptors. ACS Synth. Biol. 5, 1117–1126 (2016).

Wang, B., Zhao, A., Novick, R. P. & Muir, T. W. Activation and inhibition of the receptor histidine kinase AgrC occurs through opposite helical transduction motions. Mol. Cell 53, 929–940 (2014).

Marina, A., Mott, C., Auyzenberg, A., Hendrickson, W. A. & Waldburger, C. D. Structural and mutational analysis of the PhoQ histidine kinase catalytic domain. Insight into the reaction mechanism. J. Biol. Chem. 276, 41182–41190 (2001).
Acknowledgements
We thank I. Nocedal, P. Culviner, D. Ding and A. Podgornaia for helpful discussions. M.T.L. is an Investigator of the Howard Hughes Medical Institute. This work was also supported by a grant from the Office of Naval Research (N000141310074) to M.T.L. and C.A.V. and by the NIH pre-doctoral training grant T32GM007287.
Ethics declarations
Competing interests
The authors declare no competing interests.
Additional information
Publisher's note Springer Nature remains neutral with regard to jurisdictional claims in published maps and institutional affiliations.
Peer review information Nature thanks Tamar Friedlander and the other, anonymous, reviewer(s) for their contribution to the peer review of this work.
Extended data figures and tables
Supplementary information
About this article
Cite this article
McClune, C.J., Alvarez-Buylla, A., Voigt, C.A. et al. Engineering orthogonal signalling pathways reveals the sparse occupancy of sequence space. Nature 574, 702–706 (2019). https://doi.org/10.1038/s41586-019-1639-8
Received:

Accepted:

Published:

Issue Date:

DOI: https://doi.org/10.1038/s41586-019-1639-8
Comments
By submitting a comment you agree to abide by our Terms and Community Guidelines. If you find something abusive or that does not comply with our terms or guidelines please flag it as inappropriate.