Abstract
Host infection by pathogenic mycobacteria, such as Mycobacterium tuberculosis, is facilitated by virulence factors that are secreted by type VII secretion systems1. A molecular understanding of the type VII secretion mechanism has been hampered owing to a lack of three-dimensional structures of the fully assembled secretion apparatus. Here we report the cryo-electron microscopy structure of a membrane-embedded core complex of the ESX-3/type VII secretion system from Mycobacterium smegmatis. The core of the ESX-3 secretion machine consists of four protein components—EccB3, EccC3, EccD3 and EccE3, in a 1:1:2:1 stoichiometry—which form two identical protomers. The EccC3 coupling protein comprises a flexible array of four ATPase domains, which are linked to the membrane through a stalk domain. The domain of unknown function (DUF) adjacent to the stalk is identified as an ATPase domain that is essential for secretion. EccB3 is predominantly periplasmatic, but a small segment crosses the membrane and contacts the stalk domain. This suggests that conformational changes in the stalk domain—triggered by substrate binding at the distal end of EccC3 and subsequent ATP hydrolysis in the DUF—could be coupled to substrate secretion to the periplasm. Our results reveal that the architecture of type VII secretion systems differs markedly from that of other known secretion machines2, and provide a structural understanding of these systems that will be useful for the design of antimicrobial strategies that target bacterial virulence.
This is a preview of subscription content
Access options
Subscribe to Nature+
Get immediate online access to the entire Nature family of 50+ journals
Subscribe to Journal
Get full journal access for 1 year
$199.00
only $3.90 per issue
All prices are NET prices.
VAT will be added later in the checkout.
Tax calculation will be finalised during checkout.
Buy article
Get time limited or full article access on ReadCube.
$32.00
All prices are NET prices.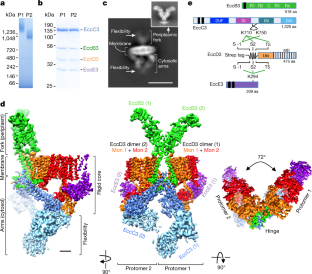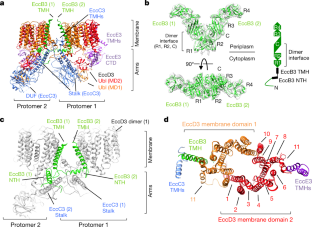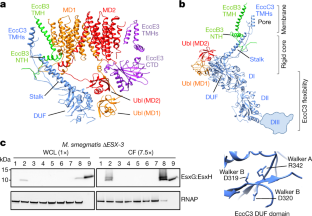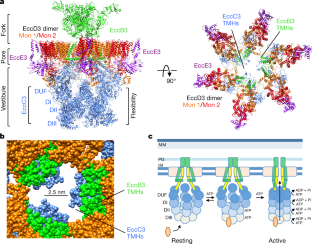 Data availability
Cryo-EM maps have been deposited in the Electron Microscopy Database under accession codes EMD-10186 (core complex dimer), EMD-10187 (protomer 1), EMD-10189 (conformation 1), EMD-10190 (conformation 2) and EMD-10188 (dimer of EccB3). The model of the ESX-3 core complex, protomer 1, and the fork have been deposited in the Protein Data Bank under PDB accession codes 6SGW, 6SGX, and 6SGY, respectively. The cryo-EM map and model for protomer 2 (discussed but not shown, because it has lower resolution than that of protomer 1) are deposited under accession codes EMD-10191 and 6SGZ. All gel source data are provided in Supplementary Fig. 1, and all other data are available from the corresponding author upon reasonable request.
References
Gröschel, M. I., Sayes, F., Simeone, R., Majlessi, L. & Brosch, R. ESX secretion systems: mycobacterial evolution to counter host immunity. Nat. Rev. Microbiol. 14, 677–691 (2016).

Costa, T. R. et al. Secretion systems in Gram-negative bacteria: structural and mechanistic insights. Nat. Rev. Microbiol. 13, 343–359 (2015).

Maciąg, A., Piazza, A., Riccardi, G. & Milano, A. Transcriptional analysis of ESAT-6 cluster 3 in Mycobacterium smegmatis. BMC Microbiol. 9, 48 (2009).

Rodriguez, G. M., Voskuil, M. I., Gold, B., Schoolnik, G. K. & Smith, I. ideR, an essential gene in Mycobacterium tuberculosis: role of IdeR in iron-dependent gene expression, iron metabolism, and oxidative stress response. Infect. Immun. 70, 3371–3381 (2002).

Siegrist, M. S. et al. Mycobacterial Esx-3 is required for mycobactin-mediated iron acquisition. Proc. Natl Acad. Sci. USA 106, 18792–18797 (2009).

Serafini, A., Boldrin, F., Palù, G. & Manganelli, R. Characterization of a Mycobacterium tuberculosis ESX-3 conditional mutant: essentiality and rescue by iron and zinc. J. Bacteriol. 191, 6340–6344 (2009).

Tufariello, J. M. et al. Separable roles for Mycobacterium tuberculosis ESX-3 effectors in iron acquisition and virulence. Proc. Natl Acad. Sci. USA 113, E348–E357 (2016).

Tinaztepe, E. et al. Role of metal-dependent regulation of ESX-3 secretion in intracellular survival of Mycobacterium tuberculosis. Infect. Immun. 84, 2255–2263 (2016).

Mehra, A. et al. Mycobacterium tuberculosis type VII secreted effector EsxH targets host ESCRT to impair trafficking. PLoS Pathog. 9, e1003734 (2013).

Portal-Celhay, C. et al. Mycobacterium tuberculosis EsxH inhibits ESCRT-dependent CD4+ T-cell activation. Nat. Microbiol. 2, 16232 (2016).

Mittal, E. et al. Mycobacterium tuberculosis type VII secretion system effectors differentially impact the ESCRT endomembrane damage response. MBio 9, e01765-18 (2018).

Ohol, Y. M. et al. Mycobacterium tuberculosis MycP1 protease plays a dual role in regulation of ESX-1 secretion and virulence. Cell Host Microbe 7, 210–220 (2010).

Brodin, P. et al. Dissection of ESAT-6 system 1 of Mycobacterium tuberculosis and impact on immunogenicity and virulence. Infect. Immun. 74, 88–98 (2006).

Siegrist, M. S. et al. Mycobacterial Esx-3 requires multiple components for iron acquisition. MBio 5, e01073-14 (2014).

Houben, E. N. et al. Composition of the type VII secretion system membrane complex. Mol. Microbiol. 86, 472–484 (2012).

Abdallah, A. M. et al. A specific secretion system mediates PPE41 transport in pathogenic mycobacteria. Mol. Microbiol. 62, 667–679 (2006).

van Winden, V. J. et al. Mycosins are required for the stabilization of the ESX-1 and ESX-5 type VII secretion membrane complexes. MBio 7, e01471-16 (2016).

Gray, T. A. et al. Intercellular communication and conjugation are mediated by ESX secretion systems in mycobacteria. Science 354, 347–350 (2016).

Beckham, K. S. et al. Structure of the mycobacterial ESX-5 type VII secretion system membrane complex by single-particle analysis. Nat. Microbiol. 2, 17047 (2017).

Rosenberg, O. S. et al. Substrates control multimerization and activation of the multi-domain ATPase motor of type VII secretion. Cell 161, 501–512 (2015).

Wagner, J. M. et al. Structures of EccB1 and EccD1 from the core complex of the mycobacterial ESX-1 type VII secretion system. BMC Struct. Biol. 16, 5 (2016).

Solomonson, M. et al. Structure of the mycosin-1 protease from the mycobacterial ESX-1 protein type VII secretion system. J. Biol. Chem. 288, 17782–17790 (2013).

Zhang, X. L. et al. Core component EccB1 of the Mycobacterium tuberculosis type VII secretion system is a periplasmic ATPase. FASEB J. 29, 4804–4814 (2015).

Kucukelbir, A., Sigworth, F. J. & Tagare, H. D. Quantifying the local resolution of cryo-EM density maps. Nat. Methods 11, 63–65 (2014).

McGowan, S. et al. X-ray crystal structure of the streptococcal specific phage lysin PlyC. Proc. Natl Acad. Sci. USA 109, 12752–12757 (2012).

Zoltner, M. et al. EssC: domain structures inform on the elusive translocation channel in the type VII secretion system. Biochem. J. 473, 1941–1952 (2016).

Arbing, M. A. et al. Heterologous expression of mycobacterial Esx complexes in Escherichia coli for structural studies is facilitated by the use of maltose binding protein fusions. PLoS ONE 8, e81753 (2013).

Rueden, C. T. et al. ImageJ2: ImageJ for the next generation of scientific image data. BMC Bioinformatics 18, 529 (2017).

Zheng, S. Q. et al. MotionCor2: anisotropic correction of beam-induced motion for improved cryo-electron microscopy. Nat. Methods 14, 331–332 (2017).

Zhang, K. Gctf: Real-time CTF determination and correction. J. Struct. Biol. 193, 1–12 (2016).

Zivanov, J. et al. New tools for automated high-resolution cryo-EM structure determination in RELION-3. eLife 7, e42166 (2018).

Punjani, A., Rubinstein, J. L., Fleet, D. J. & Brubaker, M. A. cryoSPARC: algorithms for rapid unsupervised cryo-EM structure determination. Nat. Methods 14, 290–296 (2017).

Grant, T., Rohou, A. & Grigorieff, N. cisTEM, user-friendly software for single-particle image processing. eLife 7, e35383 (2018).

de la Rosa-Trevín, J. M. et al. Scipion: a software framework toward integration, reproducibility and validation in 3D electron microscopy. J. Struct. Biol. 195, 93–99 (2016).

Källberg, M. et al. Template-based protein structure modeling using the RaptorX web server. Nat. Protoc. 7, 1511–1522 (2012).

Yang, J. and Zhang, Y. Protein structure and function prediction using I-TASSER. Curr. Protoc. Bioinform. 52, 5.8.1–5.8.15 (2015).

Kelley, L. A., Mezulis, S., Yates, C. M., Wass, M. N. & Sternberg, M. J. The Phyre2 web portal for protein modeling, prediction and analysis. Nat. Protoc. 10, 845–858 (2015).

Pettersen, E. F. et al. UCSF Chimera—a visualization system for exploratory research and analysis. J. Comput. Chem. 25, 1605–1612 (2004).

Afonine, P. V. et al. Towards automated crystallographic structure refinement with phenix.refine. Acta Crystallogr. D 68, 352–367 (2012).

Emsley, P., Lohkamp, B., Scott, W. G. & Cowtan, K. Features and development of Coot. Acta Crystallogr. D 66, 486–501 (2010).

Zimmermann, L. et al. A completely reimplemented MPI bioinformatics toolkit with a new HHpred server at its core. J. Mol. Biol. 430, 2237–2243 (2018).

Mostosi, P., Schindelin, H., Kollmannsberger, P. & Thorn, A. Automated interpretation of cryo-EM density maps with convolutional neural networks. Preprint at https://www.biorxiv.org/content/10.1101/644476v1 (2019).

Kessner, D., Chambers, M., Burke, R., Agus, D. & Mallick, P. ProteoWizard: open source software for rapid proteomics tools development. Bioinformatics 24, 2534–2536 (2008).

Götze, M. et al. Automated assignment of MS/MS cleavable cross-links in protein 3D-structure analysis. J. Am. Soc. Mass Spectrom. 26, 83–97 (2015).

Cox, J. & Mann, M. MaxQuant enables high peptide identification rates, individualized p.p.b.-range mass accuracies and proteome-wide protein quantification. Nat. Biotechnol. 26, 1367–1372 (2008).

Fitzpatrick, A. W. P. et al. Structure of the MacAB–TolC ABC-type tripartite multidrug efflux pump. Nat. Microbiol. 2, 17070 (2017).
Acknowledgements
High-resolution electron microscopy data were collected at The Netherlands Center for Electron Nanoscopy (NeCEN) with assistance from C. Diebolder, at the Rudolf Virchow Center Würzburg with the assistance of C. Kraft and T. Rasmussen, and at the Centro Nacional de Biotecnología (CNB-CSIC) with the assistance of R. Arranz and F. J. Chichón. The work at the CNB-CSIC was supported by iNEXT (PID2907 to access CNB-CSIC) grant number 653706, funded by the Horizon 2020 program of the European Union. S. Lamer acquired mass spectrometry data (AG Schlosser, University of Würzburg). We thank M. Steigedal (Norwegian University of Science and Technology) and R. Manganelli (University of Padova) for the M. smegmatis ESX-3 knockout strains; and D. Eisenberg and M. Arbing (University of California, Los Angeles) for the pMAPLe3 overexpression plasmid. Plasmid pMyNT was a gift from A. Parret and M. Wilmanns (Addgene plasmid 42191). We thank C. Fernández Rodríguez (CNIO) for suggestions during processing, and C. Kisker and H. Schindelin (Rudolf Virchow Center, Würzburg) for critical proofreading. This work was supported by the Elite Network of Bavaria (N-BM-2013-246 to S.G.) and the State Research Agency, Spanish Ministry of Science, Innovation and Universities (MCIU/AEI to O.L.) co-funded by the European Regional Development Fund (ERDF) (SAF2017-82632-P to O.L.), by projects Y2018/BIO4747 and P2018/NMT4443 from the Autonomous Region of Madrid and co-funded by the European Social Fund and the European Regional Development Fund (to O.L.). The CNIO is supported by the National Institute of Health Carlos III.
Ethics declarations
Competing interests
The authors declare no competing interests.
Additional information
Publisher's note Springer Nature remains neutral with regard to jurisdictional claims in published maps and institutional affiliations.
Extended data figures and tables
Supplementary information
Supplementary Table 1 (Primers and oligonucleotides used for cloning), Supplementary Table 2 (Cryo-EM data collection, refinement and validation statistics) and Supplementary Table 3 (Correlation Coefficients (CC) after model refinement and fitting of homology models).
This file contains the uncropped gels presented in the manuscript.
About this article
Cite this article
Famelis, N., Rivera-Calzada, A., Degliesposti, G. et al. Architecture of the mycobacterial type VII secretion system. Nature 576, 321–325 (2019). https://doi.org/10.1038/s41586-019-1633-1
Received:

Accepted:

Published:

Issue Date:

DOI: https://doi.org/10.1038/s41586-019-1633-1
Comments
By submitting a comment you agree to abide by our Terms and Community Guidelines. If you find something abusive or that does not comply with our terms or guidelines please flag it as inappropriate.