Abstract
The integrity of the mammalian epidermis depends on a balance of proliferation and differentiation in the resident population of stem cells1. The kinase RIPK4 and the transcription factor IRF6 are mutated in severe developmental syndromes in humans, and mice lacking these genes display epidermal hyperproliferation and soft-tissue fusions that result in neonatal lethality2,3,4,5. Our understanding of how these genes control epidermal differentiation is incomplete. Here we show that the role of RIPK4 in mouse development requires its kinase activity; that RIPK4 and IRF6 expressed in the epidermis regulate the same biological processes; and that the phosphorylation of IRF6 at Ser413 and Ser424 primes IRF6 for activation. Using RNA sequencing (RNA-seq), histone chromatin immunoprecipitation followed by sequencing (ChIP–seq) and assay for transposase-accessible chromatin using sequencing (ATAC-seq) of skin in wild-type and IRF6-deficient mouse embryos, we define the transcriptional programs that are regulated by IRF6 during epidermal differentiation. IRF6 was enriched at bivalent promoters, and IRF6 deficiency caused defective expression of genes that are involved in the metabolism of lipids and the formation of tight junctions. Accordingly, the lipid composition of the stratum corneum of Irf6−/− skin was abnormal, culminating in a severe defect in the function of the epidermal barrier. Collectively, our results explain how RIPK4 and IRF6 function to ensure the integrity of the epidermis and provide mechanistic insights into why developmental syndromes that are characterized by orofacial, skin and genital abnormalities result when this axis goes awry.
This is a preview of subscription content
Access options
Subscribe to Journal
Get full journal access for 1 year
$199.00
only $3.90 per issue
All prices are NET prices.
VAT will be added later in the checkout.
Tax calculation will be finalised during checkout.
Rent or Buy article
Get time limited or full article access on ReadCube.
from$8.99
All prices are NET prices.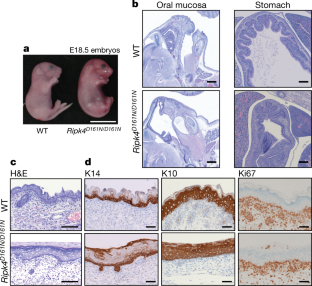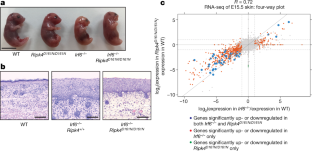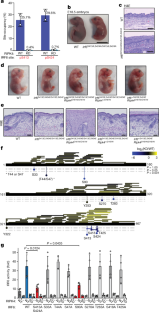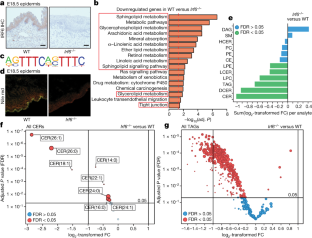 Data availability
The data sets generated in this study are available from the corresponding authors on reasonable request. Gel source data can be found in Supplementary Fig. 1. Source data for all graphs are provided.
References
1.

Fuchs, E. Skin stem cells: rising to the surface. J. Cell Biol. 180, 273–284 (2008).

2.

Holland, P. et al. RIP4 is an ankyrin repeat-containing kinase essential for keratinocyte differentiation. Curr. Biol. 12, 1424–1428 (2002).

3.

Ingraham, C. R. et al. Abnormal skin, limb and craniofacial morphogenesis in mice deficient for interferon regulatory factor 6 (Irf6). Nat. Genet. 38, 1335–1340 (2006).

4.

Kondo, S. et al. Mutations in IRF6 cause Van der Woude and popliteal pterygium syndromes. Nat. Genet. 32, 285–289 (2002).

5.

Mitchell, K. et al. Exome sequence identifies RIPK4 as the Bartsocas–Papas syndrome locus. Am. J. Hum. Genet. 90, 69–75 (2012).

6.

Rountree, R. B. et al. RIP4 regulates epidermal differentiation and cutaneous inflammation. J. Invest. Dermatol. 130, 102–112 (2010).

7.

De Groote, P. et al. A novel RIPK4–IRF6 connection is required to prevent epithelial fusions characteristic for popliteal pterygium syndromes. Cell Death Differ. 22, 1012–1024 (2015).

8.

Kalay, E. et al. Mutations in RIPK4 cause the autosomal-recessive form of popliteal pterygium syndrome. Am. J. Hum. Genet. 90, 76–85 (2012).

9.

Massoud, A. A., Ammaari, A. N., Khan, A. S. S., ven Katraman, B. & Teebi, A. S. Bartsocas–Papas syndrome in an Arab family with four affected sibs: further characterization. Am. J. Med. Genet. 79, 16–21 (1998).

10.

Van Der Woude, A. Fistula labii inferioris congenita and its association with cleft lip and palate. Am. J. Hum. Genet. 6, 244–256 (1954).

11.

Butali, A. et al. Novel IRF6 mutations in families with Van Der Woude syndrome and popliteal pterygium syndrome from sub-Saharan Africa. Mol. Genet. Genomic Med. 2, 254–260 (2014).

12.

Gorlin, R. J., Sedano, H. O. & Cervenka, J. Popliteal pterygium syndrome. a syndrome comprising cleft lip-palate, popliteal and intercrural pterygia, digital and genital anomalies. Pediatrics 41, 503–509 (1968).

13.

Richardson, R. J. et al. Irf6 is a key determinant of the keratinocyte proliferation-differentiation switch. Nat. Genet. 38, 1329–1334 (2006).

14.

Kwa, M. Q. et al. Receptor-interacting protein kinase 4 and interferon regulatory factor 6 function as a signaling axis to regulate keratinocyte differentiation. J. Biol. Chem. 289, 31077–31087 (2014).

15.

Huang, C. S. et al. Crystal structure of Ripk4 reveals dimerization-dependent kinase activity. Structure 26, 767–777 (2018).

16.

Dassule, H. R., Lewis, P., Bei, M., Maas, R. & McMahon, A. P. Sonic hedgehog regulates growth and morphogenesis of the tooth. Development 127, 4775–4785 (2000).

17.

Kousa, Y. A., Moussa, D. & Schutte, B. C. IRF6 expression in basal epithelium partially rescues Irf6 knockout mice. Dev. Dyn. 246, 670–681 (2017).

18.

Urwyler-Rösselet, C. et al. Keratinocyte-specific ablation of RIPK4 allows epidermal cornification but impairs skin barrier formation. J. Invest. Dermatol. 138, 1268–1278 (2018).

19.

Chen, W. et al. Insights into interferon regulatory factor activation from the crystal structure of dimeric IRF5. Nat. Struct. Mol. Biol. 15, 1213–1220 (2008).

20.

Matsuzawa, N. et al. Two missense mutations of the IRF6 gene in two Japanese families with popliteal pterygium syndrome. Am. J. Med. Genet. 152A, 2262–2267 (2010).

21.

Botti, E. et al. Developmental factor IRF6 exhibits tumor suppressor activity in squamous cell carcinomas. Proc. Natl Acad. Sci. USA 108, 13710–13715 (2011).

22.

Liu, H. et al. Irf6 directly regulates Klf17 in zebrafish periderm and Klf4 in sign oral epithelium, and dominant-negative KLF4 variants are present in patients with cleft lip and palate. Hum. Mol. Genet. 25, 766–776 (2016).

23.

Little, H. J. et al. Missense mutations that cause Van der Woude syndrome and popliteal pterygium syndrome affect the DNA-binding and transcriptional activation functions of IRF6. Hum. Mol. Genet. 18, 535–545 (2009).

24.

Voigt, P., Tee, W. W. & Reinberg, D. A double take on bivalent promoters. Genes Dev. 27, 1318–1338 (2013).

25.

de la Garza, G. et al. Interferon regulatory factor 6 promotes differentiation of the periderm by activating expression of Grainyhead-like 3. J. Invest. Dermatol. 133, 68–77 (2013).

26.

Peyrard-Janvid, M. et al. Dominant mutations in GRHL3 cause Van der Woude syndrome and disrupt oral periderm development. Am. J. Hum. Genet. 94, 23–32 (2014).

27.

Ting, S. B. et al. A homolog of Drosophila grainy head is essential for epidermal integrity in mice. Science 308, 411–413 (2005).

28.

Furuse, M. et al. Claudin-based tight junctions are crucial for the mammalian epidermal barrier: a lesson from claudin-1-deficient mice. J. Cell Biol. 156, 1099–1111 (2002).

29.

Li, S. et al. Transcription factor CTIP1/ BCL11A regulates epidermal differentiation and lipid metabolism during skin development. Sci. Rep. 7, 13427 (2017).

30.

Dai, J., Brooks, Y., Lefort, K., Getsios, S. & Dotto, G. P. The retinoid-related orphan receptor RORα promotes keratinocyte differentiation via FOXN1. PLoS ONE 8, e70392 (2013).

31.

Grond, S. et al. PNPLA1 deficiency in mice and humans leads to a defect in the synthesis of omega-O-acylceramides. J. Invest. Dermatol. 137, 394–402 (2017).

32.

Eckl, K. M. et al. Impaired epidermal ceramide synthesis causes autosomal recessive congenital ichthyosis and reveals the importance of ceramide acyl chain length. J. Invest. Dermatol. 133, 2202–2211 (2013).

33.

Jennemann, R. et al. Loss of ceramide synthase 3 causes lethal skin barrier disruption. Hum. Mol. Genet. 21, 586–608 (2012).

34.

Ryder, E. et al. Rapid conversion of EUCOMM/KOMP-CSD alleles in mouse embryos using a cell-permeable Cre recombinase. Transgenic Res. 23, 177–185 (2014).

35.

Hafner, M. et al. Keratin 14 Cre transgenic mice authenticate keratin 14 as an oocyte-expressed protein. Genesis 38, 176–181 (2004).

36.

DiTommaso, T. & Foijer, F. Barrier function assay. Bio Protoc. 4, e1133 (2014).

37.

Gareus, R. et al. Normal epidermal differentiation but impaired skin-barrier formation upon keratinocyte-restricted IKK1 ablation. Nat. Cell Biol. 9, 461–469 (2007).

38.

Hanley, K. et al. Glucocorticoid deficiency delays stratum corneum maturation in the fetal mouse. J. Invest. Dermatol. 111, 440–444 (1998).

39.

Smyth, G. K. in Bioinformatics and Computational Biology Solutions Using R and Bioconductor (eds Gentleman, R., Carey, V. J., Huber, W., Irizarry, R. A. & Dudoit, S.) 397–420 (Springer, New York, 2005).

40.

R Core Team. R: A language and environment for statistical computing. (R Foundation for Statistical Computing, 2018).

41.

Ritchie, M. E. et al. limma powers differential expression analyses for RNA-sequencing and microarray studies. Nucleic Acids Res. 43, e47 (2015).

42.

Love, M. I., Huber, W. & Anders, S. Moderated estimation of fold change and dispersion for RNA-seq data with DESeq2. Genome Biol. 15, 550 (2014).

43.

Alhamdoosh, M. et al. Combining multiple tools outperforms individual methods in gene set enrichment analyses. Bioinformatics 33, 414–424 (2017).

44.

Zhang, Y. et al. Model-based analysis of ChIP–seq (MACS). Genome Biol. 9, R137 (2008).

45.

Heinz, S. et al. Simple combinations of lineage-determining transcription factors prime cis-regulatory elements required for macrophage and B cell identities. Mol. Cell 38, 576–589 (2010).

46.

Hahne, F. & Ivanek, R. Visualizing genomic data using Gviz and bioconductor. Methods Mol. Biol. 1418, 335–351 (2016).

47.

Gu, Z., Eils, R. & Schlesner, M. Complex heatmaps reveal patterns and correlations in multidimensional genomic data. Bioinformatics 32, 2847–2849 (2016).

48.

Buenrostro, J. D., Giresi, P. G., Zaba, L. C., Chang, H. Y. & Greenleaf, W. J. Transposition of native chromatin for fast and sensitive epigenomic profiling of open chromatin, DNA-binding proteins and nucleosome position. Nat. Methods 10, 1213–1218 (2013).

49.

Corces, M. R. et al. An improved ATAC-seq protocol reduces background and enables interrogation of frozen tissues. Nat. Methods 14, 959–962 (2017).

50.

Bailey, T. L. et al. MEME SUITE: tools for motif discovery and searching. Nucleic Acids Res. 37, W202–W208 (2009).

51.

Beausoleil, S. A., Villén, J., Gerber, S. A., Rush, J. & Gygi, S. P. A probability-based approach for high-throughput protein phosphorylation analysis and site localization. Nat. Biotechnol. 24, 1285–1292 (2006).

52.

Elias, J. E. & Gygi, S. P. Target-decoy search strategy for mass spectrometry-based proteomics. Methods Mol. Biol. 604, 55–71 (2010).
Acknowledgements
We thank T. Scholl, B. Halpenny, K. Veliz, C. Dela Cruz, L. Orellana and F. Gallardo for animal husbandry; and M. Chen, A. Pierce and the Genentech genetic analysis and histology laboratories for technical assistance.
Ethics declarations
Competing interests
All authors are employees of Genentech.
Additional information
Publisher's note Springer Nature remains neutral with regard to jurisdictional claims in published maps and institutional affiliations.
Peer review information Nature thanks Salvador Aznar Benitah, Ya-Chieh Hsu, Etienne Meylan and the other, anonymous, reviewer(s) for their contribution to the peer review of this work.
Extended data figures and tables
Supplementary information
Uncropped blots for Figures 2 and 3 and Extended Data Figures 1, 3, 4 and 6.
Sequences of the AQUA peptides used for the proteomics experiment in Figure 3a and Extended Data Figure 4a-c.
About this article
Cite this article
Oberbeck, N., Pham, V.C., Webster, J.D. et al. The RIPK4–IRF6 signalling axis safeguards epidermal differentiation and barrier function. Nature 574, 249–253 (2019). https://doi.org/10.1038/s41586-019-1615-3
Received:

Accepted:

Published:

Issue Date:
Comments
By submitting a comment you agree to abide by our Terms and Community Guidelines. If you find something abusive or that does not comply with our terms or guidelines please flag it as inappropriate.