Abstract
At least two members of the Toll-like receptor (TLR) family, TLR7 and TLR9, can recognize self-RNA and self-DNA, respectively. Despite the structural and functional similarities between these receptors, their contributions to autoimmune diseases such as systemic lupus erythematosus can differ. For example, TLR7 and TLR9 have opposing effects in mouse models of systemic lupus erythematosus—disease is exacerbated in TLR9-deficient mice but attenuated in TLR7-deficient mice1. However, the mechanisms of negative regulation that differentiate between TLR7 and TLR9 are unknown. Here we report a function for the TLR trafficking chaperone UNC93B1 that specifically limits signalling of TLR7, but not TLR9, and prevents TLR7-dependent autoimmunity in mice. Mutations in UNC93B1 that lead to enhanced TLR7 signalling also disrupt binding of UNC93B1 to syntenin-1, which has been implicated in the biogenesis of exosomes2. Both UNC93B1 and TLR7 can be detected in exosomes, suggesting that recruitment of syntenin-1 by UNC93B1 facilitates the sorting of TLR7 into intralumenal vesicles of multivesicular bodies, which terminates signalling. Binding of syntenin-1 requires phosphorylation of UNC93B1 and provides a mechanism for dynamic regulation of TLR7 activation and signalling. Thus, UNC93B1 not only enables the proper trafficking of nucleic acid-sensing TLRs, but also sets the activation threshold of potentially self-reactive TLR7.
Relevant articles
Open Access articles citing this article.
Matteo Gentili

,

Bingxu Liu

…

Nir Hacohen

Nature Communications Open Access 04 February 2023

Qing-Fang Han

,

Wen-Jia Li

…

Shui-Jun Zhang

Molecular Cancer Open Access 01 November 2022

Denghui Wei

,

Weixiang Zhan

…

Tiebang Kang

Cell Research Open Access 21 September 2020
Access options
Access Nature and 54 other Nature Portfolio journals
Get Nature+, our best-value online-access subscription
$29.99 / 30 days
cancel any time
Subscribe to this journal
Receive 51 print issues and online access
$199.00 per year
only $3.90 per issue
Rent or buy this article
Get just this article for as long as you need it
$39.95
Prices may be subject to local taxes which are calculated during checkout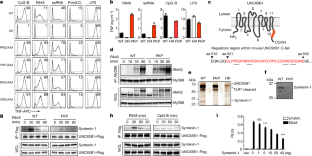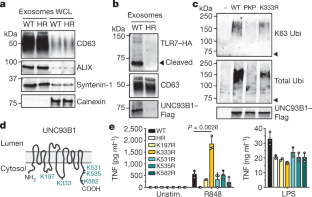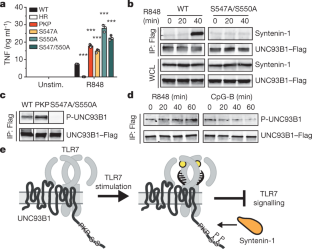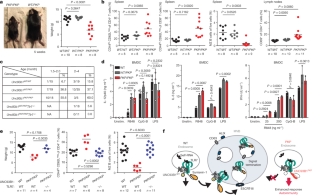 Data availability
The data that support the findings of this study are either included within the manuscript or are available from the corresponding author on reasonable request. Source Data for Figs. 1–4 and Extended Data Figs. 1–9 are included in the online version of the paper. Gel source data can be found in Supplementary Fig. 1.
References
Christensen, S. R. et al. Toll-like receptor 7 and TLR9 dictate autoantibody specificity and have opposing inflammatory and regulatory roles in a murine model of lupus. Immunity 25, 417–428 (2006).

Baietti, M. F. et al. Syndecan-syntenin-ALIX regulates the biogenesis of exosomes. Nat. Cell Biol. 14, 677–685 (2012).

Kagan, J. C. & Barton, G. M. Emerging principles governing signal transduction by pattern-recognition receptors. Cold Spring Harb. Perspect. Biol. 7, a016253 (2014).

Majer, O., Liu, B. & Barton, G. M. Nucleic acid-sensing TLRs: trafficking and regulation. Curr. Opin. Immunol. 44, 26–33 (2017).

Barton, G. M., Kagan, J. C. & Medzhitov, R. Intracellular localization of Toll-like receptor 9 prevents recognition of self DNA but facilitates access to viral DNA. Nat. Immunol. 7, 49–56 (2006).

Ewald, S. E. et al. Nucleic acid recognition by Toll-like receptors is coupled to stepwise processing by cathepsins and asparagine endopeptidase. J. Exp. Med. 208, 643–651 (2011).

Ewald, S. E. et al. The ectodomain of Toll-like receptor 9 is cleaved to generate a functional receptor. Nature 456, 658–662 (2008).

Mouchess, M. L. et al. Transmembrane mutations in Toll-like receptor 9 bypass the requirement for ectodomain proteolysis and induce fatal inflammation. Immunity 35, 721–732 (2011). 10.

Park, B. et al. Proteolytic cleavage in an endolysosomal compartment is required for activation of Toll-like receptor 9. Nat. Immunol. 9, 1407–1414 (2008).

Deane, J. A. et al. Control of toll-like receptor 7 expression is essential to restrict autoimmunity and dendritic cell proliferation. Immunity 27, 801–810 (2007).

Pisitkun, P. et al. Autoreactive B cell responses to RNA-related antigens due to TLR7 gene duplication. Science 312, 1669–1672 (2006).

Roberts, A. W. et al. Tissue-resident macrophages are locally programmed for silent clearance of apoptotic cells. Immunity 47, 913–927 (2017).

Subramanian, S. et al. A Tlr7 translocation accelerates systemic autoimmunity in murine lupus. Proc. Natl Acad. Sci. USA 103, 9970–9975 (2006).

Brinkmann, M. M. et al. The interaction between the ER membrane protein UNC93B and TLR3, 7, and 9 is crucial for TLR signaling. J. Cell Biol. 177, 265–275 (2007).

Kim, Y. M., Brinkmann, M. M., Paquet, M. E. & Ploegh, H. L. UNC93B1 delivers nucleotide-sensing toll-like receptors to endolysosomes. Nature 452, 234–238 (2008).

Lee, B. L. et al. UNC93B1 mediates differential trafficking of endosomal TLRs. eLife 2, e00291 (2013).

Tabeta, K. et al. The UNC93B1 mutation 3d disrupts exogenous antigen presentation and signaling via Toll-like receptors 3, 7 and 9. Nat. Immunol. 7, 156–164 (2006).

Fukui, R. et al. Unc93B1 restricts systemic lethal inflammation by orchestrating Toll-like receptor 7 and 9 trafficking. Immunity 35, 69–81 (2011).

Fukui, R. et al. Unc93B1 biases Toll-like receptor responses to nucleic acid in dendritic cells toward DNA- but against RNA-sensing. J. Exp. Med. 206, 1339–1350 (2009).

Kegelman, T. P. et al. Targeting tumor invasion: the roles of MDA-9/Syntenin. Expert Opin. Ther. Targets 19, 97–112 (2015).

Chen, F. et al. Syntenin negatively regulates TRAF6-mediated IL-1R/TLR4 signaling. Cell. Signal. 20, 666–674 (2008

Gräßel, L. et al. The CD63-syntenin-1 complex controls post-endocytic trafficking of oncogenic human papillomaviruses. Sci. Rep. 6, 32337 (2016).

Sorkin, A. & von Zastrow, M. Endocytosis and signalling: intertwining molecular networks. Nat. Rev. Mol. Cell Biol. 10, 609–622 (2009).

Jeppesen, D. K. et al. Reassessment of exosome composition. Cell 177, 428–445 (2019).

Raiborg, C. & Stenmark, H. The ESCRT machinery in endosomal sorting of ubiquitylated membrane proteins. Nature 458, 445–452 (2009).

Latty, S. L. et al. Activation of Toll-like receptors nucleates assembly of the MyDDosome signaling hub. eLife 7, e31377 (2018).

Tamura, K. et al. Increased production of intestinal immunoglobulins in Syntenin-1-deficient mice. Immunobiology 220, 597–604 (2015).

Majer, O. et al. Release from UNC93B1 reinforces the compartmentalized activation of select TLRs. Nature https://doi.org/10.1038/s41586-019-1611-7 (2019).

Mali, P. et al. RNA-guided human genome engineering via Cas9. Science 339, 823–826 (2013).

Thery, C., Amigorena, S., Raposo, G. & Clayton, A. Isolation and characterization of exosomes from cell culture supernatants and biological fluids. Curr. Protoc. Cell Biol. Chapter 3, Unit 3.22 (2006).

Schindelin, J. et al. Fiji: an open-source platform for biological-image analysis. Nat. Methods 9, 676–682 (2012).

Carpenter, A. E. et al. CellProfiler: image analysis software for identifying and quantifying cell phenotypes. Genome Biol. 7, R100 (2006).
Acknowledgements
We thank R. Vance and members of the Barton and Vance laboratories for discussions and critical reading of the manuscript, A.Yiu-fai Lee and the Gene Targeting Facilty of the Cancer Research Center at UC Berkeley for generating the Unc93b1PKP/PKP knock-in mice, L. Kohlstaedt and the Vincent J. Coates Proteomics/Mass Spectrometry Laboratory at UC Berkeley for identification of UNC93B1-interacting proteins, H. Nolla and A. Valeros for assistance with cell sorting at the Flow Cytometry Facility of the Cancer Research Laboratory at UC Berkeley, and S. Ruzin and D. Schichnes for assistance with microscopy on the Zeiss Elyra PS.1 at the Biological Imaging Center at UC Berkeley. This work was supported by the National Institutes of Health (NIH; AI072429, AI105184 and AI063302 to G.M.B.) and by the Lupus Research Institute (Distinguished Innovator Award to G.M.B.). O.M. was supported by an Erwin Schrödinger (J 3415-B22) and CRI Irvington postdoctoral fellowship. B.L. was supported by the UC Berkeley Tang Distinguished Scholars Program. Research reported in this publication was supported in part by the NIH S10 program under award number 1S10OD018136-01 and by the NIH S10 Instrumentation Grant S10RR025622.
Ethics declarations
Competing interests
The authors declare no competing interests.
Additional information
Publisher's note Springer Nature remains neutral with regard to jurisdictional claims in published maps and institutional affiliations.
Extended data figures and tables
Supplementary information
This file contains the uncropped gel images for main figures and extended data figures. Separate gels were run for detection of each protein. When loading or normalization controls were used, these samples were run on separate gels.
About this article
Cite this article
Majer, O., Liu, B., Kreuk, L.S.M. et al. UNC93B1 recruits syntenin-1 to dampen TLR7 signalling and prevent autoimmunity. Nature 575, 366–370 (2019). https://doi.org/10.1038/s41586-019-1612-6
Received:

Accepted:

Published:

Issue Date:

DOI: https://doi.org/10.1038/s41586-019-1612-6
Comments
By submitting a comment you agree to abide by our Terms and Community Guidelines. If you find something abusive or that does not comply with our terms or guidelines please flag it as inappropriate.