Abstract
Identifying the genetic mechanisms of adaptation requires the elucidation of links between the evolution of DNA sequence, phenotype, and fitness1. Convergent evolution can be used as a guide to identify candidate mutations that underlie adaptive traits2,3,4, and new genome editing technology is facilitating functional validation of these mutations in whole organisms1,5. We combined these approaches to study a classic case of convergence in insects from six orders, including the monarch butterfly (Danaus plexippus), that have independently evolved to colonize plants that produce cardiac glycoside toxins6,7,8,9,10,11. Many of these insects evolved parallel amino acid substitutions in the α-subunit (ATPα) of the sodium pump (Na+/K+-ATPase)7,8,9,10,11, the physiological target of cardiac glycosides12. Here we describe mutational paths involving three repeatedly changing amino acid sites (111, 119 and 122) in ATPα that are associated with cardiac glycoside specialization13,14. We then performed CRISPR–Cas9 base editing on the native Atpα gene in Drosophila melanogaster flies and retraced the mutational path taken across the monarch lineage11,15. We show in vivo, in vitro and in silico that the path conferred resistance and target-site insensitivity to cardiac glycosides16, culminating in triple mutant 'monarch flies' that were as insensitive to cardiac glycosides as monarch butterflies. 'Monarch flies' retained small amounts of cardiac glycosides through metamorphosis, a trait that has been optimized in monarch butterflies to deter predators17,18,19. The order in which the substitutions evolved was explained by amelioration of antagonistic pleiotropy through epistasis13,14,20,21,22. Our study illuminates how the monarch butterfly evolved resistance to a class of plant toxins, eventually becoming unpalatable, and changing the nature of species interactions within ecological communities2,6,7,8,9,10,11,15,17,18,19.
Relevant articles
Open Access articles citing this article.
Lei Guo

,

Xiaomu Qiao

…

Jia Huang

Nature Ecology & Evolution Open Access 17 July 2023

Sébastien Levesque

,

Diana Mayorga

…

Yannick Doyon

Nature Communications Open Access 07 October 2022

Mohammed A. Khallaf

,

Rongfeng Cui

…

Markus Knaden

Nature Communications Open Access 06 July 2021
Access options
Access Nature and 54 other Nature Portfolio journals
Get Nature+, our best-value online-access subscription
$29.99 / 30 days
cancel any time
Subscribe to this journal
Receive 51 print issues and online access
$199.00 per year
only $3.90 per issue
Rent or buy this article
Prices vary by article type
from$1.95
to$39.95
Prices may be subject to local taxes which are calculated during checkout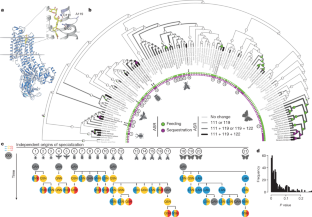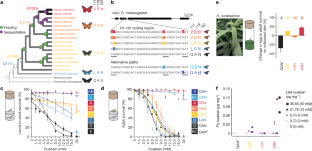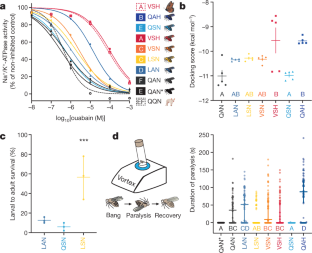 Code availability
The code to compute RMO (reproducibility of mutational order) scores in the presence of unordered mutations and correlated pathways can be accessed in Github (https://github.com/gaguerra/ModifiedRMO). The set of R scripts implements the RMO score, first proposed by Toprak and co-workers14, with the new additions of accounting for non-independent mutational pathways (in the presence of shared ancestry) and partially unresolved mutational pathways.
References
Barrett, R. D. & Hoekstra, H. E. Molecular spandrels: tests of adaptation at the genetic level. Nat. Rev. Genet. 12, 767–780 (2011).

Agrawal, A. A. Toward a predictive framework for convergent evolution: integrating natural history, genetic mechanisms, and consequences for the diversity of life. Am. Nat. 190, S1–S12 (2017).

Stern, D. L. The genetic causes of convergent evolution. Nat. Rev. Genet. 14, 751–764 (2013).

Storz, J. F. Causes of molecular convergence and parallelism in protein evolution. Nat. Rev. Genet. 17, 239–250 (2016).

Siddiq, M. A., Loehlin, D. W., Montooth, K. L. & Thornton, J. W. Experimental test and refutation of a classic case of molecular adaptation in Drosophila melanogaster. Nat. Ecol. Evol. 1, 0025 (2017).

Agrawal, A. A., Petschenka, G., Bingham, R. A., Weber, M. G. & Rasmann, S. Toxic cardenolides: chemical ecology and coevolution of specialized plant–herbivore interactions. New Phytol. 194, 28–45 (2012).

Petschenka, G., Wagschal, V., von Tschirnhaus, M., Donath, A. & Dobler, S. Convergently evolved toxic secondary metabolites in plants drive the parallel molecular evolution of insect resistance. Am. Nat. 190, S29–S43 (2017).

Holzinger, F., Frick, C. & Wink, M. Molecular basis for the insensitivity of the Monarch (Danaus plexippus) to cardiac glycosides. FEBS Lett. 314, 477–480 (1992).

Dobler, S., Dalla, S., Wagschal, V. & Agrawal, A. A. Community-wide convergent evolution in insect adaptation to toxic cardenolides by substitutions in the Na,K-ATPase. Proc. Natl Acad. Sci. USA 109, 13040–13045 (2012).

Zhen, Y., Aardema, M. L., Medina, E. M., Schumer, M. & Andolfatto, P. Parallel molecular evolution in an herbivore community. Science 337, 1634–1637 (2012).

Petschenka, G. et al. Stepwise evolution of resistance to toxic cardenolides via genetic substitutions in the Na+/K+ -ATPase of milkweed butterflies (lepidoptera: Danaini). Evolution 67, 2753–2761 (2013).

Horisberger, J. D. Recent insights into the structure and mechanism of the sodium pump. Physiology (Bethesda) 19, 377–387 (2004).

Weinreich, D. M., Delaney, N. F., Depristo, M. A. & Hartl, D. L. Darwinian evolution can follow only very few mutational paths to fitter proteins. Science 312, 111–114 (2006).

Toprak, E. et al. Evolutionary paths to antibiotic resistance under dynamically sustained drug selection. Nat. Genet. 44, 101–105 (2011).

Whiteman, N. K. & Mooney, K. A. Evolutionary biology: Insects converge on resistance. Nature 489, 376–377 (2012).

Berenbaum, M. R. in Molecular Aspects of Insect–Plant Associations (eds Brattsten, L. B. & Ahmad, S.) 257–272 (Springer, 1986).

Brower, L. P., Ryerson, W. N., Coppinger, L. L. & Glazier, S. C. Ecological chemistry and the palatability spectrum. Science 161, 1349–1350 (1968).

Petschenka, G. & Agrawal, A. A. Milkweed butterfly resistance to plant toxins is linked to sequestration, not coping with a toxic diet. Proc. R. Soc. B 282, 20151865 (2015).

Zhan, S. et al. The genetics of monarch butterfly migration and warning colouration. Nature 514, 317–321 (2014).

Tarvin, R. D. et al. Interacting amino acid replacements allow poison frogs to evolve epibatidine resistance. Science 357, 1261–1266 (2017).

Hague, M. T. J. et al. Large-effect mutations generate trade-off between predatory and locomotor ability during arms race coevolution with deadly prey. Evol. Lett. 2, 406–416 (2018).

Blount, Z. D., Barrick, J. E., Davidson, C. J. & Lenski, R. E. Genomic analysis of a key innovation in an experimental Escherichia coli population. Nature 489, 513–518 (2012).

Groen, S. C. et al. Multidrug transporters and organic anion transporting polypeptides protect insects against the toxic effects of cardenolides. Insect Biochem. Mol. Biol. 81, 51–61 (2017).

Dalla, S. & Dobler, S. Gene duplications circumvent trade-offs in enzyme function: Insect adaptation to toxic host plants. Evolution 70, 2767–2777 (2016).

Lin, S., Staahl, B. T., Alla, R. K. & Doudna, J. A. Enhanced homology-directed human genome engineering by controlled timing of CRISPR/Cas9 delivery. eLife 3, e04766 (2014).

Port, F., Chen, H.-M., Lee, T. & Bullock, S. L. Optimized CRISPR/Cas tools for efficient germline and somatic genome engineering in Drosophila. Proc. Natl Acad. Sci. USA 111, E2967–E2976 (2014).

Pegueroles, C. et al. Inversions and adaptation to the plant toxin ouabain shape DNA sequence variation within and between chromosomal inversions of Drosophila subobscura. Sci. Rep. 6, 23754 (2016).

Shorrocks, B. in The Genetics and Biology of Drosophila (eds Ashburner, M. et al.) 385–428 (Academic, 1982).

Ashmore, L. J. et al. Novel mutations affecting the Na, K ATPase alpha model complex neurological diseases and implicate the sodium pump in increased longevity. Hum. Genet. 126, 431–447 (2009).

Schubiger, M., Feng, Y., Fambrough, D. M. & Palka, J. A mutation of the Drosophila sodium pump α-subunit gene results in bang-sensitive paralysis. Neuron 12, 373–381 (1994).

Trifinopoulos, J., Nguyen, L.-T., von Haeseler, A. & Minh, B. Q. W-IQ-TREE: a fast online phylogenetic tool for maximum likelihood analysis. Nucleic Acids Res. 44, W232–W235 (2016).

Petschenka, G., Pick, C., Wagschal, V. & Dobler, S. Functional evidence for physiological mechanisms to circumvent neurotoxicity of cardenolides in an adapted and a non-adapted hawk-moth species. Proc. R. Soc. B 280, 20123089 (2013).

Paradis, E., Claude, J. & Strimmer, K. APE: Analyses of phylogenetics and evolution in R language. Bioinformatics 20, 289–290 (2004).

Pupko, T., Pe'er, I., Shamir, R. & Graur, D. A fast algorithm for joint reconstruction of ancestral amino acid sequences. Mol. Biol. Evol. 17, 890–896 (2000).

Pond, S. L. K., Frost, S. D. W. & Muse, S. V. HyPhy: hypothesis testing using phylogenies. Bioinformatics 21, 676–679 (2005).

Letunic, I. & Bork, P. Interactive tree of life (iTOL) v3: an online tool for the display and annotation of phylogenetic and other trees. Nucleic Acids Res. 44, W242–W245 (2016).

Levy Karin, E., Ashkenazy, H., Wicke, S., Pupko, T. & Mayrose, I. TraitRateProp: a web server for the detection of trait-dependent evolutionary rate shifts in sequence sites. Nucleic Acids Res. 45, W260–W264 (2017).

Poon, A. F., Lewis, F. I., Pond, S. L. & Frost, S. D. An evolutionary-network model reveals stratified interactions in the V3 loop of the HIV-1 envelope. PLOS Comput. Biol. 3, e231 (2007).

Gratz, S. J. et al. Highly specific and efficient CRISPR/Cas9-catalyzed homology-directed repair in Drosophila. Genetics 196, 961–971 (2014).

Ponton, F., Chapuis, M. P., Pernice, M., Sword, G. A. & Simpson, S. J. Evaluation of potential reference genes for reverse transcription-qPCR studies of physiological responses in Drosophila melanogaster. J. Insect Physiol. 57, 840–850 (2011).

Taussky, H. H. & Shorr, E. A microcolorimetric method for the determination of inorganic phosphorus. J. Biol. Chem. 202, 675–685 (1953).

Petschenka, G. & Dobler, S. Target-site sensitivity in a specialized herbivore towards major toxic compounds of its host plant: the Na+K+-ATPase of the oleander hawk moth (Daphnis nerii) is highly susceptible to cardenolides. Chemoecology 19, 235–239 (2009).

Beikirch, H. Toxicity of ouabain on Drosophila melanogaster. Experientia 33, 494–495 (1977).

Ja, W. W. et al. Prandiology of Drosophila and the CAFE assay. Proc. Natl Acad. Sci. USA 104, 8253–8256 (2007).

Glass, H. W. Jr & Pan, M. L. Laboratory rearing of monarch butterflies (Lepidoptera: Danaiidae), using an artificial diet. Ann. Entomol. Soc. Am. 76, 475–476 (1983).

Malcolm, S. B. & Zalucki, M. P. Milkweed latex and cardenolide induction may resolve the lethal plant defence paradox. Entomol. Exp. Appl. 80, 193–196 (1996).

Šali, A., Potterton, L., Yuan, F., van Vlijmen, H. & Karplus, M. Evaluation of comparative protein modeling by MODELLER. Proteins 23, 318–326 (1995).

Laursen, M., Yatime, L., Nissen, P. & Fedosova, N. U. Crystal structure of the high-affinity Na+K+-ATPase-ouabain complex with Mg2+ bound in the cation binding site. Proc. Natl Acad. Sci. USA 110, 10958–10963 (2013).

Gregersen, J. L., Mattle, D., Fedosova, N. U., Nissen, P. & Reinhard, L. Isolation, crystallization and crystal structure determination of bovine kidney Na+,K+-ATPase. Acta Crystallogr. F 72, 282–287 (2016).

Janson, G., Zhang, C., Prado, M. G. & Paiardini, A. PyMod 2.0: improvements in protein sequence-structure analysis and homology modeling within PyMOL. Bioinformatics 33, 444–446 (2017).

The PyMOL molecular graphics system v.1.8 (Schrödinger LLC, 2015).

Morris, G. M. et al. AutoDock4 and AutoDockTools4: Automated docking with selective receptor flexibility. J. Comput. Chem. 30, 2785–2791 (2009).

Sanner, M. F. Python: a programming language for software integration and development. J. Mol. Graph. Model. 17, 57–61 (1999).

Ganetzky, B. & Wu, C. F. Indirect suppression involving behavioral mutants with altered nerve excitability in Drosophila melanogaster. Genetics 100, 597–614 (1982).
Acknowledgements
We thank V. Wagschal, who helped with the construction and testing of in vitro cell lines; E. Toprak, who provided MATLAB code; T. O'Connor, who aided in the sequestration analyses; the Essig Museum of Entomology for photographs of milkweed butterfly specimens; M. Fa and K. O'Connor-Giles for advice on the development of the fly lines; and E. LaPlante for assistance with feeding assays. D. Bachtrog, K. Mooney, P. Moorjani, M. Nachman, R. Nielsen, P. Sudmant, R. Tarvin and B. Walsh provided feedback that improved the manuscript. Access to the HPC resources of Aix-Marseille Université was supported by the Equip@Meso (ANR-10-EQPX-29-01) project of the Investissements d'Avenir supervised by the Agence Nationale de la Recherche. This project was supported by grants from the Gordon and Betty Moore Foundation (Life Sciences Research Foundation Postdoctoral Fellowship Grant GBMF2550.06 to S.C.G.), the German Research Foundation (DFG, grant Do527/5-1 to S.D.), the Agence National de la Recherche (grant no. BioHSFS ANR-15-CE11-0007 to F.S. and F.R.), the European Research Council (ERC) under the European Union's Horizon 2020 research and innovation program (grant agreement no. 772257 to F.S. and F.R.), the National Geographic Society (grant 9097-12 to N.K.W.), the National Science Foundation (grant DEB-1256758 to N.K.W. and IOS-1907491 to A.A.A.), the John Templeton Foundation (grant ID 41855 to A.A.A., S.D., and N.K.W.), and the National Institute of General Medical Sciences of the National Institutes of Health (award no. R35GM119816 to N.K.W.).
Ethics declarations
Competing interests
The authors declare no competing interests.
Additional information
Publisher's note Springer Nature remains neutral with regard to jurisdictional claims in published maps and institutional affiliations.
Peer review information Nature thanks Joseph W. Thornton and the other, anonymous, reviewer(s) for their contribution to the peer review of this work.
Extended data figures and tables
Supplementary information
This file contains Supplementary Text, Supplementary Tables 1-7 and Supplementary References.
About this article
Cite this article
Karageorgi, M., Groen, S.C., Sumbul, F. et al. Genome editing retraces the evolution of toxin resistance in the monarch butterfly. Nature 574, 409–412 (2019). https://doi.org/10.1038/s41586-019-1610-8
Received:

Accepted:

Published:

Issue Date:

DOI: https://doi.org/10.1038/s41586-019-1610-8
Comments
By submitting a comment you agree to abide by our Terms and Community Guidelines. If you find something abusive or that does not comply with our terms or guidelines please flag it as inappropriate.