Abstract
Liver cancer remains difficult to treat, owing to a paucity of drugs that target critical dependencies1,2; broad-spectrum kinase inhibitors such as sorafenib provide only a modest benefit to patients with hepatocellular carcinoma3. The induction of senescence may represent a strategy for the treatment of cancer, especially when combined with a second drug that selectively eliminates senescent cancer cells (senolysis)4,5. Here, using a kinome-focused genetic screen, we show that pharmacological inhibition of the DNA-replication kinase CDC7 induces senescence selectively in liver cancer cells with mutations in TP53. A follow-up chemical screen identified the antidepressant sertraline as an agent that kills hepatocellular carcinoma cells that have been rendered senescent by inhibition of CDC7. Sertraline suppressed mTOR signalling, and selective drugs that target this pathway were highly effective in causing the apoptotic cell death of hepatocellular carcinoma cells treated with a CDC7 inhibitor. The feedback reactivation of mTOR signalling after its inhibition6 is blocked in cells that have been treated with a CDC7 inhibitor, which leads to the sustained inhibition of mTOR and cell death. Using multiple in vivo mouse models of liver cancer, we show that treatment with combined inhibition of of CDC7 and mTOR results in a marked reduction of tumour growth. Our data indicate that exploiting an induced vulnerability could be an effective treatment for liver cancer.
Access options
Subscribe to Journal
Get full journal access for 1 year
$199.00
only $3.90 per issue
All prices are NET prices.
VAT will be added later in the checkout.
Rent or Buy article
Get time limited or full article access on ReadCube.
from$8.99
All prices are NET prices.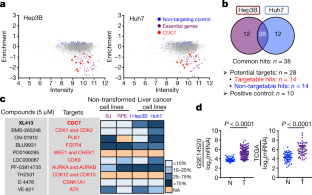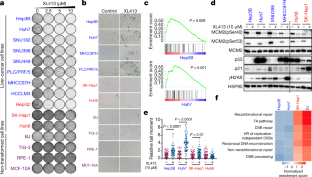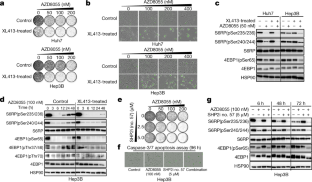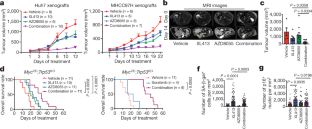 Data Availability
Raw and processed data from the next-generation RNA sequencing of samples have been deposited in the NCBI Gene Expression Omnibus (GEO) under accession number GSE121276 and GSE121277. All other data can be found in the Source Data, Supplementary Information or are available from the corresponding authors upon reasonable request.
References
1.

Bray, F. et al. Global cancer statistics 2018: GLOBOCAN estimates of incidence and mortality worldwide for 36 cancers in 185 countries. CA Cancer J. Clin. 68, 394–424 (2018).

2.

Llovet, J. M. et al. Hepatocellular carcinoma. Nat. Rev. Dis. Primers 2, 16018 (2016).

3.

Llovet, J. M. et al. Sorafenib in advanced hepatocellular carcinoma. N. Engl. J. Med. 359, 378–390 (2008).

4.

Wang, L. et al. High-throughput functional genetic and compound screens identify targets for senescence induction in cancer. Cell Reports 21, 773–783 (2017).

5.

Sieben, C. J., Sturmlechner, I., van de Sluis, B. & van Deursen, J. M. Two-step senescence-focused cancer therapies. Trends Cell Biol. 28, 723–737 (2018).

6.

Rodrik-Outmezguine, V. S. et al. mTOR kinase inhibition causes feedback-dependent biphasic regulation of AKT signaling. Cancer Discov. 1, 248–259 (2011).

7.

Zucman-Rossi, J., Villanueva, A., Nault, J. C. & Llovet, J. M. Genetic landscape and biomarkers of hepatocellular carcinoma. Gastroenterology 149, 1226–1239 (2015).

8.

Chang, J. et al. Clearance of senescent cells by ABT263 rejuvenates aged hematopoietic stem cells in mice. Nat. Med. 22, 78–83 (2016).

9.

Ogrodnik, M. et al. Cellular senescence drives age-dependent hepatic steatosis. Nat. Commun. 8, 15691 (2017).

10.

Wang, C. et al. A CRISPR screen identifies CDK7 as a therapeutic target in hepatocellular carcinoma. Cell Res. 28, 690–692 (2018).

11.

Koltun, E. S. et al. Discovery of XL413, a potent and selective CDC7 inhibitor. Bioorg. Med. Chem. Lett. 22, 3727–3731 (2012).

12.

Montagnoli, A., Moll, J. & Colotta, F. Targeting cell division cycle 7 kinase: a new approach for cancer therapy. Clin. Cancer Res. 16, 4503–4508 (2010).

13.

Cancer Genome Atlas Research Network. Comprehensive and integrative genomic characterization of hepatocellular carcinoma. Cell 169, 1327–1341 (2017).

14.

Fridman, A. L. & Tainsky, M. A. Critical pathways in cellular senescence and immortalization revealed by gene expression profiling. Oncogene 27, 5975–5987 (2008).

15.

Faget, D. V., Ren, Q. & Stewart, S. A. Unmasking senescence: context-dependent effects of SASP in cancer. Nat. Rev. Cancer 19, 439–453 (2019).

16.

Dauch, D. et al. A MYC-aurora kinase A protein complex represents an actionable drug target in p53-altered liver cancer. Nat. Med. 22, 744–753 (2016).

17.

Eggert, T. et al. Distinct functions of senescence-associated immune responses in liver tumor surveillance and tumor progression. Cancer Cell 30, 533–547 (2016).

18.

Lin, C. J., Robert, F., Sukarieh, R., Michnick, S. & Pelletier, J. The antidepressant sertraline inhibits translation initiation by curtailing mammalian target of rapamycin signaling. Cancer Res. 70, 3199–3208 (2010).

19.

Keng, V. W. et al. A conditional transposon-based insertional mutagenesis screen for genes associated with mouse hepatocellular carcinoma. Nat. Biotechnol. 27, 264–274 (2009).

20.

Milanovic, M. et al. Senescence-associated reprogramming promotes cancer stemness. Nature 553, 96–100 (2018).

21.

Georgilis, A. et al. PTBP1-mediated alternative splicing regulates the inflammatory secretome and the pro-tumorigenic effects of senescent cells. Cancer Cell 34, 85–102 (2018).

22.

Flynn, M. J., Sayed, A. A., Sharma, R., Siddique, A. & Pinato, D. J. Challenges and opportunities in the clinical development of immune checkpoint inhibitors for hepatocellular carcinoma. Hepatology 69, 2258–2270 (2019).

23.

Garcia Fortanet, J. et al. Allosteric inhibition of SHP2: identification of a potent, selective, and orally efficacious phosphatase inhibitor. J. Med. Chem. 59, 7773–7782 (2016).

24.

Evers, B. et al. CRISPR knockout screening outperforms shRNA and CRISPRi in identifying essential genes. Nat. Biotechnol. 34, 631–633 (2016).

25.

Koelzer, V. H. et al. Digital image analysis improves precision of PD-L1 scoring in cutaneous melanoma. Histopathology 73, 397–406 (2018).

26.

Subramanian, A. et al. Gene set enrichment analysis: a knowledge-based approach for interpreting genome-wide expression profiles. Proc. Natl Acad. Sci. USA 102, 15545–15550 (2005).

27.

Peng, T., Golub, T. R. & Sabatini, D. M. The immunosuppressant rapamycin mimics a starvation-like signal distinct from amino acid and glucose deprivation. Mol. Cell. Biol. 22, 5575–5584 (2002).

28.

Olive, P. L. & Banáth, J. P. The comet assay: a method to measure DNA damage in individual cells. Nat. Protoc. 1, 23–29 (2006).
Acknowledgements
We thank L. Zender, R. Smits, X. Qiao and L. Li for the kind gift of cell lines. This work was funded by grants from the European Research Council (ERC 787925 to R.B.), the Dutch Cancer Society (KWF 12049/2018-2 to L.A., 6702/2014 to B.B. and H.t.R) through the Oncode Institute and the Center for Cancer Genomics (CGC: http://cancergenomics.nl), the National Basic Research Program of China (973 Program: 2015CB553905), the National Key Sci-Tech Special Projects of Infectious Diseases of China (2018ZX10732202-002-003), the National Natural Science Foundation of China (81920108025, 81421001, 81672933, and 81874229), Shanghai Municipal Education Commission-Gaofeng Clinical Medicine Grant Support (20181703), Shanghai Municipal Commission of Health and Family Planning (2017YQ064 and 2018YQ20) and Shanghai Rising-Star Program (18QA1403900). We thank the facilities of Netherlands Cancer Institute: Animal Laboratory, Mouse Clinic Imaging Unit, Experimental Animal Pathology, Flow Cytometry, Sequencing and BioImaging.
Ethics declarations
Competing interests
C.W. and R.B. are listed as inventors of a patent application using the one–two punch therapy (CDC7 inhibitor and mTOR inhibitor) for liver cancers with TP53 mutations. R.B. is the founder of the company Oncosence, which exploits pro-senescence therapies for cancer.
Additional information
Publisher's note Springer Nature remains neutral with regard to jurisdictional claims in published maps and institutional affiliations.
Peer review information Nature thanks Hisao Masai and the other, anonymous, reviewer(s) for their contribution to the peer review of this work.
Extended data figures and tables
Supplementary information
About this article
Cite this article
Wang, C., Vegna, S., Jin, H. et al. Inducing and exploiting vulnerabilities for the treatment of liver cancer. Nature 574, 268–272 (2019). https://doi.org/10.1038/s41586-019-1607-3
Received:

Accepted:

Published:

Issue Date:
Comments
By submitting a comment you agree to abide by our Terms and Community Guidelines. If you find something abusive or that does not comply with our terms or guidelines please flag it as inappropriate.