Abstract
The efficient interconversion of chemicals and electricity through electrocatalytic processes is central to many renewable-energy initiatives. The sluggish kinetics of the oxygen reduction reaction (ORR) and the oxygen evolution reaction (OER)1,2,3,4 has long posed one of the biggest challenges in this field, and electrocatalysts based on expensive platinum-group metals are often required to improve the activity and durability of these reactions. The use of alloying5,6,7, surface strain8,9,10,11 and optimized coordination environments12 has resulted in platinum-based nanocrystals that enable very high ORR activities in acidic media; however, improving the activity of this reaction in alkaline environments remains challenging because of the difficulty in achieving optimized oxygen binding strength on platinum-group metals in the presence of hydroxide. Here we show that PdMo bimetallene—a palladium–molybdenum alloy in the form of a highly curved and sub-nanometre-thick metal nanosheet—is an efficient and stable electrocatalyst for the ORR and the OER in alkaline electrolytes, and shows promising performance as a cathode in Zn–air and Li–air batteries. The thin-sheet structure of PdMo bimetallene enables a large electrochemically active surface area (138.7 square metres per gram of palladium) as well as high atomic utilization, resulting in a mass activity towards the ORR of 16.37 amperes per milligram of palladium at 0.9 volts versus the reversible hydrogen electrode in alkaline electrolytes. This mass activity is 78 times and 327 times higher than those of commercial Pt/C and Pd/C catalysts, respectively, and shows little decay after 30,000 potential cycles. Density functional theory calculations reveal that the alloying effect, the strain effect due to the curved geometry, and the quantum size effect due to the thinness of the sheets tune the electronic structure of the system for optimized oxygen binding. Given the properties and the structure–activity relationships of PdMo metallene, we suggest that other metallene materials could show great promise in energy electrocatalysis.
Relevant articles
Open Access articles citing this article.
Zhe Jiang

,

Xuerui Liu

…

Jin-Song Hu

Nature Communications Open Access 01 April 2023

Jinfa Chang

,

Guanzhi Wang

…

Yang Yang

Nature Communications Open Access 11 March 2023

Zhongzhe Wei

,

Zijiang Zhao

…

Jianguo Wang

Nature Communications Open Access 07 February 2023
Access options
Access Nature and 54 other Nature Portfolio journals
Get Nature+, our best-value online-access subscription
$29.99 / 30 days
cancel any time
Subscribe to this journal
Receive 51 print issues and online access
$199.00 per year
only $3.90 per issue
Rent or buy this article
Get just this article for as long as you need it
$39.95
Prices may be subject to local taxes which are calculated during checkout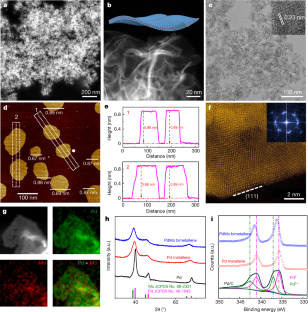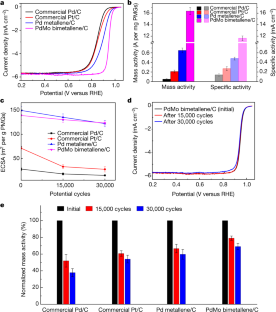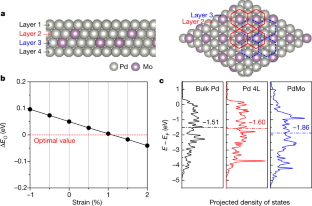 Data availability
The data that support the findings of this study are available from the corresponding author on reasonable request.
Code availability
The Vienna ab initio simulation package (VASP) used for the DFT calculations is available at https://www.vasp.at. The LAMMPS package used for the classical molecular dynamics simulations is available under a GNU Public License at https://lammps.sandia.gov.
References
Seh, Z. W. et al. Combining theory and experiment in electrocatalysis: Insights into materials design. Science 355, eaad4998 (2017).

Jiao, Y., Zheng, Y., Jaroniec, M. & Qiao, S. Z. Design of electrocatalysts for oxygen- and hydrogen-involving energy conversion reactions. Chem. Soc. Rev. 44, 2060–2086 (2015).

Debe, M. K. Electrocatalyst approaches and challenges for automotive fuel cells. Nature 486, 43–51 (2012

Suen, N. T. et al. Electrocatalysis for the oxygen evolution reaction: recent development and future perspectives. Chem. Soc. Rev. 46, 337–365 (2017).

Shao, M., Chang, Q., Dodelet, J. P. & Chenitz, R. Recent advances in electrocatalysts for oxygen reduction reaction. Chem. Rev. 116, 3594–3657 (2016).

Nørskov, J. K., Bligaard, T., Rossmeisl, J. & Christensen, C. H. Towards the computational design of solid catalysts. Nat. Chem. 1, 37–46 (2009).

Stamenkovic, V. R., Strmcnik, D., Lopes, P. P. & Markovic, N. M. Energy and fuels from electrochemical interfaces. Nat. Mater. 16, 57–69 (2017).

Stephens, I. E., Rossmeisl, J. & Chorkendorff, I. Toward sustainable fuel cells. Science 354, 1378–1379 (2016).

Luo, M. & Guo, S. Strain-controlled electrocatalysis on multimetallic nanomaterials. Nat. Rev. Mater. 2, 17059–17072 (2017).

Escudero-Escribano, M. et al. Tuning the activity of Pt alloy electrocatalysts by means of the lanthanide contraction. Science 352, 73–76 (2016).

Bu, L. et al. Biaxially strained PtPb/Pt core/shell nanoplate boosts oxygen reduction catalysis. Science 354, 1410–1414 (2016).

Li, M. et al. Ultrafine jagged platinum nanowires enable ultrahigh mass activity for the oxygen reduction reaction. Science 354, 1414–1419 (2016).

Strasser, P. et al. Lattice-strain control of the activity in dealloyed core–shell fuel cell catalysts. Nat. Chem. 2, 454–460 (2010).

Perez-Alonso, F. J. et al. The effect of size on the oxygen electroreduction activity of mass-selected platinum nanoparticles. Angew. Chem. Int. Ed. 51, 4641–4643 (2012).

Wakisaka, M. et al. Electronic structures of Pt–Co and Pt–Ru alloys for CO-tolerant anode catalysts in polymer electrolyte fuel cells studied by EC-XPS. J. Phys. Chem. B 110, 23489–23496 (2006).

Lee, J. et al. XPS studies of superconducting Mo–Ru–Rh–Pd alloy. J. Alloys Compd. 298, 291–294 (2000).

Huang, X. Q. et al. High-performance transition metal-doped Pt3Ni octahedra for oxygen reduction reaction. Science 348, 1230–1234 (2015).

Gilroy, K. D., Ruditskiy, A., Peng, H. C., Qin, D. & Xia, Y. Bimetallic nanocrystals: syntheses, properties, and applications. Chem. Rev. 116, 10414–10472 (2016).

Huang, X. et al. Freestanding palladium nanosheets with plasmonic and catalytic properties. Nat. Nanotechnol. 6, 28–32 (2011).

Saleem, F. et al. Ultrathin Pt–Cu nanosheets and nanocones. J. Am. Chem. Soc. 135, 18304–18307 (2013).

Duan, H. et al. Ultrathin rhodium nanosheets. Nat. Commun. 5, 3093–3101 (2014).

Yang, N. et al. Synthesis of ultrathin PdCu alloy nanosheets used as a highly efficient electrocatalyst for formic acid oxidation. Adv. Mater. 29, 1700769–1700774 (2017).

van der Vliet, D. F. et al. Unique electrochemical adsorption properties of Pt-skin surfaces. Angew. Chem. Int. Ed. 51, 3139–3142 (2012).

Stamenkovic, V. R. et al. Improved oxygen reduction activity on Pt3Ni(111) via increased surface site availability. Science 315, 493–497 (2007).

Shao, M., Odell, J. H., Choi, S.-I. & Xia, Y. Electrochemical surface area measurements of platinum- and palladium-based nanoparticles. Electrochem. Commun. 31, 46–48 (2013).

Chen, C. et al. Highly crystalline multimetallic nanoframes with three-dimensional electrocatalytic surfaces. Science 343, 1339–1343 (2014).

Darling, R. M. & Meyers, J. P. Kinetic model of platinum dissolution in PEMFCs. J. Electrochem. Soc. 150, A1523–A1527 (2003).

Lopes, P. P. et al. Relationships between atomic level surface structure and stability/activity of platinum surface atoms in aqueous environments. ACS Catal. 6, 2536–2544 (2016).

Nørskov, J. K. et al. Origin of the overpotential for oxygen reduction at a fuel-cell cathode. J. Phys. Chem. B 108, 17886–17892 (2004).

Stamenkovic, V. R. et al. Changing the activity of electrocatalysts for oxygen reduction by tuning the surface electronic structure. Angew. Chem. Int. Ed. 45, 2897–2901 (2006).

Bu, L. et al. A general method for multimetallic platinum alloy nanowires as highly active and stable oxygen reduction catalysts. Adv. Mater. 27, 7204–7212 (2015).

Jiang, K. et al. Efficient oxygen reduction catalysis by subnanometer Pt alloy nanowires. Sci. Adv. 3, e1601705 (2017).

Li, Y. et al. Size-controlled synthesis of Pd nanosheets for tunable plasmonic properties. CrystEngComm 17, 1833–1838 (2015).

Y H-S. et al. The XAFS beamline of SSRF. Nucl. Sci. Tech. 26, 050102–050108 (2015).

Newville, M. IFEFFIT: Interactive XAFS analysis and FEFF fitting. J. Synchrotron Radiat. 8, 322–324 (2001).

Paulus, U. A. et al. Oxygen reduction on high surface area Pt-based alloy catalysts in comparison to well defined smooth bulk alloy electrodes. Electrochim. Acta 47, 3787–3798 (2002).

Okada, J., Inukai, J. & Itaya, K. Underpotential and bulk deposition of copper on Pd(111) in sulfuric acid solution studied by in situ scanning tunneling microscopy. Phys. Chem. Chem. Phys. 3, 3297–3302 (2001).

Sheng, W., Myint, M., Chen, J. G. & Yan, Y. Correlating the hydrogen evolution reaction activity in alkaline electrolytes with the hydrogen binding energy on monometallic surfaces. Energy Environ. Sci. 6, 1509–1512 (2013).

Kresse, G. & Furthmüller, J. Efficient iterative schemes for ab initio total-energy calculations using a plane-wave basis set. Phys. Rev. B 54, 11169–11186 (1996).

Perdew, J. P., Burke, K. & Ernzerhof, M. Generalized gradient approximation made simple. Phys. Rev. Lett. 77, 3865–3868 (1996).

Blöchl, P. E. Projector augmented-wave method. Phys. Rev. B 50, 17953–17979 (1994).

Monkhorst, H. J. & Pack, J. D. Special points for Brillouin-zone integrations. Phys. Rev. B 13, 5188–5192 (1976).

Plimpton, S. Fast parallel algorithms for short-range molecular dynamics. J. Comput. Phys. 117, 1–19 (1995).

Zhou, X. W., Johnson, R. A. & Wadley, H. N. G. Misfit-energy-increasing dislocations in vapor-deposited CoFe/NiFe multilayers. Phys. Rev. B 69, 144113–144123 (2004).

Li, Y. G. et al. Advanced zinc–air batteries based on high-performance hybrid electrocatalysts. Nat. Commun. 4, 1805–1812 (2013).

Nam, G. et al. Carbon-coated core–shell Fe–Cu nanoparticles as highly active and durable electrocatalysts for a Zn–air battery. ACS Nano 9, 6493–6501 (2015).

Cui, Z., Li, Y., Fu, G., Li, X. & Goodenough, J. B. Robust Fe3Mo3C supported IrMn clusters as highly efficient bifunctional air electrode for metal–air battery. Adv. Mater. 29, 1702385–1702392 (2017).

Cui, Z., Fu, G., Li, Y. & Goodenough, J. B. Ni3FeN-supported Fe3Pt intermetallic nanoalloy as a high-performance bifunctional catalyst for metal–air batteries. Angew. Chem. Int. Ed. 56, 9901–9905 (2017).

Liu, X. et al. Integrating NiCo alloys with their oxides as efficient bifunctional cathode catalysts for rechargeable zinc–air batteries. Angew. Chem. Int. Ed. 54, 9654–9658 (2015).

Winther-Jensen, B., Winter-Jensen, O., Forsyth, M. & Macfarlane, D. High rates of oxygen reduction over a vapor phase-polymerized PEDOT electrode. Science 321, 671–674 (2008).

Lee, J. S., Lee, T., Song, H. K., Cho, J. & Kim, B. S. Ionic liquid modified graphene nanosheets anchoring manganese oxide. Energy Environ. Sci. 4, 4148–4154 (2011).

Zhang, J., Zhao, Z., Xia, Z. & Dai, L. A metal-free bifunctional electrocatalyst for oxygen reduction and oxygen evolution reactions. Nat. Nanotechnol. 10, 444–452 (2015).
Acknowledgements
This work was financially supported by the National Key R&D Program of China (number 2016YFB0100200), the National Natural Science Foundation of China (number 51671003), the Beijing Natural Science Foundation (number JQ18005), the BIC-ESAT project, the China Postdoctoral Science Foundation (number 2017M610022) and the Young Thousand Talents Program. The work at California State University Northridge was supported by the National Science Foundation PREM programme (DMR-1828019). The electron microscopy work used resources of the Center for Functional Nanomaterials, which is a US Department of Energy Office of Science Facility, at Brookhaven National Laboratory under contract number DE-SC0012704.
Ethics declarations
Competing interests
The authors declare no competing interests.
Additional information
Publisher's note Springer Nature remains neutral with regard to jurisdictional claims in published maps and institutional affiliations.
Peer review information Nature thanks Gu-Gon Park and Yun Zong for their contribution to the peer review of this work.
Extended data figures and tables
About this article
Cite this article
Luo, M., Zhao, Z., Zhang, Y. et al. PdMo bimetallene for oxygen reduction catalysis. Nature 574, 81–85 (2019). https://doi.org/10.1038/s41586-019-1603-7
Received:

Accepted:

Published:

Issue Date:

DOI: https://doi.org/10.1038/s41586-019-1603-7
Comments
By submitting a comment you agree to abide by our Terms and Community Guidelines. If you find something abusive or that does not comply with our terms or guidelines please flag it as inappropriate.