Abstract
B cells are important in the pathogenesis of many, and perhaps all, immune-mediated diseases. Each B cell expresses a single B cell receptor (BCR)1, and the diverse range of BCRs expressed by the total B cell population of an individual is termed the 'BCR repertoire'. Our understanding of the BCR repertoire in the context of immune-mediated diseases is incomplete, and defining this could provide new insights into pathogenesis and therapy. Here, we compared the BCR repertoire in systemic lupus erythematosus, anti-neutrophil cytoplasmic antibody (ANCA)-associated vasculitis, Crohn's disease, Behçet's disease, eosinophilic granulomatosis with polyangiitis, and immunoglobulin A (IgA) vasculitis by analysing BCR clonality, use of immunoglobulin heavy-chain variable region (IGHV) genes and—in particular—isotype use. An increase in clonality in systemic lupus erythematosus and Crohn's disease that was dominated by the IgA isotype, together with skewed use of the IGHV genes in these and other diseases, suggested a microbial contribution to pathogenesis. Different immunosuppressive treatments had specific and distinct effects on the repertoire; B cells that persisted after treatment with rituximab were predominately isotype-switched and clonally expanded, whereas the inverse was true for B cells that persisted after treatment with mycophenolate mofetil. Our comparative analysis of the BCR repertoire in immune-mediated disease reveals a complex B cell architecture, providing a platform for understanding pathological mechanisms and designing treatment strategies.
Relevant articles
Open Access articles citing this article.
Tho-Alfakar Al-Aubodah

,

Lamine Aoudjit

…

Tomoko Takano

Nature Communications Open Access 24 November 2023

Cyril Planchais

,

Luis M. Molinos-Albert

…

Hugo Mouquet

Nature Communications Open Access 10 October 2023

Hyo Jae Kim

,

Jong-Eun Park

…

Eun-Jae Lee

Journal of Neuroinflammation Open Access 04 October 2023
Access options
Access Nature and 54 other Nature Portfolio journals
Get Nature+, our best-value online-access subscription
$29.99 / 30 days
cancel any time
Subscribe to this journal
Receive 51 print issues and online access
$199.00 per year
only $3.90 per issue
Rent or buy this article
Prices vary by article type
from$1.95
to$39.95
Prices may be subject to local taxes which are calculated during checkout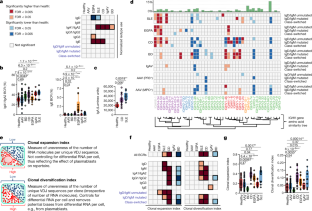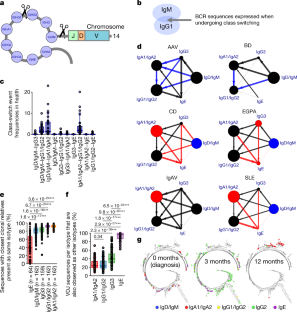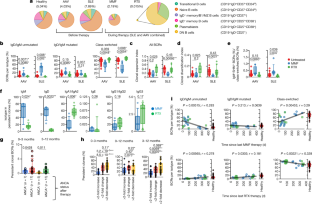 Data availability
Sequencing data are available from the EGA (accession numbers in Supplementary Table 3)
References
Nossal, G. J. V. & Lederberg, J. Antibody production by single cells. Nature 181, 1419–1420 (1958).

Lydyard, P. M., Whelan, A. & Fanger, M. W. Instant Notes in Immunology (Bios Scientific, Oxford, 2000).

Nemazee, D. Mechanisms of central tolerance for B cells. Nat. Rev. Immunol. 17, 281–294 (2017).

Wardemann, H. et al. Predominant autoantibody production by early human B cell precursors. Science 301, 1374–1377 (2003).

Stavnezer, J. & Schrader, C. E. IgH chain class switch recombination: mechanism and regulation. J. Immunol. 193, 5370–5378 (2014).

Stavnezer, J., Guikema, J. E. & Schrader, C. E. Mechanism and regulation of class switch recombination. Annu. Rev. Immunol. 26, 261–292 (2008).

De Silva, N. S. & Klein, U. Dynamics of B cells in germinal centres. Nat. Rev. Immunol. 15, 137–148 (2015).

Giltiay, N. V., Chappell, C. P. & Clark, E. A. B-cell selection and the development of autoantibodies. Arthritis Res. Ther. 14, S1 (2012).

Petrova, V. N. et al. Combined influence of B-cell receptor rearrangement and somatic hypermutation on B-cell class-switch fate in health and in chronic lymphocytic leukemia. Front. Immunol. 9, 1784 (2018).

Matsuda, F. et al. The complete nucleotide sequence of the human immunoglobulin heavy chain variable region locus. J. Exp. Med. 188, 2151–2162 (1998).

Pascual, V. et al. Nucleotide sequence analysis of the V regions of two IgM cold agglutinins. Evidence that the VH4-21 gene segment is responsible for the major cross-reactive idiotype. J. Immunol. 146, 4385–4391 (1991).

Schickel, J. N. et al. Self-reactive VH4-34-expressing IgG B cells recognize commensal bacteria. J. Exp. Med. 214, 1991–2003 (2017).

Tipton, C. M. et al. Diversity, cellular origin and autoreactivity of antibody-secreting cell population expansions in acute systemic lupus erythematosus. Nat. Immunol. 16, 755–765 (2015).

Meffre, E. et al. Immunoglobulin heavy chain expression shapes the B cell receptor repertoire in human B cell development. J. Clin. Invest. 108, 879–886 (2001).

Bashford-Rogers, R. J. M. et al. Network properties derived from deep sequencing of human B-cell receptor repertoires delineate B-cell populations. Genome Res. 23, 1874–1884 (2013).

Horns, F. et al. Lineage tracing of human B cells reveals the in vivo landscape of human antibody class switching. eLife 5, e16578 (2016).

Saunders, S. P., Ma, E. G. M., Aranda, C. J. & Curotto de Lafaille, M. A. Non-classical B cell memory of allergic IgE Responses. Front. Immunol. 10, 715 (2019).

Croote, D., Darmanis, S., Nadeau, K. C. & Quake, S. R. High-affinity allergen-specific human antibodies cloned from single IgE B cell transcriptomes. Science 362, 1306–1309 (2018).

He, J. S. et al. IgG1 memory B cells keep the memory of IgE responses. Nat. Commun. 8, 641 (2017).

Jayne, D. R., Gaskin, G., Pusey, C. D. & Lockwood, C. M. ANCA and predicting relapse in systemic vasculitis. QJM 88, 127–133 (1995).

Karnell, J. L. et al. Mycophenolic acid differentially impacts B cell function depending on the stage of differentiation. J. Immunol. 187, 3603–3612 (2011).

Tarlinton, D. & Good-Jacobson, K. Diversity among memory B cells: origin, consequences, and utility. Science 341, 1205–1211 (2013).

Seifert, M. & Küppers, R. Human memory B cells. Leukemia 30, 2283–2292 (2016).

Macallan, D. C. et al. B-cell kinetics in humans: rapid turnover of peripheral blood memory cells. Blood 105, 3633–3640 (2005).

Mei, H. E. et al. Steady-state generation of mucosal IgA+ plasmablasts is not abrogated by B-cell depletion therapy with rituximab. Blood 116, 5181–5190 (2010).

Anolik, J. H. et al. Delayed memory B cell recovery in peripheral blood and lymphoid tissue in systemic lupus erythematosus after B cell depletion therapy. Arthritis Rheum. 56, 3044–3056 (2007).

Villalta, D. et al. Anti-dsDNA antibody isotypes in systemic lupus erythematosus: IgA in addition to IgG anti-dsDNA help to identify glomerulonephritis and active disease. PLoS One 8, e71458 (2013).

Bende, R. J. et al. Identification of a novel stereotypic IGHV4-59/IGHJ5-encoded B-cell receptor subset expressed by various B-cell lymphomas with high affinity rheumatoid factor activity. Haematologica 101, e200–e203 (2016).

Manger, B. J. et al. IgE-containing circulating immune complexes in Churg–Strauss vasculitis. Scand. J. Immunol. 21, 369–373 (1985).

Galeone, M., Colucci, R., D'Erme, A. M., Moretti, S. & Lotti, T. Potential infectious etiology of Behçet's disease. Patholog. Res. Int. 2012, 595380 (2012).

Stone, J. H. et al. A disease-specific activity index for Wegener's granulomatosis: modification of the Birmingham vasculitis activity score. Arthritis Rheum. 44, 912–920 (2001).

Tan, E. M. et al. The 1982 revised criteria for the classification of systemic lupus erythematosus. Arthritis Rheum. 25, 1271–1277 (1982).

Silverberg, M. S. et al. Toward an integrated clinical, molecular and serological classification of inflammatory bowel disease: report of a Working Party of the 2005 Montreal World Congress of Gastroenterology. Can. J. Gastroenterol. 19, 5A–36A (2005).

Wechsler, W. E. et al. Mepolizumab or placebo for eosinophilic granulomatosis with polyangiitis. N. Engl. J. Med. 376, 1921–1932 (2017).

Mills, J. A. et al. The American College of Rheumatology 1990 criteria for the classification of Henoch–Schönlein purpura. Arthritis Rheum. 33, 1114–1121 (1990).

Jennette, J. C. et al. 2012 revised International Chapel Hill Consensus Conference Nomenclature of Vasculitides. Arthritis Rheum. 65, 1–11 (2013).

Lyons, P. A. et al. Microarray analysis of human leucocyte subsets: the advantages of positive selection and rapid purification. BMC Genomics 8, 64 (2007).

Espéli, M. et al. FcγRIIb differentially regulates pre-immune and germinal center B cell tolerance in mouse and human. Nat. Commun. 10, 1970 (2019).

Watson, S. J. et al. Viral population analysis and minority-variant detection using short read next-generation sequencing. Phil. Trans. R. Soc. Lond. B 368, 20120205 (2013).

Lefranc, M. P. IMGT unique numbering for the variable (V), constant (C), and groove (G) domains of IG, TR, MH, IgSF, and MhSF. Cold Spring Harb. Protoc. 2011, 633–642 (2011).

Altschul, S. F., Gish, W., Miller, W., Myers, E. W. & Lipman, D. J. Basic local alignment search tool. J. Mol. Biol. 215, 403–410 (1990).

Davydov, A. N. et al. Comparative analysis of B-cell receptor repertoires induced by live yellow fever vaccine in young and middle-age donors. Front. Immunol. 9, 2309 (2018).

Marioni, R. E. et al. Genetic stratification to identify risk groups for Alzheimer's disease. J. Alzheimers Dis. 57, 275–283 (2017).

Ellis, J. A., Panagiotopoulos, S., Akdeniz, A., Jerums, G. & Harrap, S. B. Androgenic correlates of genetic variation in the gene encoding 5α-reductase type 1. J. Hum. Genet. 50, 534–537 (2005).

Giudicelli, V., Chaume, D. & Lefranc, M. P. IMGT/V-QUEST, an integrated software program for immunoglobulin and T cell receptor V–J and V–D–J rearrangement analysis. Nucleic Acids Res. 32, W435–W440 (2004).

Bashford-Rogers, R. J. et al. Eye on the B-ALL: B-cell receptor repertoires reveal persistence of numerous B-lymphoblastic leukemia subclones from diagnosis to relapse. Leukemia 30, 2312–2321 (2016).

Katoh, K. & Standley, D. M. MAFFT multiple sequence alignment software version 7: improvements in performance and usability. Mol. Biol. Evol. 30, 772–780 (2013).

Wilgenbusch, J. C. & Swofford, D. Inferring evolutionary trees with PAUP*. Current Protoc. Bioinformatics 6, 6.4.1–6.4.28 (2003).
Acknowledgements
This work was supported by the Wellcome Trust (grants WT106068AIA and 083650/Z/07/Z), the EU H2020 project SYSCID (grant 733100), the UK Medical Research Council (program grant MR/L019027) and the UK National Institute of Health Research (NIHR) Cambridge Biomedical Research Centre. We thank the patients who participated in this study; V. Morrison; A. Reynolds; all NIHR Cambridge BioResource staff and volunteers; the Cambridge NIHR BRC Cell Phenotyping Hub (particularly A. Petrunkina Harrison, N. S.Yarkoni, E. Perez, S. McCallum and C. Bowman); F. Alberici, N. Noor and other members of the Addenbrooke's Vasculitis and Gastroenterology services; N. E. Urquijo for discussions about network subsampling, and P. Naydenova; and G. Manferrari. We are grateful to J. A. Todd and D. M. Tarlinton for reading the manuscript.
Ethics declarations
Competing interests
R.J.M.B.-R., P.K. and K.G.C.S. are all named on a patent associated with the methodologies in this paper. S.M.F. is a current employee of GlaxoSmithKline, and holds shares in GlaxoSmithKline. R.J.M.B.-R. is a consultant for Imperial College London and VHSquared. P.K. is an employee and holder of shares in Kymab Ltd. D.R.W.J. is a recipient of a research grant from Roche and Genentech. K.G.C.S. is a co-founder of Rheos Medicines and K.G.C.S., P.A.L. and E.F.M. are co-founders of PredictImmune.
Additional information
Publisher's note Springer Nature remains neutral with regard to jurisdictional claims in published maps and institutional affiliations.
Peer review information Nature thanks Felix Breden, George Georgiou and the other, anonymous, reviewer(s) for their contribution to the peer review of this work.
Extended data figures and tables
Supplementary information
About this article
Cite this article
Bashford-Rogers, R.J.M., Bergamaschi, L., McKinney, E.F. et al. Analysis of the B cell receptor repertoire in six immune-mediated diseases. Nature 574, 122–126 (2019). https://doi.org/10.1038/s41586-019-1595-3
Received:

Accepted:

Published:

Issue Date:

DOI: https://doi.org/10.1038/s41586-019-1595-3
Comments
By submitting a comment you agree to abide by our Terms and Community Guidelines. If you find something abusive or that does not comply with our terms or guidelines please flag it as inappropriate.