Abstract
Light discrimination according to colour can confer survival advantages by guiding animals towards food and shelter and away from potentially harmful situations1,2. Such colour-dependent behaviour can be learned or innate. Data on innate colour preference in mammals remain controversial3 and there are limited data for simpler organisms4,5,6,7. Here we show that, when given a choice among blue, green and dim light, fruit flies exhibit an unexpectedly complex pattern of colour preference that changes according to the time of day. Flies show a strong preference for green in the early morning and late afternoon, a reduced green preference at midday and a robust avoidance of blue throughout the day. Genetic manipulations reveal that the peaks in green preference require rhodopsin-based visual photoreceptors and are controlled by the circadian clock. The midday reduction in green preference in favour of dim light depends on the transient receptor potential (TRP) channels dTRPA1 and Pyrexia, and is also timed by the clock. By contrast, avoidance of blue light is primarily mediated by multidendritic neurons, requires rhodopsin 7 and the TRP channel Painless, and is independent of the clock. Our findings show that several TRP channels are involved in colour-driven behaviour in Drosophila, and reveal distinct pathways of innate colour preference that coordinate the behavioural dynamics of flies in ambient light.
Access options
Subscribe to Journal
Get full journal access for 1 year
$199.00
only $3.90 per issue
All prices are NET prices.
VAT will be added later in the checkout.
Rent or Buy article
Get time limited or full article access on ReadCube.
from$8.99
All prices are NET prices.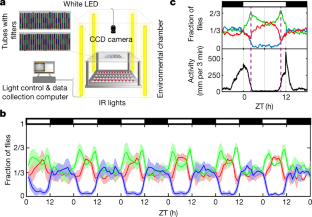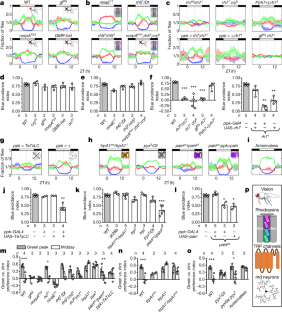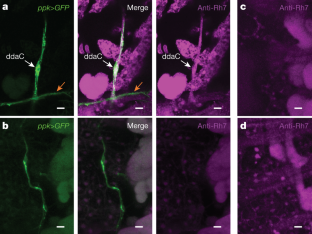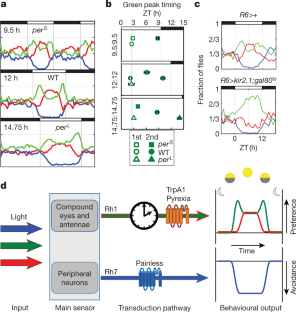 Data availability
The data sets generated during this study are available from the corresponding author upon reasonable request.
References
1.

Dominy, N. J. & Lucas, P. W. Ecological importance of trichromatic vision to primates. Nature 410, 363–366 (2001).

2.

Osorio, D. & Vorobyev, M. A review of the evolution of animal colour vision and visual communication signals. Vision Res. 48, 2042–2051 (2008).

3.

McManus, I. C., Jones, A. L. & Cottrell, J. The aesthetics of colour. Perception 10, 651–666 (1982).

4.

Fischbach, K. F. Simultaneous and successive colour contrast expressed in 'slow' phototactic behaviour of walking Drosophila melanogaster. J. Comp. Physiol. A Neuroethol. Sens. Neural Behav. Physiol. 130, 161–171 (1979).

5.

Yamaguchi, S., Desplan, C. & Heisenberg, M. Contribution of photoreceptor subtypes to spectral wavelength preference in Drosophila. Proc. Natl Acad. Sci. USA 107, 5634–5639 (2010).

6.

Gao, S. et al. The neural substrate of spectral preference in Drosophila. Neuron 60, 328–342 (2008).

7.

Schumperli, R. A. Evidence for colour vision in Drosophila melanogaster through spontaneous phototactic choice behaviour. J. Comp. Physiol. 86, 77–94 (1973).

8.

Otsuna, H., Shinomiya, K. & Ito, K. Parallel neural pathways in higher visual centers of the Drosophila brain that mediate wavelength-specific behavior. Front. Neural Circuits 8, 8 (2014).

9.

Yoshii, T., Rieger, D. & Helfrich-Förster, C. Two clocks in the brain: an update of the morning and evening oscillator model in Drosophila. Prog. Brain Res. 199, 59–82 (2012).

10.

Hori, M., Shibuya, K., Sato, M. & Saito, Y. Lethal effects of short-wavelength visible light on insects. Sci. Rep. 4, 7383 (2014).

11.

Hall, H., Ma, J., Shekhar, S., Leon-Salas, W. D. & Weake, V. M. Blue light induces a neuroprotective gene expression program in Drosophila photoreceptors. BMC Neurosci. 19, 43 (2018).

12.

Kistenpfennig, C. et al. A new rhodopsin influences light-dependent daily activity patterns of fruit flies. J. Biol. Rhythms 32, 406–422 (2017).

13.

Ni, J. D., Baik, L. S., Holmes, T. C. & Montell, C. A rhodopsin in the brain functions in circadian photoentrainment in Drosophila. Nature 545, 340–344 (2017).

14.

Sakai, K. et al. Drosophila melanogaster rhodopsin Rh7 is a UV-to-visible light sensor with an extraordinarily broad absorption spectrum. Sci. Rep. 7, 7349 (2017).

15.

Senthilan, P. R. & Helfrich-Förster, C. Rhodopsin 7—the unusual rhodopsin in Drosophila. PeerJ 4, e2427 (2016).

16.

Xiang, Y. et al. Light-avoidance-mediating photoreceptors tile the Drosophila larval body wall. Nature 468, 921–926 (2010).

17.

Zanini, D. et al. Proprioceptive opsin functions in Drosophila larval locomotion. Neuron 98, 67–74.e4 (2018).

18.

Im, S. H. & Galko, M. J. Pokes, sunburn, and hot sauce: Drosophila as an emerging model for the biology of nociception. Dev. Dyn. 241, 16–26 (2012).

19.

Fowler, M. A. & Montell, C. Drosophila TRP channels and animal behavior. Life Sci. 92, 394–403 (2013).

20.

Heisenberg, M. & Buchner, E. The role of retinula cell types in visual behavior of Drosophila melanogaster. J. Comp. Physiol. A 117, 127–162 (1977).

21.

Schnaitmann, C., Garbers, C., Wachtler, T. & Tanimoto, H. Color discrimination with broadband photoreceptors. Curr. Biol. 23, 2375–2382 (2013).

22.

Green, E. W. et al. Drosophila circadian rhythms in seminatural environments: Summer afternoon component is not an artifact and requires TrpA1 channels. Proc. Natl Acad. Sci. USA 112, 8702–8707 (2015).

23.

Roessingh, S., Wolfgang, W. & Stanewsky, R. Loss of Drosophila melanogaster TRPA1 function affects "siesta" behavior but not synchronization to temperature cycles. J. Biol. Rhythms 30, 492–505 (2015).

24.

Wolfgang, W., Simoni, A., Gentile, C. & Stanewsky, R. The Pyrexia transient receptor potential channel mediates circadian clock synchronization to low temperature cycles in Drosophila melanogaster. Proc. R. Soc. Lond. B 280, 20130959 (2013).

25.

Sokabe, T., Chen, H.-C., Luo, J. & Montell, C. A switch in thermal preference in Drosophila larvae depends on multiple rhodopsins. Cell Rep. 17, 336–344 (2016).

26.

Shen, W. L. et al. Function of rhodopsin in temperature discrimination in Drosophila. Science 331, 1333–1336 (2011).

27.

Senthilan, P. R. et al. Drosophila auditory organ genes and genetic hearing defects. Cell 150, 1042–1054 (2012).

28.

Sun, Y. et al. TRPA channels distinguish gravity sensing from hearing in Johnston's organ. Proc. Natl Acad. Sci. USA 106, 13606–13611 (2009).

29.

Schloss, K. B., Nelson, R., Parker, L., Heck, I. A. & Palmer, S. E. Seasonal variations in color preference. Cogn. Sci. 41, 1589–1612 (2017).

30.

Yamaguchi, S., Wolf, R., Desplan, C. & Heisenberg, M. Motion vision is independent of color in Drosophila. Proc. Natl Acad. Sci. USA 105, 4910–4915 (2008).

31.

Konopka, R. J. & Benzer, S. Clock mutants of Drosophila melanogaster. Proc. Natl Acad. Sci. USA 68, 2112–2116 (1971).

32.

Schlichting, M. et al. A neural network underlying circadian entrainment and photoperiodic adjustment of sleep and activity in Drosophila. J. Neurosci. 36, 9084–9096 (2016).

33.

Guo, F., Cerullo, I., Chen, X. & Rosbash, M. PDF neuron firing phase-shifts key circadian activity neurons in Drosophila. eLife 3, e02780 (2014).

34.

Dolezelova, E., Dolezel, D. & Hall, J. C. Rhythm defects caused by newly engineered null mutations in Drosophila's cryptochrome gene. Genetics 177, 329–345 (2007).

35.

Beaver, L. M. & Giebultowicz, J. M. Regulation of copulation duration by period and timeless in Drosophila melanogaster. Curr. Biol. 14, 1492–1497 (2004).

36.

Tang, X., Platt, M. D., Lagnese, C. M., Leslie, J. R. & Hamada, F. N. Temperature integration at the AC thermosensory neurons in Drosophila. J. Neurosci. 33, 894–901 (2013).

37.

Sweeney, S. T., Broadie, K., Keane, J., Niemann, H. & O'Kane, C. J. Targeted expression of tetanus toxin light chain in Drosophila specifically eliminates synaptic transmission and causes behavioral defects. Neuron 14, 341–351 (1995).

38.

Seidner, G. et al. Identification of neurons with a privileged role in sleep homeostasis in Drosophila melanogaster. Curr. Biol. 25, 2928–2938 (2015).

39.

Szular, J. et al. Rhodopsin 5- and Rhodopsin 6-mediated clock synchronization in Drosophila melanogaster is independent of retinal phospholipase C-β signaling. J. Biol. Rhythms 27, 25–36 (2012).

40.

Gorczyca, D. A. et al. Identification of Ppk26, a DEG/ENaC channel functioning with Ppk1 in a mutually dependent manner to guide locomotion behavior in Drosophila. Cell Rep. 9, 1446–1458 (2014).

41.

Shimono, K. et al. Multidendritic sensory neurons in the adult Drosophila abdomen: origins, dendritic morphology, and segment- and age-dependent programmed cell death. Neural Dev. 4, 37 (2009).

42.

Lamaze, A. et al. Regulation of sleep plasticity by a thermo-sensitive circuit in Drosophila. Sci. Rep. 7, 40304 (2017).

43.

Bernardo-Garcia, F. J., Humberg, T.-H., Fritsch, C. & Sprecher, S. G. Successive requirement of Glass and Hazy for photoreceptor specification and maintenance in Drosophila. Fly (Austin) 11, 112–120 (2017).

44.

Pearn, M. T., Randall, L. L., Shortridge, R. D., Burg, M. G. & Pak, W. L. Molecular, biochemical, and electrophysiological characterization of Drosophila norpA mutants. J. Biol. Chem. 271, 4937–4945 (1996).

45.

Döring, F., Wischmeyer, E., Kühnlein, R. P., Jäckle, H. & Karschin, A. Inwardly rectifying K+ (Kir) channels in Drosophila. A crucial role of cellular milieu factors for Kir channel function. J. Biol. Chem. 277, 25554–25561 (2002).

46.

Schindelin, J. et al. Fiji: an open-source platform for biological-image analysis. Nat. Methods 9, 676–682 (2012).

47.

Lazopulo, S., Lopez, J. A., Levy, P. & Syed, S. A stochastic burst follows the periodic morning peak in individual Drosophila locomotion. PLoS ONE 10, e0140481 (2015).

48.

Hernándes de Salomon, C. & Spatz, H.-C. Colour vision in Dropsophila melanogaster: wavelength discrimination. J. Comp. Physiol. A 150, 31–37 (1983).

49.

Salcedo, E. et al. Blue- and green-absorbing visual pigments of Drosophila: ectopic expression and physiological characterization of the R8 photoreceptor cell-specific Rh5 and Rh6 rhodopsins. J. Neurosci. 19, 10716–10726 (1999).
Acknowledgements
We thank C. Desplan, J. Giebultowicz, F. Hamada, C. Helfrich-Förster, L. and Y.-N. Jan, W. Joiner, M. Kim, M. Klein, C. Montell, R. Stanewsky, D. Top, Y. Xiang, M. Young, the Kyoto Stock Centre, and the Bloomington Drosophila Stock Centre for fly stocks; J. Dallman, M. Dallman, B. de Bivort, M. Klein and J. Truman for comments on the manuscript; M. Klein and W. Li for discussions; and J. A. Lopez and M. Collazo for technical support. This work was supported in part by the National Science Foundation under grant IOS-1656603 to S.S.
Ethics declarations
Competing interests
The authors declare no competing interests.
Additional information
Publisher's note: Springer Nature remains neutral with regard to jurisdictional claims in published maps and institutional affiliations.
Peer review information Nature thanks Charlotte Förster, Craig Montell, Ralf Stanewsky and the other, anonymous, reviewer(s) for their contribution to the peer review of this work.
Extended data figures and tables
Supplementary information
About this article
Cite this article
Lazopulo, S., Lazopulo, A., Baker, J.D. et al. Daytime colour preference in Drosophila depends on the circadian clock and TRP channels. Nature 574, 108–111 (2019). https://doi.org/10.1038/s41586-019-1571-y
Received:

Accepted:

Published:

Issue Date:
Comments
By submitting a comment you agree to abide by our Terms and Community Guidelines. If you find something abusive or that does not comply with our terms or guidelines please flag it as inappropriate.