Abstract
A network of communicating tumour cells that is connected by tumour microtubes mediates the progression of incurable gliomas. Moreover, neuronal activity can foster malignant behaviour of glioma cells by non-synaptic paracrine and autocrine mechanisms. Here we report a direct communication channel between neurons and glioma cells in different disease models and human tumours: functional bona fide chemical synapses between presynaptic neurons and postsynaptic glioma cells. These neurogliomal synapses show a typical synaptic ultrastructure, are located on tumour microtubes, and produce postsynaptic currents that are mediated by glutamate receptors of the AMPA subtype. Neuronal activity including epileptic conditions generates synchronised calcium transients in tumour-microtube-connected glioma networks. Glioma-cell-specific genetic perturbation of AMPA receptors reduces calcium-related invasiveness of tumour-microtube-positive tumour cells and glioma growth. Invasion and growth are also reduced by anaesthesia and the AMPA receptor antagonist perampanel, respectively. These findings reveal a biologically relevant direct synaptic communication between neurons and glioma cells with potential clinical implications.
Relevant articles
Open Access articles citing this article.
Berta Segura-Collar

,

Sara Hiller-Vallina

…

Ricardo Gargini

Acta Neuropathologica Communications Open Access 10 May 2023

Saritha Krishna

,

Abrar Choudhury

…

Shawn L. Hervey-Jumper

Nature Open Access 03 May 2023

Sarah L. Higginbottom

,

Eva Tomaskovic-Crook

&

Jeremy M. Crook

Cancer and Metastasis Reviews Open Access 01 April 2023
Access options
Access Nature and 54 other Nature Portfolio journals
Get Nature+, our best-value online-access subscription
$29.99 / 30 days
cancel any time
Subscribe to this journal
Receive 51 print issues and online access
$199.00 per year
only $3.90 per issue
Rent or buy this article
Get just this article for as long as you need it
$39.95
Prices may be subject to local taxes which are calculated during checkout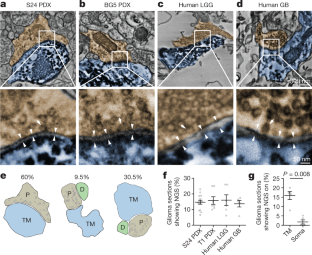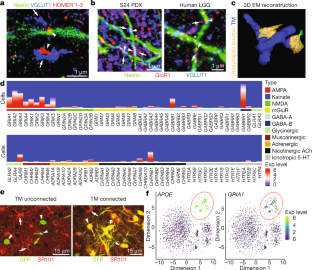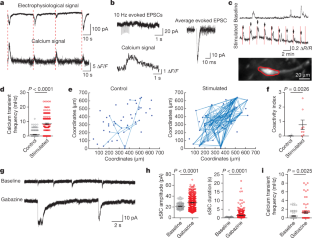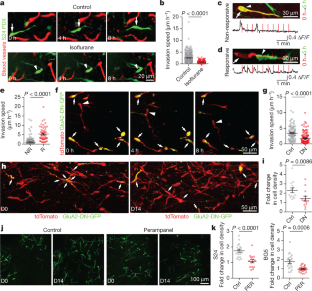 Data availability
Bulk RNA-seq data have been deposited in the Sequence Read Archive (SRA) database under the accession number PRJNA554870. Clinical data of patient samples can be found in Supplementary Table 2. All other data and code that support the findings of this study are available from the corresponding authors on reasonable request.
Code availability
Custom-written MATLAB and Igor code is available upon reasonable request.
References
Scherer, H. J. A critical review: the pathology of cerebral gliomas. J. Neurol. Psychiatry 3, 147–177 (1940).

Venkatesh, H. S. et al. Neuronal activity promotes glioma growth through neuroligin-3 secretion. Cell 161, 803–816 (2015).

Venkatesh, H. S. et al. Targeting neuronal activity-regulated neuroligin-3 dependency in high-grade glioma. Nature 549, 533–537 (2017).

Ishiuchi, S. et al. Blockage of Ca2+-permeable AMPA receptors suppresses migration and induces apoptosis in human glioblastoma cells. Nat. Med. 8, 971–978 (2002).

Takano, T. et al. Glutamate release promotes growth of malignant gliomas. Nat. Med. 7, 1010–1015 (2001).

Savaskan, N. E. et al. Small interfering RNA-mediated xCT silencing in gliomas inhibits neurodegeneration and alleviates brain edema. Nat. Med. 14, 629–632 (2008).

Rzeski, W., Turski, L. & Ikonomidou, C. Glutamate antagonists limit tumor growth. Proc. Natl Acad. Sci. USA 98, 6372–6377 (2001).

Li, L. & Hanahan, D. Hijacking the neuronal NMDAR signaling circuit to promote tumor growth and invasion. Cell 153, 86–100 (2013).

Li, L. et al. GKAP acts as a genetic modulator of NMDAR signaling to govern invasive tumor growth. Cancer Cell 33, 736–751 (2018).

Osswald, M. et al. Brain tumour cells interconnect to a functional and resistant network. Nature 528, 93–98 (2015).

Jung, E. et al. Tweety-homolog 1 drives brain colonization of gliomas. J. Neurosci. 37, 6837–6850 (2017).

Weil, S. et al. Tumor microtubes convey resistance to surgical lesions and chemotherapy in gliomas. Neuro-oncol. 19, 1316–1326 (2017).

Zhu, Z. et al. Targeting self-renewal in high-grade brain tumors leads to loss of brain tumor stem cells and prolonged survival. Cell Stem Cell 15, 185–198 (2014).

Harris, K. M. & Weinberg, R. J. Ultrastructure of synapses in the mammalian brain. Cold Spring Harb. Perspect. Biol. 4, a005587 (2012).

Gray, E. G. Axo-somatic and axo-dendritic synapses of the cerebral cortex: an electron microscope study. J. Anat. 93, 420–433 (1959).

Venteicher, A. S. et al. Decoupling genetics, lineages, and microenvironment in IDH-mutant gliomas by single-cell RNA-seq. Science 355, eaai8478 (2017).

Darmanis, S. et al. Single-cell RNA-seq analysis of infiltrating neoplastic cells at the migrating front of human glioblastoma. Cell Reports 21, 1399–1410 (2017).

Maas, S., Patt, S., Schrey, M. & Rich, A. Underediting of glutamate receptor GluR-B mRNA in malignant gliomas. Proc. Natl Acad. Sci. USA 98, 14687–14692 (2001).

Sommer, B., Köhler, M., Sprengel, R. & Seeburg, P. H. RNA editing in brain controls a determinant of ion flow in glutamate-gated channels. Cell 67, 11–19 (1991).

Burnashev, N., Monyer, H., Seeburg, P. H. & Sakmann, B. Divalent ion permeability of AMPA receptor channels is dominated by the edited form of a single subunit. Neuron 8, 189–198 (1992).

Dalva, M. B., McClelland, A. C. & Kayser, M. S. Cell adhesion molecules: signalling functions at the synapse. Nat. Rev. Neurosci. 8, 206–220 (2007).

John Lin, C. C. et al. Identification of diverse astrocyte populations and their malignant analogs. Nat. Neurosci. 20, 396–405 (2017).

Mosbacher, J. et al. A molecular determinant for submillisecond desensitization in glutamate receptors. Science 266, 1059–1062 (1994).

Traynelis, S. F. et al. Glutamate receptor ion channels: structure, regulation, and function. Pharmacol. Rev. 62, 405–496 (2010).

Bergles, D. E., Diamond, J. S. & Jahr, C. E. Clearance of glutamate inside the synapse and beyond. Curr. Opin. Neurobiol. 9, 293–298 (1999).

Korber, V. et al. Evolutionary trajectories of IDHWT glioblastomas reveal a common path of early tumorigenesis instigated years ahead of initial diagnosis. Cancer Cell 35, 692–704.e612 (2019).

Patel, A. P. et al. Single-cell RNA-seq highlights intratumoral heterogeneity in primary glioblastoma. Science 344, 1396–1401 (2014).

Chaichana, K. L., Parker, S. L., Olivi, A. & Quiñones-Hinojosa, A. Long-term seizure outcomes in adult patients undergoing primary resection of malignant brain astrocytomas. J. Neurosurg. 111, 282–292 (2009).

Weller, M., Stupp, R. & Wick, W. Epilepsy meets cancer: when, why, and what to do about it? Lancet Oncol. 13, e375–e382 (2012).

Ohtaka-Maruyama, C. et al. Synaptic transmission from subplate neurons controls radial migration of neocortical neurons. Science 360, 313–317 (2018).

de Groot, J. & Sontheimer, H. Glutamate and the biology of gliomas. Glia 59, 1181–1189 (2011).

Izumoto, S. et al. Seizures and tumor progression in glioma patients with uncontrollable epilepsy treated with perampanel. Anticancer Res. 38, 4361–4366 (2018).

Venkatesh, H. et al. Electrical and synaptic integration of glioma into neural circuits. Nature https://doi.org/10.1038/s41586-019-1563-y (2019).

Gibson, E. M. et al. Neuronal activity promotes oligodendrogenesis and adaptive myelination in the mammalian brain. Science 344, 1252304 (2014).

Buckingham, S. C. et al. Glutamate release by primary brain tumors induces epileptic activity. Nat. Med. 17, 1269–1274 (2011).

Huberfeld, G. & Vecht, C. J. Seizures and gliomas-towards a single therapeutic approach. Nat. Rev. Neurol. 12, 204–216 (2016).

Verhaak, R. G. et al. Integrated genomic analysis identifies clinically relevant subtypes of glioblastoma characterized by abnormalities in PDGFRA, IDH1, EGFR, and NF1. Cancer Cell 17, 98–110 (2010).
Acknowledgements
We thank M. Kaiser, S. Hoppe, J. Grosch, S. Weil, I. Sonntag, M. Osswald, K. Gunkel, C. Kocksch, I. Frommer, A. Schlicksupp, R. Rosauer, H.-Y. Nguyen, L. Doerner, M. Schmitt, U. Lindenberger, H. Zheng and S. Wendler for scientific discussion, support and assistance. We thank A. Hotz-Wagenblatt for help with bioinformatic analysis pipelines. We thank M. Suva and I. Tirosh for support with the analysis of single-cell RNA-seq databases from human gliomas, C. Steinhäuser and R. Jabs for advice on how to perform electrophysiological recordings from non-neuronal postsynaptic cells and the EM Core Facility of University Heidelberg for general support. We thank M. Monje for stably transducing our S24 glioma cell line with ChR2(H134R). We thank C. Watts for generating and providing the E2 primary glioblastoma cell line. A.A. was supported by the Chica and Heinz Schaller research foundation and the grant from the Deutsche Forschungsgemeinschaft (AG 287/1-1). V.V. was supported by the MD/PhD program of the Medical Faculty Heidelberg and the Stiftung für Krebs- und Scharlachforschung. D.I.T. was supported by the Deutsche Krebshilfe. W.W. and F.W. were supported by a grant from the Deutsche Forschungsgemeinschaft (SFB 1389). F.W. was supported by a grant from the Deutsche Forschungsgemeinschaft (WI 1930/6). T. Kuner was supported by the CellNetworks Excellence Cluster (EXC 81). F.W. and T. Kuner acknowledge their children Jakob and Manili, respectively, for seeding this collaboration.
Ethics declarations
Competing interests
F.W. and W.W. are inventors of the patent WO2017020982A1 'Agents for use in the treatment of glioma'. This patent covers new treatment strategies that all target the formation and function of TMs in glioma. F.W. reports research collaboration with DC Europa Limited, Glaxo Smith Kline, Genentech and Boehringer.
Additional information
Publisher's note: Springer Nature remains neutral with regard to jurisdictional claims in published maps and institutional affiliations.
Peer review information Nature thanks Andrés Barría, Michael Taylor and the other, anonymous, reviewer(s) for their contribution to the peer review of this work.
Extended data figures and tables
Supplementary information
About this article
Cite this article
Venkataramani, V., Tanev, D.I., Strahle, C. et al. Glutamatergic synaptic input to glioma cells drives brain tumour progression. Nature 573, 532–538 (2019). https://doi.org/10.1038/s41586-019-1564-x
Received:

Accepted:

Published:

Issue Date:

DOI: https://doi.org/10.1038/s41586-019-1564-x
Comments
By submitting a comment you agree to abide by our Terms and Community Guidelines. If you find something abusive or that does not comply with our terms or guidelines please flag it as inappropriate.