Abstract
The accumulation of DNA in the cytosol serves as a key immunostimulatory signal associated with infections, cancer and genomic damage1,2. Cytosolic DNA triggers immune responses by activating the cyclic GMP–AMP synthase (cGAS)–stimulator of interferon genes (STING) pathway3. The binding of DNA to cGAS activates its enzymatic activity, leading to the synthesis of a second messenger, cyclic guanosine monophosphate–adenosine monophosphate (2′3′-cGAMP)4,5,6,7. This cyclic dinucleotide (CDN) activates STING8, which in turn activates the transcription factors interferon regulatory factor 3 (IRF3) and nuclear factor κ-light-chain-enhancer of activated B cells (NF-κB), promoting the transcription of genes encoding type I interferons and other cytokines and mediators that stimulate a broader immune response. Exogenous 2′3′-cGAMP produced by malignant cells9 and other CDNs, including those produced by bacteria10,11,12 and synthetic CDNs used in cancer immunotherapy13,14, must traverse the cell membrane to activate STING in target cells. How these charged CDNs pass through the lipid bilayer is unknown. Here we used a genome-wide CRISPR-interference screen to identify the reduced folate carrier SLC19A1, a folate–organic phosphate antiporter, as the major transporter of CDNs. Depleting SLC19A1 in human cells inhibits CDN uptake and functional responses, and overexpressing SLC19A1 increases both uptake and functional responses. In human cell lines and primary cells ex vivo, CDN uptake is inhibited by folates as well as two medications approved for treatment of inflammatory diseases, sulfasalazine and the antifolate methotrexate. The identification of SLC19A1 as the major transporter of CDNs into cells has implications for the immunotherapeutic treatment of cancer13, host responsiveness to CDN-producing pathogenic microorganisms11 and—potentially—for some inflammatory diseases.
Relevant articles
Open Access articles citing this article.
Wenwen Zheng

,

Zhenbang Zhou

…

Xiao-Fang Yu

Signal Transduction and Targeted Therapy Open Access 24 February 2023

Zili Zhang

,

Haifeng Zhou

…

Desheng Hu

Signal Transduction and Targeted Therapy Open Access 23 December 2022

Mengyi Yin

,

Wenhua Kuang

…

Manli Wang

Nature Communications Open Access 14 November 2022
Access options
Access Nature and 54 other Nature Portfolio journals
Get Nature+, our best-value online-access subscription
$29.99 per month
cancel any time
Subscribe to this journal
Receive 51 print issues and online access
$199.00 per year
only $3.90 per issue
Rent or buy this article
Get just this article for as long as you need it
$39.95
Prices may be subject to local taxes which are calculated during checkout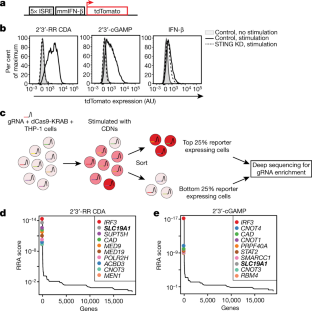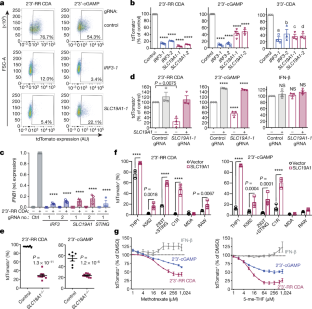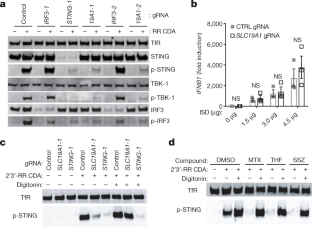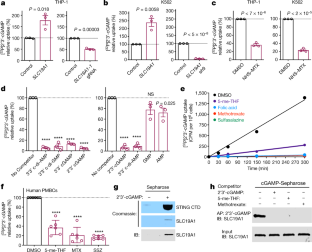 Data availability
Raw sequencing data from the CRISPRi screens are available at NCBI Gene Expression Omnibus under accession number GSE134371.
References
Ishii, K. J. et al. A Toll-like receptor-independent antiviral response induced by double-stranded B-form DNA. Nat. Immunol. 7, 40–48 (2006).

Stetson, D. B. & Medzhitov, R. Recognition of cytosolic DNA activates an IRF3-dependent innate immune response. Immunity 24, 93–103 (2006).

Li, T. & Chen, Z. J. The cGAS–cGAMP–STING pathway connects DNA damage to inflammation, senescence, and cancer. J. Exp. Med. 215, 1287–1299 (2018).

Sun, L., Wu, J., Du, F., Chen, X. & Chen, Z. J. Cyclic GMP–AMP synthase is a cytosolic DNA sensor that activates the type I interferon pathway. Science 339, 786–791 (2013).

Gao, P. et al. Cyclic [G(2′,5′)pA(3′,5′)p] is the metazoan second messenger produced by DNA-activated cyclic GMP–AMP synthase. Cell 153, 1094–1107 (2013).

Ablasser, A. et al. cGAS produces a 2′-5′-linked cyclic dinucleotide second messenger that activates STING. Nature 498, 380–384 (2013).

Diner, E. J. et al. The innate immune DNA sensor cGAS produces a noncanonical cyclic dinucleotide that activates human STING. Cell Rep. 3, 1355–1361 (2013).

Ishikawa, H. & Barber, G. N. STING is an endoplasmic reticulum adaptor that facilitates innate immune signalling. Nature 455, 674–678 (2008).

Marcus, A. et al. Tumor-derived cGAMP triggers a STING-mediated interferon response in non-tumor cells to activate the NK cell response. Immunity 49, 754–763 (2018).

Woodward, J. J., Iavarone, A. T. & Portnoy, D. A. c-di-AMP secreted by intracellular Listeria monocytogenes activates a host type I interferon response. Science 328, 1703–1705 (2010).

McWhirter, S. M. et al. A host type I interferon response is induced by cytosolic sensing of the bacterial second messenger cyclic-di-GMP. J. Exp. Med. 206, 1899–1911 (2009).

Burdette, D. L. et al. STING is a direct innate immune sensor of cyclic di-GMP. Nature 478, 515–518 (2011).

Corrales, L. et al. Direct activation of STING in the tumor microenvironment leads to potent and systemic tumor regression and immunity. Cell Rep. 11, 1018–1030 (2015).

Corrales, L., McWhirter, S. M., Dubensky, T. W., Jr & Gajewski, T. F. The host STING pathway at the interface of cancer and immunity. J. Clin. Invest. 126, 2404–2411 (2016).

Hou, Z. & Matherly, L. H. Biology of the major facilitative folate transporters SLC19A1 and SLC46A1. Curr. Top. Membr. 73, 175–204 (2014).

Zhao, R., Diop-Bove, N., Visentin, M. & Goldman, I. D. Mechanisms of membrane transport of folates into cells and across epithelia. Annu. Rev. Nutr. 31, 177–201 (2011).

Henderson, G. B. & Zevely, E. M. Structural requirements for anion substrates of the methotrexate transport system in L1210 cells. Arch. Biochem. Biophys. 221, 438–446 (1983).

Goldman, I. D. The characteristics of the membrane transport of amethopterin and the naturally occurring folates. Ann. NY Acad. Sci. 186, 400–422 (1971).

Yang, C. H., Sirotnak, F. M. & Dembo, M. Interaction between anions and the reduced folate/methotrexate transport system in L1210 cell plasma membrane vesicles: directional symmetry and anion specificity for differential mobility of loaded and unloaded carrier. J. Membr. Biol. 79, 285–292 (1984).

Goldman, I. D., Lichtenstein, N. S. & Oliverio, V. T. Carrier-mediated transport of the folic acid analogue, methotrexate, in the L1210 leukemia cell. J. Biol. Chem. 243, 5007–5017 (1968).

Lin, R., Heylbroeck, C., Genin, P., Pitha, P. M. & Hiscott, J. Essential role of interferon regulatory factor 3 in direct activation of RANTES chemokine transcription. Mol. Cell. Biol. 19, 959–966 (1999).

Brownell, J. et al. Direct, interferon-independent activation of the CXCL10 promoter by NF-κB and interferon regulatory factor 3 during hepatitis C virus infection. J. Virol. 88, 1582–1590 (2014).

Jansen, G. et al. Sulfasalazine is a potent inhibitor of the reduced folate carrier: implications for combination therapies with methotrexate in rheumatoid arthritis. Arthritis Rheum. 50, 2130–2139 (2004).

Kato, K. et al. Structural insights into cGAMP degradation by ecto-nucleotide pyrophosphatase phosphodiesterase 1. Nat. Commun. 9, 4424 (2018).

Goldman, I. D. A model system for the study of heteroexchange diffusion: methotrexate–folate interactions in L1210 leukemia and Ehrlich ascites tumor cells. Biochim. Biophys. Acta 233, 624–634 (1971).

Henderson, G. B., Grzelakowska-Sztabert, B., Zevely, E. M. & Huennekens, F. M. Binding properties of the 5-methyltetrahydrofolate/methotrexate transport system in L1210 cells. Arch. Biochem. Biophys. 202, 144–149 (1980).

Plosker, G. L. & Croom, K. F. Sulfasalazine: a review of its use in the management of rheumatoid arthritis. Drugs 65, 1825–1849 (2005).

Kozuch, P. L. & Hanauer, S. B. Treatment of inflammatory bowel disease: a review of medical therapy. World J. Gastroenterol. 14, 354–377 (2008).

Rajitha, P., Biswas, R., Sabitha, M. & Jayakumar, R. Methotrexate in the treatment of psoriasis and rheumatoid arthritis: mechanistic insights, current issues and novel delivery approaches. Curr. Pharm. Des. 23, 3550–3566 (2017).

Ahn, J., Son, S., Oliveira, S. C. & Barber, G. N. STING-dependent signaling underlies IL-10 controlled inflammatory colitis. Cell Rep. 21, 3873–3884 (2017).

van de Weijer, M. L. et al. A high-coverage shRNA screen identifies TMEM129 as an E3 ligase involved in ER-associated protein degradation. Nat. Commun. 5, 3832 (2014).

Zhao, R. et al. Impact of the reduced folate carrier on the accumulation of active thiamin metabolites in murine leukemia cells. J. Biol. Chem. 276, 1114–1118 (2001).

Zhao, R., Gao, F. & Goldman, I. D. Reduced folate carrier transports thiamine monophosphate: an alternative route for thiamine delivery into mammalian cells. Am. J. Physiol. Cell Physiol. 282, C1512–C1517 (2002).

Visentin, M., Zhao, R. & Goldman, I. D. Augmentation of reduced folate carrier-mediated folate/antifolate transport through an antiport mechanism with 5-aminoimidazole-4-carboxamide riboside monophosphate. Mol. Pharmacol. 82, 209–216 (2012).

Henderson, G. B. & Zevely, E. M. Anion exchange mechanism for transport of methotrexate in L1210 cells. Biochem. Biophys. Res. Commun. 99, 163–169 (1981).

Hamblett, K. J. et al. SLC46A3 is required to transport catabolites of noncleavable antibody maytansine conjugates from the lysosome to the cytoplasm. Cancer Res. 75, 5329–5340 (2015).

van Diemen, F. R. et al. CRISPR/Cas9-mediated genome editing of herpesviruses limits productive and latent infections. PLoS Pathog. 12, e1005701 (2016).

Horlbeck, M. A. et al. Compact and highly active next-generation libraries for CRISPR-mediated gene repression and activation. eLife 5, 1–20 (2016).

Kampmann, M., Bassik, M. C. & Weissman, J. S. Functional genomics platform for pooled screening and generation of mammalian genetic interaction maps. Nat. Protoc. 9, 1825–1847 (2014).

Gilbert, L. A. et al. Genome-scale CRISPR-mediated control of gene repression and activation. Cell 159, 647–661 (2014).

Kampmann, M., Bassik, M. C. & Weissman, J. S. Integrated platform for genome-wide screening and construction of high-density genetic interaction maps in mammalian cells. Proc. Natl Acad. Sci. USA 110, E2317–E2326 (2013).

Sadlish, H., Williams, F. M. R. & Flintoff, W. F. Functional role of arginine 373 in substrate translocation by the reduced folate carrier. J. Biol. Chem. 277, 42105–42112 (2002).

Huynh, T. N. et al. An HD-domain phosphodiesterase mediates cooperative hydrolysis of c-di-AMP to affect bacterial growth and virulence. Proc. Natl Acad. Sci. USA 112, E747–E756 (2015).

Sureka, K. et al. The cyclic dinucleotide c-di-AMP is an allosteric regulator of metabolic enzyme function. Cell 158, 1389–1401 (2014).

Henderson, G. B. & Zevely, E. M. Affinity labeling of the 5-methyltetrahydrofolate/methotrexate transport protein of L1210 cells by treatment with an N-hydroxysuccinimide ester of [3H]methotrexate. J. Biol. Chem. 259, 4558–4562 (1984).

McFarland, A. P. et al. Sensing of bacterial cyclic dinucleotides by the oxidoreductase RECON promotes NF-κB activation and shapes a proinflammatory antibacterial state. Immunity 46, 433–445 (2017).
Acknowledgements
We thank L. Zhang and E. Seidel for laboratory and technical assistance, H. Nolla and A. Valeros for assistance with cell sorting, the UC Berkeley High Throughput Screening Facility for preparation of gRNA lentivirus, A. P. McFarland for assistance in the isolation of primary cells from mice, S. L. McDevitt for assistance with deep sequencing, J. An and K. Elkon for assistance in the collection and isolation of primary peripheral blood leukocytes from healthy, human volunteers, and Raulet laboratory members, R. Vance, M. DuPage, M. van Gent, J. Thorner and A. van Elsas for helpful discussions. R.D.L. is a Cancer Research Institute Irvington Fellow supported by the Cancer Research Institute. D.H.R. is supported by NIH grants R01-AI113041 and R01-CA093678. B.G.G. is supported by the IGI-AstraZeneca Postdoctoral Fellowship, J.J.W. is supported by the Pew Scholars Program in the Biomedical Sciences, the Lupus Research Alliance and NIH grant 1R21AI137758-01. S.A.Z. is supported by grants from the University of Washington/Fred Hutchinson Cancer Research Center Viral Pathogenesis Training Program (AI083203), the University of Washington Medical Scientist Training Program (GM007266) and the Seattle ARCS foundation. J.E.C. is supported by the National Institute of Health New Innovator Awards (DP2 HL141006), the Li Ka Shing Foundation and the Heritage Medical Research Institute. This work employed the Vincent J. Coates Genomics Sequencing Laboratory at UC Berkeley, supported by NIH S10 Instrumentation Grants S10 OD018174, S10RR029668 and S10RR027303.
Ethics declarations
Competing interests
D.H.R. is a co-founder of Dragonfly Therapeutics and served or serves on the scientific advisory boards of Dragonfly, Aduro Biotech, and Ignite Immunotherapy; he has a financial interest in all four companies and could benefit from commercialization of the results of this research. S.M.M. is, and G.E.K. was, an employee of Aduro Biotech.
Additional information
Publisher's note Springer Nature remains neutral with regard to jurisdictional claims in published maps and institutional affiliations.
Extended data figures and tables
Supplementary information
About this article
Cite this article
Luteijn, R.D., Zaver, S.A., Gowen, B.G. et al. SLC19A1 transports immunoreactive cyclic dinucleotides. Nature 573, 434–438 (2019). https://doi.org/10.1038/s41586-019-1553-0
Received:

Accepted:

Published:

Issue Date:

DOI: https://doi.org/10.1038/s41586-019-1553-0
Comments
By submitting a comment you agree to abide by our Terms and Community Guidelines. If you find something abusive or that does not comply with our terms or guidelines please flag it as inappropriate.