Abstract
Development is often assumed to be hardwired in the genome, but several lines of evidence indicate that it is susceptible to environmental modulation with potential long-term consequences, including in mammals1,2. The embryonic germline is of particular interest because of the potential for intergenerational epigenetic effects. The mammalian germline undergoes extensive DNA demethylation3,4,5,6,7 that occurs in large part by passive dilution of methylation over successive cell divisions, accompanied by active DNA demethylation by TET enzymes3,8,9,10. TET activity has been shown to be modulated by nutrients and metabolites, such as vitamin C11,12,13,14,15. Here we show that maternal vitamin C is required for proper DNA demethylation and the development of female fetal germ cells in a mouse model. Maternal vitamin C deficiency does not affect overall embryonic development but leads to reduced numbers of germ cells, delayed meiosis and reduced fecundity in adult offspring. The transcriptome of germ cells from vitamin-C-deficient embryos is remarkably similar to that of embryos carrying a null mutation in Tet1. Vitamin C deficiency leads to an aberrant DNA methylation profile that includes incomplete demethylation of key regulators of meiosis and transposable elements. These findings reveal that deficiency in vitamin C during gestation partially recapitulates loss of TET1, and provide a potential intergenerational mechanism for adjusting fecundity to environmental conditions.
Your institute does not have access to this article
Relevant articles
Open Access articles citing this article.
Kenichi Kawahori

,

Yoshitaka Kondo

…

Koshi Hashimoto

Scientific Reports Open Access 04 December 2020
Access options
Subscribe to Nature+
Get immediate online access to the entire Nature family of 50+ journals
Subscribe to Journal
Get full journal access for 1 year
$199.00
only $3.90 per issue
All prices are NET prices.
VAT will be added later in the checkout.
Tax calculation will be finalised during checkout.
Buy article
Get time limited or full article access on ReadCube.
$32.00
All prices are NET prices.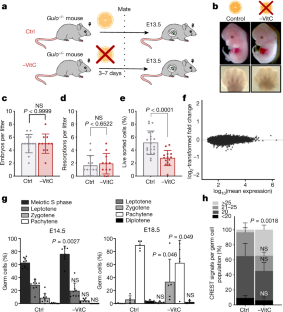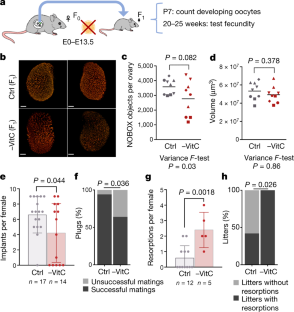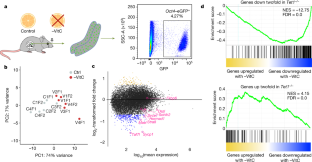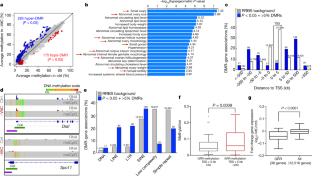 Data availability
RNA-seq, RRBS and CUT&RUN data have been deposited in Gene Expression Omnibus (GEO) under accession number GSE109747.
References
Barker, D. J. P. The developmental origins of adult disease. J. Am. Coll. Nutr. 23, 588S–595S (2004).

Boekelheide, K. et al. Predicting later-life outcomes of early-life exposures. Environ. Health Perspect. 120, 1353–1361 (2012).

Seisenberger, S. et al. The dynamics of genome-wide DNA methylation reprogramming in mouse primordial germ cells. Mol. Cell 48, 849–862 (2012).

Hackett, J. A. et al. Germline DNA demethylation dynamics and imprint erasure through 5-hydroxymethylcytosine. Science 339, 448–452 (2013).

Gkountela, S. et al. DNA demethylation dynamics in the human prenatal germline. Cell 161, 1425–1436 (2015).

Guo, F. et al. The transcriptome and DNA methylome landscapes of human primordial germ cells. Cell 161, 1437–1452 (2015).

Tang, W. W. C. et al. A unique gene regulatory network resets the human germline epigenome for development. Cell 161, 1453–1467 (2015).

Yamaguchi, S. et al. Tet1 controls meiosis by regulating meiotic gene expression. Nature 492, 443–447 (2012).

Yamaguchi, S., Shen, L., Liu, Y., Sendler, D. & Zhang, Y. Role of Tet1 in erasure of genomic imprinting. Nature 504, 460–464 (2013).

Hajkova, P. et al. Chromatin dynamics during epigenetic reprogramming in the mouse germ line. Nature 452, 877–881 (2008).

Blaschke, K. et al. Vitamin C induces Tet-dependent DNA demethylation and a blastocyst-like state in ES cells. Nature 500, 222–226 (2013).

Carey, B. W., Finley, L. W. S., Cross, J. R., Allis, C. D. & Thompson, C. B. Intracellular α-ketoglutarate maintains the pluripotency of embryonic stem cells. Nature 518, 413–416 (2014).

Zhang, Q. et al. Differential regulation of the ten-eleven translocation (TET) family of dioxygenases by O-linked β-N-acetylglucosamine transferase (OGT). J. Biol. Chem. 289, 5986–5996 (2014).

Yin, R. et al. Ascorbic acid enhances Tet-mediated 5-methylcytosine oxidation and promotes DNA demethylation in mammals. J. Am. Chem. Soc. 135, 10396–10403 (2013).

Wu, H. & Zhang, Y. Mechanisms and functions of Tet protein-mediated 5-methylcytosine oxidation. Genes Dev. 25, 2436–2452 (2011).

Maeda, N. et al. Aortic wall damage in mice unable to synthesize ascorbic acid. Proc. Natl Acad. Sci. USA 97, 841–846 (2000).

Szabó, P. E., Hübner, K., Schöler, H. & Mann, J. R. Allele-specific expression of imprinted genes in mouse migratory primordial germ cells. Mech. Dev. 115, 157–160 (2002).

Hill, P. W. S. et al. Epigenetic reprogramming enables the transition from primordial germ cell to gonocyte. Nature 555, 392–396 (2018).

Kobayashi, H. et al. High-resolution DNA methylome analysis of primordial germ cells identifies gender-specific reprogramming in mice. Genome Res. 23, 616–627 (2013).

Ohno, R. et al. A replication-dependent passive mechanism modulates DNA demethylation in mouse primordial germ cells. Development 140, 2892–2903 (2013).

Ebata, K. T. et al. Vitamin C induces specific demethylation of H3K9me2 in mouse embryonic stem cells via Kdm3a/b. Epigenetics Chromatin 10, 36 (2017).

Seki, Y. et al. Cellular dynamics associated with the genome-wide epigenetic reprogramming in migrating primordial germ cells in mice. Development 134, 2627–2638 (2007).

Drouin, G., Godin, J.-R. & Pagé, B. The genetics of vitamin C loss in vertebrates. Curr. Genomics 12, 371–378 (2011).

Salnikow, K. & Zhitkovich, A. Genetic and epigenetic mechanisms in metal carcinogenesis and cocarcinogenesis: nickel, arsenic, and chromium. Chem. Res. Toxicol. 21, 28–44 (2008).

Ercal, N., Gurer-Orhan, H. & Aykin-Burns, N. Toxic metals and oxidative stress part I: mechanisms involved in metal-induced oxidative damage. Curr. Top. Med. Chem. 1, 529–539 (2001).

Cross, C. E., Traber, M., Eiserich, J. & van der Vliet, A. Micronutrient antioxidants and smoking. Br. Med. Bull. 55, 691–704 (1999).

Alsharif, N. Z., Lawson, T. & Stohs, S. J. Oxidative stress induced by 2,3,7,8-tetrachlorodibenzo-p-dioxin is mediated by the aryl hydrocarbon (Ah) receptor complex. Toxicology 92, 39–51 (1994).

Matsumura, F. On the significance of the role of cellular stress response reactions in the toxic actions of dioxin. Biochem. Pharmacol. 66, 527–540 (2003).

Cyr, A. R. & Domann, F. E. The redox basis of epigenetic modifications: from mechanisms to functional consequences. Antioxid. Redox Signal. 15, 551–589 (2011).

Kim, H. et al. The analysis of vitamin C concentration in organs of Gulo −/− mice upon vitamin C withdrawal. Immune Netw. 12, 18–26 (2012).

Franks, L. M. & Payne, J. The influence of age on reproductive capacity in C57BL mice. J. Reprod. Fertil. 21, 563–565 (1970).

Agathocleous, M. et al. Ascorbate regulates haematopoietic stem cell function and leukaemogenesis. Nature 549, 476–481 (2017).

Guerquin, M.-J. et al. New testicular mechanisms involved in the prevention of fetal meiotic initiation in mice. Dev. Biol. 346, 320–330 (2010).

Arora, R. et al. Meiotic onset is reliant on spatial distribution but independent of germ cell number in the mouse ovary. J. Cell Sci. 129, 2493–2499 (2016).

Abby, E. et al. Implementation of meiosis prophase I programme requires a conserved retinoid-independent stabilizer of meiotic transcripts. Nat. Commun. 7, 10324 (2016).

Faire, M. et al. Follicle dynamics and global organization in the intact mouse ovary. Dev. Biol. 403, 69–79 (2015).

Kim, D. et al. TopHat2: accurate alignment of transcriptomes in the presence of insertions, deletions and gene fusions. Genome Biol. 14, R36 (2013).

Anders, S., Pyl, P. T. & Huber, W. HTSeq—a Python framework to work with high-throughput sequencing data. Bioinformatics 31, 166–169 (2015).

Huber, W. et al. Orchestrating high-throughput genomic analysis with Bioconductor. Nat. Methods 12, 115–121 (2015).

Love, M. I., Huber, W. & Anders, S. Moderated estimation of fold change and dispersion for RNA-seq data with DESeq2. Genome Biol. 15, 550 (2014).

Huang, W., Sherman, B. T. & Lempicki, R. A. Systematic and integrative analysis of large gene lists using DAVID bioinformatics resources. Nat. Protocols 4, 44–57 (2009).

Subramanian, A. et al. Gene set enrichment analysis: a knowledge-based approach for interpreting genome-wide expression profiles. Proc. Natl Acad. Sci. USA 102, 15545–15550 (2005).

Meissner, A. et al. Genome-scale DNA methylation maps of pluripotent and differentiated cells. Nature 454, 766–770 (2008).

Guo, H. et al. Single-cell methylome landscapes of mouse embryonic stem cells and early embryos analyzed using reduced representation bisulfite sequencing. Genome Res. 23, 2126–2135 (2013).

Krueger, F. & Andrews, S. R. Bismark: a flexible aligner and methylation caller for Bisulfite-Seq applications. Bioinformatics 27, 1571–1572 (2011).

Hebestreit, K., Dugas, M. & Klein, H.-U. Detection of significantly differentially methylated regions in targeted bisulfite sequencing data. Bioinformatics 29, 1647–1653 (2013).

McLean, C. Y. et al. GREAT improves functional interpretation of cis-regulatory regions. Nat. Biotechnol. 28, 495–501 (2010).

Wu, H. et al. Dual functions of Tet1 in transcriptional regulation in mouse embryonic stem cells. Nature 473, 389–393 (2011).

Li, Z. et al. Distinct roles of DNMT1-dependent and DNMT1-independent methylation patterns in the genome of mouse embryonic stem cells. Genome Biol. 16, 115 (2015).

Hainer, S. J., Bošković, A., McCannel, K. N., Rando, O. J. & Fazzio, T. G. Profiling of pluripotency factors in stem cells and early embryos. Cell 177, 1319–1329 (2019).

Skene, P. J., Henikoff, J. G. & Henikoff, S. Targeted in situ genome-wide profiling with high efficiency for low cell numbers. Nat. Protocols 13, 1006–1019 (2018).

Percharde, M., Wong, P. & Ramalho-Santos, M. Global hypertranscription in the mouse embryonic germline. Cell Reports 19, 1987–1996 (2017).

Ritchie, M. E. et al. limma powers differential expression analyses for RNA-sequencing and microarray studies. Nucleic Acids Res. 43, e47 (2015).
Acknowledgements
We thank M. Conti, R. Blelloch, P. Rinaudo, M. Lorincz, S. Fisher, L. Selleri and members of the Santos laboratory for input and critical reading of the manuscript. We thank E. Chow and members of the UCSF Center for Advanced Technology for assistance with sequencing; B. Soygur for meiotic spread protocol and reagents; Y. Zhang and L. Shen for technical advice on RRBS. We are grateful to S. Henikoff for providing the pA-MN and yeast tRNA spike-ins, and to S. Henikoff and T. Fazzio for providing technical help with performing CUT&RUN experiments. Flow cytometry data were generated in the UCSF Parnassus Flow Cytometry Core, which is supported by a Diabetes Research Center grant and NIH grant P30 DK063720. S.P.D. was supported by the National Science Foundation Graduate Research Fellowship Program under grant no. 1650113. Any opinions, findings and conclusions or recommendations expressed in this material are those of the authors and do not necessarily reflect the views of the National Science Foundation. G.L. was partly supported by Institut Universitaire de France. This work was supported by National Institutes of Health (NIH) grants R21ES023297 and R01ES028212 to D.J.L., and NIH grants R01OD012204 and R01GM123556, and a Canada 150 Research Chair to M.R.-S.
Ethics declarations
Competing interests
The authors declare no competing interests.
Additional information
Publisher's note: Springer Nature remains neutral with regard to jurisdictional claims in published maps and institutional affiliations.
Extended data figures and tables
Supplementary information
About this article
Cite this article
DiTroia, S.P., Percharde, M., Guerquin, MJ. et al. Maternal vitamin C regulates reprogramming of DNA methylation and germline development. Nature 573, 271–275 (2019). https://doi.org/10.1038/s41586-019-1536-1
Received:

Accepted:

Published:

Issue Date:

DOI: https://doi.org/10.1038/s41586-019-1536-1
Comments
By submitting a comment you agree to abide by our Terms and Community Guidelines. If you find something abusive or that does not comply with our terms or guidelines please flag it as inappropriate.