Abstract
Early human embryonic development involves extensive lineage diversification, cell-fate specification and tissue patterning1. Despite its basic and clinical importance, early human embryonic development remains relatively unexplained owing to interspecies divergence2,3 and limited accessibility to human embryo samples. Here we report that human pluripotent stem cells (hPSCs) in a microfluidic device recapitulate, in a highly controllable and scalable fashion, landmarks of the development of the epiblast and amniotic ectoderm parts of the conceptus, including lumenogenesis of the epiblast and the resultant pro-amniotic cavity, formation of a bipolar embryonic sac, and specification of primordial germ cells and primitive streak cells. We further show that amniotic ectoderm-like cells function as a signalling centre to trigger the onset of gastrulation-like events in hPSCs. Given its controllability and scalability, the microfluidic model provides a powerful experimental system to advance knowledge of human embryology and reproduction. This model could assist in the rational design of differentiation protocols of hPSCs for disease modelling and cell therapy, and in high-throughput drug and toxicity screens to prevent pregnancy failure and birth defects.
Access options
Access options
Subscribe to Journal
Get full journal access for 1 year
$199.00
only $3.90 per issue
All prices are NET prices.
VAT will be added later in the checkout.
Rent or Buy article
Get time limited or full article access on ReadCube.
from$8.99
All prices are NET prices.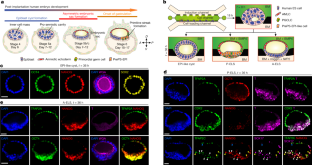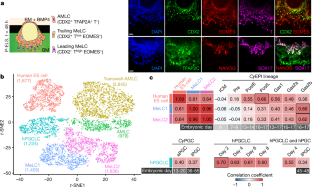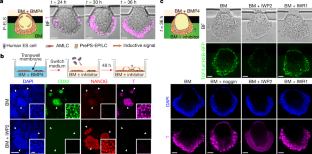 Data availability
Data supporting the findings of this study are available within the article and its Supplementary Information files and from the corresponding author upon request. scRNA-seq data are also available at the Gene Expression Omnibus under accession no. GSE134571. All Source Data for graphs included in the paper are available in the online version of the paper.
Code availability
MATLAB and RStudio scripts used in this work are available from the corresponding author upon request.
References
1.

O'Rahilly, R. & Müller, F. Developmental Stages in Human Embryos. (Carnegie Institution of Washington, 1987).

2.

Rossant, J. Mouse and human blastocyst-derived stem cells: vive les differences. Development 142, 9–12 (2015).

3.

Davidson, K. C., Mason, E. A. & Pera, M. F. The pluripotent state in mouse and human. Development 142, 3090–3099 (2015).

4.

Deglincerti, A. et al. Self-organization of the in vitro attached human embryo. Nature 533, 251–254 (2016).

5.

Shahbazi, M. N. et al. Self-organization of the human embryo in the absence of maternal tissues. Nat. Cell Biol. 18, 700–708 (2016).

6.

Daley, G. Q. et al. Setting global standards for stem cell research and clinical translation: the 2016 ISSCR guidelines. Stem Cell Reports 6, 787–797 (2016).

7.

Hyun, I., Wilkerson, A. & Johnston, J. Embryology policy: revisit the 14-day rule. Nature 533, 169–171 (2016).

8.

ten Berge, D. et al. Wnt signaling mediates self-organization and axis formation in embryoid bodies. Cell Stem Cell 3, 508–518 (2008).

9.

van den Brink, S. C. et al. Symmetry breaking, germ layer specification and axial organisation in aggregates of mouse embryonic stem cells. Development 141, 4231–4242 (2014).

10.

Warmflash, A., Sorre, B., Etoc, F., Siggia, E. D. & Brivanlou, A. H. A method to recapitulate early embryonic spatial patterning in human embryonic stem cells. Nat. Methods 11, 847–854 (2014).

11.

Harrison, S. E., Sozen, B., Christodoulou, N., Kyprianou, C. & Zernicka-Goetz, M. Assembly of embryonic and extra-embryonic stem cells to mimic embryogenesis in vitro. Science 356, eaal1810 (2017).

12.

Shao, Y. et al. Self-organized amniogenesis by human pluripotent stem cells in a biomimetic implantation-like niche. Nat. Mater. 16, 419–425 (2017).

13.

Xue, X. et al. Mechanics-guided embryonic patterning of neuroectoderm tissue from human pluripotent stem cells. Nat. Mater. 17, 633–641 (2018).

14.

Beccari, L. et al. Multi-axial self-organization properties of mouse embryonic stem cells into gastruloids. Nature 562, 272–276 (2018).

15.

Shao, Y. et al. A pluripotent stem cell-based model for post-implantation human amniotic sac development. Nat. Commun. 8, 208 (2017).

16.

Rivron, N. C. et al. Blastocyst-like structures generated solely from stem cells. Nature 557, 106–111 (2018).

17.

Rivron, N. et al. Debate ethics of embryo models from stem cells. Nature 564, 183–185 (2018).

18.

Shahbazi, M. N. et al. Pluripotent state transitions coordinate morphogenesis in mouse and human embryos. Nature 552, 239–243 (2017).

19.

Taniguchi, K. et al. Lumen formation is an intrinsic property of isolated human pluripotent stem cells. Stem Cell Reports 5, 954–962 (2015).

20.

Dobreva, M. P. et al. Periostin as a biomarker of the amniotic membrane. Stem Cells Int. 2012, 987185 (2012).

21.

Sasaki, K. et al. The germ cell fate of cynomolgus monkeys is specified in the nascent amnion. Dev. Cell 39, 169–185 (2016).

22.

Nakamura, T. et al. A developmental coordinate of pluripotency among mice, monkeys and humans. Nature 537, 57–62 (2016).

23.

Bernardo, A. S. et al. BRACHYURY and CDX2 mediate BMP-induced differentiation of human and mouse pluripotent stem cells into embryonic and extraembryonic lineages. Cell Stem Cell 9, 144–155 (2011).

24.

Kobayashi, T. et al. Principles of early human development and germ cell program from conserved model systems. Nature 546, 416–420 (2017).

25.

Irie, N. et al. SOX17 is a critical specifier of human primordial germ cell fate. Cell 160, 253–268 (2015).

26.

Sasaki, K. et al. Robust in vitro induction of human germ cell fate from pluripotent stem cells. Cell Stem Cell 17, 178–194 (2015).

27.

Aramaki, S. et al. A mesodermal factor, T, specifies mouse germ cell fate by directly activating germline determinants. Dev. Cell 27, 516–529 (2013).

28.

Mendjan, S. et al. NANOG and CDX2 pattern distinct subtypes of human mesoderm during exit from pluripotency. Cell Stem Cell 15, 310–325 (2014).

29.

Gadue, P., Huber, T. L., Paddison, P. J. & Keller, G. M. Wnt and TGF-β signaling are required for the induction of an in vitro model of primitive streak formation using embryonic stem cells. Proc. Natl Acad. Sci. USA 103, 16806–16811 (2006).

30.

Séguin, C. A., Draper, J. S., Nagy, A. & Rossant, J. Establishment of endoderm progenitors by SOX transcription factor expression in human embryonic stem cells. Cell Stem Cell 3, 182–195 (2008).

31.

Villa-Diaz, L. G. et al. Synthetic polymer coatings for long-term growth of human embryonic stem cells. Nat. Biotechnol. 28, 581–583 (2010).

32.

Watanabe, K. et al. A ROCK inhibitor permits survival of dissociated human embryonic stem cells. Nat. Biotechnol. 25, 681–686 (2007).

33.

Zheng, Y. & Fu, J. Protocol for controlled modeling of human epiblast and amnion development using stem cells. Protoc. Exch. https://doi.org/10.21203/rs.2.11520/v1 (2019).

34.

Lacoste, A., Berenshteyn, F. & Brivanlou, A. H. An efficient and reversible transposable system for gene delivery and lineage-specific differentiation in human embryonic stem cells. Cell Stem Cell 5, 332–342 (2009).

35.

Cong, L. et al. Multiplex genome engineering using CRISPR/Cas systems. Science 339, 819–823 (2013).

36.

Butler, A., Hoffman, P., Smibert, P., Papalexi, E. & Satija, R. Integrating single-cell transcriptomic data across different conditions, technologies, and species. Nat. Biotechnol. 36, 411–420 (2018).

37.

Satija, R., Farrell, J. A., Gennert, D., Schier, A. F. & Regev, A. Spatial reconstruction of single-cell gene expression data. Nat. Biotechnol. 33, 495–502 (2015).
Acknowledgements
This work is supported by the University of Michigan Mechanical Engineering Faculty Support Fund (J.F.), the Michigan–Cambridge Research Initiative (J.F.), the University of Michigan Mcubed Fund (J.F.), the National Institutes of Health (R01 DK089933, D.L.G.) and the California Institute for Regenerative Medicine (RB5-07409, V.M.W.). Y.S. was partially supported by the University of Michigan Rackham Predoctoral Fellowship. The Lurie Nanofabrication Facility at the University of Michigan is acknowledged for support with microfabrication.
Ethics declarations
Competing interests
Y.Z., Y.S., S.N.E., D.L.G. and J.F. have filed a provisional patent related to this work (United States Provisional Patent Application No. 62/431,907).
Additional information
Publisher's note: Springer Nature remains neutral with regard to jurisdictional claims in published maps and institutional affiliations.
Peer review information Nature thanks Nicolas Rivron and the other, anonymous, reviewer(s) for their contribution to the peer review of this work.
Extended data figures and tables
Supplementary information
Comments
By submitting a comment you agree to abide by our Terms and Community Guidelines. If you find something abusive or that does not comply with our terms or guidelines please flag it as inappropriate.