Abstract
Haematopoietic stem cells self-renew and differentiate into all blood lineages throughout life, and can repair damaged blood systems upon transplantation. Asymmetric cell division has previously been suspected to be a regulator of haematopoietic-stem-cell fate, but its existence has not directly been shown1. In asymmetric cell division, asymmetric fates of future daughter cells are prospectively determined by a mechanism that is linked to mitosis. This can be mediated by asymmetric inheritance of cell-extrinsic niche signals by, for example, orienting the divisional plane, or by the asymmetric inheritance of cell-intrinsic fate determinants. Observations of asymmetric inheritance or of asymmetric daughter-cell fates alone are not sufficient to demonstrate asymmetric cell division2. In both cases, sister-cell fates could be controlled by mechanisms that are independent of division. Here we demonstrate that the cellular degradative machinery—including lysosomes, autophagosomes, mitophagosomes and the protein NUMB—can be asymmetrically inherited into haematopoietic-stem-cell daughter cells. This asymmetric inheritance predicts the asymmetric future metabolic and translational activation and fates of haematopoietic-stem-cell daughter cells and their offspring. Therefore, our studies provide evidence for the existence of asymmetric cell division in haematopoietic stem cells.
Access options
Subscribe to Journal
Get full journal access for 1 year
$199.00
only $3.90 per issue
All prices are NET prices.
VAT will be added later in the checkout.
Rent or Buy article
Get time limited or full article access on ReadCube.
from$8.99
All prices are NET prices.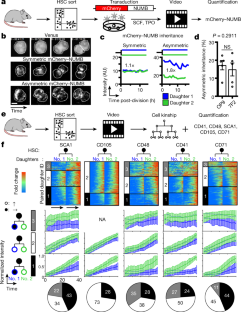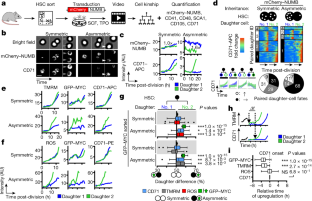 Data availability
Source Data for all figures are provided with the paper. The datasets generated during and/or analysed during the current study are available from the corresponding author on reasonable request.
Code availability
Software used for data acquisition of immunostainings and time-lapse imaging is commercially available (NIS-Elements 4.3.1) or published and open source (YouScope v.2.1, http://langmo.github.io/youscope/). Software for single-cell tracking and fluorescence quantification used in this study is published and open source11. Software used for image segmentation is published and open sourced35. Software used for dimensionality reduction using UMAP is published and open source (https://github.com/lmcinnes/umap.git). Software used for time-series clustering was inspired by (https://github.com/dmattek/shiny-timecourse-inspector). All code is available from the corresponding author on reasonable request.
References
1.

Pham, K., Sacirbegovic, F. & Russell, S. M. Polarized cells, polarized views: asymmetric cell division in hematopoietic cells. Front. Immunol. 5, 26 (2014).

2.

Horvitz, H. R. & Herskowitz, I. Mechanisms of asymmetric cell division: two Bs or not two Bs, that is the question. Cell 68, 237–255 (1992).

3.

Wu, M. et al. Imaging hematopoietic precursor division in real time. Cell Stem Cell 1, 541–554 (2007).

4.

Ting, S. B. et al. Asymmetric segregation and self-renewal of hematopoietic stem and progenitor cells with endocytic Ap2a2. Blood 119, 2510–2522 (2012).

5.

Zimdahl, B. et al. Lis1 regulates asymmetric division in hematopoietic stem cells and in leukemia. Nat. Genet. 46, 245–252 (2014).

6.

Ito, K. et al. Self-renewal of a purified Tie2 + hematopoietic stem cell population relies on mitochondrial clearance. Science 354, 1156–1160 (2016).

7.

Beckmann, J., Scheitza, S., Wernet, P., Fischer, J. C. & Giebel, B. Asymmetric cell division within the human hematopoietic stem and progenitor cell compartment: identification of asymmetrically segregating proteins. Blood 109, 5494–5501 (2007).

8.

Florian, M. C. et al. Cdc42 activity regulates hematopoietic stem cell aging and rejuvenation. Cell Stem Cell 10, 520–530 (2012).

9.

Vannini, N. et al. The NAD-booster nicotinamide riboside potently stimulates hematopoiesis through increased mitochondrial clearance. Cell Stem Cell 24, 405–418 (2019).

10.

Hoppe, P. S. et al. Early myeloid lineage choice is not initiated by random PU.1 to GATA1 protein ratios. Nature 535, 299–302 (2016).

11.

Hilsenbeck, O. et al. Software tools for single-cell tracking and quantification of cellular and molecular properties. Nat. Biotechnol. 34, 703–706 (2016).

12.

Loeffler, D. et al. Mouse and human HSPC immobilization in liquid culture by CD43- or CD44-antibody coating. Blood 131, 1425–1429 (2018).

13.

Loeffler, D. & Schroeder, T. Understanding cell fate control by continuous single cell quantification. Blood 133, 1406–1414 (2019).

14.

Skylaki, S., Hilsenbeck, O. & Schroeder, T. Challenges in long-term imaging and quantification of single-cell dynamics. Nat. Biotechnol. 34, 1137–1144 (2016).

15.

Eilken, H. M., Nishikawa, S. & Schroeder, T. Continuous single-cell imaging of blood generation from haemogenic endothelium. Nature 457, 896–900 (2009).

16.

Schroeder, T. Asymmetric cell division in normal and malignant hematopoietic precursor cells. Cell Stem Cell 1, 479–481 (2007).

17.

Zhang, C. C. & Lodish, H. F. Murine hematopoietic stem cells change their surface phenotype during ex vivo expansion. Blood 105, 4314–4320 (2005).

18.

Motamedi, M., Xu, L. & Elahi, S. Correlation of transferrin receptor (CD71) with Ki67 expression on stimulated human and mouse T cells: The kinetics of expression of T cell activation markers. J. Immunol. Methods 437, 43–52 (2016).

19.

Vannini, N. et al. Specification of haematopoietic stem cell fate via modulation of mitochondrial activity. Nat. Commun. 7, 13125 (2016).

20.

Ito, K. et al. Reactive oxygen species act through p38 MAPK to limit the lifespan of hematopoietic stem cells. Nat. Med. 12, 446–451 (2006).

21.

Cabezas-Wallscheid, N. et al. Vitamin A–retinoic acid signaling regulates hematopoietic stem cell dormancy. Cell 169, 807–823.e19 (2017).

22.

Wilson, A. et al. Hematopoietic stem cells reversibly switch from dormancy to self-renewal during homeostasis and repair. Cell 135, 1118–1129 (2008).

23.

Huang, C. Y., Bredemeyer, A. L., Walker, L. M., Bassing, C. H. & Sleckman, B. P. Dynamic regulation of c-Myc proto-oncogene expression during lymphocyte development revealed by a GFP-c-Myc knock-in mouse. Eur. J. Immunol. 38, 342–349 (2008).

24.

Pols, M. S. & Klumperman, J. Trafficking and function of the tetraspanin CD63. Exp. Cell Res. 315, 1584–1592 (2009).

25.

Shao, X. et al. Mammalian Numb protein antagonizes Notch by controlling postendocytic trafficking of the Notch ligand Delta-like 4. J. Biol. Chem. 292, 20628–20643 (2017).

26.

McGill, M. A., Dho, S. E., Weinmaster, G. & McGlade, C. J. Numb regulates post-endocytic trafficking and degradation of Notch1. J. Biol. Chem. 284, 26427–26438 (2009).

27.

Ho, T. T. et al. Autophagy maintains the metabolism and function of young and old stem cells. Nature 543, 205–210 (2017).

28.

Warr, M. R. et al. FOXO3A directs a protective autophagy program in haematopoietic stem cells. Nature 494, 323–327 (2013).

29.

Katajisto, P. et al. Asymmetric apportioning of aged mitochondria between daughter cells is required for stemness. Science 348, 340–343 (2015).

30.

Kimura, S., Noda, T. & Yoshimori, T. Dissection of the autophagosome maturation process by a novel reporter protein, tandem fluorescent-tagged LC3. Autophagy 3, 452–460 (2007)

31.

Ema, H. et al. Adult mouse hematopoietic stem cells: purification and single-cell assays. Nat. Protocols 1, 2979–2987 (2006).

32.

Eilken, H. et al. Continuous long- term detection of live cell surface markers by 'in culture' antibody staining. Protoc. Exch. https://doi.org/10.1038/protex.2011.205 (2008).

33.

Takano, H., Ema, H., Sudo, K. & Nakauchi, H. Asymmetric division and lineage commitment at the level of hematopoietic stem cells. J. Exp. Med. 199, 295–302 (2004).

34.

Rieger, M. A., Hoppe, P. S., Smejkal, B. M., Eitelhuber, A. C. & Schroeder, T. Hematopoietic cytokines can instruct lineage choice. Science 325, 217–218 (2009).

35.

Hilsenbeck, O. et al. fastER: a user-friendly tool for ultrafast and robust cell segmentation in large-scale microscopy. Bioinformatics 33, 2020–2028 (2017).
Acknowledgements
We thank S. Ammersdoerfer, G. Camenisch, M. D. Hussherr, V. Jäggin, T. Lopes, H. Oller, C. Raithel, B. Vogel and A. Ziegler for technical support. This work was supported by DFG SFB 684 and the SNF to T.S. T.S. and O.H. acknowledge financial support from SystemsX.ch. We thank J. Arias for providing the cDNA for pHLuorin–DsRed–LC3β.
Ethics declarations
Competing interests
: The authors declare no competing interests.
Additional information
Publisher's note: Springer Nature remains neutral with regard to jurisdictional claims in published maps and institutional affiliations.
Peer review information Nature thanks Guy Sauvageau and the other, anonymous, reviewer(s) for their contribution to the peer review of this work.
Extended data figures and tables
Supplementary information
About this article
Cite this article
Loeffler, D., Wehling, A., Schneiter, F. et al. Asymmetric lysosome inheritance predicts activation of haematopoietic stem cells. Nature 573, 426–429 (2019). https://doi.org/10.1038/s41586-019-1531-6
Received:

Accepted:

Published:

Issue Date:
Comments
By submitting a comment you agree to abide by our Terms and Community Guidelines. If you find something abusive or that does not comply with our terms or guidelines please flag it as inappropriate.