Abstract
Metastasis is the major driver of death in patients with cancer. Invasion of surrounding tissues and metastasis have been proposed to initiate following loss of the intercellular adhesion protein, E-cadherin1,2, on the basis of inverse correlations between in vitro migration and E-cadherin levels3. However, this hypothesis is inconsistent with the observation that most breast cancers are invasive ductal carcinomas and express E-cadherin in primary tumours and metastases4. To resolve this discrepancy, we tested the genetic requirement for E-cadherin in metastasis using mouse and human models of both luminal and basal invasive ductal carcinomas. Here we show that E-cadherin promotes metastasis in diverse models of invasive ductal carcinomas. While loss of E-cadherin increased invasion, it also reduced cancer cell proliferation and survival, circulating tumour cell number, seeding of cancer cells in distant organs and metastasis outgrowth. Transcriptionally, loss of E-cadherin was associated with upregulation of genes involved in transforming growth factor-β (TGFβ), reactive oxygen species and apoptosis signalling pathways. At the cellular level, disseminating E-cadherin-negative cells exhibited nuclear enrichment of SMAD2/3, oxidative stress and increased apoptosis. Colony formation of E-cadherin-negative cells was rescued by inhibition of TGFβ-receptor signalling, reactive oxygen accumulation or apoptosis. Our results reveal that E-cadherin acts as a survival factor in invasive ductal carcinomas during the detachment, systemic dissemination and seeding phases of metastasis by limiting reactive oxygen-mediated apoptosis. Identifying molecular strategies to inhibit E-cadherin-mediated survival in metastatic breast cancer cells may have potential as a therapeutic approach for breast cancer.
Relevant articles
Open Access articles citing this article.
Yuanfu Zhang

,

Shu Sun

…

Qiuyan Guo

Journal of Ovarian Research Open Access 10 October 2023

Weikai Lin

,

Jianjun Fang

…

Hangyu Li

Cell Communication and Signaling Open Access 21 September 2023

Yi Zhang

,

Qin-shan Li

…

Meng-xing Li

Journal of Experimental & Clinical Cancer Research Open Access 24 August 2023
Access options
Access Nature and 54 other Nature Portfolio journals
Get Nature+, our best-value online-access subscription
$29.99 / 30 days
cancel any time
Subscribe to this journal
Receive 51 print issues and online access
$199.00 per year
only $3.90 per issue
Rent or buy this article
Prices vary by article type
from$1.95
to$39.95
Prices may be subject to local taxes which are calculated during checkout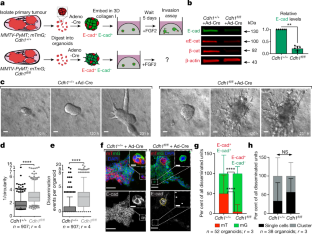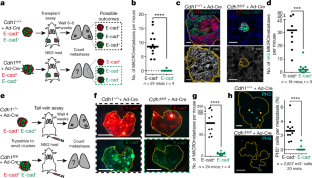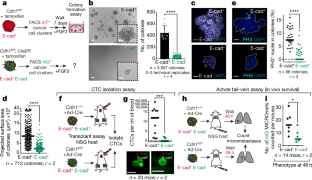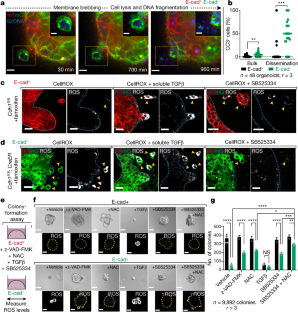 Data availability
The next-generation RNA-seq data is available from NCBI Gene Expression Omnibus with accession number GSE114011. The numerical data underlying all figure panels are available in the Supplementary Information. Additional requests for information or data will be fulfilled by the corresponding author upon request.
References
Bogenrieder, T. & Herlyn, M. Axis of evil: molecular mechanisms of cancer metastasis. Oncogene 22, 6524–6536 (2003).

Berx, G. et al. E-cadherin is a tumour/invasion suppressor gene mutated in human lobular breast cancers. EMBO J. 14, 6107–6115 (1995).

Frixen, U. H. et al. E-cadherin-mediated cell-cell adhesion prevents invasiveness of human carcinoma cells. J. Cell Biol. 113, 173–185 (1991).

Li, C. I., Anderson, B. O., Daling, J. R. & Moe, R. E. Trends in incidence rates of invasive lobular and ductal breast carcinoma. J. Am. Med. Assoc. 289, 1421–1424 (2003).

Nguyen-Ngoc, K. V. et al. ECM microenvironment regulates collective migration and local dissemination in normal and malignant mammary epithelium. Proc. Natl Acad. Sci. USA 109, E2595–E2604 (2012).

Cheung, K. J., Gabrielson, E., Werb, Z. & Ewald, A. J. Collective invasion in breast cancer requires a conserved basal epithelial program. Cell 155, 1639–1651 (2013).

Christofori, G. & Semb, H. The role of the cell-adhesion molecule E-cadherin as a tumour-suppressor gene. Trends Biochem. Sci. 24, 73–76 (1999).

Chambers, A. F., Groom, A. C. & MacDonald, I. C. Dissemination and growth of cancer cells in metastatic sites. Nat. Rev. Cancer 2, 563–572 (2002).

Sosa, M. S. et al. NR2F1 controls tumour cell dormancy via SOX9- and RARβ-driven quiescence programmes. Nat. Commun. 6, 6170 (2015).

Wheelock, M. J., Shintani, Y., Maeda, M., Fukumoto, Y. & Johnson, K. R. Cadherin switching. J. Cell Sci. 121, 727–735 (2008).

Davies, S. R., Watkins, G., Douglas-Jones, A., Mansel, R. E. & Jiang, W. G. Bone morphogenetic proteins 1 to 7 in human breast cancer, expression pattern and clinical/prognostic relevance. J. Exp. Ther. Oncol. 7, 327–338 (2008).

Demircan, B. et al. Comparative epigenomics of human and mouse mammary tumors. Genes Chromosom. Cancer 48, 83–97 (2009).

Xue, W. et al. A cluster of cooperating tumor-suppressor gene candidates in chromosomal deletions. Proc. Natl Acad. Sci. USA 109, 8212–8217 (2012).

Jovanovic, I. P. et al. Interleukin-33/ST2 axis promotes breast cancer growth and metastases by facilitating intratumoral accumulation of immunosuppressive and innate lymphoid cells. Int. J. Cancer 134, 1669–1682 (2014).

Gao, D. et al. Myeloid progenitor cells in the premetastatic lung promote metastases by inducing mesenchymal to epithelial transition. Cancer Res. 72, 1384–1394 (2012).

Day, M. L. et al. E-cadherin mediates aggregation-dependent survival of prostate and mammary epithelial cells through the retinoblastoma cell cycle control pathway. J. Biol. Chem. 274, 9656–9664 (1999).

Adamson, G. M. & Billings, R. E. Tumor necrosis factor induced oxidative stress in isolated mouse hepatocytes. Arch. Biochem. Biophys. 294, 223–229 (1992).

Liu, R. M. & Desai, L. P. Reciprocal regulation of TGF-β and reactive oxygen species: A perverse cycle for fibrosis. Redox Biol. 6, 565–577 (2015).

Johnson, T. M., Yu, Z. X., Ferrans, V. J., Lowenstein, R. A. & Finkel, T. Reactive oxygen species are downstream mediators of p53-dependent apoptosis. Proc. Natl Acad. Sci. USA 93, 11848–11852 (1996).

LeBleu, V. S. et al. PGC-1α mediates mitochondrial biogenesis and oxidative phosphorylation in cancer cells to promote metastasis. Nat. Cell Biol. 16, 992–1003 (2014).

Kerksick, C. & Willoughby, D. The antioxidant role of glutathione and N-acetyl-cysteine supplements and exercise-induced oxidative stress. J. Int. Soc. Sports Nutr. 2, 38–44 (2005).

Herrera, B. et al. Reactive oxygen species (ROS) mediates the mitochondrial-dependent apoptosis induced by transforming growth factor β in fetal hepatocytes. FASEB J. 15, 741–751 (2001).

Massagué, J. TGFβ in Cancer. Cell 134, 215–230 (2008).

Kleer, C. G., van Golen, K. L., Braun, T. & Merajver, S. D. Persistent E-cadherin expression in inflammatory breast cancer. Mod. Pathol. 14, 458–464 (2001).

Rodriguez, F. J., Lewis-Tuffin, L. J. & Anastasiadis, P. Z. E-cadherin's dark side: possible role in tumor progression. Biochim. Biophys. Acta 1826, 23–31 (2012).

Sundfeldt, K. et al. E-cadherin expression in human epithelial ovarian cancer and normal ovary. Int. J. Cancer 74, 275–280 (1997).

Kim, S. A. et al. Loss of CDH1 (E-cadherin) expression is associated with infiltrative tumour growth and lymph node metastasis. Br. J. Cancer 114, 199–206 (2016).

McCart Reed, A. E. et al. An epithelial to mesenchymal transition programme does not usually drive the phenotype of invasive lobular carcinomas. J. Pathol. 238, 489–494 (2016).

Xu, Y. et al. Breast tumor cell-specific knockout of Twist1 inhibits cancer cell plasticity, dissemination, and lung metastasis in mice. Proc. Natl Acad. Sci. USA 114, 11494–11499 (2017).

Beerling, E. et al. Plasticity between epithelial and mesenchymal states unlinks EMT from metastasis-enhancing stem cell capacity. Cell Rep. 14, 2281–2288 (2016).

Lambert, A. W., Pattabiraman, D. R. & Weinberg, R. A. Emerging biological principles of metastasis. Cell 168, 670–691 (2017).

Yates, C. C., Shepard, C. R., Stolz, D. B. & Wells, A. Co-culturing human prostate carcinoma cells with hepatocytes leads to increased expression of E-cadherin. Br. J. Cancer 96, 1246–1252 (2007).

Brabletz, T. To differentiate or not—routes towards metastasis. Nat. Rev. Cancer 12, 425–436 (2012).

Guy, C. T., Cardiff, R. D. & Muller, W. J. Induction of mammary tumors by expression of polyomavirus middle T oncogene: a transgenic mouse model for metastatic disease. Mol. Cell. Biol. 12, 954–961 (1992).

Maroulakou, I. G., Anver, M., Garrett, L. & Green, J. E. Prostate and mammary adenocarcinoma in transgenic mice carrying a rat C3(1) simian virus 40 large tumor antigen fusion gene. Proc. Natl Acad. Sci. USA 91, 11236–11240 (1994).

Muzumdar, M. D., Tasic, B., Miyamichi, K., Li, L. & Luo, L. A global double-fluorescent Cre reporter mouse. Genesis 45, 593–605 (2007).

Boussadia, O., Kutsch, S., Hierholzer, A., Delmas, V. & Kemler, R. E-cadherin is a survival factor for the lactating mouse mammary gland. Mech. Dev. 115, 53–62 (2002).

Badea, T. C., Wang, Y. & Nathans, J. A noninvasive genetic/pharmacologic strategy for visualizing cell morphology and clonal relationships in the mouse. J. Neurosci. 23, 2314–2322 (2003).

Nguyen-Ngoc, K. V. et al. 3D culture assays of murine mammary branching morphogenesis and epithelial invasion. Methods Mol. Biol. 1189, 135–162 (2015).

Langmead, B., Trapnell, C., Pop, M. & Salzberg, S. L. Ultrafast and memory-efficient alignment of short DNA sequences to the human genome. Genome Biol. 10, R25 (2009).

Kim, D. et al. TopHat2: accurate alignment of transcriptomes in the presence of insertions, deletions and gene fusions. Genome Biol. 14, R36 (2013).

Anders, S., Pyl, P. T. & Huber, W. HTSeq—a Python framework to work with high-throughput sequencing data. Bioinformatics 31, 166–169 (2015).

Love, M. I., Huber, W. & Anders, S. Moderated estimation of fold change and dispersion for RNA-seq data with DESeq2. Genome Biol. 15, 550 (2014).

Cheung, K. J. et al. Polyclonal breast cancer metastases arise from collective dissemination of keratin 14-expressing tumor cell clusters. Proc. Natl Acad. Sci. USA 113, E854–E863 (2016).

Liberzon, A. et al. Molecular signatures database (MSigDB) 3.0. Bioinformatics 27, 1739–1740 (2011).
Acknowledgements
We thank all members of the Ewald Laboratory for critical discussions and J. C. Ramirez for assistance in quantifying the area of metastases and cryo-sectioning. We thank H. Zhang from the Johns Hopkins School of Public Health Flow Cytometry Core Facility and H. Hao from the Microarray and Deep Sequencing Core Facility for technical assistance. A.J.E. received support for this project through grants from: The Breast Cancer Research Foundation/Pink Agenda (BCRF-16-048, BCRF-17-048, BCRF-18-048), the Metastatic Breast Cancer Network, Twisted Pink, Hope Scarves and the National Institutes of Health/National Cancer Institute (U01CA217846, U54CA2101732, 3P30CA006973). V.P. was supported in part by an Isaac and Lucille Hay Fellowship. J.S.B. received support for this project through a grant from the National Institutes of Health/National Cancer Institute (U01CA217846). Both A.J.E. and J.S.B. received support from the Jayne Koskinas Ted Giovanis Foundation for Health and Policy and the Breast Cancer Research Foundation, private foundations committed to critical funding of cancer research. The opinions, findings, conclusions and recommendations expressed in this Letter are those of the authors and not necessarily those of the Jayne Koskinas Ted Giovanis Foundation for Health and Policy or the Breast Cancer Research Foundation, or their respective directors, officers or staff. Research in the Aceto laboratory is supported by the European Research Council, the Swiss National Science Foundation, the Swiss Cancer League, the Basel Cancer League, the two Cantons of Basel through ETH Zürich and the University of Basel.
Ethics declarations
Competing interests
A.J.E. and V.P. are listed as inventors on a patent application related to the use of antibodies as cancer therapeutics. A.J.E. is listed as an inventor on a patent application related to the use of keratin-14 as a prognostic indicator for breast cancer outcomes. A.J.E.'s spouse is an employee of ImmunoCore. J.S.B. is a founder and director of Neochromosome and a member of the scientific advisory board of AI Therapeutics. I.K., B.M.S. and N.A. are listed as inventors in patent applications related to CTCs and cancer treatment. N.A. is a paid consultant for pharmaceutical and insurance companies with an interest in liquid biopsy.
Additional information
Publisher's note: Springer Nature remains neutral with regard to jurisdictional claims in published maps and institutional affiliations.
Peer review information Nature thanks Johanna Ivaska, Erik Thompson and the other, anonymous, reviewer(s) for their contribution to the peer review of this work.
Extended data figures and tables
Supplementary information
About this article
Cite this article
Padmanaban, V., Krol, I., Suhail, Y. et al. E-cadherin is required for metastasis in multiple models of breast cancer. Nature 573, 439–444 (2019). https://doi.org/10.1038/s41586-019-1526-3
Received:

Accepted:

Published:

Issue Date:

DOI: https://doi.org/10.1038/s41586-019-1526-3
Comments
By submitting a comment you agree to abide by our Terms and Community Guidelines. If you find something abusive or that does not comply with our terms or guidelines please flag it as inappropriate.