Abstract
The chelicerates are a ubiquitous and speciose group of animals that has a considerable ecological effect on modern terrestrial ecosystems—notably as predators of insects and also, for instance, as decomposers1. The fossil record shows that chelicerates diversified early in the marine ecosystems of the Palaeozoic era, by at least the Ordovician period2. However, the timing of chelicerate origins and the type of body plan that characterized the earliest members of this group have remained controversial. Although megacheirans3,4,5 have previously been interpreted as chelicerate-like, and habeliidans6 (including Sanctacaris7,8) have been suggested to belong to their immediate stem lineage, evidence for the specialized feeding appendages (chelicerae) that are diagnostic of the chelicerates has been lacking. Here we use exceptionally well-preserved and abundant fossil material from the middle Cambrian Burgess Shale (Marble Canyon, British Columbia, Canada) to show that Mollisonia plenovenatrix sp. nov. possessed robust but short chelicerae that were placed very anteriorly, between the eyes. This suggests that chelicerae evolved a specialized feeding function early on, possibly as a modification of short antennules. The head also encompasses a pair of large compound eyes, followed by three pairs of long, uniramous walking legs and three pairs of stout, gnathobasic masticatory appendages; this configuration links habeliidans with euchelicerates ('true' chelicerates, excluding the sea spiders). The trunk ends in a four-segmented pygidium and bears eleven pairs of identical limbs, each of which is composed of three broad lamellate exopod flaps, and endopods are either reduced or absent. These overlapping exopod flaps resemble euchelicerate book gills, although they lack the diagnostic operculum9. In addition, the eyes of M. plenovenatrix were innervated by three optic neuropils, which strengthens the view that a complex malacostracan-like visual system10,11 might have been plesiomorphic for all crown euarthropods. These fossils thus show that chelicerates arose alongside mandibulates12 as benthic micropredators, at the heart of the Cambrian explosion.
Relevant articles
Open Access articles citing this article.
Stephen Pates

,

Joseph P. Botting

…

Joanna M. Wolfe

Nature Communications Open Access 15 November 2022

Javier Ortega-Hernández

,

Rudy Lerosey-Aubril

…

James C. Weaver

Nature Communications Open Access 20 January 2022

Cédric Aria

,

Fangchen Zhao

…

Maoyan Zhu

BMC Evolutionary Biology Open Access 08 January 2020
Access options
Access Nature and 54 other Nature Portfolio journals
Get Nature+, our best-value online-access subscription
$29.99 / 30 days
cancel any time
Subscribe to this journal
Receive 51 print issues and online access
$199.00 per year
only $3.90 per issue
Rent or buy this article
Prices vary by article type
from$1.95
to$39.95
Prices may be subject to local taxes which are calculated during checkout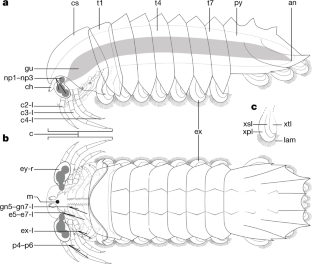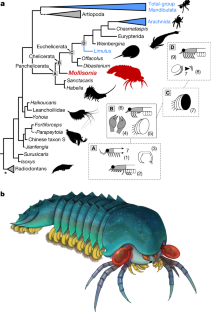 Data availability
All data generated or analysed during this study are included in the published Letter and its Supplementary Information. The ZooBank accession code for M. plenovenatrix is LSID: urn:lsid:zoobank.org:pub:6E2217D1-88C3-4CC7-85B7-F2C8E3477CAA.
References
Schwager, E. E., Schönauer, A., Leite, D. J., Sharma, P. P. & McGregor, A. P. in Evolutionary Developmental Biology of Invertebrates Vol. 3 (ed. Wanninger, A.) 99–139 (Springer, 2015).

Van Roy, P. et al. Ordovician faunas of Burgess Shale type. Nature 465, 215–218 (2010).

Haug, J. T., Waloszek, D., Maas, A., Liu, Y. & Haug, C. Functional morphology, ontogeny and evolution of mantis shrimp-like predators in the Cambrian. Palaeontology 55, 369–399 (2012).

Liu, Y., Haug, J. T., Haug, C., Briggs, D. E. G. & Hou, X. A 520 million-year-old chelicerate larva. Nat. Commun. 5, 4440 (2014).

Aria, C., Caron, J.-B. & Gaines, R. A large new leanchoiliid from the Burgess Shale and the influence of inapplicable states on stem arthropod phylogeny. Palaeontology 58, 629–660 (2015).

Aria, C. & Caron, J.-B. Mandibulate convergence in an armoured Cambrian stem chelicerate. BMC Evol. Biol. 17, 261 (2017).

Briggs, D. E. G. & Collins, D. A Middle Cambrian chelicerate from Mount Stephen, British Columbia. Palaeontology 31, 779–798 (1988).

Legg, D. A. Sanctacaris uncata: the oldest chelicerate (Arthropoda). Naturwissenschaften 101, 1065–1073 (2014).

Dunlop, J. A. & Lamsdell, J. C. Segmentation and tagmosis in Chelicerata. Arthropod Struct. Dev. 46, 395–418 (2017).

Ma, X., Hou, X., Edgecombe, G. D. & Strausfeld, N. J. Complex brain and optic lobes in an early Cambrian arthropod. Nature 490, 258–261 (2012).

Strausfeld, N. J. et al. Arthropod eyes: the early Cambrian fossil record and divergent evolution of visual systems. Arthropod Struct. Dev. 45, 152–172 (2016).

Aria, C. & Caron, J.-B. Burgess Shale fossils illustrate the origin of the mandibulate body plan. Nature 545, 89–92 (2017).

Walcott, C. Cambrian geology and paleontology II. Middle Cambrian Branchiopoda, Malacostraca, Trilobita and Merostomata. Smithsonian Miscellaneous Collections 57, 145–228 (1912).

Raymond, P. E. Notes on invertebrate fossils, with descriptions of new species. Bull. Mus. Comp. Zool. 55, 165–213 (1931).

Simonetta, A. M. & Delle Cave, L. The Cambrian non trilobite arthropods from the Burgess Shale of British Columbia. A study of their comparative morphology taxinomy and evolutionary significance. Palaeontographia Italica 69, 1–37 (1975).

Robison, R. A. in The Early Evolution of Metazoa and the Significance of Problematic Taxa (Proceedings of an International Symposium held at the University of Camerino 27–31 March 1989) (eds Simonetta A. M. & Conway Morris, S.) 77–98 (Cambridge Univ. Press, 1991).

Briggs, D. E. G., Lieberman, B. S., Hendricks, J. R., Halgedahl, S. L. & Jarrard, R. D. Middle Cambrian arthropods from Utah. J. Paleontol. 82, 238–254 (2008).

Zhang, X. L., Zhao, Y. L., Yang, R. D. & Shu, D. The Burgess Shale arthropod Mollisonia (M. sinica new species); new occurrence from the Middle Cambrian Kaili fauna of Southwest China. J. Paleontol. 76, 1106–1108 (2002).

Caron, J.-B., Gaines, R. R., Aria, C., Mángano, M. G. & Streng, M. A new phyllopod bed-like assemblage from the Burgess Shale of the Canadian Rockies. Nat. Commun. 5, 3210 (2014).

Vannier, J., Aria, C., Taylor, R. S. & Caron, J.-B. Waptia fieldensis Walcott, a mandibulate arthropod from the middle Cambrian Burgess Shale. R. Soc. Open Sci. 5, 172206 (2018).

Sutton, M. D., Briggs, D. E. G., Siveter, D. J. & Orr, P. J. The arthropod Offacolus kingi (Chelicerata) from the Silurian of Herefordshire, England: computer based morphological reconstructions and phylogenetic affinities. Proc. R. Soc. B 269, 1195–1203 (2002).

Briggs, D. E. G. et al. Silurian horseshoe crab illuminates the evolution of arthropod limbs. Proc. Natl Acad. Sci. USA 109, 15702–15705 (2012).

Farley, R. D. Book gill development in embryos and first and second instars of the horseshoe crab Limulus polyphemus L. (Chelicerata, Xiphosura). Arthropod Struct. Dev. 39, 369–381 (2010).

Stein, M. Cephalic and appendage morphology of the Cambrian arthropod Sidneyia inexpectans Walcott, 1911. Zool. Anz. 253, 164–178 (2013).

Zeng, H., Zhao, F., Yin, Z. & Zhu, M. Appendages of an early Cambrian metadoxidid trilobite from Yunnan, SW China support mandibulate affinities of trilobites and artiopods. Geol. Mag. 154, 1306–1328 (2017).

Lehmann, T. & Melzer, R. R. Also looking  like Limulus? - retinula axons and visual neuropils of Amblypygi (whip spiders). Front. Zool. 15, 52 (2018).

Edgecombe, G. D. Palaeontology: the cause of jaws and claws. Curr. Biol. 27, R807–R810 (2017).

Yang, J., Ortega-Hernández, J., Lan, T., Hou, J. B. & Zhang, X. G. A predatory bivalved euarthropod from the Cambrian (Stage 3) Xiaoshiba Lagerstätte, South China. Sci. Rep. 6, 27709 (2016).

Dunlop, J. A., Anderson, L. I. & Braddy, S. J. A redescription of Chasmataspis laurencii Caster & Brooks, 1956 (Chelicerata: Chasmataspidida) from the Middle Ordovician of Tennessee, USA, with remarks on chasmataspid phylogeny. Trans. R. Soc. Edinb. Earth Sci. 94, 207–225 (2004).

Paterson, J. R., Edgecombe, G. D. & Lee, M. S. Y. Trilobite evolutionary rates constrain the duration of the Cambrian explosion. Proc. Natl Acad. Sci. USA 116, 4394–4399 (2019).

Aria, C. Reviewing the bases for a nomenclatural uniformization of the highest taxonomic levels in arthropods. Geol. Mag. 156, 1463–1468 (2019).

van der Meijden, A., Langer, F., Boistel, R., Vagovic, P. & Heethoff, M. Functional morphology and bite performance of raptorial chelicerae of camel spiders (Solifugae). J. Exp. Biol. 215, 3411–3418 (2012).

Gaines, R. R., Briggs, D. E. G. & Zhao, Y. Cambrian Burgess Shale-type deposits share a common mode of fossilization. Geology 36, 755–758 (2008).

Ronquist, F. et al. MrBayes 3.2: efficient Bayesian phylogenetic inference and model choice across a large model space. Syst. Biol. 61, 539–542 (2012).

Lewis, P. O. A likelihood approach to estimating phylogeny from discrete morphological character data. Syst. Biol. 50, 913–925 (2001).
Acknowledgements
Fossils for this study were collected by Royal Ontario Museum field parties under several Parks Canada Research and Collections permits to J.-B.C. (YNP2012-12054, KOONIP 2014-16317 and YNP-2016-21639). We thank T. Keith from Parks Canada for facilitating fieldwork activities. Major funding support for fieldwork comes from the Royal Ontario Museum (research and collection grants, and natural history fieldwork grants), the Polk Milstein family, the National Geographic Society (no. 9475-14 to J.-B.C.), the Swedish Research Council (to M. Streng), the National Science Foundation (NSF-EAR-1554897) and Pomona College (to R. R. Gaines). Research was also supported by J.-B.C.'s NSERC Discovery Grant (no. 341944) and the Dorothy Strelsin Foundation (Royal Ontario Museum), and C.A.'s President's International Fellowship Initiative Grant (no. 2018PC0043) and China Postdoctoral Science Foundation Grant (no. 2018M630616). We thank S. Scharf for editorial suggestions and J. Liang for the illustrations of M. plenovenatrix. This is Royal Ontario Museum Burgess Shale project number 84.
Ethics declarations
Competing interests
The authors declare no competing interests.
Additional information
Publisher's note: Springer Nature remains neutral with regard to jurisdictional claims in published maps and institutional affiliations.
Peer review information Nature thanks Jason Dunlop and the other, anonymous, reviewer(s) for their contribution to the peer review of this work.
Extended data figures and tables
Supplementary information
About this article
Cite this article
Aria, C., Caron, JB. A middle Cambrian arthropod with chelicerae and proto-book gills. Nature 573, 586–589 (2019). https://doi.org/10.1038/s41586-019-1525-4
Received:

Accepted:

Published:

Issue Date:

DOI: https://doi.org/10.1038/s41586-019-1525-4
Comments
By submitting a comment you agree to abide by our Terms and Community Guidelines. If you find something abusive or that does not comply with our terms or guidelines please flag it as inappropriate.