Abstract
The origin of motility in bilaterian animals represents an evolutionary innovation that transformed the Earth system. This innovation probably occurred in the late Ediacaran period—as evidenced by an abundance of trace fossils (ichnofossils) dating to this time, which include trails, trackways and burrows1,2,3. However, with few exceptions4,5,6,7,8, the producers of most of the late Ediacaran ichnofossils are unknown, which has resulted in a disconnection between the body- and trace-fossil records. Here we describe the fossil of a bilaterian of the terminal Ediacaran period (dating to 551–539 million years ago), which we name Yilingia spiciformis (gen. et sp. nov). This body fossil is preserved along with the trail that the animal produced during a death march. Yilingia is an elongate and segmented bilaterian with repetitive and trilobate body units, each of which consists of a central lobe and two posteriorly pointing lateral lobes, indicating body and segment polarity. Yilingia is possibly related to panarthropods or annelids, and sheds light on the origin of segmentation in bilaterians. As one of the few Ediacaran animals demonstrated to have produced long and continuous trails, Yilingia provides insights into the identity of the animals that were responsible for Ediacaran trace fossils.
Relevant articles
Open Access articles citing this article.
Nature Open Access 28 July 2021

Xingliang Zhang

&

Degan Shu

PalZ Open Access 14 July 2021

Richard J. Howard

,

Gregory D. Edgecombe

…

Xiaoya Ma

BMC Evolutionary Biology Open Access 23 November 2020
Access options
Subscribe to Nature+
Get immediate online access to Nature and 55 other Nature journal
Subscribe to Journal
Get full journal access for 1 year
$199.00
only $3.90 per issue
All prices are NET prices.
VAT will be added later in the checkout.
Tax calculation will be finalised during checkout.
Buy article
Get time limited or full article access on ReadCube.
$32.00
All prices are NET prices.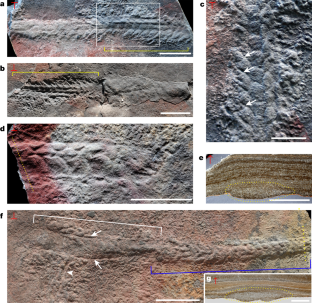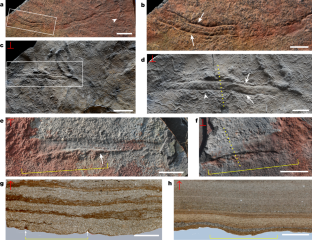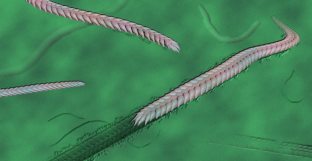 Data availability
The data that support the findings of this study are available in the paper and its Supplementary Information, or from the corresponding authors upon reasonable request. All specimens illustrated in this paper are deposited in Nanjing Institute of Geology and Palaeontology (accession numbers NIGP-166252 to NIGP-166258, NIGP-169870), with the exception of NIGP-169869, which is currently left on the outcrop (30° 47′ 9.5′′ N, 111° 02′ 57.6′′ E) at Wuhe village (Yichang, Hubei province, China).
References
Jensen, S., Droser, M. L. & Gehling, J. G. in Neoproterozoic Geobiology (eds Xiao, S. & Kaufman, A. J.) 115–157 (Springer, 2006).

Buatois, L. A. & Mángano, M. G. in The Trace-Fossil Record of Major Evolutionary Events, Volume 1: Precambrian and Paleozoic (eds Gabriela Mángano, M. & Buatois, L. A.) 27–72 (Springer, 2016).

Chen, Z., Chen, X., Zhou, C., Yuan, X. & Xiao, S. Late Ediacaran trackways produced by bilaterian animals with paired appendages. Sci. Adv. 4, eaao6691 (2018).

Gehling, J. G., Droser, M. L., Jensen, S. R. & Runnegar, B. N. in Evolving Form and Function: Fossils and Development (ed. Briggs, D. E. G.) 43–66 (Yale Peabody Museum, 2005).

Evans, S. D., Gehling, J. G. & Droser, M. L. Slime travelers: early evidence of animal mobility and feeding in an organic mat world. Geobiology https://doi.org/10.1111/gbi.12351 (2019).

Gehling, J. G., Runnegar, B. N. & Droser, M. L. Scratch traces of large Ediacara bilaterian animals. J. Paleontol. 88, 284–298 (2014).

Ivantsov, A. Y. Trace fossils of precambrian metazoans "Vendobionta" and "Mollusks". Stratigr. Geol. Correl. 21, 252–264 (2013).

Ivantsov, A. Feeding traces of Proarticulata—the Vendian metazoa. Paleontol. J. 45, 237–248 (2011).

Erwin, D. H. et al. The Cambrian conundrum: early divergence and later ecological success in the early history of animals. Science 334, 1091–1097 (2011).

dos Reis, M. et al. Uncertainty in the timing of origin of animals and the limits of precision in molecular timescales. Curr. Biol. 25, 2939–2950 (2015).

Seilacher, A. Trace Fossil Analysis (Springer, 2007).

Fedonkin, M. A., Simonetta, A. & Ivantsov, A. Y. in The Rise and Fall of the Ediacaran Biota (eds Vickers-Rich, P. & Komarower, P.) 157–179 (Geological Society of London, 2007).

Bottjer, D. J., Hagadorn, J. W. & Dornbos, S. Q. The Cambrian substrate revolution. GSA Today 10, 1–7 (2000).

Seilacher, A. & Pflüger, F. in Biostabilization of Sediments (eds Krumbein, W. E. et al.) 97–105 (Bibliotheks und Informationssystem der Carl von Ossietzky Universität, Odenburg, 1994).

Canfield, D. E. & Farquhar, J. Animal evolution, bioturbation, and the sulfate concentration of the oceans. Proc. Natl Acad. Sci. USA 106, 8123–8127 (2009).

Tarhan, L. G. The early Paleozoic development of bioturbation—evolutionary and geobiological consequences. Earth Sci. Rev. 178, 177–207 (2018).

Condon, D. et al. U–Pb ages from the neoproterozoic Doushantuo Formation, China. Science 308, 95–98 (2005).

Okada, Y. et al. New chronological constraints for Cryogenian to Cambrian rocks in the Three Gorges, Weng'an and Chengjiang areas, South China. Gondwana Res. 25, 1027–1044 (2014).

Ekdale, A. A., Bromley, R. G. & Pemberton, S. G. Ichnology: The Use of Trace Fossils in Sedimentology and Stratigraphy (SEPM Short Course 15) (SEPM Society for Sedimentary Geology, 1984).

Droser, M. L., Gehling, J. G. & Jensen, S. in Evolving Form and Function: Fossils and Development (ed. Briggs, D. E. G.) 125–138 (Yale Peabody Museum, 2005).

Mángano, M. G. & Buatois, L. A. The Trace-Fossil Record of Major Evolutionary Events, Volume 1: Precambrian and Paleozoic (Springer, 2016).

Davis, G. K. & Patel, N. H. The origin and evolution of segmentation. Trends Cell Biol. 9, M68–M72 (1999).

Liu, Y., Xiao, S., Shao, T., Broce, J. & Zhang, H. The oldest known priapulid-like scalidophoran animal and its implications for the early evolution of cycloneuralians and ecdysozoans. Evol. Dev. 16, 155–165 (2014).

Budd, G. E. Why are arthropods segmented? Evol. Dev. 3, 332–342 (2001).

Minelli, A., Boxshall, G. & Fusco, G. Arthropod Biology and Evolution (Springer, 2013).

Chipman, A. D. Parallel evolution of segmentation by co-option of ancestral gene regulatory networks. BioEssays 32, 60–70 (2010).

Dunn, F. S., Liu, A. G. & Donoghue, P. C. J. Ediacaran developmental biology. Biol. Rev. Camb. Philos. Soc. 93, 914–932 (2018).

Couso, J. P. Segmentation, metamerism and the Cambrian explosion. Int. J. Dev. Biol. 53, 1305–1316 (2009).

Gold, D. A., Runnegar, B., Gehling, J. G. & Jacobs, D. K. Ancestral state reconstruction of ontogeny supports a bilaterian affinity for Dickinsonia. Evol. Dev. 17, 315–324 (2015).

Zhao, F. et al. Orthrozanclus elongata n. sp. and the significance of sclerite-covered taxa for early trochozoan evolution. Sci. Rep. 7, 16232 (2017).
Acknowledgements
This research was supported by Chinese Academy of Sciences (XDB26000000, XDB18000000 and QYZDJ-SSW-DQC009), National Key Research and Development Program of China (2017YFC0603101), National Natural Science Foundation of China (41372009), National Science Foundation (EAR-1528553) and National Geographic Society (9564-14).
Ethics declarations
Competing interests
The authors declare no competing interests.
Additional information
Publisher's note: Springer Nature remains neutral with regard to jurisdictional claims in published maps and institutional affiliations.
Peer review information Nature thanks Marc Laflamme, Rachel Wood and the other, anonymous, reviewer(s) for their contribution to the peer review of this work.
Extended data figures and tables
Supplementary information
This file contains the geological setting and detailed fossil description.
This file contains the measurment of Yilingia and related trace fossils (specimen number = 48).
About this article
Cite this article
Chen, Z., Zhou, C., Yuan, X. et al. Death march of a segmented and trilobate bilaterian elucidates early animal evolution. Nature 573, 412–415 (2019). https://doi.org/10.1038/s41586-019-1522-7
Received:

Accepted:

Published:

Issue Date:

DOI: https://doi.org/10.1038/s41586-019-1522-7
Comments
By submitting a comment you agree to abide by our Terms and Community Guidelines. If you find something abusive or that does not comply with our terms or guidelines please flag it as inappropriate.