Abstract
The emergence of antibiotic-resistant bacteria through mutations or the acquisition of genetic material such as resistance plasmids represents a major public health issue1,2. Persisters are subpopulations of bacteria that survive antibiotics by reversibly adapting their physiology3,4,5,6,7,8,9,10, and can promote the emergence of antibiotic-resistant mutants11. We investigated whether persisters can also promote the spread of resistance plasmids. In contrast to mutations, the transfer of resistance plasmids requires the co-occurrence of both a donor and a recipient bacterial strain. For our experiments, we chose the facultative intracellular entero-pathogen Salmonella enterica serovar Typhimurium (S. Typhimurium) and Escherichia coli, a common member of the microbiota12. S. Typhimurium forms persisters that survive antibiotic therapy in several host tissues. Here we show that tissue-associated S. Typhimurium persisters represent long-lived reservoirs of plasmid donors or recipients. The formation of reservoirs of S. Typhimurium persisters requires Salmonella pathogenicity island (SPI)-1 and/or SPI-2 in gut-associated tissues, or SPI-2 at systemic sites. The re-seeding of these persister bacteria into the gut lumen enables the co-occurrence of donors with gut-resident recipients, and thereby favours plasmid transfer between various strains of Enterobacteriaceae. We observe up to 99% transconjugants within two to three days of re-seeding. Mathematical modelling shows that rare re-seeding events may suffice for a high frequency of conjugation. Vaccination reduces the formation of reservoirs of persisters after oral infection with S. Typhimurium, as well as subsequent plasmid transfer. We conclude that—even without selection for plasmid-encoded resistance genes—small reservoirs of pathogen persisters can foster the spread of promiscuous resistance plasmids in the gut.
Relevant articles
Open Access articles citing this article.
Yinyin Ma

,

Josep Ramoneda

&

David R. Johnson

Nature Communications Open Access 14 June 2023

Mehrose Ahmad

,

Hannah Prensky

…

Allison J. Lopatkin

Nature Communications Open Access 24 April 2023

Maxime Mistretta

,

Nicolas Gangneux

&

Giulia Manina

Scientific Reports Open Access 15 November 2022
Access options
Access Nature and 54 other Nature Portfolio journals
Get Nature+, our best-value online-access subscription
$29.99 / 30 days
cancel any time
Subscribe to this journal
Receive 51 print issues and online access
$199.00 per year
only $3.90 per issue
Rent or buy this article
Prices vary by article type
from$1.95
to$39.95
Prices may be subject to local taxes which are calculated during checkout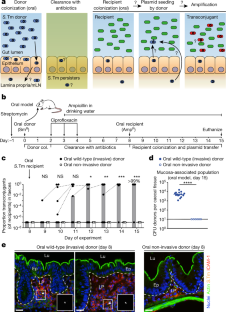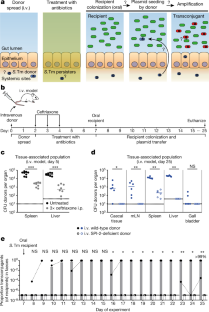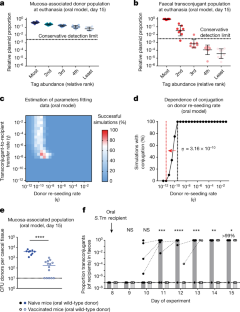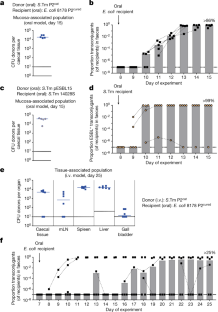 Data availability
The genome and plasmid sequence of E. coli ESBL 15 have been deposited in GenBank under accession numbers CP041678–CP041681 (Biosample SAMN12275742). Numerical Source Data for all figures are provided with the paper. Source images are available upon request to the corresponding authors.
Code availability
Code for the stochastic simulation of plasmid-transfer dynamics and parameter estimation from the experimental data are provided with the paper. The R code follows the notation used in the Supplementary Information.
References
Parisi, A. et al. Health outcomes from multidrug-resistant Salmonella infections in high-income countries: a systematic review and meta-analysis. Foodborne Pathog. Dis. 15, 428–436 (2018).

Wright, G. D. The antibiotic resistome: the nexus of chemical and genetic diversity. Nat. Rev. Microbiol. 5, 175–186 (2007).

Brauner, A., Fridman, O., Gefen, O. & Balaban, N. Q. Distinguishing between resistance, tolerance and persistence to antibiotic treatment. Nat. Rev. Microbiol. 14, 320–330 (2016).

Fridman, O., Goldberg, A., Ronin, I., Shoresh, N. & Balaban, N. Q. Optimization of lag time underlies antibiotic tolerance in evolved bacterial populations. Nature 513, 418–421 (2014).

Claudi, B. et al. Phenotypic variation of Salmonella in host tissues delays eradication by antimicrobial chemotherapy. Cell 158, 722–733 (2014).

Helaine, S. et al. Internalization of Salmonella by macrophages induces formation of nonreplicating persisters. Science 343, 204–208 (2014).

Kaiser, P. et al. Cecum lymph node dendritic cells harbor slow-growing bacteria phenotypically tolerant to antibiotic treatment. PLoS Biol. 12, e1001793 (2014).

Dolowschiak, T. et al. IFN-γ hinders recovery from mucosal inflammation during antibiotic therapy for Salmonella gut infection. Cell Host Microbe 20, 238–249 (2016).

Balaban, N. Q. et al. Definitions and guidelines for research on antibiotic persistence. Nat. Rev. Microbiol. 17, 441–448 (2019).

Balaban, N. Q., Merrin, J., Chait, R., Kowalik, L. & Leibler, S. Bacterial persistence as a phenotypic switch. Science 305, 1622–1625 (2004).

Levin-Reisman, I. et al. Antibiotic tolerance facilitates the evolution of resistance. Science 355, 826–830 (2017).

Wotzka, S. Y. et al. Microbiota stability in healthy individuals after single-dose lactulose challenge–a randomized controlled study. PLoS ONE 13, e0206214 (2018).

Coque, T. M., Baquero, F. & Canton, R. Increasing prevalence of ESBL-producing Enterobacteriaceae in Europe. Eurosurveillance 13, 19044 (2008).

Crump, J. A., Sjölund-Karlsson, M., Gordon, M. A. & Parry, C. M. Epidemiology, clinical presentation, laboratory diagnosis, antimicrobial resistance, and antimicrobial management of invasive Salmonella infections. Clin. Microbiol. Rev. 28, 901–937 (2015).

Wilcock, B. P., Armstrong, C. H. & Olander, H. J. The significance of the serotype in the clinical and pathological features of naturally occurring porcine salmonellosis. Can. J. Comp. Med. 40, 80–88 (1976).

Wood, R. L., Pospischil, A. & Rose, R. Distribution of persistent Salmonella typhimurium infection in internal organs of swine. Am. J. Vet. Res. 50, 1015–1021 (1989).

San Román, B. et al. Relationship between Salmonella infection, shedding and serology in fattening pigs in low–moderate prevalence areas. Zoonoses Public Health 65, 481–489 (2018).

Tenaillon, O., Skurnik, D., Picard, B. & Denamur, E. The population genetics of commensal Escherichia coli. Nat. Rev. Microbiol. 8, 207–217 (2010).

Apperloo-Renkema, H. Z., Van der Waaij, B. D. & Van der Waaij, D. Determination of colonization resistance of the digestive tract by biotyping of Enterobacteriaceae. Epidemiol. Infect. 105, 355–361 (1990).

Stecher, B. et al. Gut inflammation can boost horizontal gene transfer between pathogenic and commensal Enterobacteriaceae. Proc. Natl Acad. Sci. USA 109, 1269–1274 (2012).

Diard, M. et al. Inflammation boosts bacteriophage transfer between Salmonella spp. Science 355, 1211–1215 (2017).

Moor, K. et al. High-avidity IgA protects the intestine by enchaining growing bacteria. Nature 544, 498–502 (2017).

Monack, D. M., Bouley, D. M. & Falkow, S. Salmonella typhimurium persists within macrophages in the mesenteric lymph nodes of chronically infected Nramp1 +/+ mice and can be reactivated by IFNγ neutralization. J. Exp. Med. 199, 231–241 (2004).

Diard, M. et al. Antibiotic treatment selects for cooperative virulence of Salmonella Typhimurium. Curr. Biol. 24, 2000–2005 (2014).

Sampei, G. et al. Complete genome sequence of the incompatibility group I1 plasmid R64. Plasmid 64, 92–103 (2010).

Hensel, M. et al. Simultaneous identification of bacterial virulence genes by negative selection. Science 269, 400–403 (1995).

Stapels, D. A. C. et al. Salmonella persisters undermine host immune defenses during antibiotic treatment. Science 362, 1156–1160 (2018).

Moor, K. et al. Peracetic acid treatment generates potent inactivated oral vaccines from a broad range of culturable bacterial species. Front. Immunol. 7, 34 (2016).

Fauvart, M., De Groote, V. N. & Michiels, J. Role of persister cells in chronic infections: clinical relevance and perspectives on anti-persister therapies. J. Med. Microbiol. 60, 699–709 (2011).

Roberts, M. E. & Stewart, P. S. Modelling protection from antimicrobial agents in biofilms through the formation of persister cells. Microbiology 151, 75–80 (2005).

Knodler, L. A. et al. Noncanonical inflammasome activation of caspase-4/caspase-11 mediates epithelial defenses against enteric bacterial pathogens. Cell Host Microbe 16, 249–256 (2014).

Sellin, M. E. et al. Epithelium-intrinsic NAIP/NLRC4 inflammasome drives infected enterocyte expulsion to restrict Salmonella replication in the intestinal mucosa. Cell Host Microbe 16, 237–248 (2014).

Defraine, V., Fauvart, M. & Michiels, J. Fighting bacterial persistence: current and emerging anti-persister strategies and therapeutics. Drug Resist. Updat. 38, 12–26 (2018).

Grant, A. J. et al. Modelling within-host spatiotemporal dynamics of invasive bacterial disease. PLoS Biol. 6, e74 (2008).

Datsenko, K. A. & Wanner, B. L. One-step inactivation of chromosomal genes in Escherichia coli K-12 using PCR products. Proc. Natl Acad. Sci. USA 97, 6640–6645 (2000).

Sternberg, N. L. & Maurer, R. Bacteriophage-mediated generalized transduction in Escherichia coli and Salmonella typhimurium. Methods Enzymol. 204, 18–43 (1991).

Stecher, B. et al. Chronic Salmonella enterica serovar Typhimurium-induced colitis and cholangitis in streptomycin-pretreated Nramp1 +/+ mice. Infect. Immun. 74, 5047–5057 (2006).

Barthel, M. et al. Pretreatment of mice with streptomycin provides a Salmonella enterica serovar Typhimurium colitis model that allows analysis of both pathogen and host. Infect. Immun. 71, 2839–2858 (2003).

Johansson, M. E. & Hansson, G. C. Preservation of mucus in histological sections, immunostaining of mucins in fixed tissue, and localization of bacteria with FISH. Methods Mol. Biol. 842, 229–235 (2012).

Marjoram, P., Molitor, J., Plagnol, V. & Tavare, S. Markov chain Monte Carlo without likelihoods. Proc. Natl Acad. Sci. USA 100, 15324–15328 (2003).

Zankari, E. et al. Identification of acquired antimicrobial resistance genes. J. Antimicrob. Chemother. 67, 2640–2644 (2012).
Acknowledgements
We thank the members of the Hardt, Slack, Bonhoeffer, Stadler and Ackermann labs for helpful discussion, and the staff at the RCHCI and EPIC animal facilities for their excellent support. This work has been funded, in part, by grants from the Swiss National Science Foundation (SNF; 310030B-173338), the Promedica Foundation, Chur and the Helmut Horten Foundation to W.-D.H., and from the SNF NFP 72 (407240-167121) to W.-D.H., S.B. and A.E. M.D. is funded by an SNF professorship grant (PP00PP_176954), E.B. by a Boehringer Ingelheim Fonds PhD fellowship, and M.E.S. and S.A.F. (in part) by the Swedish Research Council (2015-00635, 2018-02223). R.R.R. is funded by SNF grant number 31003A_179170. E.S. is supported by grant GRS 073/17 from the 'Microbials' programme of the Gebert Rüf Foundation and the SNF Bridge Discover Grant 20B2-1 180953.
Ethics declarations
Competing interests
The authors declare no competing interests.
Additional information
Publisher's note: Springer Nature remains neutral with regard to jurisdictional claims in published maps and institutional affiliations.
Peer review information Nature thanks Sophie Helaine and the other, anonymous, reviewer(s) for their contribution to the peer review of this work.
Extended data figures and tables
Supplementary information
The PDF file "Supplementary Materials" contains Supplementary Tables 1–4 and Supplementary Discussion A–D. Supplementary Tables 1 and 2 indicate the strains, plasmids and primers used in this study. Supplementary Table 3 contains input parameters and priors used in the stochastic simulations, and Supplementary Table 4 contains parameter estimate for different simulations. Supplementary Discussions A–C provide additional context and relevance for the present study, and Supplementary Discussion D provides a detailed description of the mathematical model.
This zip file contains R scripts and input data used for running simulations.
About this article
Cite this article
Bakkeren, E., Huisman, J.S., Fattinger, S.A. et al. Salmonella persisters promote the spread of antibiotic resistance plasmids in the gut. Nature 573, 276–280 (2019). https://doi.org/10.1038/s41586-019-1521-8
Received:

Accepted:

Published:

Issue Date:

DOI: https://doi.org/10.1038/s41586-019-1521-8
Comments
By submitting a comment you agree to abide by our Terms and Community Guidelines. If you find something abusive or that does not comply with our terms or guidelines please flag it as inappropriate.