Abstract
Signal transducer and activator of transcription 3 (STAT3) has a critical role in regulating cell fate, inflammation and immunity1,2. Cytokines and growth factors activate STAT3 through kinase-mediated tyrosine phosphorylation and dimerization3,4. It remains unknown whether other factors promote STAT3 activation through different mechanisms. Here we show that STAT3 is post-translationally S-palmitoylated at the SRC homology 2 (SH2) domain, which promotes the dimerization and transcriptional activation of STAT3. Fatty acids can directly activate STAT3 by enhancing its palmitoylation, in synergy with cytokine stimulation. We further identified ZDHHC19 as a palmitoyl acyltransferase that regulates STAT3. Cytokine stimulation increases STAT3 palmitoylation by promoting the association between ZDHHC19 and STAT3, which is mediated by the SH3 domain of GRB2. Silencing ZDHHC19 blocks STAT3 palmitoylation and dimerization, and impairs the cytokine- and fatty-acid-induced activation of STAT3. ZDHHC19 is frequently amplified in multiple human cancers, including in 39% of lung squamous cell carcinomas. High levels of ZDHHC19 correlate with high levels of nuclear STAT3 in patient samples. In addition, knockout of ZDHHC19 in lung squamous cell carcinoma cells significantly blocks STAT3 activity, and inhibits the fatty-acid-induced formation of tumour spheres as well as tumorigenesis induced by high-fat diets in an in vivo mouse model. Our studies reveal that fatty-acid- and ZDHHC19-mediated palmitoylation are signals that regulate STAT3, which provides evidence linking the deregulation of palmitoylation to inflammation and cancer.
Access options
Subscribe to Journal
Get full journal access for 1 year
$199.00
only $3.90 per issue
All prices are NET prices.
VAT will be added later in the checkout.
Rent or Buy article
Get time limited or full article access on ReadCube.
from$8.99
All prices are NET prices.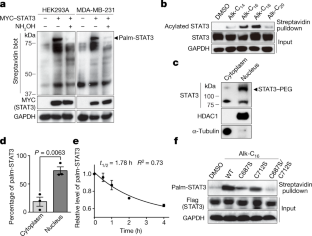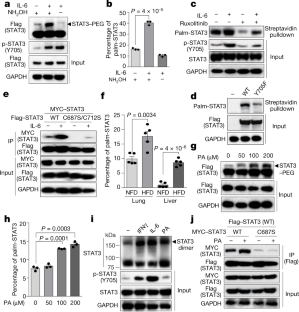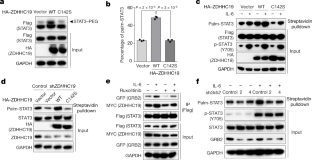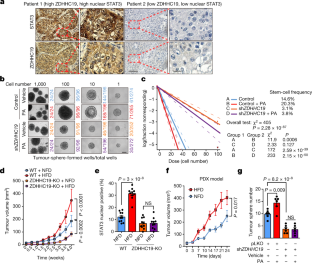 Data availability
The data supporting the findings of this study are available within the paper. Uncropped raw images from western blots are shown in Supplementary Fig. 1. Source Data for all graphs are available online. Tumour sample information is shown in Supplementary Tables 1, 2. All other data are available from the corresponding author upon reasonable request.
References
1.

Yu, H., Lee, H., Herrmann, A., Buettner, R. & Jove, R. Revisiting STAT3 signalling in cancer: new and unexpected biological functions. Nat. Rev. Cancer 14, 736–746 (2014).

2.

Mertens, C. & Darnell, J. E. Jr. SnapShot: JAK–STAT signaling. Cell 131, 612 (2007).

3.

Yu, C. L. et al. Enhanced DNA-binding activity of a Stat3-related protein in cells transformed by the Src oncoprotein. Science 269, 81–83 (1995).

4.

Aaronson, D. S. & Horvath, C. M. A road map for those who don't know JAK–STAT. Science 296, 1653–1655 (2002).

5.

Chen, B., Sun, Y., Niu, J., Jarugumilli, G. K. & Wu, X. Protein lipidation in cell signaling and diseases: function, regulation, and therapeutic opportunities. Cell Chem. Biol. 25, 817–831 (2018).

6.

Resh, M. D. Palmitoylation of proteins in cancer. Biochem. Soc. Trans. 45, 409–416 (2017).

7.

Zheng, B. et al. 2-Bromopalmitate analogues as activity-based probes to explore palmitoyl acyltransferases. J. Am. Chem. Soc. 135, 7082–7085 (2013).

8.

Martin, B. R. & Cravatt, B. F. Large-scale profiling of protein palmitoylation in mammalian cells. Nat. Methods 6, 135–138 (2009).

9.

Ren, W., Jhala, U. S. & Du, K. Proteomic analysis of protein palmitoylation in adipocytes. Adipocyte 2, 17–27 (2013).

10.

Resh, M. D. Trafficking and signaling by fatty-acylated and prenylated proteins. Nat. Chem. Biol. 2, 584–590 (2006).

11.

Chamberlain, L. H. & Shipston, M. J. The physiology of protein S-acylation. Physiol. Rev. 95, 341–376 (2015).

12.

Yuan, Z. L., Guan, Y. J., Chatterjee, D. & Chin, Y. E. Stat3 dimerization regulated by reversible acetylation of a single lysine residue. Science 307, 269–273 (2005).

13.

Park, M. J. et al. SH2 domains serve as lipid-binding modules for pTyr-signaling proteins. Mol. Cell 62, 7–20 (2016).

14.

Herbert, D. et al. High-fat diet exacerbates early psoriatic skin inflammation independent of obesity: saturated fatty acids as key players. J. Invest. Dermatol. 138, 1999–2009 (2018).

15.

Hayashi, T. et al. High-fat diet-induced inflammation accelerates prostate cancer growth via IL6 signaling. Clin. Can. Res. 24, 4309–4318 (2018).

16.

Park, E. J. et al. Dietary and genetic obesity promote liver inflammation and tumorigenesis by enhancing IL-6 and TNF expression. Cell 140, 197–208 (2010).

17.

Fukata, Y., Iwanaga, T. & Fukata, M. Systematic screening for palmitoyl transferase activity of the DHHC protein family in mammalian cells. Methods 40, 177–182 (2006).

18.

Rana, M. S. et al. Fatty acyl recognition and transfer by an integral membrane S-acyltransferase. Science 359, eaao6326 (2018).

19.

Giordano, V. et al. Shc mediates IL-6 signaling by interacting with gp130 and Jak2 kinase. J. Immunol. 158, 4097–4103 (1997).

20.

Lowenstein, E. J. et al. The SH2 and SH3 domain-containing protein GRB2 links receptor tyrosine kinases to ras signaling. Cell 70, 431–442 (1992).

21.

Swarthout, J. T. et al. DHHC9 and GCP16 constitute a human protein fatty acyltransferase with specificity for H- and N-Ras. J. Biol. Chem. 280, 31141–31148 (2005).

22.

Wang, J. et al. Integrative genomics analysis identifies candidate drivers at 3q26-29 amplicon in squamous cell carcinoma of the lung. Clin. Cancer Res. 19, 5580–5590 (2013).

23.

Bromberg, J. F. et al. Stat3 as an oncogene. Cell 98, 295–303 (1999).

24.

Justilien, V. et al. The PRKCI and SOX2 oncogenes are coamplified and cooperate to activate Hedgehog signaling in lung squamous cell carcinoma. Cancer Cell 25, 139–151 (2014).

25.

Louie, S. M., Roberts, L. S. & Nomura, D. K. Mechanisms linking obesity and cancer. Biochim. Biophys. Acta 1831, 1499–1508 (2013).

26.

Yang, J. J. et al. Dietary fat intake and lung cancer risk: a pooled analysis. J. Clin. Oncol. 35, 3055–3064 (2017).

27.

Beyaz, S. et al. High-fat diet enhances stemness and tumorigenicity of intestinal progenitors. Nature 531, 53–58 (2016).

28.

Pascual, G. et al. Targeting metastasis-initiating cells through the fatty acid receptor CD36. Nature 541, 41–45 (2017).

29.

Tian, H. et al. Systematic siRNA screen unmasks NSCLC growth dependence by palmitoyltransferase DHHC5. Mol. Cancer Res. 13, 784–794 (2015).

30.

Yang, C. H., Yue, J., Fan, M. & Pfeffer, L. M. IFN induces miR-21 through a signal transducer and activator of transcription 3-dependent pathway as a suppressive negative feedback on IFN-induced apoptosis. Cancer Res. 70, 8108–8116 (2010).

31.

Niu, J. et al. USP10 inhibits genotoxic NF-κB activation by MCPIP1-facilitated deubiquitination of NEMO. EMBO J. 32, 3206–3219 (2013).

32.

Nelson, E. A. et al. Nifuroxazide inhibits survival of multiple myeloma cells by directly inhibiting STAT3. Blood 112, 5095–5102 (2008).

33.

Percher, A. et al. Mass-tag labeling reveals site-specific and endogenous levels of protein S-fatty acylation. Proc. Natl Acad. Sci. USA 113, 4302–4307 (2016).

34.

Braakman, I. & Hebert, D. N. Analysis of disulfide bond formation. Curr. Protoc. Protein Sci. 90, 14.1.1–14.1.21 (2017).

35.

Thomas, M. et al. Full deacylation of polyethylenimine dramatically boosts its gene delivery efficiency and specificity to mouse lung. Proc. Natl Acad. Sci. USA 102, 5679–5684 (2005).

36.

Niu, J. et al. Induction of miRNA-181a by genotoxic treatments promotes chemotherapeutic resistance and metastasis in breast cancer. Oncogene 35, 1302–1313 (2016).

37.

Hu, Y. & Smyth, G. K. ELDA: extreme limiting dilution analysis for comparing depleted and enriched populations in stem cell and other assays. J. Immunol. Methods 347, 70–78 (2009).

38.

Jafari, R. et al. The cellular thermal shift assay for evaluating drug target interactions in cells. Nat. Protoc. 9, 2100–2122 (2014).
Acknowledgements
This work was supported by Samuel M. Fisher Memorial–Melanoma Research Alliance (MRA) Established Investigator Award, the Idea Award from Prostate Cancer Research Program, US Department of Defense (W81XWH-17-1-0361) and grants from National Institutes of Health (R01CA181537, R01DK107651-01 and R01CA238270-01 to X.W., and R01CA160979 to D.A.F.). We thank T. Maniatis for the expression vector of STAT2, M. Fukata for the expression vectors of the ZDHHC proteins, J. Hersch for commenting and editing of the manuscript, the Confocal Imaging Core at Cutaneous Biology Research Center of Massachusetts General Hospital with the Shared Instrumentation Grant (1S10RR027673-01), and the Taplin Mass Spectrometry Core at Harvard Medical School for proteomic studies.
Reviewer information
Nature thanks Trever G. Bivona, and the other, anonymous, reviewer(s) for their contribution to the peer review of this work.
Ethics declarations
Competing interests
The authors declare no competing interests.
Additional information
Publisher's note: Springer Nature remains neutral with regard to jurisdictional claims in published maps and institutional affiliations.
Extended data figures and tables
Supplementary information
About this article
Cite this article
Niu, J., Sun, Y., Chen, B. et al. Fatty acids and cancer-amplified ZDHHC19 promote STAT3 activation through S-palmitoylation. Nature 573, 139–143 (2019). https://doi.org/10.1038/s41586-019-1511-x
Received:

Accepted:

Published:

Issue Date:
Comments
By submitting a comment you agree to abide by our Terms and Community Guidelines. If you find something abusive or that does not comply with our terms or guidelines please flag it as inappropriate.