Abstract
Body-axis elongation constitutes a key step in animal development, laying out the final form of the entire animal. It relies on the interplay between intrinsic forces generated by molecular motors1,2,3, extrinsic forces exerted by adjacent cells4,5,6,7 and mechanical resistance forces due to tissue elasticity or friction8,9,10. Understanding how mechanical forces influence morphogenesis at the cellular and molecular level remains a challenge1. Recent work has outlined how small incremental steps power cell-autonomous epithelial shape changes1,2,3, which suggests the existence of specific mechanisms that stabilize cell shapes and counteract cell elasticity. Beyond the twofold stage, embryonic elongation in Caenorhabditis elegans is dependent on both muscle activity7 and the epidermis; the tension generated by muscle activity triggers a mechanotransduction pathway in the epidermis that promotes axis elongation7. Here we identify a network that stabilizes cell shapes in C. elegans embryos at a stage that involves non-autonomous mechanical interactions between epithelia and contractile cells. We searched for factors genetically or molecularly interacting with the p21-activating kinase homologue PAK-1 and acting in this pathway, thereby identifying the α-spectrin SPC-1. Combined absence of PAK-1 and SPC-1 induced complete axis retraction, owing to defective epidermal actin stress fibre. Modelling predicts that a mechanical viscoplastic deformation process can account for embryo shape stabilization. Molecular analysis suggests that the cellular basis for viscoplasticity originates from progressive shortening of epidermal microfilaments that are induced by muscle contractions relayed by actin-severing proteins and from formin homology 2 domain-containing protein 1 (FHOD-1) formin bundling. Our work thus identifies an essential molecular lock acting in a developmental ratchet-like process.
Relevant articles
Open Access articles citing this article.
Andrea Ghisleni

,

Camilla Galli

…

Nils C. Gauthier

Nature Communications Open Access 09 October 2020
Access options
Access Nature and 54 other Nature Portfolio journals
Get Nature+, our best-value online-access subscription
$29.99 / 30 days
cancel any time
Subscribe to this journal
Receive 51 print issues and online access
$199.00 per year
only $3.90 per issue
Rent or buy this article
Prices vary by article type
from$1.95
to$39.95
Prices may be subject to local taxes which are calculated during checkout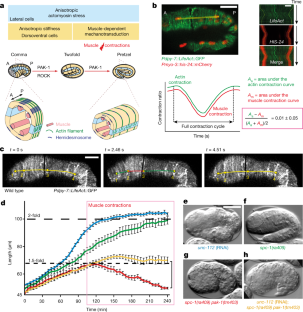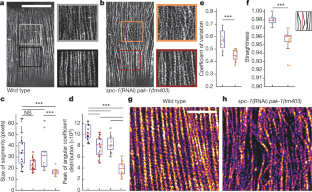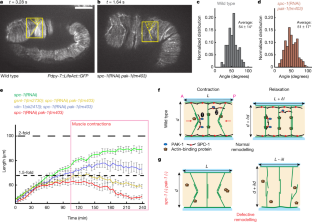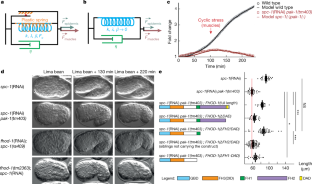 Code availability
All MATLAB scripts used for the present analysis are available upon reasonable request.
References
Gilmour, D., Rembold, M. & Leptin, M. From morphogen to morphogenesis and back. Nature 541, 311–320 (2017).

Martin, A. C., Kaschube, M. & Wieschaus, E. F. Pulsed contractions of an actin–myosin network drive apical constriction. Nature 457, 495–499 (2009).

Rauzi, M., Lenne, P. F. & Lecuit, T. Planar polarized actomyosin contractile flows control epithelial junction remodelling. Nature 468, 1110–1114 (2017).

Collinet, C., Rauzi, M., Lenne, P. F. & Lecuit, T. Local and tissue-scale forces drive oriented junction growth during tissue extension. Nat. Cell Biol. 17, 1247–1258 (2015).

Desprat, N., Supatto, W., Pouille, P. A., Beaurepaire, E. & Farge, E. Tissue deformation modulates twist expression to determine anterior midgut differentiation in Drosophila embryos. Dev. Cell 15, 470–477 (2008).

Lye, C. M. et al. Mechanical coupling between endoderm invagination and axis extension in Drosophila. PLoS Biol. 13, e1002292 (2015).

Zhang, H. et al. A tension-induced mechanotransduction pathway promotes epithelial morphogenesis. Nature 471, 99–103 (2011).

Behrndt, M. et al. Forces driving epithelial spreading in zebrafish gastrulation. Science 338, 257–260 (2012).

Dierkes, K., Sumi, A., Solon, J. & Salbreux, G. Spontaneous oscillations of elastic contractile materials with turnover. Phys. Rev. Lett. 113, 148102 (2014).

Vuong-Brender, T. T., Ben Amar, M., Pontabry, J. & Labouesse, M. The interplay of stiffness and force anisotropies drives embryo elongation. eLife 6, e23866 (2017).

Munro, E., Nance, J. & Priess, J. R. Cortical flows powered by asymmetrical contraction transport PAR proteins to establish and maintain anterior-posterior polarity in the early C. elegans embryo. Dev. Cell 7, 413–424 (2004).

Vuong-Brender, T. T., Yang, X. & Labouesse, M. C. elegans embryonic morphogenesis. Curr. Top. Dev. Biol. 116, 597–616 (2016).

Simões, Sde. M., Mainieri, A. & Zallen, J. A. Rho GTPase and Shroom direct planar polarized actomyosin contractility during convergent extension. J. Cell Biol. 204, 575–589 (2014).

Vasquez, C. G., Tworoger, M. & Martin, A. C. Dynamic myosin phosphorylation regulates contractile pulses and tissue integrity during epithelial morphogenesis. J. Cell Biol. 206, 435–450 (2014).

Gally, C. et al. Myosin II regulation during C. elegans embryonic elongation: LET-502/ROCK, MRCK-1 and PAK-1, three kinases with different roles. Development 136, 3109–3119 (2009).

Vuong-Brender, T. T. K., Suman, S. K. & Labouesse, M. The apical ECM preserves embryonic integrity and distributes mechanical stress during morphogenesis. Development 144, 4336–4349 (2017).

Rogalski, T. M., Mullen, G. P., Gilbert, M. M., Williams, B. D. & Moerman, D. G. The UNC-112 gene in Caenorhabditis elegans encodes a novel component of cell-matrix adhesion structures required for integrin localization in the muscle cell membrane. J. Cell Biol. 150, 253–264 (2000).

Costa, M., Draper, B. W. & Priess, J. R. The role of actin filaments in patterning the Caenorhabditis elegans cuticle. Dev. Biol. 184, 373–384 (1997).

Priess, J. R. & Hirsh, D. I. Caenorhabditis elegans morphogenesis: the role of the cytoskeleton in elongation of the embryo. Dev. Biol. 117, 156–173 (1986).

Praitis, V., Ciccone, E. & Austin, J. SMA-1 spectrin has essential roles in epithelial cell sheet morphogenesis in C. elegans. Dev. Biol. 283, 157–170 (2005).

McCullough, B. R. et al. Cofilin-linked changes in actin filament flexibility promote severing. Biophys. J. 101, 151–159 (2011).

Bonakdar, N. et al. Mechanical plasticity of cells. Nat. Mater. 15, 1090–1094 (2016).

Doubrovinski, K., Swan, M., Polyakov, O. & Wieschaus, E. F. Measurement of cortical elasticity in Drosophila melanogaster embryos using ferrofluids. Proc. Natl Acad. Sci. USA 114, 1051–1056 (2017).

Muñoz, J. J. & Albo, S. Physiology-based model of cell viscoelasticity. Phys. Rev. E 88, 012708 (2013).

Vanneste, C. A., Pruyne, D. & Mains, P. E. The role of the formin gene fhod-1 in C. elegans embryonic morphogenesis. Worm 2, e25040 (2013).

Schönichen, A. et al. FHOD1 is a combined actin filament capping and bundling factor that selectively associates with actin arcs and stress fibers. J. Cell Sci. 126, 1891–1901 (2013).

Kühn, S. & Geyer, M. Formins as effector proteins of Rho GTPases. Small GTPases 5, e983876 (2014).

Jurmeister, S. et al. MicroRNA-200c represses migration and invasion of breast cancer cells by targeting actin-regulatory proteins FHOD1 and PPM1F. Mol. Cell. Biol. 32, 633–651 (2012).

Brenner, S. The genetics of Caenorhabditis elegans. Genetics 77, 71–94 (1974).

Gomes, J. E. et al. Microtubule severing by the katanin complex is activated by PPFR-1-dependent MEI-1 dephosphorylation. J. Cell Biol. 202, 431–439 (2013).

Fromont-Racine, M., Rain, J. C. & Legrain, P. Toward a functional analysis of the yeast genome through exhaustive two-hybrid screens. Nat. Genet. 16, 277–282 (1997).

Kamath, R. S. et al. Systematic functional analysis of the Caenorhabditis elegans genome using RNAi. Nature 421, 231–237 (2003).

Gally, C., Zhang, H. & Labouesse, M. Functional and genetic analysis of VAB-10 spectraplakin in Caenorhabditis elegans. Methods Enzymol. 569, 407–430 (2016).

Naganathan, S. R. et al. Morphogenetic degeneracies in the actomyosin cortex. eLife 7, e37677 (2018).

Bosher, J. M. et al. The Caenorhabditis elegans vab-10 spectraplakin isoforms protect the epidermis against internal and external forces. J. Cell Biol. 161, 757–768 (2003).

Mi-Mi, L., Votra, S., Kemphues, K., Bretscher, A. & Pruyne, D. Z-line formins promote contractile lattice growth and maintenance in striated muscles of C. elegans. J. Cell Biol. 198, 87–102 (2012).

Gustafsson, M. G. Surpassing the lateral resolution limit by a factor of two using structured illumination microscopy. J. Microsc. 198, 82–87 (2000).

Kner, P., Chhun, B. B., Griffis, E. R., Winoto, L. & Gustafsson, M. G. Super-resolution video microscopy of live cells by structured illumination. Nat. Methods 6, 339–342 (2009).

Matthews, I., Ishikawa, T. & Baker, S. The template update problem. IEEE Trans. Pattern Anal. Mach. Intell. 26, 810–815 (2004).

Gonzalez, R. C. & Woods, R. E. Digital Image Processing 3rd edn (Prentice–Hall, 2006).
Acknowledgements
The authors thank A. Spang, S. Grill, Y. Bellaïche and R. Voituriez for critical comments on the manuscript and M. Gettings for improving the English. We also thank the Caenorhabditis Genetics Center (funded by the NIH Office of Research Infrastructure Programs P40 OD010440) and National BioResource Project at Tokyo Women's Medical University for strains, the IBPS Imaging Facility for advice. This work was supported by the Agence Nationale pour la Recherche, the European Research Council (grant no. 294744), Israel–France Maïmonide exchange program grants, and installation funds from the Centre National de la Recherche Scientifique (CNRS) and University Pierre et Marie Curie (UPMC) to M.L. A.L. was supported by a fellowship from the Fondation pour la Recherche Médicale (FDT201805005501). This work was also made possible by institutional funds from the CNRS, University of Strasbourg and UPMC, the grant ANR-10-LABX-0030-INRT, which is a French State fund managed by the Agence Nationale de la Recherche under the framework programme Investissements d'Avenir labelled ANR-10-IDEX-0002-02 to the IGBMC. The work of P.M. and E.B. was partly supported by the Agence Nationale de la Recherche (contract ANR-11-EQPX-0029 Morphoscope2), the work of S.O. was partly supported by the National Institutes of Health (grant AR048615).
Ethics declarations
Competing interests
The authors declare no competing interests.
Additional information
Publisher's note: Springer Nature remains neutral with regard to jurisdictional claims in published maps and institutional affiliations.
Peer review information Nature thanks Edwin Munro, Bruce Vogel and the other, anonymous, reviewer(s) for their contribution to the peer review of this work.
Extended data figures and tables
Supplementary information
About this article
Cite this article
Lardennois, A., Pásti, G., Ferraro, T. et al. An actin-based viscoplastic lock ensures progressive body-axis elongation. Nature 573, 266–270 (2019). https://doi.org/10.1038/s41586-019-1509-4
Received:

Accepted:

Published:

Issue Date:

DOI: https://doi.org/10.1038/s41586-019-1509-4
This article is cited by
Ovijit Chaudhuri
Justin Cooper-White
Vivek B. Shenoy

Nature (2020)

Andrea Ghisleni
Camilla Galli
Nils C. Gauthier

Nature Communications (2020)
Comments
By submitting a comment you agree to abide by our Terms and Community Guidelines. If you find something abusive or that does not comply with our terms or guidelines please flag it as inappropriate.