Abstract
The efficiency with which polymeric semiconductors can be chemically doped—and the charge carrier densities that can thereby be achieved—is determined primarily by the electrochemical redox potential between the π-conjugated polymer and the dopant species1,2. Thus, matching the electron affinity of one with the ionization potential of the other can allow effective doping3,4. Here we describe a different process—which we term 'anion exchange'—that might offer improved doping levels. This process is mediated by an ionic liquid solvent and can be pictured as the effective instantaneous exchange of a conventional small p-type dopant anion with a second anion provided by an ionic liquid. The introduction of optimized ionic salt (the ionic liquid solvent) into a conventional binary donor–acceptor system can overcome the redox potential limitations described by Marcus theory5, and allows an anion-exchange efficiency of nearly 100 per cent. As a result, doping levels of up to almost one charge per monomer unit can be achieved. This demonstration of increased doping levels, increased stability and excellent transport properties shows that anion-exchange doping, which can use an almost infinite selection of ionic salts, could be a powerful tool for the realization of advanced molecular electronics.
Access options
Subscribe to Journal
Get full journal access for 1 year
$199.00
only $3.90 per issue
All prices are NET prices.
VAT will be added later in the checkout.
Tax calculation will be finalised during checkout.
Rent or Buy article
Get time limited or full article access on ReadCube.
from$8.99
All prices are NET prices.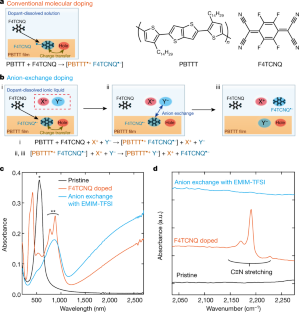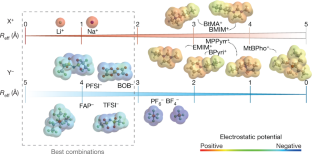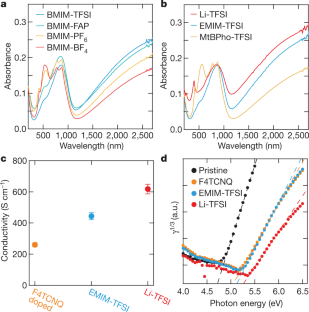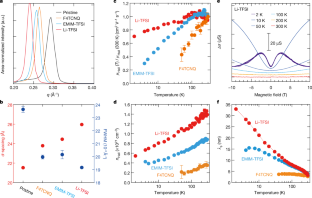 Data availability
The data that support the findings of this study are available within this Letter, its Extended Data and its Supplementary Information.
References
1.

Chiang, C. K. et al. Electrical conductivity in doped polyacetylene. Phys. Rev. Lett. 39, 1098 (1977).

2.

Jacobs, I. E. & Moulé, A. J. Controlling molecular doping in organic semiconductors. Adv. Mater. 29, 1703063 (2017)

3.

Lüssem, B. et al. Doped organic transistors. Chem. Rev. 116, 13714–13751 (2016).

4.

Salzmann, I., Heimel, G., Oehzelt, M., Winkler, S. & Koch, N. Molecular electrical doping of organic semiconductors: fundamental mechanisms and emerging dopant design rules. Acc. Chem. Res. 49, 370–378 (2016).

5.

Marcus, R. A. Electron transfer reactions in chemistry. Theory and experiment. Rev. Mod. Phys. 65, 599 (1993).

6.

Lin, X. et al. Beating the thermodynamic limit with photo-activation of n-doping in organic semiconductors. Nat. Mater. 16, 1209 (2017); corrigendum 16, 204 (2018).

7.

Png, R.-Q. et al. Madelung and Hubbard interactions in polaron band model of doped organic semiconductors. Nat. Commun. 7, 11948 (2016).

8.

Chia, P.-J. et al. Direct evidence for the role of the Madelung potential in determining the work function of doped organic semiconductors. Phys. Rev. Lett. 102, 096602 (2009).

9.

Tang, C. G. et al. Doped polymer semiconductors with ultrahigh and ultralow work functions for ohmic contacts. Nature 539, 536–540 (2016).

10.

McCulloch, I. et al. Liquid-crystalline semiconducting polymers with high charge-carrier mobility. Nat. Mater. 5, 328–333 (2006).

11.

Kang, K. et al. 2D coherent charge transport in highly ordered conducting polymers doped by solid state diffusion. Nat. Mater. 15, 896–902 (2016).

12.

Le, T. H., Lu, J., Bond, A. M. & Martin, L. L. Identification of TCNQF4 redox levels using spectroscopic and electrochemical fingerprints (TCNQF4=2,3,5,6-tetrafluoro-7,7,8,8-tetracyanoquinodimethane). Inorg. Chim. Acta 395, 252–254 (2013).

13.

Pearson, R. G. Hard and soft acids and bases—the evolution of a chemical concept. Coord. Chem. Rev. 100, 403–425 (1990).

14.

Zhao, L.-H. et al. Polarization effects on energy-level alignment at the interfaces of polymer organic semiconductor films. Appl. Phys. Lett. 101, 053304 (2012).

15.

Fujimoto, R. et al. Molecular doping in organic semiconductors: fully solution-processed, vacuum-free doping with metal–organic complexes in an orthogonal solvent. J. Mater. Chem. C 5, 12023–12030 (2017).

16.

Guardado, J. O. & Salleo, A. Structural effects of gating poly(3-hexylthiophene) through an ionic liquid. Adv. Funct. Mater. 27, 1701791 (2017).

17.

Fukuyama, H., Ebisawa, H. & Wada, Y. Theory of Hall effect. I. Nearly free electron. Prog. Theor. Phys. 42, 494–511 (1969).

18.

Arnold, E. & Shannon, J. Anomalous Hall effect and carrier transport in bandtails at the Si/SiO2 interface. Solid State Commun. 18, 1153–1156 (1976).

19.

Yamashita, Y. et al. Transition between band and hopping transport in polymer field-effect transistors. Adv. Mater. 26, 8169–8173 (2014).

20.

Ito, H., Harada, T., Tanaka, H. & Kuroda, S.-i. Critical regime for the insulator–metal transition in highly ordered conjugated polymers gated with ionic liquid. Jpn. J. Appl. Phys. 55, 03DC08 (2016).

21.

Farka, D. et al. Anderson-Localization and the Mott–Ioffe–Regel limit in glassy-metallic PEDOT. Adv. Electron. Mater. 3, 1700050 (2017).

22.

Hikami, S., Larkin, A. I. & Nagaoka, Y. Spin-orbit interaction and magnetoresistance in the two dimensional random system. Prog. Theor. Phys. 63, 707–710 (1980).

23.

Müller, L. et al. Electric-field-controlled dopant distribution in organic semiconductors. Adv. Mater. 29, 1701466 (2017).

24.

Holomb, R., Xu, W., Markusson, H., Johansson, P. & Jacobsson, P. Vibrational spectroscopy and ab initio studies of lithium bis (oxalato) borate (LiBOB) in different solvents. J. Phys. Chem. A 110, 11467–11472 (2006).

25.

Karpov, Y. et al. Molecular doping of a high mobility diketopyrrolopyrrole–dithienylthieno [3, 2-b] thiophene donor–acceptor copolymer with F6TCNNQ. Macromolecules 50, 914–926 (2017).
Acknowledgements
Y.Y. was supported by a Grant-in-Aid via a Japan Society for the Promotion of Science (JSPS) Research Fellowship. S.W. acknowledges support from PRESTO-JST through the Hyper-nanospace Design Toward Innovative Functionality project (JPMJPR151E) and from the Leading Initiative for Excellent Young Researchers of JSPS. This work was also supported in part by JSPS KAKENHI grants (JP17H06123 and JP17H06200).
Ethics declarations
Competing interests
The authors declare no competing interests.
Additional information
Peer review information Nature thanks Antonio Facchetti and Peter Ho for their contribution to the peer review of this work.
Publisher's note: Springer Nature remains neutral with regard to jurisdictional claims in published maps and institutional affiliations.
Extended data figures and tables
Supplementary information
This file contains Supplementary Text and Data, including Supplementary Tables 1-10, Supplementary Figures 1-10, and Supplementary References.
About this article
Cite this article
Yamashita, Y., Tsurumi, J., Ohno, M. et al. Efficient molecular doping of polymeric semiconductors driven by anion exchange. Nature 572, 634–638 (2019). https://doi.org/10.1038/s41586-019-1504-9
Received:

Accepted:

Published:

Issue Date:
Comments
By submitting a comment you agree to abide by our Terms and Community Guidelines. If you find something abusive or that does not comply with our terms or guidelines please flag it as inappropriate.