Abstract
The ability of proteins and nucleic acids to undergo liquid–liquid phase separation has recently emerged as an important molecular principle of how cells rapidly and reversibly compartmentalize their components into membrane-less organelles such as the nucleolus, processing bodies or stress granules1,2. How the assembly and turnover of these organelles are controlled, and how these biological condensates selectively recruit or release components are poorly understood. Here we show that members of the large and highly abundant family of RNA-dependent DEAD-box ATPases (DDXs)3 are regulators of RNA-containing phase-separated organelles in prokaryotes and eukaryotes. Using in vitro reconstitution and in vivo experiments, we demonstrate that DDXs promote phase separation in their ATP-bound form, whereas ATP hydrolysis induces compartment turnover and release of RNA. This mechanism of membrane-less organelle regulation reveals a principle of cellular organization that is conserved from bacteria to humans. Furthermore, we show that DDXs control RNA flux into and out of phase-separated organelles, and thus propose that a cellular network of dynamic, DDX-controlled compartments establishes biochemical reaction centres that provide cells with spatial and temporal control of various RNA-processing steps, which could regulate the composition and fate of ribonucleoprotein particles.
Access options
Subscribe to Journal
Get full journal access for 1 year
$199.00
only $3.90 per issue
All prices are NET prices.
VAT will be added later in the checkout.
Tax calculation will be finalised during checkout.
Rent or Buy article
Get time limited or full article access on ReadCube.
from$8.99
All prices are NET prices.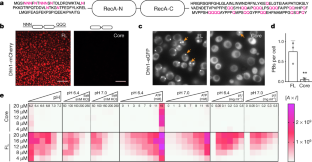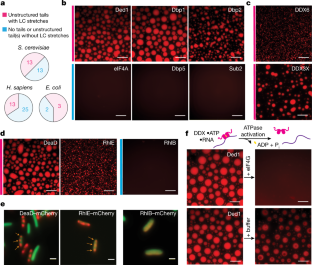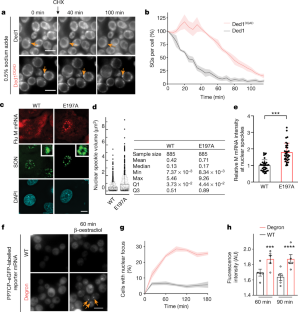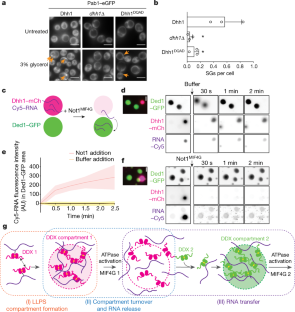 Data availability
The datasets generated in this study are available from the corresponding author upon request.
References
1.

Shin, Y. & Brangwynne, C. P. Liquid phase condensation in cell physiology and disease. Science 357, eaaf4382 (2017).

2.

Banani, S. F., Lee, H. O., Hyman, A. A. & Rosen, M. K. Biomolecular condensates: organizers of cellular biochemistry. Nat. Rev. Mol. Cell Biol. 18, 285–298 (2017).

3.

Linder, P. & Jankowsky, E. From unwinding to clamping—the DEAD box RNA helicase family. Nat. Rev. Mol. Cell Biol. 12, 505–516 (2011).

4.

Mugler, C. F. et al. ATPase activity of the DEAD-box protein Dhh1 controls processing body formation. eLife 5, e18746 (2016).

5.

Ozgur, S. et al. The conformational plasticity of eukaryotic RNA-dependent ATPases. FEBS J. 282, 850–863 (2015).

6.

Franzmann, T. & Alberti, S. Prion-like low-complexity sequences: key regulators of protein solubility and phase behavior. J. Biol. Chem. 294, 7128–7136 (2018).

7.

Kato, M. et al. Cell-free formation of RNA granules: low complexity sequence domains form dynamic fibers within hydrogels. Cell 149, 753–767 (2012).

8.

Nott, T. J. et al. Phase transition of a disordered nuage protein generates environmentally responsive membraneless organelles. Mol. Cell 57, 936–947 (2015).

9.

Elbaum-Garfinkle, S. et al. The disordered P granule protein LAF-1 drives phase separation into droplets with tunable viscosity and dynamics. Proc. Natl Acad. Sci. USA 112, 7189–7194 (2015).

10.

Montpetit, B. et al. A conserved mechanism of DEAD-box ATPase activation by nucleoporins and InsP6 in mRNA export. Nature 472, 238–242 (2011).

11.

Oberer, M., Marintchev, A. & Wagner, G. Structural basis for the enhancement of eIF4A helicase activity by eIF4G. Genes Dev. 19, 2212–2223 (2005).

12.

Hilliker, A., Gao, Z., Jankowsky, E. & Parker, R. The DEAD-box protein Ded1 modulates translation by the formation and resolution of an eIF4F-mRNA complex. Mol. Cell 43, 962–972 (2011).

13.

Valentin-Vega, Y. A. et al. Cancer-associated DDX3X mutations drive stress granule assembly and impair global translation. Sci. Rep. 6, 25996 (2016).

14.

Xiol, J. et al. RNA clamping by Vasa assembles a piRNA amplifier complex on transposon transcripts. Cell 157, 1698–1711 (2014).

15.

Mathys, H. et al. Structural and biochemical insights to the role of the CCR4-NOT complex and DDX6 ATPase in microRNA repression. Mol. Cell 54, 751–765 (2014).

16.

Gao, Z. et al. Coupling between the DEAD-box RNA helicases Ded1p and eIF4A. eLife 5, 568 (2016).

17.

Balagopal, V. & Parker, R. Polysomes, P bodies and stress granules: states and fates of eukaryotic mRNAs. Curr. Opin. Cell Biol. 21, 403–408 (2009).

18.

Teixeira, D., Sheth, U., Valencia-Sanchez, M. A., Brengues, M. & Parker, R. Processing bodies require RNA for assembly and contain nontranslating mRNAs. RNA 11, 371–382 (2005).

19.

Buchan, J. R., Muhlrad, D. & Parker, R. P bodies promote stress granule assembly in Saccharomyces cerevisiae. J. Cell Biol. 183, 441–455 (2008).

20.

Galganski, L., Urbanek, M. O. & Krzyzosiak, W. J. Nuclear speckles: molecular organization, biological function and role in disease. Nucleic Acids Res. 45, 10350–10368 (2017).

21.

Dias, A. P., Dufu, K., Lei, H. & Reed, R. A role for TREX components in the release of spliced mRNA from nuclear speckle domains. Nat. Commun. 1, 97 (2010).

22.

Mor, A. et al. Influenza virus mRNA trafficking through host nuclear speckles. Nat. Microbiol. 1, 16069 (2016).

23.

Nishimura, K., Fukagawa, T., Takisawa, H., Kakimoto, T. & Kanemaki, M. An auxin-based degron system for the rapid depletion of proteins in nonplant cells. Nat. Methods 6, 917–922 (2009).

24.

Kroschwald, S., Maharana, S. & Simon, A. Hexanediol: a chemical probe to investigate the material properties of membrane-less compartments. Matters 3, 1–6 (2017).

25.

Nott, T. J., Craggs, T. D. & Baldwin, A. J. Membraneless organelles can melt nucleic acid duplexes and act as biomolecular filters. Nat. Chem. 8, 569–575 (2016).

26.

Langdon, E. M. et al. mRNA structure determines specificity of a polyQ-driven phase separation. Science 157, eaar7432 (2018).

27.

Van Treeck, B. et al. RNA self-assembly contributes to stress granule formation and defining the stress granule transcriptome. Proc. Natl Acad. Sci. USA 115, 2734–2739 (2018).

28.

Jain, A. & Vale, R. D. RNA phase transitions in repeat expansion disorders. Nature 546, 243–247 (2017).

29.

Rai, A. K., Chen, J.-X., Selbach, M. & Pelkmans, L. Kinase-controlled phase transition of membraneless organelles in mitosis. Nature 559, 211–216 (2018).

30.

Ramachandran, V., Shah, K. H. & Herman, P. K. The cAMP-dependent protein kinase signaling pathway is a key regulator of P body foci formation. Mol. Cell 43, 973–981 (2011).

31.

Longtine, M. S. et al. Additional modules for versatile and economical PCR-based gene deletion and modification in Saccharomyces cerevisiae. Yeast 14, 953–961 (1998).

32.

Schindelin, J. et al. Fiji: an open-source platform for biological-image analysis. Nat. Methods 9, 676–682 (2012).

33.

Vallotton, P. et al. Diatrack particle tracking software: review of applications and performance evaluation. Traffic 18, 840–852 (2017).
Acknowledgements
We would like to thank G. Stojanovski and M. Martinovic for technical assistance. We are grateful to A. Sachs and J. Liphardt for plasmids, S. Jonas, M. Jinek, P. Kimming, E. Dultz, S. Khawaja, C. Weber and M. Zedan for their critical reading of this manuscript, ScopeM and J. Kusch for help with microscopy, M. Linsenmeier and A. Küffner for discussions of image and protein sequence analysis, and members of the Weis laboratory for discussions and comments. M.H. was supported by a Human Frontier Science Program (HFSP) postdoctoral fellowship (LT000914/2015) and an ETH postdoctoral fellowship (FEL-37-14-2). S.H. and M.H. acknowledge support from an EMBO long-term fellowship (ALTF 290-2014, EMBOCOFUND2012, GA-2012-600394 to S.H.; ALTF 870-2014 to M.H.). This work was supported by the Swiss National Science Foundation (SNF 31003A_179275 and 31003A_159731 to K.W.).
Ethics declarations
Competing interests
The authors declare no competing interests.
Additional information
Publisher's note: Springer Nature remains neutral with regard to jurisdictional claims in published maps and institutional affiliations.
Peer review information Nature thanks Steven McKnight, Rick Russell and the other, anonymous, reviewer(s) for their contribution to the peer review of this work.
Extended data figures and tables
Supplementary information
This file contains Supplementary Tables 1-5 and the gel source data.
Sequence analysis of DDX proteins from human, yeast and E. coli.
About this article
Cite this article
Hondele, M., Sachdev, R., Heinrich, S. et al. DEAD-box ATPases are global regulators of phase-separated organelles. Nature 573, 144–148 (2019). https://doi.org/10.1038/s41586-019-1502-y
Received:

Accepted:

Published:

Issue Date:
Comments
By submitting a comment you agree to abide by our Terms and Community Guidelines. If you find something abusive or that does not comply with our terms or guidelines please flag it as inappropriate.