Abstract
Intestinal commensal bacteria can inhibit dense colonization of the gut by vancomycin-resistant Enterococcus faecium (VRE), a leading cause of hospital-acquired infections1,2. A four-strained consortium of commensal bacteria that contains Blautia producta BPSCSK can reverse antibiotic-induced susceptibility to VRE infection3. Here we show that BPSCSK reduces growth of VRE by secreting a lantibiotic that is similar to the nisin-A produced by Lactococcus lactis. Although the growth of VRE is inhibited by BPSCSK and L. lactis in vitro, only BPSCSK colonizes the colon and reduces VRE density in vivo. In comparison to nisin-A, the BPSCSK lantibiotic has reduced activity against intestinal commensal bacteria. In patients at high risk of VRE infection, high abundance of the lantibiotic gene is associated with reduced density of E. faecium. In germ-free mice transplanted with patient-derived faeces, resistance to VRE colonization correlates with abundance of the lantibiotic gene. Lantibiotic-producing commensal strains of the gastrointestinal tract reduce colonization by VRE and represent potential probiotic agents to re-establish resistance to VRE.
Access options
Access Nature and 54 other Nature Portfolio journals
Get Nature+, our best-value online-access subscription
$29.99 / 30 days
cancel any time
Subscribe to this journal
Receive 51 print issues and online access
$199.00 per year
only $3.90 per issue
Rent or buy this article
Prices vary by article type
from$1.95
to$39.95
Prices may be subject to local taxes which are calculated during checkout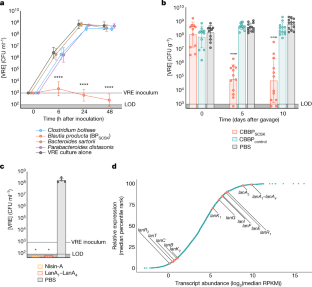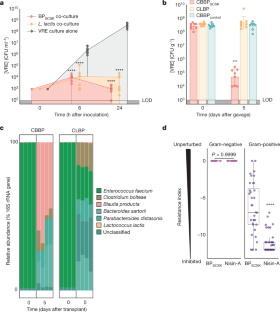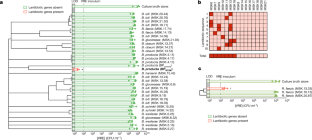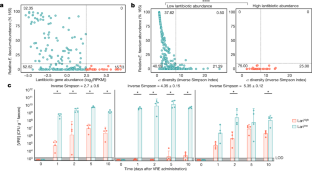 Similar content being viewed by others
Data availability
Microbiome sequencing data are available from Bioproject with the accession number 394877.
References
Lebreton, F. et al. Tracing the enterococci from Paleozoic origins to the hospital. Cell 169, 849–861 (2017).

Gilmore, M., Clewell, D., Ike, Y. & Shankar, N. Enterococci: From Commensals to Leading Causes of Drug Resistant Infection (Massachusetts Eye and Ear Infirmary, 2014).

Caballero, S. et al. Cooperating commensals restore colonization resistance to vancomycin-resistant Enterococcus faecium. Cell Host Microbe 21, 592–602.e594, (2017).

U.S. Department of Health and Human Services. Antibiotic Resistance Threats in the United States, 2013 https://www.cdc.gov/drugresistance/biggest_threats.html (2013).

Pamer, E. G. Resurrecting the intestinal microbiota to combat antibiotic-resistant pathogens. Science 352, 535–538 (2016).

Kim, S., Covington, A. & Pamer, E. G. The intestinal microbiota: antibiotics, colonization resistance, and enteric pathogens. Immunol. Rev. 279, 90–105 (2017).

van Nood, E. et al. Duodenal infusion of donor feces for recurrent Clostridium difficile. N. Engl. J. Med. 368, 407–415 (2013).

Lawley, T. D. et al. Targeted restoration of the intestinal microbiota with a simple, defined bacteriotherapy resolves relapsing Clostridium difficile disease in mice. PLoS Pathog. 8, e1002995 (2012).

Buffie, C. G. et al. Precision microbiome reconstitution restores bile acid mediated resistance to Clostridium difficile. Nature 517, 205–208 (2015).

Becattini, S. et al. Commensal microbes provide first line defense against Listeria monocytogenes infection. J. Exp. Med. 214, 1973–1989 (2017).

Suez, J. et al. Post-antibiotic gut mucosal microbiome reconstitution is impaired by probiotics and improved by autologous FMT. Cell 174, 1406–1423 (2018).

Ubeda, C. et al. Vancomycin-resistant Enterococcus domination of intestinal microbiota is enabled by antibiotic treatment in mice and precedes bloodstream invasion in humans. J. Clin. Invest. 120, 4332–4341 (2010).

Taur, Y. et al. Intestinal domination and the risk of bacteremia in patients undergoing allogeneic hematopoietic stem cell transplantation. Clin. Infect. Dis. 55, 905–914 (2012).

Ubeda, C. et al. Intestinal microbiota containing Barnesiella species cures vancomycin-resistant Enterococcus faecium colonization. Infect. Immun. 81, 965–973 (2013).

Caballero, S. et al. Distinct but spatially overlapping intestinal niches for vancomycin-resistant Enterococcus faecium and carbapenem-resistant Klebsiella pneumoniae. PLoS Pathog. 11, e1005132 (2015).

Cash, H. L., Whitham, C. V., Behrendt, C. L. & Hooper, L. V. Symbiotic bacteria direct expression of an intestinal bactericidal lectin. Science 313, 1126–1130 (2006).

Brandl, K. et al. Vancomycin-resistant enterococci exploit antibiotic-induced innate immune deficits. Nature 455, 804–807 (2008).

Chatterjee, C., Paul, M., Xie, L. & van der Donk, W. A. Biosynthesis and mode of action of lantibiotics. Chem. Rev. 105, 633–684 (2005).

Knerr, P. J. & van der Donk, W. A. Discovery, biosynthesis, and engineering of lantipeptides. Annu. Rev. Biochem. 81, 479–505 (2012).

Mattick, A. T. R. & Hirsch, A. A powerful inhibitory substance produced by Group N Streptococci. Nature 154, 551 (1944).

Delves-Broughton, J., Blackburn, P., Evans, R. J. & Hugenholtz, J. Applications of the bacteriocin, nisin. Antonie van Leeuwenhoek 69, 193–202 (1996).

Wiedemann, I. et al. Specific binding of nisin to the peptidoglycan precursor lipid II combines pore formation and inhibition of cell wall biosynthesis for potent antibiotic activity. J. Biol. Chem. 276, 1772–1779 (2001).

Hatziioanou, D. et al. Discovery of a novel lantibiotic nisin O from Blautia obeum A2-162, isolated from the human gastrointestinal tract. Microbiology 163, 1292–1305 (2017).

Hsu, S. T. et al. The nisin–lipid II complex reveals a pyrophosphate cage that provides a blueprint for novel antibiotics. Nat. Struct. Mol. Biol. 11, 963–967 (2004).

Breukink, E. et al. The C-terminal region of nisin is responsible for the initial interaction of nisin with the target membrane. Biochemistry 36, 6968–6976 (1997).

Dobson, A. et al. Fate and efficacy of lacticin 3147-producing Lactococcus lactis in the mammalian gastrointestinal tract. FEMS Microbiol. Ecol. 76, 602–614 (2011).

Picard, C. et al. Review article: bifidobacteria as probiotic agents — physiological effects and clinical benefits. Aliment. Pharmacol. Ther. 22, 495–512 (2005).

Kang, D. H. & Fung, D. Y. Reduction of Escherichia coli O157:H7 by stimulated Pediococcus acidilactici. Lett. Appl. Microbiol. 29, 206–210 (1999).

Taur, Y., Jenq, R. R., Ubeda, C., van den Brink, M. & Pamer, E. G. Role of intestinal microbiota in transplantation outcomes. Best Pract. Res. Clin. Haematol. 28, 155–161 (2015).

Nakatsuji, T. et al. Antimicrobials from human skin commensal bacteria protect against Staphylococcus aureus and are deficient in atopic dermatitis. Sci. Transl. Med. 9, eaah4680 (2017).

Vaishnava, S. et al. The antibacterial lectin RegIIIγ promotes the spatial segregation of microbiota and host in the intestine. Science 334, 255–258 (2011).

Swidsinski, A., Weber, J., Loening-Baucke, V., Hale, L. P. & Lochs, H. Spatial organization and composition of the mucosal flora in patients with inflammatory bowel disease. J. Clin. Microbiol. 43, 3380–3389 (2005).

Shi, Y., Yang, X., Garg, N. & van der Donk, W. A. Production of lantipeptides in Escherichia coli. J. Am. Chem. Soc. 133, 2338–2341 (2011).

Montalban-Lopez, M., Buivydas, A. & Kuipers, O. P. in Hydrocarbon and Lipid Microbiology Protocols Springer Protocols Handbooks (eds McGenity, T. et al.) (Springer, 2015).

Caporaso, J. G. et al. Ultra-high-throughput microbial community analysis on the Illumina HiSeq and MiSeq platforms. ISME J. 6, 1621–1624 (2012).

Edgar, R. C. UPARSE: highly accurate OTU sequences from microbial amplicon reads. Nat. Methods 10, 996–998 (2013).

Edgar, R. C. & Flyvbjerg, H. Error filtering, pair assembly and error correction for next-generation sequencing reads. Bioinformatics 31, 3476–3482 (2015).

Tatusova, T., Ciufo, S., Fedorov, B., O'Neill, K. & Tolstoy, I. RefSeq microbial genomes database: new representation and annotation strategy. Nucleic Acids Res. 43, 3872 (2015).

Bolger, A. M., Lohse, M. & Usadel, B. Trimmomatic: a flexible trimmer for Illumina sequence data. Bioinformatics 30, 2114–2120 (2014).

Wattam, A. R. et al. Assembly, annotation, and comparative genomics in PATRIC, the All Bacterial Bioinformatics Resource Center. Methods Mol. Biol. 1704, 79–101 (2018).

Medema, M. H. et al. antiSMASH: rapid identification, annotation and analysis of secondary metabolite biosynthesis gene clusters in bacterial and fungal genome sequences. Nucleic Acids Res. 39, W339–W346 (2011).

de Jong, A., van Hijum, S. A., Bijlsma, J. J., Kok, J. & Kuipers, O. P. BAGEL: a web-based bacteriocin genome mining tool. Nucleic Acids Res. 34, W273–W279 (2006).

Buchfink, B., Xie, C. & Huson, D. H. Fast and sensitive protein alignment using DIAMOND. Nat. Methods 12, 59–60 (2015).

Eddy, S. R. Accelerated profile HMM searches. PLOS Comput. Biol. 7, e1002195 (2011).
Acknowledgements
This work was supported by grants RO1 AI42135, RO1 AI95706, UO1 AI124275, and P30 CA008748 from the US National Institutes of Health (NIH) and the Tow Foundation and Lucille Castori Center for Microbes, Inflammation and Cancer to E.G.P. S.G.K. is supported by a Medical Scientist Training Program grant from the National Institute of General Medical Sciences, NIH (award T32GM07739 to the Weill Cornell/Rockefeller/Sloan Kettering Tri-Institutional MD-PhD Program). S.B. was supported by an Early Postdoc Mobility Fellowship from the Swiss National Science Foundation and an Irvington Fellowship from the Cancer Research Institute. We thank members of the Pamer laboratory for discussions and comments on the manuscript.
Ethics declarations
Competing interests
K.H. is co-founder and scientific advisor to Vedanta Biosciences. M.R.M.v.d.B. is on the advisory board of and has financial holdings in Seres Therapeutics Inc., serves on the DKMS medical council, has received speaker honoraria from Merck and Acute Leukemia Forum, holds patents that receive royalties from Seres Therapeutics Inc., has received honorarium and research support (1 January 2017 to present) from Seres Therapeutic Inc., and IP licensing with Seres Therapeutics Inc. and Juno. J.U.P. reports research funding, intellectual property fees, and travel reimbursement from Seres Therapeutics. E.G.P. has received speaker honoraria from Bristol-Myer Squibb, Celgene, Seres Therapeutics, MedImmune, Novartis, and Ferring Pharmaceuticals; is an inventor on patent application no. WPO2015179437A1, entitled 'Methods and compositions for reducing Clostridium difficile infection' and no. WPO2017091753A1, entitled 'Methods and compositions for reducing vancomycin-resistant Enterococci infection or colonization'; and holds patents that receive royalties from Seres Therapeutics Inc.
Additional information
Publisher's note: Springer Nature remains neutral with regard to jurisdictional claims in published maps and institutional affiliations.
Peer review information Nature thanks Eran Elinav, Michael Gilmore, Barbara Murray and the other, anonymous, reviewer(s) for their contribution to the peer review of this work.
Extended data figures and tables
Supplementary information
This file contains Supplementary Tables 1-8
About this article
Cite this article
Kim, S.G., Becattini, S., Moody, T.U. et al. Microbiota-derived lantibiotic restores resistance against vancomycin-resistant Enterococcus. Nature 572, 665–669 (2019). https://doi.org/10.1038/s41586-019-1501-z
Received:

Accepted:

Published:

Issue Date:

DOI: https://doi.org/10.1038/s41586-019-1501-z
Comments
By submitting a comment you agree to abide by our Terms and Community Guidelines. If you find something abusive or that does not comply with our terms or guidelines please flag it as inappropriate.