Abstract
Differential coordination of growth and patterning across metazoans gives rise to a diversity of sizes and shapes at tissue, organ and organismal levels. Although tissue size and tissue function can be interdependent1,2,3,4,5, mechanisms that coordinate size and function remain poorly understood. Planarians are regenerative flatworms that bidirectionally scale their adult body size6,7 and reproduce asexually, via transverse fission, in a size-dependent manner8,9,10. This model offers a robust context to address the gap in knowledge that underlies the link between size and function. Here, by generating an optimized planarian fission protocol in Schmidtea mediterranea, we show that progeny number and the frequency of fission initiation are correlated with parent size. Fission progeny size is fixed by previously unidentified mechanically vulnerable planes spaced at an absolute distance along the anterior–posterior axis. An RNA interference screen of genes for anterior–posterior patterning uncovered components of the TGFβ and Wnt signalling pathways as regulators of the frequency of fission initiation rather than the position of fission planes. Finally, inhibition of Wnt and TGFβ signalling during growth altered the patterning of mechanosensory neurons—a neural subpopulation that is distributed in accordance with worm size and modulates fission behaviour. Our study identifies a role for TGFβ and Wnt in regulating size-dependent behaviour, and uncovers an interdependence between patterning, growth and neurological function.
Access options
Subscribe to Journal
Get full journal access for 1 year
$199.00
only $3.90 per issue
All prices are NET prices.
VAT will be added later in the checkout.
Rent or Buy article
Get time limited or full article access on ReadCube.
from$8.99
All prices are NET prices.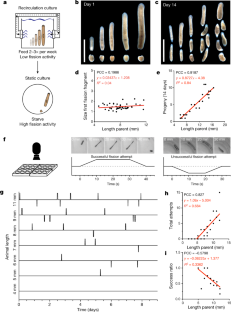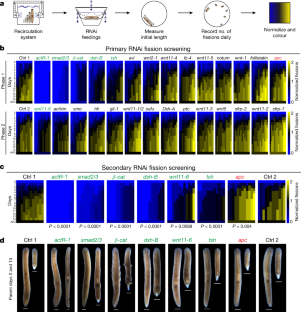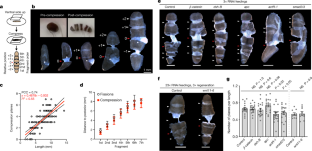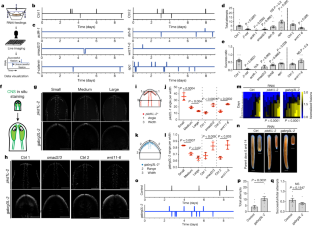 References
1.

Rinkevich, Y. et al. In vivo clonal analysis reveals lineage-restricted progenitor characteristics in mammalian kidney development, maintenance, and regeneration. Cell Reports 7, 1270–1283 (2014).

2.

Kaufman, J. M., Siegel, N. J. & Hayslett, J. P. Functional and hemodynamic adaptation to progressive renal ablation. Circ. Res. 36, 286–293 (1975).

3.

Fleming, S. et al. Normal ranges of heart rate and respiratory rate in children from birth to 18 years of age: a systematic review of observational studies. Lancet 377, 1011–1018 (2011).

4.

Bryant, P. J. & Simpson, P. Intrinsic and extrinsic control of growth in developing organs. Q. Rev. Biol. 59, 387–415 (1984).

5.

Hafen, E. & Stocker, H. How are the sizes of cells, organs, and bodies controlled? PLoS Biol. 1, E86 (2003).

6.

Oviedo, N. J., Newmark, P. A. & Sánchez Alvarado, A. Allometric scaling and proportion regulation in the freshwater planarian Schmidtea mediterranea. Dev. Dyn. 226, 326–333 (2003).

7.

Stückemann, T. et al. Antagonistic self-organizing patterning systems control maintenance and regeneration of the anteroposterior axis in planarians. Dev. Cell 40, 248–263.e4 (2017).

8.

Best, J. B., Goodman, A. B. & Pigon, A. Fissioning in planarians: control by the brain. Science 164, 565–566 (1969).

9.

Malinowski, P. T. et al. Mechanics dictate where and how freshwater planarians fission. Proc. Natl Acad. Sci. USA 114, 10888–10893 (2017).

10.

Thomas, M. A., Quinodoz, S. & Schotz, E.-M. Size matters! J. Stat. Phys. 148, 664–676 (2012).

11.

Arnold, C. P. et al. Pathogenic shifts in endogenous microbiota impede tissue regeneration via distinct activation of TAK1/MKK/p38. eLife 5, 5 (2016).

12.

Arnold, C., Benham-Pyle, B. & Alvarado, A. S. Planarian fission induction protocol. Nat. Protoc. https://doi.org/10.21203/rs.2.10324/v1 (2019).

13.

Gurley, K. A., Rink, J. C. & Sánchez Alvarado, A. β-catenin defines head versus tail identity during planarian regeneration and homeostasis. Science 319, 323–327 (2008).

14.

Roberts-Galbraith, R. H. & Newmark, P. A. Follistatin antagonizes activin signaling and acts with notum to direct planarian head regeneration. Proc. Natl Acad. Sci. USA 110, 1363–1368 (2013).

15.

Hill, E. M. & Petersen, C. P. Wnt/Notum spatial feedback inhibition controls neoblast differentiation to regulate reversible growth of the planarian brain. Development 142, 4217–4229 (2015).

16.

Petersen, C. P. & Reddien, P. W. Wnt signaling and the polarity of the primary body axis. Cell 139, 1056–1068 (2009).

17.

Reddien, P. W., Bermange, A. L., Kicza, A. M. & Sánchez Alvarado, A. BMP signaling regulates the dorsal planarian midline and is needed for asymmetric regeneration. Development 134, 4043–4051 (2007).

18.

Gaviño, M. A. & Reddien, P. W. A Bmp/Admp regulatory circuit controls maintenance and regeneration of dorsal-ventral polarity in planarians. Curr. Biol. 21, 294–299 (2011).

19.

Molina, M. D., Saló, E. & Cebrià, F. The BMP pathway is essential for re-specification and maintenance of the dorsoventral axis in regenerating and intact planarians. Dev. Biol. 311, 79–94 (2007).

20.

Rink, J. C., Gurley, K. A., Elliott, S. A. & Sánchez Alvarado, A. Planarian Hh signaling regulates regeneration polarity and links Hh pathway evolution to cilia. Science 326, 1406–1410 (2009).

21.

Sánchez Alvarado, A. & Newmark, P. A. Double-stranded RNA specifically disrupts gene expression during planarian regeneration. Proc. Natl Acad. Sci. USA 96, 5049–5054 (1999).

22.

Cowles, M. W. et al. Genome-wide analysis of the bHLH gene family in planarians identifies factors required for adult neurogenesis and neuronal regeneration. Development 140, 4691–4702 (2013).

23.

Cowles, M. W., Omuro, K. C., Stanley, B. N., Quintanilla, C. G. & Zayas, R. M. COE loss-of-function analysis reveals a genetic program underlying maintenance and regeneration of the nervous system in planarians. PLoS Genet. 10, e1004746 (2014).

24.

Wenemoser, D., Lapan, S. W., Wilkinson, A. W., Bell, G. W. & Reddien, P. W. A molecular wound response program associated with regeneration initiation in planarians. Genes Dev. 26, 988–1002 (2012).

25.

Arenas, O. M. et al. Activation of planarian TRPA1 by reactive oxygen species reveals a conserved mechanism for animal nociception. Nat. Neuroscience 20, 1686–1693 (2017).

26.

Currie, K. W. & Pearson, B. J. Transcription factors lhx1/5-1 and pitx are required for the maintenance and regeneration of serotonergic neurons in planarians. Development 140, 3577–3588 (2013).

27.

Collins, J. J. III et al. Genome-wide analyses reveal a role for peptide hormones in planarian germline development. PLoS Biol. 8, e1000509 (2010).

28.

Roberts-Galbraith, R. H., Brubacher, J. L. & Newmark, P. A. A functional genomics screen in planarians reveals regulators of whole-brain regeneration. eLife 5, e17002 (2016).

29.

Ross, K. G. et al. SoxB1 activity regulates sensory neuron regeneration, maintenance, and function in planarians. Dev. Cell 47, 331–347.e5 (2018).

30.

Pearson, B. J. et al. Formaldehyde-based whole-mount in situ hybridization method for planarians. Dev. Dyn. 238, 443–450 (2009).

31.

King, R. S. & Newmark, P. A. In situ hybridization protocol for enhanced detection of gene expression in the planarian Schmidtea mediterranea. BMC Dev. Biol. 13, 8 (2013).
Acknowledgements
We thank members of the A.S.A. laboratory for discussion and advice, F. Mann for providing unpublished reagents, and K. Si for comments. We are grateful to the Stowers Planarian and Microscopy core facilities for technical contributions and methods development. A.S.A. is an investigator of the Howard Hughes Medical Institute (HHMI) and the Stowers Institute for Medical Research. B.W.B.-P. is a Jane Coffin Childs Memorial Fund Postdoctoral Fellow. C.P.A. is a HHMI Postdoctoral Fellow. This work was supported in part by NIH R37GM057260 to A.S.A.
Ethics declarations
Authors contributions
Conceptualization, data analysis and interpretation: C.P.A., B.W.B.-P. and A.S.A.; acquisition of data: C.P.A., B.W.B.-P. and J.J.L.; design and fabrication of planarian live-imaging systems: J.J.L.; software: C.J.W.; data curation: J.J.L.  and C.J.W.; writing of the original manuscript: C.P.A., B.W.B.-P.  and A.S.A.; supervision and funding acquisition: A.S.A.; and revision and editing of the manuscript: all authors.
Competing interests
The authors declare no competing interests.
Additional information
Publisher's note: Springer Nature remains neutral with regard to jurisdictional claims in published maps and institutional affiliations.
Peer review information Nature thanks Thomas Holstein and the other, anonymous, reviewer(s) for their contribution to the peer review of this work.
Extended data figures and tables
Supplementary information
About this article
Cite this article
Arnold, C.P., Benham-Pyle, B.W., Lange, J.J. et al. Wnt and TGFβ coordinate growth and patterning to regulate size-dependent behaviour. Nature 572, 655–659 (2019). https://doi.org/10.1038/s41586-019-1478-7
Received:

Accepted:

Published:

Issue Date:
Comments
By submitting a comment you agree to abide by our Terms and Community Guidelines. If you find something abusive or that does not comply with our terms or guidelines please flag it as inappropriate.