Abstract
Fossilized eyes permit inferences of the visual capacity of extinct arthropods1,2,3. However, structural and/or chemical modifications as a result of taphonomic and diagenetic processes can alter the original features, thereby necessitating comparisons with modern species. Here we report the detailed molecular composition and microanatomy of the eyes of 54-million-year-old crane-flies, which together provide a proxy for the interpretation of optical systems in some other ancient arthropods. These well-preserved visual organs comprise calcified corneal lenses that are separated by intervening spaces containing eumelanin pigment. We also show that eumelanin is present in the facet walls of living crane-flies, in which it forms the outermost ommatidial pigment shield in compound eyes incorporating a chitinous cornea. To our knowledge, this is the first record of melanic screening pigments in arthropods, and reveals a fossilization mode in insect eyes that involves a decay-resistant biochrome coupled with early diagenetic mineralization of the ommatidial lenses. The demonstrable secondary calcification of lens cuticle that was initially chitinous has implications for the proposed calcitic corneas of trilobites, which we posit are artefacts of preservation rather than a product of in vivo biomineralization4,5,6,7. Although trilobite eyes might have been partly mineralized for mechanical strength, a (more likely) organic composition would have enhanced function via gradient-index optics and increased control of lens shape.
Relevant articles
Open Access articles citing this article.
Randolph Glenn De La Garza

,

Henrik Madsen

…

Johan Lindgren

Scientific Reports Open Access 31 December 2022

Brigitte Schoenemann

&

Euan N. K. Clarkson

Nature Communications Open Access 07 April 2021

Brigitte Schoenemann

&

Euan N. K. Clarkson

Scientific Reports Open Access 13 August 2020
Access options
Access Nature and 54 other Nature Portfolio journals
Get Nature+, our best-value online-access subscription
$29.99 / 30 days
cancel any time
Subscribe to this journal
Receive 51 print issues and online access
$199.00 per year
only $3.90 per issue
Rent or buy this article
Get just this article for as long as you need it
$39.95
Prices may be subject to local taxes which are calculated during checkout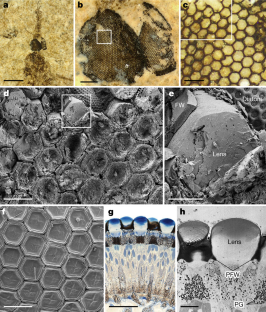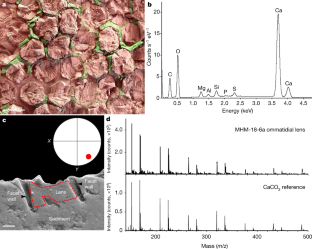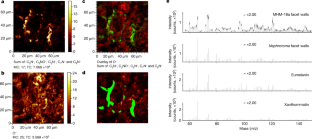 Data availability
The fossil crane-flies analysed in this study are permanently accessioned into the collections of Museum Salling, Fur Museum (Fur, Denmark) and Museum Mors, Mo-clay Museum (Nykøbing Mors, Denmark). Our comparative trilobite fossil samples are housed in the research collections of the Department of Geology, Lund University. All supporting data are available from the corresponding author upon reasonable request.
References
Lee, M. S. Y. et al. Modern optics in exceptionally preserved eyes of Early Cambrian arthropods from Australia. Nature 474, 631–634 (2011).

Paterson, J. R. et al. Acute vision in the giant Cambrian predator Anomalocaris and the origin of compound eyes. Nature 480, 237–240 (2011).

Anderson, R. P., McCoy, V. E., McNamara, M. E. & Briggs, D. E. G. What big eyes you have: the ecological role of giant pterygotid eurypterids. Biol. Lett. 10, 20140412 (2014).

Towe, K. M. Trilobite eyes: calcified lenses in vivo. Science 179, 1007–1009 (1973).

Gál, J., Horváth, G., Clarkson, E. N. K. & Haiman, O. Image formation by bifocal lenses in a trilobite eye? Vision Res. 40, 843–853 (2000).

Schoenemann, B., Clarkson, E. N. K. & Horváth, G. Why did the UV-A-induced photoluminescent blue-green glow in trilobite eyes and exoskeletons not cause problems for trilobites? PeerJ 3, e1492 (2015).

Schoenemann, B. & Clarkson, E. N. K. Vision in fossilised eyes. Earth Environ. Sci. Trans. R. Soc. Edinb. 106, 209–220 (2017).

Land, M. F. & Nilsson, D.-E. Animal Eyes (Oxford Univ. Press, 2002).

Schoenemann, B., Pärnaste, H. & Clarkson, E. N. K. Structure and function of a compound eye, more than half a billion years old. Proc. Natl Acad. Sci. USA 114, 13489–13494 (2017).

Nilsson, D.-E. & Kelber, A. A functional analysis of compound eye evolution. Arthropod Struct. Dev. 36, 373–385 (2007).

Vopalensky, P. & Kozmik, Z. Eye evolution: common use and independent recruitment of genetic components. Phil. Trans. R. Soc. Lond. B 364, 2819–2832 (2009).

Clements, T. et al. The eyes of Tullimonstrum reveal a vertebrate affinity. Nature 532, 500–503 (2016).

Ziegler, I. Genetic aspects of ommochrome and pterine pigments. Adv. Genet. 10, 349–403 (1961).

Struwe, G., Hallberg, E. & Elofsson, R. The physical and morphological properties of the pigment screen in the compound eye of a shrimp (Crustacea). J. Comp. Physiol. 97, 257–270 (1975).

Lindgren, J. et al. Molecular preservation of the pigment melanin in fossil melanosomes. Nat. Commun. 3, 824 (2012).

Glass, K. et al. Direct chemical evidence for eumelanin pigment from the Jurassic period. Proc. Natl Acad. Sci. USA 109, 10218–10223 (2012).

Pedersen, G. K. et al. Molerområdets geologi – sedimenter, fossiler, askelag og glacialtektonik. Geologisk Tidsskrift 2011, 41–135 (2011).

Freiwald, A. Insekten aus der Fur-Formation von Dänemark (Moler, ob. Paleozän/unt. Eozän?). 4. Tipulidae. Meyniana 42, 47–63 (1990).

Krzemiński, W. New fossil Tipuloidea (Diptera) from the Fur Formation of Denmark in the collection of the Natural History Museum in London. Polish J. Entomol. 70, 333–339 (2001).

Williams, D. S. Organisation of the compound eye of a tipulid fly during the day and night. Zoomorphologie 95, 85–104 (1980).

Ito, S. et al. Usefulness of alkaline hydrogen peroxide oxidation to analyze eumelanin and pheomelanin in various tissue samples: application to chemical analysis of human hair melanins. Pigment Cell Melanoma Res. 24, 605–613 (2011).

Oakley, T. H. & Speiser, D. I. How complexity originates: the evolution of animal eyes. Annu. Rev. Ecol. Evol. Syst. 46, 237–260 (2015).

Needham, A. E. The Significance of Zoochromes (Springer, 1974).

Ren, D., Shih, C., Gao, T., Yao, Y. & Zhao, Y. Silent Stories – Insect Fossil Treasures from Dinosaur Era of the Northeastern China (Science, 2010).

Clarkson, E., Levi-Setti, R. & Horváth, G. The eyes of trilobites: the oldest preserved visual system. Arthropod Struct. Dev. 35, 247–259 (2006).

Nilsson, D.-E. in Facets of Vision (eds Stavenga, D. G. & Hardie, R. C.) 30–73 (Springer, 1989).

Speiser, D. I., Eernisse, D. J. & Johnsen, S. A chiton uses aragonite lenses to form images. Curr. Biol. 21, 665–670 (2011).

Alagboso, F. I., Reisecker, C., Hild, S. & Ziegler, A. Ultrastructure and mineral composition of the cornea cuticle in the compound eyes of a supralittoral and a marine isopod. J. Struct. Biol. 187, 158–173 (2014).

Fabritius, H.-O. et al. Functional adaptation of crustacean exoskeletal elements through structural and compositional diversity: a combined experimental and theoretical study. Bioinspir. Biomim. 11, 055006 (2016).

Ahlberg, P., Szaniawski, H., Clarkson, E. N. K. & Bengtson, S. Phosphatised olenid trilobites and associated fauna from the Upper Cambrian of Västergötland, Sweden. Acta Palaeontol. Pol. 50, 429–440 (2005).

Novellino, L., Napolitano, A. & Prota, G. Isolation and characterization of mammalian eumelanins from hair and irides. Biochim. Biophys. Acta 1475, 295–306 (2000).

Butenandt, A., Schiedt, U. & Biekert, E. Über Ommochrome, III. Mitteilung: Synthese des Xanthommatins. Justus Liebigs Ann. Chem. 588, 106–116 (1954).

d'Ischia, M. et al. Melanins and melanogenesis: methods, standards, protocols. Pigment Cell Melanoma Res. 26, 616–633 (2013).

Thiel, V. & Sjövall, P. in Principles and Practice of Analytical Techniques in Geosciences (ed. Grice, K.) 122–170 (Royal Society of Chemistry, 2015).

Lindgren, J. et al. Skin pigmentation provides evidence of convergent melanism in extinct marine reptiles. Nature 506, 484–488 (2014).

Lindgren, J. et al. Interpreting melanin-based coloration through deep time: a critical review. Proc. R. Soc. Lond. B 282, 20150614 (2015).

Lindgren, J. et al. Soft-tissue evidence for homeothermy and crypsis in a Jurassic ichthyosaur. Nature 564, 359–365 (2018).

Wakamatsu, K., Ito, S. & Rees, J. L. The usefulness of 4-amino-3-hydroxyphenylalanine as a specific marker of pheomelanin. Pigment Cell Res. 15, 225–232 (2002).

Carson, F. L. & Cappellano, C. H. Histotechnology: A Self Instructional Text (American Society of Clinical Pathologists, 2015).
Acknowledgements
M. Hofstedt collected specimen FUM-N-15451; C. Tell processed our extant tiger crane-fly samples; R. Hauff and G. Dyke provided comparative ink sacs from fossil squids; and C. Rasmussen prepared the histological sections, performed the Fontana–Masson staining, and assisted during the transmission electron microscopy analysis. Financial support for this project was provided by a Swedish Research Council Grant for Distinguished Young Researchers (642-2014-3773) to J.L.
Ethics declarations
Competing interests
The authors declare no competing interests.
Additional information
Publisher's note: Springer Nature remains neutral with regard to jurisdictional claims in published maps and institutional affiliations.
Peer review information Nature thanks Maria McNamara, Rana Sodhi and the other, anonymous, reviewer(s) for their contribution to the peer review of this work.
Extended data figures and tables
Supplementary information
This file contains supplementary text Part A-F and includes supplementary tables S1-S3.
About this article
Cite this article
Lindgren, J., Nilsson, DE., Sjövall, P. et al. Fossil insect eyes shed light on trilobite optics and the arthropod pigment screen. Nature 573, 122–125 (2019). https://doi.org/10.1038/s41586-019-1473-z
Received:

Accepted:

Published:

Issue Date:

DOI: https://doi.org/10.1038/s41586-019-1473-z
Comments
By submitting a comment you agree to abide by our Terms and Community Guidelines. If you find something abusive or that does not comply with our terms or guidelines please flag it as inappropriate.