Abstract
Macrophages are considered to contribute to chronic inflammatory diseases such as rheumatoid arthritis1. However, both the exact origin and the role of macrophages in inflammatory joint disease remain unclear. Here we use fate-mapping approaches in conjunction with three-dimensional light-sheet fluorescence microscopy and single-cell RNA sequencing to perform a comprehensive spatiotemporal analysis of the composition, origin and differentiation of subsets of macrophages within healthy and inflamed joints, and study the roles of these macrophages during arthritis. We find that dynamic membrane-like structures, consisting of a distinct population of CX3CR1+ tissue-resident macrophages, form an internal immunological barrier at the synovial lining and physically seclude the joint. These barrier-forming macrophages display features that are otherwise typical of epithelial cells, and maintain their numbers through a pool of locally proliferating CX3CR1− mononuclear cells that are embedded into the synovial tissue. Unlike recruited monocyte-derived macrophages, which actively contribute to joint inflammation, these epithelial-like CX3CR1+ lining macrophages restrict the inflammatory reaction by providing a tight-junction-mediated shield for intra-articular structures. Our data reveal an unexpected functional diversification among synovial macrophages and have important implications for the general role of macrophages in health and disease.
Access options
Access Nature and 54 other Nature Portfolio journals
Get Nature+, our best-value online-access subscription
$29.99 / 30 days
cancel any time
Subscribe to this journal
Receive 51 print issues and online access
$199.00 per year
only $3.90 per issue
Rent or buy this article
Prices vary by article type
from$1.95
to$39.95
Prices may be subject to local taxes which are calculated during checkout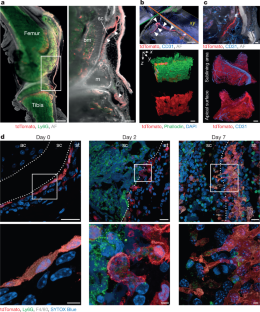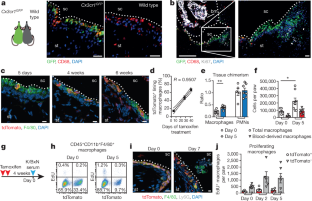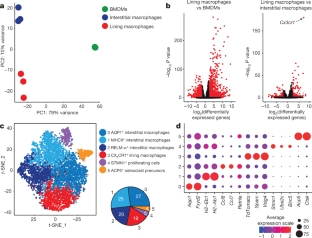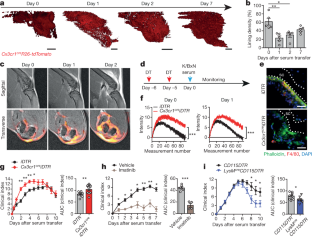 Similar content being viewed by others
Data availability
The data that support the plots within this paper and other findings of this study are available from the corresponding author upon request. The bulk and single-cell RNA-seq data are available as part of the Gene Expression Omnibus (GEO) SuperSeries GSE134691.
References
Udalova, I. A., Mantovani, A. & Feldmann, M. Macrophage heterogeneity in the context of rheumatoid arthritis. Nat. Rev. Rheumatol. 12, 472–485 (2016).

Firestein, G. S. & McInnes, I. B. Immunopathogenesis of rheumatoid arthritis. Immunity 46, 183–196 (2017).

Orr, C. et al. Synovial tissue research: a state-of-the-art review. Nat. Rev. Rheumatol. 13, 463–475 (2017).

Croft, A. P. et al. Distinct fibroblast subsets drive inflammation and damage in arthritis. Nature 570, 246–251 (2019).

Barrera, P. et al. Synovial macrophage depletion with clodronate-containing liposomes in rheumatoid arthritis. Arthritis Rheum. 43, 1951–1959 (2000).

Haringman, J. J. et al. Synovial tissue macrophages: a sensitive biomarker for response to treatment in patients with rheumatoid arthritis. Ann. Rheum. Dis. 64, 834–838 (2005).

Misharin, A. V. et al. Nonclassical Ly6C− monocytes drive the development of inflammatory arthritis in mice. Cell Rep. 9, 591–604 (2014).

Zhang, F. et al. Defining inflammatory cell states in rheumatoid arthritis joint synovial tissues by integrating single-cell transcriptomics and mass cytometry. Nat. Immunol. 20, 928–942 (2019).

Ginhoux, F. et al. Fate mapping analysis reveals that adult microglia derive from primitive macrophages. Science 330, 841–845 (2010).

Schulz, C. et al. A lineage of myeloid cells independent of Myb and hematopoietic stem cells. Science 336, 86–90 (2012).

Yona, S. et al. Fate mapping reveals origins and dynamics of monocytes and tissue macrophages under homeostasis. Immunity 38, 79–91 2013).

Hashimoto, D. et al. Tissue-resident macrophages self-maintain locally throughout adult life with minimal contribution from circulating monocytes. Immunity 38, 792–804 (2013).

Rosas, M. et al. The transcription factor Gata6 links tissue macrophage phenotype and proliferative renewal. Science 344, 645–648 (2014).

Okabe, Y. & Medzhitov, R. Tissue-specific signals control reversible program of localization and functional polarization of macrophages. Cell 157, 832–844 (2014).

Lavin, Y. et al. Tissue-resident macrophage enhancer landscapes are shaped by the local microenvironment. Cell 159, 1312–1326 (2014).

Chakarov, S. et al. Two distinct interstitial macrophage populations coexist across tissues in specific subtissular niches. Science 363, eaau0964 (2019).

Aziz, A., Soucie, E., Sarrazin, S. & Sieweke, M. H. MafB/c-Maf deficiency enables self-renewal of differentiated functional macrophages. Science 326, 867–871 (2009).

Armulik, A. et al. Pericytes regulate the blood–brain barrier. Nature 468, 557–561 (2010).

Cronan, M. R. et al. Macrophage epithelial reprogramming underlies mycobacterial granuloma formation and promotes infection. Immunity 45, 861–876 (2016).

Uderhardt, S., Martins, A. J., Tsang, J. S., Lämmermann, T. & Germain, R. N. Resident macrophages cloak tissue microlesions to prevent neutrophil-driven inflammatory damage. Cell 177, 541–555.e17 (2019).

Armaka, M. et al. Mesenchymal cell targeting by TNF as a common pathogenic principle in chronic inflammatory joint and intestinal diseases. J. Exp. Med. 205, 331–337 (2008).

Krljanac, B. et al. RELMα-expressing macrophages protect against fatal lung damage and reduce parasite burden during helminth infection. Sci. Immunol. 4, eaau3814 (2019).

Dithmer, S. et al. Claudin peptidomimetics modulate tissue barriers for enhanced drug delivery. Ann. NY Acad. Sci. 1397, 169–184 (2017).

Pfeifle, R. et al. Regulation of autoantibody activity by the IL-23–TH17 axis determines the onset of autoimmune disease. Nat. Immunol. 18, 104–113 (2017).

Casanova-Acebes, M. et al. Rhythmic modulation of the hematopoietic niche through neutrophil clearance. Cell 153, 1025–1035 (2013).

Dobin, A. et al. STAR: ultrafast universal RNA-seq aligner. Bioinformatics 29, 15–21 (2013).

Liao, Y., Smyth, G. K. & Shi, W. featureCounts: an efficient general purpose program for assigning sequence reads to genomic features. Bioinformatics 30, 923–930 (2014).

Love, M. I., Huber, W. & Anders, S. Moderated estimation of fold change and dispersion for RNA-seq data with DESeq2. Genome Biol. 15, 550 (2014).

Ipseiz, N. et al. The nuclear receptor Nr4a1 mediates anti-inflammatory effects of apoptotic cells. J. Immunol. 192, 4852–4858 (2014).

Katsuno, T. et al. Deficiency of zonula occludens-1 causes embryonic lethal phenotype associated with defected yolk sac angiogenesis and apoptosis of embryonic cells. Mol. Biol. Cell 19, 2465–2475 (2008).

Ohtsuki, S., Yamaguchi, H., Katsukura, Y., Asashima, T. & Terasaki, T. mRNA expression levels of tight junction protein genes in mouse brain capillary endothelial cells highly purified by magnetic cell sorting. J. Neurochem. 104, 147–154 (2008).

Butler, A., Hoffman, P., Smibert, P., Papalexi, E. & Satija, R. Integrating single-cell transcriptomic data across different conditions, technologies, and species. Nat. Biotechnol. 36, 411–420 (2018).

Trapnell, C. et al. The dynamics and regulators of cell fate decisions are revealed by pseudotemporal ordering of single cells. Nat. Biotechnol. 32, 381–386 (2014).

Qiu, X. et al. Single-cell mRNA quantification and differential analysis with Census. Nat. Methods 14, 309–315 (2017).

Klingberg, A. et al. Fully automated evaluation of total glomerular number and capillary tuft size in nephritic kidneys using lightsheet microscopy. J. Am. Soc. Nephrol. 28, 452–459 (2017).
Acknowledgements
We thank C. Stoll, A. Klej, L. Seyler, R. Palmisano and the Optical Imaging Center Erlangen for technical assistance. M. Mroz and U. Appelt provided help during cell sorting and W. Baum and U. Baschant helped to generate K/BxN serum. This work was supported by the Deutsche Forschungsgemeinschaft (DFG – FG 2886 "PANDORA" - B01/A03 to G.K. and G.S., the CRC1181-A03/A01/A02/Z2 to G.K., G.S., D.V. and T.B. and the GK 1660 to G.K.), the Emerging Field Initiative (EFI) of the Friedrich-Alexander University Erlangen-Nürnberg (FAU) and the STAEDTLER Stiftung (EFI_Verbund_Med_05_MIRACLE to G.K. and T.B.), the Bundesministerium für Bildung und Forschung (BMBF) (METARTHROS to G.K. and G.S.) and the European Union (Horizon 2020 ERC-2014-StG 640087 - SOS to G.K and Horizon 2020 ERC-2018-SyG nanoSCOPE and RTCure to G.S.). J.Á.N.-Á. was supported by fellowship SVP-2014-068595 and A.H. by grant SAF2015-65607-R from Ministerio de Ciencia, Investigacion y Universidades (MCIU), and co-funding by Fondo Europeo de Desarrollo Regional (FEDER). The CNIC is supported by the MCIU and the Pro CNIC Foundation, and is a Severo Ochoa Center of Excellence (MCIU award SEV-2015-0505). ColVIcre mice were provided by G. Kollias.
Ethics declarations
Competing interests
The authors declare no competing interests.
Additional information
Publisher's note: Springer Nature remains neutral with regard to jurisdictional claims in published maps and institutional affiliations.
Extended data figures and tables
Supplementary information
About this article
Cite this article
Culemann, S., Grüneboom, A., Nicolás-Ávila, J.Á. et al. Locally renewing resident synovial macrophages provide a protective barrier for the joint. Nature 572, 670–675 (2019). https://doi.org/10.1038/s41586-019-1471-1
Received:

Accepted:

Published:

Issue Date:

DOI: https://doi.org/10.1038/s41586-019-1471-1
Comments
By submitting a comment you agree to abide by our Terms and Community Guidelines. If you find something abusive or that does not comply with our terms or guidelines please flag it as inappropriate.