Abstract
During post-implantation development of the mouse embryo, descendants of the inner cell mass in the early epiblast transit from the naive to primed pluripotent state1. Concurrently, germ layers are formed and cell lineages are specified, leading to the establishment of the blueprint for embryogenesis. Fate-mapping and lineage-analysis studies have revealed that cells in different regions of the germ layers acquire location-specific cell fates during gastrulation2,3,4,5. The regionalization of cell fates preceding the formation of the basic body plan—the mechanisms of which are instrumental for understanding embryonic programming and stem-cell-based translational study—is conserved in vertebrate embryos6,7,8. However, a genome-wide molecular annotation of lineage segregation and tissue architecture of the post-implantation embryo has yet to be undertaken. Here we report a spatially resolved transcriptome of cell populations at defined positions in the germ layers during development from pre- to late-gastrulation stages. This spatiotemporal transcriptome provides high-resolution digitized in situ gene-expression profiles, reveals the molecular genealogy of tissue lineages and defines the continuum of pluripotency states in time and space. The transcriptome further identifies the networks of molecular determinants that drive lineage specification and tissue patterning, supports a role of Hippo–Yap signalling in germ-layer development and reveals the contribution of visceral endoderm to the endoderm in the early mouse embryo.
Relevant articles
Open Access articles citing this article.
Haipeng Fu

,

Tingyu Wang

…

Qiaoran Xi

Nature Communications Open Access 09 July 2022

Journal of Experimental & Clinical Cancer Research Open Access 19 May 2022

Cheng Chen

,

Yuanxin Liao

&

Guangdun Peng

Protein & Cell Open Access 19 April 2022
Access options
Subscribe to Nature+
Get immediate online access to the entire Nature family of 50+ journals
Subscribe to Journal
Get full journal access for 1 year
$199.00
only $3.90 per issue
All prices are NET prices.
VAT will be added later in the checkout.
Tax calculation will be finalised during checkout.
Buy article
Get time limited or full article access on ReadCube.
$32.00
All prices are NET prices.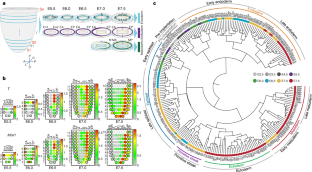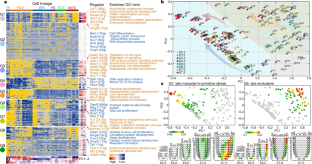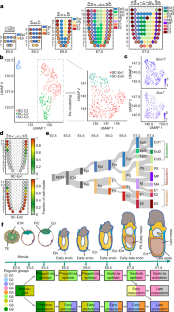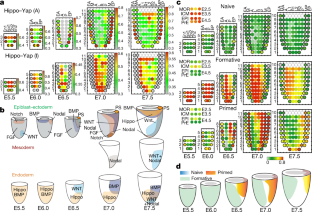 Data availability
The RNA-seq data generated in this study were deposited in the NCBI Gene Expression Omnibus under accession number GSE120963 and the NODE project under accession number OEP000320. Our resources can be explored at the eGastrulation web portal (http://egastrulation.sibcb.ac.cn). All other data are available from the corresponding authors upon request.
References
Smith, A. Formative pluripotency: the executive phase in a developmental continuum. Development 144, 365–373 (2017).

Lawson, K. A., Meneses, J. J. & Pedersen, R. A. Clonal analysis of epiblast fate during germ layer formation in the mouse embryo. Development 113, 891–911 (1991).

Rivera-Pérez, J. A. & Hadjantonakis, A. K. The dynamics of morphogenesis in the early mouse embryo. Cold Spring Harb. Perspect. Biol. 7, a015867 (2014).

Tam, P. P. & Loebel, D. A. Gene function in mouse embryogenesis: get set for gastrulation. Nat. Rev. Genet. 8, 368–381 (2007).

Arnold, S. J. & Robertson, E. J. Making a commitment: cell lineage allocation and axis patterning in the early mouse embryo. Nat. Rev. Mol. Cell Biol. 10, 91–103 (2009).

Irie, N. & Kuratani, S. The developmental hourglass model: a predictor of the basic body plan? Development 141, 4649–4655 (2014).

Tam, P. P. & Behringer, R. R. Mouse gastrulation: the formation of a mammalian body plan. Mech. Dev. 68, 3–25 (1997).

Tam, P. P. & Quinlan, G. A. Mapping vertebrate embryos. Curr. Biol. 6, 104–106 (1996).

Griffiths, J. A., Scialdone, A. & Marioni, J. C. Using single-cell genomics to understand developmental processes and cell fate decisions. Mol. Syst. Biol. 14, e8046 (2018).

Kumar, P., Tan, Y. & Cahan, P. Understanding development and stem cells using single cell-based analyses of gene expression. Development 144, 17–32 (2017).

Pijuan-Sala, B. et al. A single-cell molecular map of mouse gastrulation and early organogenesis. Nature 566, 490–495 (2019).

Cao, J. et al. The single-cell transcriptional landscape of mammalian organogenesis. Nature 566, 496–502 (2019).

Nowotschin, S. et al. The emergent landscape of the mouse gut endoderm at single-cell resolution. Nature 569, 361–367 (2019).

Peng, G. et al. Spatial transcriptome for the molecular annotation of lineage fates and cell identity in mid-gastrula mouse embryo. Dev. Cell 36, 681–697 (2016).

Boroviak, T. et al. Lineage-specific profiling delineates the emergence and progression of naive pluripotency in mammalian embryogenesis. Dev. Cell 35, 366–382 (2015).

Aibar, S. et al. SCENIC: single-cell regulatory network inference and clustering. Nat. Methods 14, 1083–1086 (2017).

Viotti, M., Nowotschin, S. & Hadjantonakis, A. K. SOX17 links gut endoderm morphogenesis and germ layer segregation. Nat. Cell Biol. 16, 1146–1156 (2014).

Fuxman Bass, J. I. et al. Using networks to measure similarity between genes: association index selection. Nat. Methods 10, 1169–1176 (2013).

Robb, L. & Tam, P. P. Gastrula organiser and embryonic patterning in the mouse. Semin. Cell Dev. Biol. 15, 543–554 (2004).

Balmer, S., Nowotschin, S. & Hadjantonakis, A. K. Notochord morphogenesis in mice: current understanding & open questions. Dev. Dyn. 245, 547–557 (2016).

Henrique, D., Abranches, E., Verrier, L. & Storey, K. G. Neuromesodermal progenitors and the making of the spinal cord. Development 142, 2864–2875 (2015).

Kwon, G. S., Viotti, M. & Hadjantonakis, A. K. The endoderm of the mouse embryo arises by dynamic widespread intercalation of embryonic and extraembryonic lineages. Dev. Cell 15, 509–520 (2008).

Chan, M. M. et al. Molecular recording of mammalian embryogenesis. Nature 570, 77–82 (2019).

Nishioka, N. et al. The Hippo signaling pathway components Lats and Yap pattern Tead4 activity to distinguish mouse trophectoderm from inner cell mass. Dev. Cell 16, 398–410 (2009).

Wilson, V. & Beddington, R. S. Cell fate and morphogenetic movement in the late mouse primitive streak. Mech. Dev. 55, 79–89 (1996).

Briggs, J. A. et al. The dynamics of gene expression in vertebrate embryogenesis at single-cell resolution. Science 360, eaar5780 (2018).

Peng, G., Tam, P. P. L. & Jing, N. Lineage specification of early embryos and embryonic stem cells at the dawn of enabling technologies. Natl. Sci. Rev. 4, 533–542 (2017).

Rivera-Pérez, J. A., Jones, V. & Tam, P. P. Culture of whole mouse embryos at early postimplantation to organogenesis stages: developmental staging and methods. Methods Enzymol. 476, 185–203 (2010).

Downs, K. M. & Davies, T. Staging of gastrulating mouse embryos by morphological landmarks in the dissecting microscope. Development 118, 1255–1266 (1993).

Chen, J. et al. Spatial transcriptomic analysis of cryosectioned tissue samples with Geo-seq. Nat. Protoc. 12, 566–580 (2017).

Cui, G. et al. Spatio-temporal transcriptome construction of early mouse embryo with Geo-seq and Auto-seq. Protoc. Exch., https://doi.org/10.21203/rs.2.10081/v1 (2019).

Wells, J. M. & Melton, D. A. Early mouse endoderm is patterned by soluble factors from adjacent germ layers. Development 127, 1563–1572 (2000).

Liu, Q. et al. Lung regeneration by multipotent stem cells residing at the bronchioalveolar-duct junction. Nat. Genet. 51, 728–738 (2019).

Kim, D. et al. TopHat2: accurate alignment of transcriptomes in the presence of insertions, deletions and gene fusions. Genome Biol. 14, R36 (2013).

Trapnell, C. et al. Differential analysis of gene regulation at transcript resolution with RNA-seq. Nat. Biotechnol. 31, 46–53 (2013).

Langfelder, P. & Horvath, S. WGCNA: an R package for weighted correlation network analysis. BMC Bioinformatics 9, 559 (2008).

Shannon, P. et al. Cytoscape: a software environment for integrated models of biomolecular interaction networks. Genome Res. 13, 2498–2504 (2003).

de Hoon, M. J., Imoto, S., Nolan, J. & Miyano, S. Open source clustering software. Bioinformatics 20, 1453–1454 (2004).

Kumar, S., Stecher, G. & Tamura, K. MEGA7: Molecular Evolutionary Genetics Analysis version 7.0 for bigger datasets. Mol. Biol. Evol. 33, 1870–1874 (2016).

Qiu, X. et al. Reversed graph embedding resolves complex single-cell trajectories. Nat. Methods 14, 979–982 (2017).

Klein, C. A. et al. Combined transcriptome and genome analysis of single micrometastatic cells. Nat. Biotechnol. 20, 387–392 (2002).

Leek, J. T., Johnson, W. E., Parker, H. S., Jaffe, A. E. & Storey, J. D. The sva package for removing batch effects and other unwanted variation in high-throughput experiments. Bioinformatics 28, 882–883 (2012).

Chung, N. C. & Storey, J. D. Statistical significance of variables driving systematic variation in high-dimensional data. Bioinformatics 31, 545–554 (2015).

Zhang, W. et al. Integrating genomic, epigenomic, and transcriptomic features reveals modular signatures underlying poor prognosis in ovarian cancer. Cell Rep. 4, 542–553 (2013).

Pertea, M., Kim, D., Pertea, G. M., Leek, J. T. & Salzberg, S. L. Transcript-level expression analysis of RNA-seq experiments with HISAT, StringTie and Ballgown. Nat. Protocols 11, 1650–1667 (2016).

Stuart, T. et al. Comprehensive integration of single-cell data. Cell 177, 1888–1902 (2019).

Newman, A. M. et al. Robust enumeration of cell subsets from tissue expression profiles. Nat. Methods 12, 453–457 (2015).

Reimand, J. et al. g:Profiler-a web server for functional interpretation of gene lists (2016 update). Nucleic Acids Res. 44 (W1), W83–W89 (2016).

Weng, M. P. & Liao, B. Y. modPhEA: model organism Phenotype Enrichment Analysis of eukaryotic gene sets. Bioinformatics 33, 3505–3507 (2017).

Cabili, M. N. et al. Integrative annotation of human large intergenic noncoding RNAs reveals global properties and specific subclasses. Genes Dev. 25, 1915–1927 (2011).

Harrow, J. et al. GENCODE: the reference human genome annotation for The ENCODE Project. Genome Res. 22, 1760–1774 (2012).

Hong, F. et al. RankProd: a bioconductor package for detecting differentially expressed genes in meta-analysis. Bioinformatics 22, 2825–2827 (2006).

van der Maaten, L. & Hinton, G. Visualizing data using t-SNE. J. Mach. Learn. Res. 9, 2579–2605 (2008).

Walker, M. G., Volkmuth, W., Sprinzak, E., Hodgson, D. & Klingler, T. Prediction of gene function by genome-scale expression analysis: prostate cancer-associated genes. Genome Res. 9, 1198–1203 (1999).

Peng, H., Ruan, Z., Long, F., Simpson, J. H. & Myers, E. W. V3D enables real-time 3D visualization and quantitative analysis of large-scale biological image data sets. Nat. Biotechnol. 28, 348–353 (2010).

Richardson, L., et al. EMAGE mouse embryo spatial gene expression database: (2014 update). Nucleic Acids Res. 42, D835–D844 (2014).
Acknowledgements
The authors thank Q. Zhou for critical discussions, Y. Chen and Y. Xu for technical support, and the chemical biology core facility and animal core facility in SIBCB. This work was supported in part by the 'Strategic Priority Research Program' of the Chinese Academy of Sciences (Grants, XDA16020501 to N.J., XDA16020404 to G.P., and XDA01010303 and XDB19020301 to J.-D.J.H.), National Key Basic Research and Development Program of China (2018YFA0107201 to G.P., 2018YFA0800100, 2018YFA0108000, 2017YFA0102700 and 2015CB964500 to N.J., and 2015CB964803 and 2016YFE0108700 to J.-D.J.H.), National Natural Science Foundation of China (31871456 to G.P., 31661143042, 91519314, 31630043, 31571513 and 31430058 to N.J., and 91329302, 31210103916 and 91749205 to J.-D.J.H.), Science and Technology Planning Project of Guangdong Province, China (2017B030314056), Frontier Research Program of Guangzhou Regenerative Medicine and Health Guangdong Laboratory (2018GZR110105013), Shanghai Natural Science Foundation (18ZR1446200) and Shanghai Municipal Commission for Science and Technology Grants (17411954900). P.P.L.T. is a NHMRC Senior Principal Research Fellow supported by the National Health and Medical Research Council of Australia (Research Fellowship grant 1110751).
Ethics declarations
Competing interests
The authors declare no competing interests.
Additional information
Publisher's note Springer Nature remains neutral with regard to jurisdictional claims in published maps and institutional affiliations.
Peer review information Nature thanks Thorsten Boroviak, Anna-Katerina Hadjantonakis, Kyle Loh and Valerie Wilson for their contribution to the peer review of this work.
Extended data figures and tables
Supplementary information
About this article
Cite this article
Peng, G., Suo, S., Cui, G. et al. Molecular architecture of lineage allocation and tissue organization in early mouse embryo. Nature 572, 528–532 (2019). https://doi.org/10.1038/s41586-019-1469-8
Received:

Accepted:

Published:

Issue Date:

DOI: https://doi.org/10.1038/s41586-019-1469-8
Comments
By submitting a comment you agree to abide by our Terms and Community Guidelines. If you find something abusive or that does not comply with our terms or guidelines please flag it as inappropriate.