Abstract
Ovarian cancer and triple-negative breast cancer are among the most lethal diseases affecting women, with few targeted therapies and high rates of metastasis. Cancer cells are capable of evading clearance by macrophages through the overexpression of anti-phagocytic surface proteins called 'don't eat me' signals—including CD471, programmed cell death ligand 1 (PD-L1)2 and the beta-2 microglobulin subunit of the major histocompatibility class I complex (B2M)3. Monoclonal antibodies that antagonize the interaction of 'don't eat me' signals with their macrophage-expressed receptors have demonstrated therapeutic potential in several cancers4,5. However, variability in the magnitude and durability of the response to these agents has suggested the presence of additional, as yet unknown 'don't eat me' signals. Here we show that CD24 can be the dominant innate immune checkpoint in ovarian cancer and breast cancer, and is a promising target for cancer immunotherapy. We demonstrate a role for tumour-expressed CD24 in promoting immune evasion through its interaction with the inhibitory receptor sialic-acid-binding Ig-like lectin 10 (Siglec-10), which is expressed by tumour-associated macrophages. We find that many tumours overexpress CD24 and that tumour-associated macrophages express high levels of Siglec-10. Genetic ablation of either CD24 or Siglec-10, as well as blockade of the CD24–Siglec-10 interaction using monoclonal antibodies, robustly augment the phagocytosis of all CD24-expressing human tumours that we tested. Genetic ablation and therapeutic blockade of CD24 resulted in a macrophage-dependent reduction of tumour growth in vivo and an increase in survival time. These data reveal CD24 as a highly expressed, anti-phagocytic signal in several cancers and demonstrate the therapeutic potential for CD24 blockade in cancer immunotherapy.
Access options
Access options
Subscribe to Journal
Get full journal access for 1 year
$199.00
only $3.90 per issue
All prices are NET prices.
VAT will be added later in the checkout.
Rent or Buy article
Get time limited or full article access on ReadCube.
from$8.99
All prices are NET prices.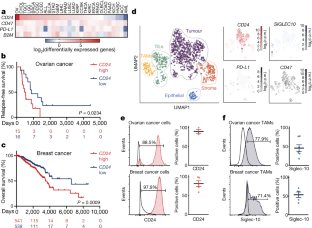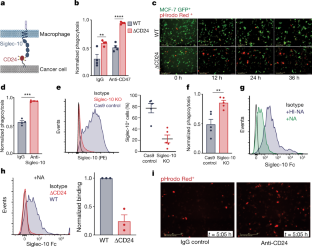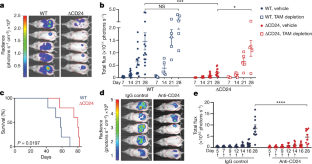 Data availability
All primary data for all figures and supplementary figures are available from the corresponding authors upon request.
References
1.

Majeti, R. et al. CD47 is an adverse prognostic factor and therapeutic antibody target on human acute myeloid leukemia stem cells. Cell 138, 286–299 (2009).

2.

Gordon, S. R. et al. PD-1 expression by tumour-associated macrophages inhibits phagocytosis and tumour immunity. Nature 545, 495–499 (2017).

3.

Barkal, A. A. et al. Engagement of MHC class I by the inhibitory receptor LILRB1 suppresses macrophages and is a target of cancer immunotherapy. Nat. Immunol. 19, 76–84 (2018).

4.

Advani, R. et al. CD47 blockade by Hu5F9-G4 and rituximab in non-Hodgkin's lymphoma. N. Engl. J. Med. 379, 1711–1721 (2018).

5.

Willingham, S. B. et al. The CD47-signal regulatory protein alpha (SIRPa) interaction is a therapeutic target for human solid tumors. Proc. Natl Acad. Sci. USA 109, 6662–6667 (2012).

6.

Pirruccello, S. J. & LeBien, T. W. The human B cell-associated antigen CD24 is a single chain sialoglycoprotein. J. Immunol. 136, 3779–3784 (1986).

7.

Chen, G. Y., Brown, N. K., Zheng, P. & Liu, Y. Siglec-G/10 in self–nonself discrimination of innate and adaptive immunity. Glycobiology 24, 800–806 (2014).

8.

Chen, W. et al. Induction of Siglec-G by RNA viruses inhibits the innate immune response by promoting RIG-I degradation. Cell 152, 467–478 (2013).

9.

Chen, G. Y. et al. Amelioration of sepsis by inhibiting sialidase-mediated disruption of the CD24–SiglecG interaction. Nat. Biotechnol. 29, 428–435 (2011).

10.

Chen, G. Y., Tang, J., Zheng, P. & Liu, Y. CD24 and Siglec-10 selectively repress tissue damage-induced immune responses. Science 323, 1722–1725 (2009).

11.

Toubai, T. et al. Siglec-G–CD24 axis controls the severity of graft-versus-host disease in mice. Blood 123, 3512–3523 (2014).

12.

Crocker, P. R., Paulson, J. C. & Varki, A. Siglecs and their roles in the immune system. Nat. Rev. Immunol. 7, 255–266 (2007).

13.

Abram, C. L. & Lowell, C. A. Shp1 function in myeloid cells. J. Leukoc. Biol. 102, 657–675 (2017).

14.

Dietrich, J., Cella, M. & Colonna, M. Ig-like transcript 2 (ILT2)/leukocyte Ig-like receptor 1 (LIR1) inhibits TCR signaling and actin cytoskeleton reorganization. J. Immunol. 166, 2514–2521 (2001).

15.

Tarhriz, V. et al. Overview of CD24 as a new molecular marker in ovarian cancer. J. Cell. Physiol. 234, 2134–2142 (2019).

16.

Kristiansen, G. et al. CD24 expression is a new prognostic marker in breast cancer. Clin. Cancer Res. 9, 4906–4913 (2003).

17.

Karaayvaz, M. et al. Unravelling subclonal heterogeneity and aggressive disease states in TNBC through single-cell RNA-seq. Nat. Commun. 9, 3588 (2018).

18.

Mantovani, A., Sozzani, S., Locati, M., Allavena, P. & Sica, A. Macrophage polarization: tumor-associated macrophages as a paradigm for polarized M2 mononuclear phagocytes. Trends Immunol. 23, 549–555 (2002).

19.

Liu, J. et al. Pre-clinical development of a humanized anti-CD47 antibody with anti-cancer therapeutic potential. PLoS ONE 10, e0137345 (2015).

20.

Miksa, M., Komura, H., Wu, R., Shah, K. G. & Wang, P. A novel method to determine the engulfment of apoptotic cells by macrophages using pHrodo succinimidyl ester. J. Immunol. Methods 342, 71–77 (2009).

21.

Okazaki, M., Luo, Y., Han, T., Yoshida, M. & Seon, B. K. Three new monoclonal antibodies that define a unique antigen associated with prolymphocytic leukemia/non-Hodgkin's lymphoma and are effectively internalized after binding to the cell surface antigen. Blood 81, 84–94 (1993).

22.

Shultz, L. D. et al. Human lymphoid and myeloid cell development in NOD/LtSz-scid IL2R γ null mice engrafted with mobilized human hemopoietic stem cells. J. Immunol. 174, 6477–6489 (2005).

23.

Varga A. et al. Pembrolizumab in patients (pts) with PD-L1–positive (PD-L1+) advanced ovarian cancer: updated analysis of KEYNOTE-028. J. Clin. Oncol. 35, 5513 (2017).

24.

Nanda, R. et al. Pebrolizumab in patients with advanced triple-negative breast cancer: Phase Ib KEYNOTE-012 study. J. Clin. Oncol. 34, 2460–2467 (2016).

25.

Alsaab, H. O. et al. PD-1 and PD-L1 checkpoint signaling inhibition for cancer immunotherapy: mechanism, combinations, and clinical outcome. Front. Pharmacol. 8, 561 (2017).

26.

Ayers M. et al. Molecular profiling of cohorts of tumor samples to guide clinical development of pembrolizumab as monotherapy. Clinical Cancer Res. https://doi.org/10.1158/1078-0432.CCR-18-1316 (2018).

27.

Goldman, M., Craft, B., Brooks, A. N., Zhu, J. & Haussler, D. The USCS Xena Platform for cancer genomics data visualization and interpretation. Preprint at https://doi.org/10.1101/326470v3 (2018).

28.

Martinez, F. O. Analysis of gene expression and gene silencing in human macrophages. Curr. Protoc. Immunol. 96, 14.28.1–14.28.23 (2012)

29.

Brinkman, E. K., Chen, T., Amendola, M. & van Steensel, B. Easy quantitative assessment of genome editing by sequence trace decomposition. Nucleic Acids Res. 42, e168 (2014).
Acknowledgements
We thank the members of the Weissman laboratory, the Stanford Stem Cell Institute, R. L. Maute and K. S. Kao for advice and discussions; A. McCarty, T. Naik and L. Quinn for technical and logistical support; I. Wapnir for providing samples from patients with breast cancer; G. Wernig for providing human ascites samples; and G. Krampitz for the APL1 cell line. The research reported in this publication was supported by the Virginia D. K. Ludwig Fund for Cancer Research (NIHR01CA086017 and NIHGR01GM100315) and the NIH/NCI Outstanding Investigator Award (R35CA220434 to I.L.W.); the Stanford Medical Scientist Training Program (T32GM007365 to A.A.B); the National Cancer Institute (F30CA232472 to A.A.B); and the Program in Translational and Experimental Hematology T32 from the National Heart, Lung, and Blood Institute (1T32HL120824 to B.W.Z.). The contents of this manuscript are solely the responsibility of the authors.
Ethics declarations
Competing interests
A.A.B. and I.L.W. are co-inventors on a patent application (62/684,407) related to this work. I.L.W. is a founder, director, stockholder and consultant of Forty Seven, a cancer immunotherapy company.
Additional information
Publisher's note: Springer Nature remains neutral with regard to jurisdictional claims in published maps and institutional affiliations.
Peer review information Nature thanks Gregory Beatty, Heinz Läubli and the other, anonymous, reviewer(s) for their contribution to the peer review of this work.
Extended data figures and tables
Supplementary information
Further reading
BioTechniques (2019)

Nature Reviews Drug Discovery (2019)

Nature Reviews Cancer (2019)
Comments
By submitting a comment you agree to abide by our Terms and Community Guidelines. If you find something abusive or that does not comply with our terms or guidelines please flag it as inappropriate.