Abstract
Vibrio cholerae is the causative agent of cholera, a potentially lethal enteric bacterial infection1. Cholera toxin (CTX), a protein complex that is secreted by V. cholerae, is required for V. cholerae to cause severe disease. CTX is also thought to promote transmission of the organism, as infected individuals shed many litres of diarrhoeal fluid that typically contains in excess of 1011 organisms per litre. How the pathogen is able to reach such high concentrations in the intestine during infection remains poorly understood. Here we show that CTX increases pathogen growth and induces a distinct V. cholerae transcriptomic signature that is indicative of an iron-depleted gut niche. During infection, bacterial pathogens need to acquire iron, which is an essential nutrient for growth2. Most iron in the mammalian host is found in a chelated form within the porphyrin structure of haem, and the ability to use haem as a source of iron is genetically encoded by V. cholerae3. We show that the genes that enable V. cholerae to obtain iron via haem and vibriobactin confer a growth advantage to the pathogen only when CTX is produced. Furthermore, we found that CTX-induced congestion of capillaries in the terminal ileum correlated with an increased bioavailability of luminal haem. CTX-induced disease in the ileum also led to increased concentrations of long-chain fatty acids and l-lactate metabolites in the lumen, as well as the upregulation of V. cholerae genes that encode enzymes of the tricarboxylic acid (TCA) cycle that contain iron–sulfur clusters. Genetic analysis of V. cholerae suggested that pathogen growth was dependent on the uptake of haem and long-chain fatty acids during infection, but only in a strain capable of producing CTX in vivo. We conclude that CTX-induced disease creates an iron-depleted metabolic niche in the gut, which selectively promotes the growth of V. cholerae through the acquisition of host-derived haem and fatty acids.
Relevant articles
Open Access articles citing this article.
Kali M. Pruss

,

Fatima Enam

…

Justin L. Sonnenburg

Nature Metabolism Open Access 06 January 2022

Joshua R. Fletcher

,

Colleen M. Pike

…

Casey M. Theriot

Nature Communications Open Access 19 January 2021

Cynthia B. Silveira

,

Felipe H. Coutinho

…

Fabiano Thompson

BMC Genomics Open Access 05 February 2020
Access options
Subscribe to Nature+
Get immediate online access to the entire Nature family of 50+ journals
Subscribe to Journal
Get full journal access for 1 year
$199.00
only $3.90 per issue
All prices are NET prices.
VAT will be added later in the checkout.
Tax calculation will be finalised during checkout.
Buy article
Get time limited or full article access on ReadCube.
$32.00
All prices are NET prices.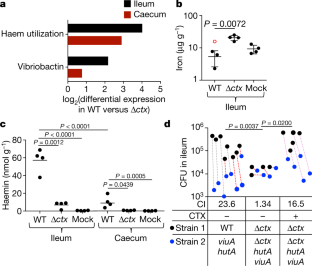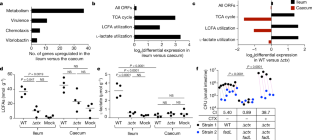 Data availability
The data that support the findings of this study are available from the corresponding author on request. The RNA-seq data have been deposited in the Gene Expression Omnibus (https://www.ncbi.nlm.nih.gov/geo) under the accession number GSE132653.
References
Faruque, S. M., Albert, M. J. & Mekalanos, J. J. Epidemiology, genetics, and ecology of toxigenic Vibrio cholerae. Microbiol. Mol. Biol. Rev. 62, 1301–1314 (1998).

Cassat, J. E. & Skaar, E. P. Iron in infection and immunity. Cell Host Microbe 13, 509–519 (2013).

Henderson, D. P. & Payne, S. M. Cloning and characterization of the Vibrio cholerae genes encoding the utilization of iron from haemin and haemoglobin. Mol. Microbiol. 7, 461–469 (1993).

De, S. N. Enterotoxicity of bacteria-free culture-filtrate of Vibrio cholerae. Nature 183, 1533–1534 (1959).

Cassel, D. & Pfeuffer, T. Mechanism of cholera toxin action: covalent modification of the guanyl nucleotide-binding protein of the adenylate cyclase system. Proc. Natl Acad. Sci. USA 75, 2669–2673 (1978).

Cheng, S. H. et al. Phosphorylation of the R domain by cAMP-dependent protein kinase regulates the CFTR chloride channel. Cell 66, 1027–1036 (1991).

Hewlett, E. L., Guerrant, R. L., Evans, D. J. Jr & Greenough, W. B. III. Toxins of Vibrio cholerae and Escherichia coli stimulate adenyl cyclase in rat fat cells. Nature 249, 371–373 (1974).

Winter, S. E. et al. Gut inflammation provides a respiratory electron acceptor for Salmonella. Nature 467, 426–429 (2010).

Ritchie, J. M., Rui, H., Bronson, R. T. & Waldor, M. K. Back to the future: studying cholera pathogenesis using infant rabbits. mBio 1, e00047-10 (2010).

Mandlik, A. et al. RNA-seq-based monitoring of infection-linked changes in Vibrio cholerae gene expression. Cell Host Microbe 10, 165–174 (2011).

Levin, J. Z. et al. Comprehensive comparative analysis of strand-specific RNA sequencing methods. Nat. Methods 7, 709–715 (2010).

Heidelberg, J. F. et al. DNA sequence of both chromosomes of the cholera pathogen Vibrio cholerae. Nature 406, 477–483 (2000).

Wyckoff, E. E., Mey, A. R. & Payne, S. M. Iron acquisition in Vibrio cholerae. Biometals 20, 405–416 (2007).

Troxell, B. & Hassan, H. M. Transcriptional regulation by Ferric Uptake Regulator (Fur) in pathogenic bacteria. Front. Cell. Infect. Microbiol. 3, 59 (2013).

Ganz, T. & Nemeth, E. Iron homeostasis in host defence and inflammation. Nat. Rev. Immunol. 15, 500–510 (2015).

Chassaing, B. et al. Fecal lipocalin 2, a sensitive and broadly dynamic non-invasive biomarker for intestinal inflammation. PLoS ONE 7, e44328 (2012).

Patnaik, B. K. & Ghosh, H. K. Histopathological studies on experimental cholera. Br. J. Exp. Pathol. 47, 210–214 (1966).

Klose, K. E. The suckling mouse model of cholera. Trends Microbiol. 8, 189–191 (2000).

Henderson, D. P. & Payne, S. M. Vibrio cholerae iron transport systems: roles of heme and siderophore iron transport in virulence and identification of a gene associated with multiple iron transport systems. Infect. Immun. 62, 5120–5125 (1994).

Tashima, K. T., Carroll, P. A., Rogers, M. B. & Calderwood, S. B. Relative importance of three iron-regulated outer membrane proteins for in vivo growth of Vibrio cholerae. Infect. Immun. 64, 1756–1761 (1996).

Cuatrecasas, P. Cholera toxin–fat cell interaction and the mechanism of activation of the lipolytic response. Biochemistry 12, 3567–3577 (1973).

Duncan, R. E., Ahmadian, M., Jaworski, K., Sarkadi-Nagy, E. & Sul, H. S. Regulation of lipolysis in adipocytes. Annu. Rev. Nutr. 27, 79–101 (2007).

Snider, R. M. et al. The effects of cholera toxin on cellular energy metabolism. Toxins 2, 632–648 (2010).

DiRusso, C. C. & Black, P. N. Bacterial long chain fatty acid transport: gateway to a fatty acid-responsive signaling system. J. Biol. Chem. 279, 49563–49566 (2004).

Gillis, C. C. et al. Dysbiosis-associated change in host metabolism generates lactate to support Salmonella growth. Cell Host Microbe 23, 54–64 (2018).

Bina, J. et al. ToxR regulon of Vibrio cholerae and its expression in vibrios shed by cholera patients. Proc. Natl Acad. Sci. USA 100, 2801–2806 (2003).

Son, M. S., Megli, C. J., Kovacikova, G., Qadri, F. & Taylor, R. K. Characterization of Vibrio cholerae O1 El Tor biotype variant clinical isolates from Bangladesh and Haiti, including a molecular genetic analysis of virulence genes. J. Clin. Microbiol. 49, 3739–3749 (2011).

Fullner, K. J. & Mekalanos, J. J. Genetic characterization of a new type IV-A pilus gene cluster found in both classical and El Tor biotypes of Vibrio cholerae. Infect. Immun. 67, 1393–1404 (1999).

Angelichio, M. J., Spector, J., Waldor, M. K. & Camilli, A. Vibrio cholerae intestinal population dynamics in the suckling mouse model of infection. Infect. Immun. 67, 3733–3739 (1999).

Baselski, V., Briggs, R. & Parker, C. Intestinal fluid accumulation induced by oral challenge with Vibrio cholerae or cholera toxin in infant mice. Infect. Immun. 15, 704–712 (1977).

Langmead, B. & Salzberg, S. L. Fast gapped-read alignment with Bowtie 2. Nat. Methods 9, 357–359 (2012).

Kearse, M. et al. Geneious Basic: an integrated and extendable desktop software platform for the organization and analysis of sequence data. Bioinformatics 28, 1647–1649 (2012).

Love, M. I., Huber, W. & Anders, S. Moderated estimation of fold change and dispersion for RNA-seq data with DESeq2. Genome Biol. 15, 550 (2014).

Huang, W., Sherman, B. T. & Lempicki, R. A. Systematic and integrative analysis of large gene lists using DAVID bioinformatics resources. Nat. Protocols 4, 44–57 (2009).

Schmittgen, T. D. & Livak, K. J. Analyzing real-time PCR data by the comparative C t method. Nat. Protocols 3, 1101–1108 (2008).
Acknowledgements
We thank F. Caro for advice on library preparation and RNA-seq analysis; Y. Fu and W. Zhao for technical advice on animal experiments and all other members of the J.J.M. laboratory for their helpful advice; the staff at the Biopolymers Facility at HMS for Illumina sequencing; the staff of Brooks Applied Labs for triple quadrupole ICP–MS; and the Rodent Histopathology Core at HMS for tissue staining and histopathological analysis. This work was supported by grants AI-018045 and T32 AI007061 from the US National Institute of Allergy and Infectious Diseases and National Institutes of Health.
Ethics declarations
Competing interests
The authors declare no competing interests.
Additional information
Publisher's note: Springer Nature remains neutral with regard to jurisdictional claims in published maps and institutional affiliations.
Peer review information Nature thanks Lars Barquist, Shelley M. Payne and the other, anonymous, reviewer(s) for their contribution to the peer review of this work.
Extended data figures and tables
Supplementary information
About this article
Cite this article
Rivera-Chávez, F., Mekalanos, J.J. Cholera toxin promotes pathogen acquisition of host-derived nutrients. Nature 572, 244–248 (2019). https://doi.org/10.1038/s41586-019-1453-3
Received:

Accepted:

Published:

Issue Date:

DOI: https://doi.org/10.1038/s41586-019-1453-3
Comments
By submitting a comment you agree to abide by our Terms and Community Guidelines. If you find something abusive or that does not comply with our terms or guidelines please flag it as inappropriate.