Abstract
Amyotrophic lateral sclerosis (ALS) is a complex neurodegenerative disorder, in which the clinical manifestations may be influenced by genetic and unknown environmental factors. Here we show that ALS-prone Sod1 transgenic (Sod1-Tg) mice have a pre-symptomatic, vivarium-dependent dysbiosis and altered metabolite configuration, coupled with an exacerbated disease under germ-free conditions or after treatment with broad-spectrum antibiotics. We correlate eleven distinct commensal bacteria at our vivarium with the severity of ALS in mice, and by their individual supplementation into antibiotic-treated Sod1-Tg mice we demonstrate that Akkermansia muciniphila (AM) ameliorates whereas Ruminococcus torques and Parabacteroides distasonis exacerbate the symptoms of ALS. Furthermore, Sod1-Tg mice that are administered AM are found to accumulate AM-associated nicotinamide in the central nervous system, and systemic supplementation of nicotinamide improves motor symptoms and gene expression patterns in the spinal cord of Sod1-Tg mice. In humans, we identify distinct microbiome and metabolite configurations—including reduced levels of nicotinamide systemically and in the cerebrospinal fluid—in a small preliminary study that compares patients with ALS with household controls. We suggest that environmentally driven microbiome–brain interactions may modulate ALS in mice, and we call for similar investigations in the human form of the disease.
Relevant articles
Open Access articles citing this article.
Jingge Wang

,

Zibin Zheng

…

Biao Tang

AMB Express Open Access 06 September 2022

Can Cui

,

Jiangwei Sun

…

Fang Fang

BMC Medicine Open Access 05 August 2022

Hiroshi Nishiwaki

,

Mikako Ito

…

Kinji Ohno

npj Parkinson's Disease Open Access 01 June 2022
Access options
Subscribe to Nature+
Get immediate online access to the entire Nature family of 50+ journals
Subscribe to Journal
Get full journal access for 1 year
$199.00
only $3.90 per issue
All prices are NET prices.
VAT will be added later in the checkout.
Tax calculation will be finalised during checkout.
Buy article
Get time limited or full article access on ReadCube.
$32.00
All prices are NET prices.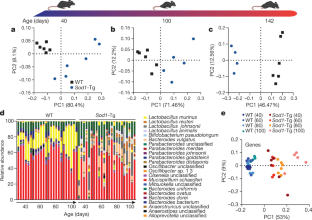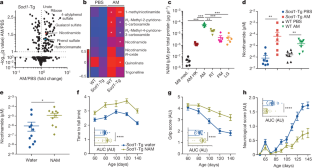 Data availability
The sequencing data has been deposited at the European Nucleotide Archive database with the accession number PRJEB32767.
References
Turner, M. R. et al. Controversies and priorities in amyotrophic lateral sclerosis. Lancet Neurol. 12, 310–322 (2013).

Bensimon, G., Lacomblez, L. & Meininger, V. A controlled trial of riluzole in amyotrophic lateral sclerosis. N. Engl. J. Med. 330, 585–591 (1994).

The Writing Group, Edaravone (MCI-186) ALS 19 Study Group. Safety and efficacy of edaravone in well defined patients with amyotrophic lateral sclerosis: a randomised, double-blind, placebo-controlled trial. Lancet Neurol. 16, 505–512 (2017).

Su, F. C. et al. Association of environmental toxins with amyotrophic lateral sclerosis. JAMA Neurol. 73, 803–811 (2016).

Kundu, P., Blacher, E., Elinav, E. & Pettersson, S. Our gut microbiome: the evolving inner self. Cell 171, 1481–1493 (2017).

Al-Chalabi, A. & Hardiman, O. The epidemiology of ALS: a conspiracy of genes, environment and time. Nat. Rev. Neurol. 9, 617–628 (2013).

Sampson, T. R. et al. Gut microbiota regulate motor deficits and neuroinflammation in a model of Parkinson's disease. Cell 167, 1469–1480.e12 (2016).

Sharon, G. et al. Human gut microbiota from autism spectrum disorder promote behavioral symptoms in mice. Cell 177, 1600–1618.e17 (2019).

Blacher, E., Levy, M., Tatirovsky, E. & Elinav, E. Microbiome-modulated metabolites at the interface of host immunity. J. Immunol. 198, 572–580 (2017).

Veiga-Fernandes, H. & Mucida, D. Neuro–immune interactions at barrier surfaces. Cell 165, 801–811 (2016).

Sharon, G., Sampson, T. R., Geschwind, D. H. & Mazmanian, S. K. The central nervous system and the gut microbiome. Cell 167, 915–932 (2016).

Wu, S., Yi, J., Zhang, Y. G., Zhou, J. & Sun, J. Leaky intestine and impaired microbiome in an amyotrophic lateral sclerosis mouse model. Physiol. Rep. 3, e12356 (2015).

Zhang, Y. G. et al. Target intestinal microbiota to alleviate disease progression in amyotrophic lateral sclerosis. Clin. Ther. 39, 322–336 (2017).

Fang, X. et al. Evaluation of the microbial diversity in amyotrophic lateral sclerosis using high-throughput sequencing. Front. Microbiol. 7, 1479 (2016).

Brenner, D. et al. The fecal microbiome of ALS patients. Neurobiol. Aging 61, 132–137 (2018).

Ralph, G. S. et al. Silencing mutant SOD1 using RNAi protects against neurodegeneration and extends survival in an ALS model. Nat. Med. 11, 429–433 (2005).

Aartsma-Rus, A. & van Putten, M. Assessing functional performance in the mdx mouse model. J. Vis. Exp. 27, 51303 (2014).

Sugiyama, K. & Tanaka, K. Spinal cord-specific deletion of the glutamate transporter GLT1 causes motor neuron death in mice. Biochem. Biophys. Res. Commun. 497, 689–693 (2018).

Niessen, H. G. et al. In vivo quantification of spinal and bulbar motor neuron degeneration in the G93A-SOD1 transgenic mouse model of ALS by T2 relaxation time and apparent diffusion coefficient. Exp. Neurol. 201, 293–300 (2006).

Zang, D. W. et al. Magnetic resonance imaging reveals neuronal degeneration in the brainstem of the superoxide dismutase 1 transgenic mouse model of amyotrophic lateral sclerosis. Eur. J. Neurosci. 20, 1745–1751 (2004).

Hsiao, E. Y. et al. Microbiota modulate behavioral and physiological abnormalities associated with neurodevelopmental disorders. Cell 155, 1451–1463 (2013).

Verdin, E. NAD+ in aging, metabolism, and neurodegeneration. Science 350, 1208–1213 (2015).

Sweeney, N. J., Laux, D. C. & Cohen, P. S. Escherichia coli F-18 and E. coli K-12 eda mutants do not colonize the streptomycin-treated mouse large intestine. Infect. Immun. 64, 3504–3511 (1996).

Golko-Perez, S., Amit, T., Bar-Am, O., Youdim, M. B. H. & Weinreb, O. A novel iron chelator-radical scavenger ameliorates motor dysfunction and improves life span and mitochondrial biogenesis in SOD1G93A ALS mice. Neurotox. Res. 31, 230–244 (2017).

Scarpulla, R. C., Vega, R. B. & Kelly, D. P. Transcriptional integration of mitochondrial biogenesis. Trends Endocrinol. Metab. 23, 459–466 (2012).

Bergeron, R. et al. Chronic activation of AMP kinase results in NRF-1 activation and mitochondrial biogenesis. Am. J. Physiol. Endocrinol. Metab. 281, E1340–E1346 (2001).

Evans, M. J. & Scarpulla, R. C. NRF-1: a trans-activator of nuclear-encoded respiratory genes in animal cells. Genes Dev. 4, 1023–1034 (1990).

Virbasius, C. A., Virbasius, J. V. & Scarpulla, R. C. NRF-1, an activator involved in nuclear-mitochondrial interactions, utilizes a new DNA-binding domain conserved in a family of developmental regulators. Genes Dev. 7, 2431–2445 (1993).

Robertson, S. J. et al. Nod1 and Nod2 signaling does not alter the composition of intestinal bacterial communities at homeostasis. Gut Microbes 4, 222–231 (2013).

Levy, M. et al. Microbiota-modulated metabolites shape the intestinal microenvironment by regulating NLRP6 inflammasome signaling. Cell 163, 1428–1443 (2015).

Hatzipetros, T. et al. A quick phenotypic neurological scoring system for evaluating disease progression in the SOD1-G93A mouse model of ALS. J. Vis. Exp. 104, 1–6 (2015).

Hansson, G. C. & Johansson, M. E. V. The inner of the two Muc2 mucin-dependent mucus layers in colon is devoid of bacteria. Gut Microbes 1, 51–54 (2010).

Wiśniewski, J. R., Zougman, A., Nagaraj, N. & Mann, M. Universal sample preparation method for proteome analysis. Nat. Methods 6, 359–362 (2009).

Schroeder, B. O. et al. Bifidobacteria or fiber protects against diet-induced microbiota-mediated colonic mucus deterioration. Cell Host Microbe 23, 27–40.e7 (2018).

Rappsilber, J., Mann, M. & Ishihama, Y. Protocol for micro-purification, enrichment, pre-fractionation and storage of peptides for proteomics using StageTips. Nat. Protoc. 2, 1896–1906 (2007).

Cox, J. & Mann, M. MaxQuant enables high peptide identification rates, individualized p.p.b.-range mass accuracies and proteome-wide protein quantification. Nat. Biotechnol. 26, 1367–1372 (2008).

MacLean, B. et al. Skyline: an open source document editor for creating and analyzing targeted proteomics experiments. Bioinformatics 26, 966–968 (2010).

Baba, T. et al. Construction of Escherichia coli K-12 in-frame, single-gene knockout mutants: the Keio collection. Mol. Syst. Biol. 2, 0008 (2006).

Adiconis, X. et al. Comparative analysis of RNA sequencing methods for degraded or low-input samples. Nat. Methods 10, 623–629 (2013).

Caporaso, J. G. et al. QIIME allows analysis of high-throughput community sequencing data. Nat. Methods 7, 335–336 (2010).

Callahan, B. J. et al. DADA2: High-resolution sample inference from Illumina amplicon data. Nat. Methods 13, 581–583 (2016).

Weiss, S. et al. Normalization and microbial differential abundance strategies depend upon data characteristics. Microbiome 5, 27 (2017).

McDonald, D. et al. An improved Greengenes taxonomy with explicit ranks for ecological and evolutionary analyses of bacteria and archaea. ISME J. 6, 610–618 (2012).

Marco-Sola, S., Sammeth, M., Guigó, R. & Ribeca, P. The GEM mapper: fast, accurate and versatile alignment by filtration. Nat. Methods 9, 1185–1188 (2012).

Loh, P. R. et al. Reference-based phasing using the Haplotype Reference Consortium panel. Nat. Genet. 48, 1443–1448 (2016).

Kanehisa, M. et al. From genomics to chemical genomics: new developments in KEGG. Nucleic Acids Res. 34, D354–D357 (2006).

Buchfink, B., Xie, C. & Huson, D. H. Fast and sensitive protein alignment using DIAMOND. Nat. Methods 12, 59–60 (2015).

Langmead, B. & Salzberg, S. L. Fast gapped-read alignment with Bowtie 2. Nat Methods 9, 357–359 (2012).

Reimand, J., Kull, M., Peterson, H., Hansen, J. & Vilo, J. g:Profiler—a web-based toolset for functional profiling of gene lists from large-scale experiments. Nucleic Acids Res. 35, W193–W200 (2007).
Acknowledgements
We thank the members of the Elinav and Segal laboratories, and members of the DKFZ cancer-microbiome division for discussions, and apologize to authors whose work was not included owing to space constraints. We thank R. Straussman, D. Nejman and E. Hornstein for suggestions and help with experimental methodologies; C. Bar-Nathan for assistance with animal work; S. Belkin for providing reagents and A. Godneva for computational assistance. We thank J. Suez and N. Zmora for extensive editing during production. E.B. is supported by the Weizmann Institute Dean of Faculty fellowship. D.R. received a Levi Eshkol PhD Scholarship for Personalized Medicine by the Israeli Ministry of Science. N.Z. is supported by the Gilead Sciences International Research Scholars Program in Liver Disease. C.K. is supported by an MD fellowship of the Boehringer Ingelheim Fonds. Y.K. is the incumbent of the Sarah and Rolando Uziel Research Associate Chair. H.S. is the Incumbent of the Vera Rosenberg Schwartz Research Fellow Chair. E.S. is supported by the Crown Human Genome Center; the Else Kroener Fresenius Foundation; Donald L. Schwarz, Sherman Oaks, CA; Jack N. Halpern, NeNY; Leesa Steinberg, Canada; and grants funded by the European Research Council and the Israel Science Foundation. E.E. is supported by Y. and R. Ungar; the Abisch Frenkel Foundation for the Promotion of Life Sciences; the Gurwin Family Fund for Scientific Research; the Leona M. and Harry B. Helmsley Charitable Trust; the Crown Endowment Fund for Immunological Research; the Else Kroener Fresenius Foundation; the estate of J. Gitlitz; the estate of L. Hershkovich; the Benoziyo Endowment Fund for the Advancement of Science; the Adelis Foundation; J. L. and V. Schwartz; A. and G. Markovitz; A. and C. Adelson; the French National Center for Scientific Research (CNRS); D. L. Schwarz; The V. R. Schwartz Research Fellow Chair; L. Steinberg; J. N. Halpern; A. Edelheit; and by grants funded by the European Research Council, the Israel Science Foundation and the Helmholtz Foundation. E.E. is the Sir Marc and Lady Tania Feldmann Professorial Chair in Immunology, Weizmann Institute of Science, Israel; is the Director of the Microbiome Research Division, DKFZ, Heidelberg, Germany; is a senior fellow of the Canadian Institute of Advanced Research (CIFAR) and is an international scholar of The Bill and Melinda Gates Foundation and Howard Hughes Medical Institute (HHMI).
Ethics declarations
Competing interests
E.S. and E.E. are paid consultants at DayTwo and BiomX. None of this work is related to, shared with or licensed to these or any other commercial entity. None of the other authors have competing interests related to this work.
Additional information
Publisher's note: Springer Nature remains neutral with regard to jurisdictional claims in published maps and institutional affiliations.
Peer review information Nature thanks Mani Arumugam, Premysl Bercik, Jeffrey Rothstein and the other, anonymous, reviewer(s) for their contribution to the peer review of this work.
Extended data figures and tables
Supplementary information
This file contains Supplementary Tables 1-7.
About this article
Cite this article
Blacher, E., Bashiardes, S., Shapiro, H. et al. Potential roles of gut microbiome and metabolites in modulating ALS in mice. Nature 572, 474–480 (2019). https://doi.org/10.1038/s41586-019-1443-5
Received:

Accepted:

Published:

Issue Date:

DOI: https://doi.org/10.1038/s41586-019-1443-5
Comments
By submitting a comment you agree to abide by our Terms and Community Guidelines. If you find something abusive or that does not comply with our terms or guidelines please flag it as inappropriate.