Abstract
Allosteric regulation of protein function is widespread in biology, but is challenging for de novo protein design as it requires the explicit design of multiple states with comparable free energies. Here we explore the possibility of designing switchable protein systems de novo, through the modulation of competing inter- and intramolecular interactions. We design a static, five-helix 'cage' with a single interface that can interact either intramolecularly with a terminal 'latch' helix or intermolecularly with a peptide 'key'. Encoded on the latch are functional motifs for binding, degradation or nuclear export that function only when the key displaces the latch from the cage. We describe orthogonal cage–key systems that function in vitro, in yeast and in mammalian cells with up to 40-fold activation of function by key. The ability to design switchable protein functions that are controlled by induced conformational change is a milestone for de novo protein design, and opens up new avenues for synthetic biology and cell engineering.
Access options
Subscribe to Journal
Get full journal access for 1 year
$199.00
only $3.90 per issue
All prices are NET prices.
VAT will be added later in the checkout.
Tax calculation will be finalised during checkout.
Rent or Buy article
Get time limited or full article access on ReadCube.
from$8.99
All prices are NET prices.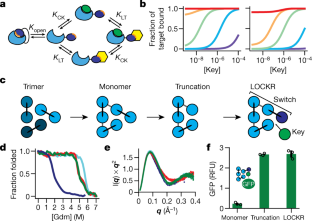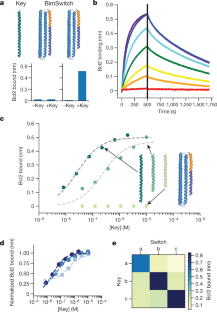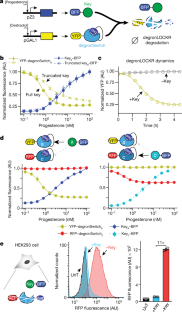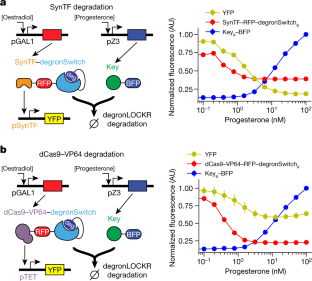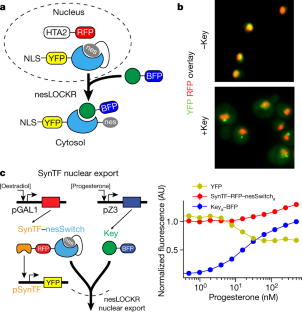 Data availability
All data that support the findings of this study are available within the Article and its Supplementary Information. The original data that support the findings are available from the corresponding author upon reasonable request. Plasmids that encode the LOCKR scaffolds (non-functional switches and keys), BimLOCKR, degronLOCKR and nesLOCKR can be found on Addgene (plasmids 127416-127424, 127200–127206 and 127246).
References
1.

Huang, P.-S., Boyken, S. E. & Baker, D. The coming of age of de novo protein design. Nature 537, 320–327 (2016).

2.

Huang, P.-S. et al. High thermodynamic stability of parametrically designed helical bundles. Science 346, 481–485 (2014).

3.

Brunette, T. J. et al. Exploring the repeat protein universe through computational protein design. Nature 528, 580–584 (2015).

4.

Rocklin, G. J. et al. Global analysis of protein folding using massively parallel design, synthesis, and testing. Science 357, 168–175 (2017).

5.

Ambroggio, X. I. & Kuhlman, B. Design of protein conformational switches. Curr. Opin. Struct. Biol. 16, 525–530 (2006).

6.

Choi, J. H., Laurent, A. H., Hilser, V. J. & Ostermeier, M. Design of protein switches based on an ensemble model of allostery. Nat. Commun. 6, 6968 (2015).

7.

Joh, N. H. et al. De novo design of a transmembrane Zn2+-transporting four-helix bundle. Science 346, 1520–1524 (2014).

8.

Davey, J. A., Damry, A. M., Goto, N. K. & Chica, R. A. Rational design of proteins that exchange on functional timescales. Nat. Chem. Biol. 13, 1280–1285 (2017).

9.

Ha, J.-H. & Loh, S. N. Protein conformational switches: from nature to design. Chemistry 18, 7984–7999 (2012).

10.

Liu, J. & Nussinov, R. Allostery: an overview of its history, concepts, methods, and applications. PLoS Comput. Biol. 12, e1004966 (2016).

11.

Raman, S., Taylor, N., Genuth, N., Fields, S. & Church, G. M. Engineering allostery. Trends Genet. 30, 521–528 (2014).

12.

Perkins, J. R., Diboun, I., Dessailly, B. H., Lees, J. G. & Orengo, C. Transient protein–protein interactions: structural, functional, and network properties. Structure 18, 1233–1243 (2010).

13.

Singh, G. P., Ganapathi, M. & Dash, D. Role of intrinsic disorder in transient interactions of hub proteins. Proteins 66, 761–765 (2007).

14.

Dou, J. et al. De novo design of a fluorescence-activating β-barrel. Nature 561, 485–491 (2018).

15.

Boyken, S. E. et al. De novo design of protein homo-oligomers with modular hydrogen-bond network-mediated specificity. Science 352, 680–687 (2016).

16.

Dyer, K. N. et al. High-throughput SAXS for the characterization of biomolecules in solution: a practical approach. Methods Mol. Biol. 1091, 245–258 (2014).

17.

Fleming, P. J. & Rose, G. D. Do all backbone polar groups in proteins form hydrogen bonds? Protein Sci. 14, 1911–1917 (2005).

18.

Chothia, C. & Janin, J. Principles of protein–protein recognition. Nature 256, 705–708 (1975).

19.

Moreira, I. S., Fernandes, P. A. & Ramos, M. J. Hot spots—a review of the protein–protein interface determinant amino-acid residues. Proteins 68, 803–812 (2007).

20.

Delgado-Soler, L., Pinto, M., Tanaka-Gil, K. & Rubio-Martinez, J. Molecular determinants of Bim(BH3) peptide binding to pro-survival proteins. J. Chem. Inf. Model. 52, 2107–2118 (2012).

21.

Berger, S. et al. Computationally designed high specificity inhibitors delineate the roles of BCL2 family proteins in cancer. eLife 5, e20352 (2016).

22.

Grigoryan, G. & Degrado, W. F. Probing designability via a generalized model of helical bundle geometry. J. Mol. Biol. 405, 1079–1100 (2011).

23.

Crick, F. H. C. The Fourier transform of a coiled-coil. Acta Crystallogr. 6, 685–689 (1953).

24.

Ikeda, K., Watanabe, Y., Ohto, H. & Kawakami, K. Molecular interaction and synergistic activation of a promoter by Six, Eya, and Dach proteins mediated through CREB binding protein. Mol. Cell. Biol. 22, 6759–6766 (2002).

25.

Giesecke, A. V., Fang, R. & Joung, J. K. Synthetic protein–protein interaction domains created by shuffling Cys2His2 zinc-fingers. Mol. Syst. Biol. 2, 2006.0011 (2006).

26.

Rehtanz, M., Schmidt, H.-M., Warthorst, U. & Steger, G. Direct interaction between nucleosome assembly protein 1 and the papillomavirus E2 proteins involved in activation of transcription. Mol. Cell. Biol. 24, 2153–2168 (2004).

27.

Kuhlman, B. & Baker, D. Native protein sequences are close to optimal for their structures. Proc. Natl Acad. Sci. USA 97, 10383–10388 (2000).

28.

Leaver-Fay, A. et al. in Methods in Enzymology (eds Johnson, M. L. & Brand, L.) 545–574 (Academic, 2011).

29.

Takeuchi, J., Chen, H., Hoyt, M. A. & Coffino, P. Structural elements of the ubiquitin-independent proteasome degron of ornithine decarboxylase. Biochem. J. 410, 401–407 (2008).

30.

Aranda-Díaz, A., Mace, K., Zuleta, I., Harrigan, P. & El-Samad, H. Robust synthetic circuits for two-dimensional control of gene expression in yeast. ACS Synth. Biol. 6, 545–554 (2017).

31.

Khalil, A. S. et al. A synthetic biology framework for programming eukaryotic transcription functions. Cell 150, 647–658 (2012).

32.

Perez-Pinera, P. et al. RNA-guided gene activation by CRISPR–Cas9-based transcription factors. Nat. Methods 10, 973–976 (2013).

33.

Güttler, T. et al. NES consensus redefined by structures of PKI-type and Rev-type nuclear export signals bound to CRM1. Nat. Struct. Mol. Biol. 17, 1367–1376 (2010).

34.

Kosugi, S. et al. Six classes of nuclear localization signals specific to different binding grooves of importin α. J. Biol. Chem. 284, 478–485 (2009).

35.

Westphal, D., Dewson, G., Czabotar, P. E. & Kluck, R. M. Molecular biology of Bax and Bak activation and action. Biochim. Biophys. Acta 1813, 521–531 (2011).

36.

Prehoda, K. E., Scott, J. A., Mullins, R. D. & Lim, W. A. Integration of multiple signals through cooperative regulation of the N-WASP–Arp2/3 complex. Science 290, 801–806 (2000).

37.

Dueber, J. E., Yeh, B. J., Bhattacharyya, R. P. & Lim, W. A. Rewiring cell signaling: the logic and plasticity of eukaryotic protein circuitry. Curr. Opin. Struct. Biol. 14, 690–699 (2004).

38.

Stein, V. & Alexandrov, K. Synthetic protein switches: design principles and applications. Trends Biotechnol. 33, 101–110 (2015).

39.

Ng, A. H. et al. Modular and tunable biological feedback control using a de novo protein switch. Nature https://doi.org/10.1038/s41586-019-1425-7 (2019).

40.

Zhang, D. Y. & Winfree, E. Control of DNA strand displacement kinetics using toehold exchange. J. Am. Chem. Soc. 131, 17303–17314 (2009).

41.

Linko, V. & Dietz, H. The enabled state of DNA nanotechnology. Curr. Opin. Biotechnol. 24, 555–561 (2013).

42.

Gardner, T. S., Cantor, C. R. & Collins, J. J. Construction of a genetic toggle switch in Escherichia coli. Nature 403, 339–342 (2000).

43.

Wittmann, A. & Suess, B. Engineered riboswitches: expanding researchers' toolbox with synthetic RNA regulators. FEBS Lett. 586, 2076–2083 (2012).

44.

Isaacs, F. J., Dwyer, D. J. & Collins, J. J. RNA synthetic biology. Nat. Biotechnol. 24, 545–554 (2006).

45.

Lee, M. E., DeLoache, W. C., Cervantes, B. & Dueber, J. E. A highly characterized yeast toolkit for modular, multipart assembly. ACS Synth. Biol. 4, 975–986 (2015).

46.

Harrigan, P., Madhani, H. & El-Samad, H. Real time genetic compensation operationally defines the dynamic demands of feedback control. Preprint at https://www.biorxiv.org/content/10.1101/244020v1 (2018).

47.

DeLano, W. L. The PyMOL Molecular Graphics System. http://www.pymol.org (2002).
Acknowledgements
R.A.L. was supported by Bruce and Jeannie Nordstrom, thanks to the Patty and Jimmy Barrier Gift for the Institute for Protein Design Directors Fund. S.E.B. is supported by a Career Award at the Scientific Interface from Burroughs Wellcome Fund. A.H.N. was supported by the Department of Defense (DoD) through the National Defense Science & Engineering Graduate Fellowship (NDSEG) Program. M.J.L. was supported by a Washington Research Foundation Innovation Postdoctoral Fellowship and a Cancer Research Institute Irvington Fellowship from the Cancer Research Institute. SAXS data were collected at the Advanced Light Source (ALS) at LBNL, supported by the following grants from NIH (P30 GM124169-01, ALS-ENABLE P30 GM124169 and S10OD018483), NCI SBDR (CA92584) and DOE-BER IDAT (DE-AC02-05CH11231). This work was supported by the Defense Advanced Research Projects Agency, contract no. HR0011-16-2-0045 to H.E.-S and by Open Philanthropy to D.B. The content and information does not necessarily reflect the position or the policy of the government, and no official endorsement should be inferred. H.E.-S. is a Chan-Zuckerberg investigator. We thank L. Carter and the Protein Production Facility in the Institute for Protein Design for protein used in this study, and L. Stewart, S. Bermeo, A. Quijano Rubio, B. Basanta, M. Chevalier, A. Bonny and J. Pedro-Fonseca for help and advice.
Reviewer information
Nature thanks Vincent J. Hilser and the other, anonymous, reviewer(s) for their contribution to the peer review of this work.
Ethics declarations
Competing interests
: R.A.L., S.E.B., D.B., W.R.P.N. and M.J.L. have filed a provisional patent describing the design, composition and function of LOCKR switches, keys and scaffolds. R.A.L., A.H.N., S.E.B., M.J.L., D.B. and H.E.-S. have filed a provisional patent application describing the design, composition and function of degronLOCKR constructs. D.B., R.A.L., S.E.B. and M.J.L. hold equity in Lyell Immunopharma. D.B. holds equity in Sana Biotechnology.
Additional information
Publisher's note: Springer Nature remains neutral with regard to jurisdictional claims in published maps and institutional affiliations.
Extended data figures and tables
Supplementary information
This file contains computational methods for the results described in the main text: the Fig. 1 thermodynamic model, Rosetta design methods, and computation of the half-life for degronLOCKR. It also contains Supplementary Figures 1-3 to clarify computational methodology, and the original main text figures that passed peer-review but not length constrictions of Nature Article format.
This file contains Supplementary Tables 1-7. Supplementary Table 1: SAXS statistics for the spectra summarized in Fig. 1e. Supplementary Table 2: Functional peptides used in LOCKRs presented in this report. Supplementary Table 3: All protein sequences screened in this report, including all efforts at tuning BimLOCKR and degronLOCKR. Supplementary Table 4: Yeast base strains used to construct strains used in this report. Supplementary Table 5: Yeast strains expressing LOCKR components in various combinations for data collected here. Supplementary Table 6: All plasmids used for testing degronLOCKR in mammalian cells. Supplementary Table 7: Parameters for computing the half-life of degronLOCKR.
About this article
Cite this article
Langan, R.A., Boyken, S.E., Ng, A.H. et al. De novo design of bioactive protein switches. Nature 572, 205–210 (2019). https://doi.org/10.1038/s41586-019-1432-8
Received:

Accepted:

Published:

Issue Date:
Comments
By submitting a comment you agree to abide by our Terms and Community Guidelines. If you find something abusive or that does not comply with our terms or guidelines please flag it as inappropriate.