Abstract
Pathogen-associated molecular patterns (PAMPs) activate innate immunity in both animals and plants. Although calcium has long been recognized as an essential signal for PAMP-triggered immunity in plants, the mechanism of PAMP-induced calcium signalling remains unknown1,2. Here we report that calcium nutrient status is critical for calcium-dependent PAMP-triggered immunity in plants. When calcium supply is sufficient, two genes that encode cyclic nucleotide-gated channel (CNGC) proteins, CNGC2 and CNGC4, are essential for PAMP-induced calcium signalling in Arabidopsis3,4,5,6,7. In a reconstitution system, we find that the CNGC2 and CNGC4 proteins together—but neither alone—assemble into a functional calcium channel that is blocked by calmodulin in the resting state. Upon pathogen attack, the channel is phosphorylated and activated by the effector kinase BOTRYTIS-INDUCED KINASE1 (BIK1) of the pattern-recognition receptor complex, and this triggers an increase in the concentration of cytosolic calcium8,9,10. The CNGC-mediated calcium entry thus provides a critical link between the pattern-recognition receptor complex and calcium-dependent immunity programs in the PAMP-triggered immunity signalling pathway in plants.
This is a preview of subscription content
Access options
Subscribe to Nature+
Get immediate online access to the entire Nature family of 50+ journals
Subscribe to Journal
Get full journal access for 1 year
$199.00
only $3.90 per issue
All prices are NET prices.
VAT will be added later in the checkout.
Tax calculation will be finalised during checkout.
Buy article
Get time limited or full article access on ReadCube.
$32.00
All prices are NET prices.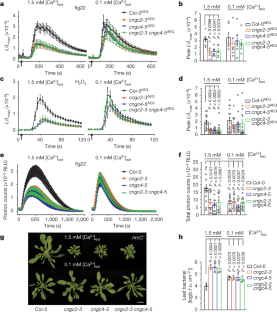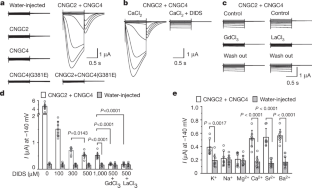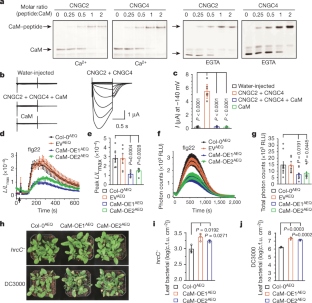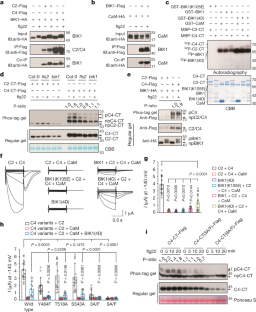 Data availability
The data supporting the findings of this study are available within the paper and its Supplementary Information files. Source Data (gels and graphs) for Figs. 1–4 and Extended Data Figs. 1–10 are provided with the paper.
References
Zipfel, C. & Oldroyd, G. E. Plant signalling in symbiosis and immunity. Nature 543, 328–336 (2017).

Yuan, P., Jauregui, E., Du, L., Tanaka, K. & Poovaiah, B. W. Calcium signatures and signaling events orchestrate plant–microbe interactions. Curr. Opin. Plant Biol. 38, 173–183 (2017).

Yu, I. C., Parker, J. & Bent, A. F. Gene-for-gene disease resistance without the hypersensitive response in Arabidopsis dnd1 mutant. Proc. Natl Acad. Sci. USA 95, 7819–7824 (1998).

Clough, S. J. et al. The Arabidopsis dnd1 "defense, no death" gene encodes a mutated cyclic nucleotide-gated ion channel. Proc. Natl Acad. Sci. USA 97, 9323–9328 (2000).

Balagué, C. et al. HLM1, an essential signaling component in the hypersensitive response, is a member of the cyclic nucleotide-gated channel ion channel family. Plant Cell 15, 365–379 (2003).

Jurkowski, G. I. et al. Arabidopsis DND2, a second cyclic nucleotide-gated ion channel gene for which mutation causes the "defense, no death" phenotype. Mol. Plant Microbe Interact. 17, 511–520 (2004).

Ali, R. et al. Death don't have no mercy and neither does calcium: Arabidopsis CYCLIC NUCLEOTIDE GATED CHANNEL2 and innate immunity. Plant Cell 19, 1081–1095 (2007).

Lu, D. et al. A receptor-like cytoplasmic kinase, BIK1, associates with a flagellin receptor complex to initiate plant innate immunity. Proc. Natl Acad. Sci. USA 107, 496–501 (2010).

Li, L. et al. The FLS2-associated kinase BIK1 directly phosphorylates the NADPH oxidase RbohD to control plant immunity. Cell Host Microbe 15, 329–338 (2014).

Ranf, S. et al. Microbe-associated molecular pattern-induced calcium signaling requires the receptor-like cytoplasmic kinases, PBL1 and BIK1. BMC Plant Biol. 14, 374 (2014).

Clapham, D. E. Calcium signaling. Cell 131, 1047–1058 (2007).

Springer, Y. P. Edaphic quality and plant–pathogen interactions: effects of soil calcium on fungal infection of a serpentine flax. Ecology 90, 1852–1862 (2009).

Knight, H., Trewavas, A. J. & Knight, M. R. Cold calcium signaling in Arabidopsis involves two cellular pools and a change in calcium signature after acclimation. Plant Cell 8, 489–503 (1996).

Yuan, J. & He, S. Y. The Pseudomonas syringae Hrp regulation and secretion system controls the production and secretion of multiple extracellular proteins. J. Bacteriol. 178, 6399–6402 (1996).

Bruggeman, Q., Raynaud, C., Benhamed, M. & Delarue, M. To die or not to die? Lessons from lesion mimic mutants. Front. Plant Sci. 6, 24 (2015).

van Wersch, R., Li, X. & Zhang, Y. Mighty dwarfs: Arabidopsis autoimmune mutants and their usages in genetic dissection of plant immunity. Front. Plant Sci. 7, 1717 (2016).

Ranf, S., Eschen-Lippold, L., Pecher, P., Lee, J. & Scheel, D. Interplay between calcium signalling and early signalling elements during defence responses to microbe- or damage-associated molecular patterns. Plant J. 68, 100–113 (2011).

Wang, Y. et al. CNGC2 is a Ca2+ influx channel that prevents accumulation of apoplastic Ca2+ in the leaf. Plant Physiol. 173, 1342–1354 (2017).

Chan, C. W., Schorrak, L. M., Smith, R. K., Jr, Bent, A. F. & Sussman, M. R. A cyclic nucleotide-gated ion channel, CNGC2, is crucial for plant development and adaptation to calcium stress. Plant Physiol. 132, 728–731 (2003).

Tena, G., Boudsocq, M. & Sheen, J. Protein kinase signaling networks in plant innate immunity. Curr. Opin. Plant Biol. 14, 519–529 (2011).

Chin, K., DeFalco, T. A., Moeder, W. & Yoshioka, K. The Arabidopsis cyclic nucleotide-gated ion channels AtCNGC2 and AtCNGC4 work in the same signaling pathway to regulate pathogen defense and floral transition. Plant Physiol. 163, 611–624 (2013).

Schroeder, B. C., Cheng, T., Jan, Y. N. & Jan, L. Y. Expression cloning of TMEM16A as a calcium-activated chloride channel subunit. Cell 134, 1019–1029 (2008).

Conn, S. J. et al. Cell-specific vacuolar calcium storage mediated by CAX1 regulates apoplastic calcium concentration, gas exchange, and plant productivity in Arabidopsis. Plant Cell 23, 240–257 (2011).

Arazi, T., Kaplan, B. & Fromm, H. A high-affinity calmodulin-binding site in a tobacco plasma-membrane channel protein coincides with a characteristic element of cyclic nucleotide-binding domains. Plant Mol. Biol. 42, 591–601 (2000).

DeFalco, T. A. et al. Multiple calmodulin-binding sites positively and negatively regulate Arabidopsis CYCLIC NUCLEOTIDE-GATED CHANNEL12. Plant Cell 28, 1738–1751 (2016a).

Fischer, C. et al. Calmodulin as a Ca2+-sensing subunit of Arabidopsis cyclic nucleotide-gated channel complexes. Plant Cell Physiol. 58, 1208–1221 (2017).

McCormack, E., Tsai, Y. C. & Braam, J. Handling calcium signaling: Arabidopsis CaMs and CMLs. Trends Plant Sci. 10, 383–389 (2005).

Chinchilla, D. et al. A flagellin-induced complex of the receptor FLS2 and BAK1 initiates plant defence. Nature 448, 497–500 (2007).

Liu, J., Elmore, J. M., Lin, Z. J. & Coaker, G. A receptor-like cytoplasmic kinase phosphorylates the host target RIN4, leading to the activation of a plant innate immune receptor. Cell Host Microbe 9, 137–146 (2011).

Ranf, S. et al. Defense-related calcium signaling mutants uncovered via a quantitative high-throughput screen in Arabidopsis thaliana. Mol. Plant 5, 115–130 (2012).

Monaghan, J., Matschi, S., Romeis, T. & Zipfel, C. The calcium-dependent protein kinase CPK28 negatively regulates the BIK1-mediated PAMP-induced calcium burst. Plant Signal. Behav. 10, e1018497 (2015).

Xin, X. F. et al. Bacteria establish an aqueous living space in plants crucial for virulence. Nature 539, 524–529 (2016).

Qi, Z. et al. Ca2+ signaling by plant Arabidopsis thaliana Pep peptides depends on AtPepR1, a receptor with guanylyl cyclase activity, and cGMP-activated Ca2+ channels. Proc. Natl Acad. Sci. USA 107, 21193–21198 (2010).

Yoo, S. D., Cho, Y. H. & Sheen, J. Arabidopsis mesophyll protoplasts: a versatile cell system for transient gene expression analysis. Nat. Protocols 2, 1565–1572 (2007).

Du, C. et al. Receptor kinase complex transmits RALF peptide signal to inhibit root growth in Arabidopsis. Proc. Natl Acad. Sci. USA 113, E8326–E8334 (2016).
Acknowledgements
We thank C. Zipfel and J.-M. Zhou for critical reading of the manuscript. This research was supported in part by the National Science Foundation (to S.L.), the National Key Research and Development Program of China (2016YFD0300102-3) and National Natural Science Foundation of China grants 31270297 and 31470356 (to L.L.). S.H. was a visiting fellow from Jiangxi Agricultural University, China. We thank J.-M. Zhou and G. A. Berkowitz for providing constructs and plant materials; M. C. Wildermuth for providing the hrcC− strain; and E. Y. Isacoff for providing oocytes.
Ethics declarations
Competing interests
The authors declare no competing interests.
Additional information
Publisher's note: Springer Nature remains neutral with regard to jurisdictional claims in published maps and institutional affiliations.
Peer review information Nature thanks Thorsten Nuernberger and the other anonymous reviewer(s) for their contribution to the peer review of this work.
Extended data figures and tables
Supplementary information
This file contains a Supplementary Discussion, References, Figures and Table.
About this article
Cite this article
Tian, W., Hou, C., Ren, Z. et al. A calmodulin-gated calcium channel links pathogen patterns to plant immunity. Nature 572, 131–135 (2019). https://doi.org/10.1038/s41586-019-1413-y
Received:

Accepted:

Published:

Issue Date:

DOI: https://doi.org/10.1038/s41586-019-1413-y
Comments
By submitting a comment you agree to abide by our Terms and Community Guidelines. If you find something abusive or that does not comply with our terms or guidelines please flag it as inappropriate.