Abstract
Lamin A/C (LMNA) is one of the most frequently mutated genes associated with dilated cardiomyopathy (DCM). DCM related to mutations in LMNA is a common inherited cardiomyopathy that is associated with systolic dysfunction and cardiac arrhythmias. Here we modelled the LMNA-related DCM in vitro using patient-specific induced pluripotent stem cell-derived cardiomyocytes (iPSC-CMs). Electrophysiological studies showed that the mutant iPSC-CMs displayed aberrant calcium homeostasis that led to arrhythmias at the single-cell level. Mechanistically, we show that the platelet-derived growth factor (PDGF) signalling pathway is activated in mutant iPSC-CMs compared to isogenic control iPSC-CMs. Conversely, pharmacological and molecular inhibition of the PDGF signalling pathway ameliorated the arrhythmic phenotypes of mutant iPSC-CMs in vitro. Taken together, our findings suggest that the activation of the PDGF pathway contributes to the pathogenesis of LMNA-related DCM and point to PDGF receptor-β (PDGFRB) as a potential therapeutic target.
Relevant articles
Open Access articles citing this article.
Parisha P. Shah

,

Kathleen C. Keough

…

Rajan Jain

Genome Biology Open Access 23 January 2023

Xiaoru Ling

,

Xinyi Liu

…

Junjun Ding

Cell Regeneration Open Access 21 December 2022

Yinuo Wang

,

Adel Elsherbiny

…

Gergana Dobreva

Nature Communications Open Access 04 November 2022
Access options
Access Nature and 54 other Nature Portfolio journals
Get Nature+, our best-value online-access subscription
$29.99 per month
cancel any time
Subscribe to this journal
Receive 51 print issues and online access
$199.00 per year
only $3.90 per issue
Rent or buy this article
Get just this article for as long as you need it
$39.95
Prices may be subject to local taxes which are calculated during checkout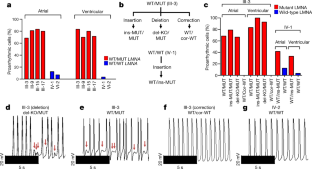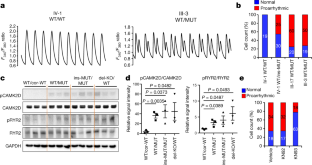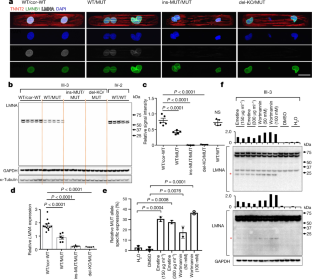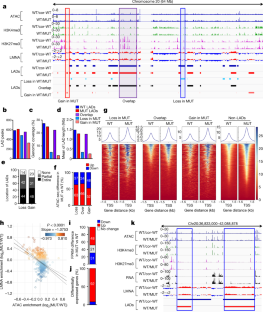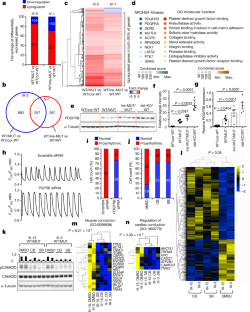 Data availability
Data are available from the Gene Expression Omnibus (GEO; GSE118885).
References
Carmosino, M. et al. Role of nuclear lamin A/C in cardiomyocyte functions. Biol. Cell 106, 346–358 (2014).

Fatkin, D. et al. Missense mutations in the rod domain of the lamin A/C gene as causes of dilated cardiomyopathy and conduction-system disease. N. Engl. J. Med. 341, 1715–1724 (1999).

Krohne, G. & Benavente, R. The nuclear lamins. Exp. Cell Res. 162, 1–10 (1986).

Hershberger, R. E. & Morales, A. in GeneReviews (eds Pagon, R. A. et al.) (University of Washington, 1993).

Hershberger, R. E., Hedges, D. J. & Morales, A. Dilated cardiomyopathy: the complexity of a diverse genetic architecture. Nat. Rev. Cardiol. 10, 531–547 (2013).

Tesson, F. et al. Lamin A/C mutations in dilated cardiomyopathy. Cardiol. J. 21, 331–342 (2014).

Diecke, S. et al. Novel codon-optimized mini-intronic plasmid for efficient, inexpensive, and xeno-free induction of pluripotency. Sci. Rep. 5, 8081 (2015).

Kodo, K. et al. iPSC-derived cardiomyocytes reveal abnormal TGF-β signalling in left ventricular non-compaction cardiomyopathy. Nat. Cell Biol. 18, 1031–1042 (2016).

Lee, J. et al. SETD7 drives cardiac lineage commitment through stage-specific transcriptional activation. Cell Stem Cell 22, 428–444 (2018).

Burridge, P. W. et al. Chemically defined generation of human cardiomyocytes. Nat. Methods 11, 855–860 (2014). 

Karakikes, I. et al. A comprehensive TALEN-based knockout library for generating human induced pluripotent stem cell-based models for cardiovascular diseases. Circ. Res. 120, 1561–1571 (2017).

Termglinchan, V., Seeger, T., Chen, C., Wu, J. C. & Karakikes, I. in Cardiac Gene Therapy (ed. Ishikawa, K.) 55–68 (Springer New York, 2017).

Bers, D. M. Calcium cycling and signaling in cardiac myocytes. Annu. Rev. Physiol. 70, 23–49 (2008).

Lan, F. et al. Abnormal calcium handling properties underlie familial hypertrophic cardiomyopathy pathology in patient-specific induced pluripotent stem cells. Cell Stem Cell 12, 101–113 (2013).

Itzhaki, I. et al. Modeling of catecholaminergic polymorphic ventricular tachycardia with patient-specific human-induced pluripotent stem cells. J. Am. Coll. Cardiol. 60, 990–1000 (2012).

Maizels, L. et al. Patient-specific drug screening using a human induced pluripotent stem cell model of catecholaminergic polymorphic ventricular tachycardia type 2. Circ Arrhythm Electrophysiol 10, e004725 (2017).

Bers, D. M. Cardiac sarcoplasmic reticulum calcium leak: basis and roles in cardiac dysfunction. Annu. Rev. Physiol. 76, 107–127 (2014).

Schreiber, K. H. & Kennedy, B. K. When lamins go bad: nuclear structure and disease. Cell 152, 1365–1375 (2013).

Kervestin, S. & Jacobson, A. NMD: a multifaceted response to premature translational termination. Nat. Rev. Mol. Cell Biol. 13, 700–712 (2012).

Seeger, T. et al. A premature termination codon mutation in MYBPC3 causes hypertrophic cardiomyopathy via chronic activation of nonsense-mediated decay. Circulation 139, 799–811 (2019).

Luperchio, T. R., Wong, X. & Reddy, K. L. Genome regulation at the peripheral zone: lamina associated domains in development and disease. Curr. Opin. Genet. Dev. 25, 50–61 (2014).

Guelen, L. et al. Domain organization of human chromosomes revealed by mapping of nuclear lamina interactions. Nature 453, 948–951 (2008).

Perovanovic, J. et al. Laminopathies disrupt epigenomic developmental programs and cell fate. Sci. Transl. Med. 8, 335ra58 (2016).

Kind, J. & van Steensel, B. Genome–nuclear lamina interactions and gene regulation. Curr. Opin. Cell Biol. 22, 320–325 (2010).

Chen, X. et al. ATAC-see reveals the accessible genome by transposase-mediated imaging and sequencing. Nat. Methods 13, 1013–1020 (2016).

Gesson, K. et al. A-type lamins bind both hetero- and euchromatin, the latter being regulated by lamina-associated polypeptide 2 alpha. Genome Res. 26, 462–473 (2016).

Rønningen, T. et al. Prepatterning of differentiation-driven nuclear lamin A/C-associated chromatin domains by GlcNAcylated histone H2B. Genome Res. 25, 1825–1835 (2015).

Poleshko, A. et al. Genome–nuclear lamina interactions regulate cardiac stem cell lineage restriction. Cell 171, 573–587 (2017).

Lachmann, A. et al. Massive mining of publicly available RNA-seq data from human and mouse. Nat. Commun. 9, 1366 (2018).

Andrae, J., Gallini, R. & Betsholtz, C. Role of platelet-derived growth factors in physiology and medicine. Genes Dev. 22, 1276–1312 (2008).

Tompkins, J. D. et al. Mapping human pluripotent-to-cardiomyocyte differentiation: methylomes, transcriptomes, and exon DNA methylation "memories". EBioMedicine 4, 74–85 (2016).

Uhlén, M. et al. Tissue-based map of the human proteome. Science 347, 1260419 (2015).

Chintalgattu, V. et al. Cardiomyocyte PDGFR-β signaling is an essential component of the mouse cardiac response to load-induced stress. J. Clin. Invest. 120, 472–484 (2010).

Mattout, A., Cabianca, D. S. & Gasser, S. M. Chromatin states and nuclear organization in development — a view from the nuclear lamina. Genome Biol. 16, 174 (2015).

Solovei, I. et al. LBR and lamin A/C sequentially tether peripheral heterochromatin and inversely regulate differentiation. Cell 152, 584–598 (2013).

Sharma, A. et al. High-throughput screening of tyrosine kinase inhibitor cardiotoxicity with human induced pluripotent stem cells. Sci. Transl. Med. 9, eaaf2584 (2017).

Lam, C. K. et al. Novel role of HAX-1 in ischemic injury protection involvement of heat shock protein 90. Circ. Res. 112, 79–89 (2013).

Greensmith, D. J. Ca analysis: an Excel based program for the analysis of intracellular calcium transients including multiple, simultaneous regression analysis. Comput. Methods Programs Biomed. 113, 241–250 (2014).

Lund, E., Oldenburg, A. R. & Collas, P. Enriched domain detector: a program for detection of wide genomic enrichment domains robust against local variations. Nucleic Acids Res. 42, e92 (2014).

Buenrostro, J. D., Giresi, P. G., Zaba, L. C., Chang, H. Y. & Greenleaf, W. J. Transposition of native chromatin for fast and sensitive epigenomic profiling of open chromatin, DNA-binding proteins and nucleosome position. Nat. Methods 10, 1213–1218 (2013).

Langmead, B. & Salzberg, S. L. Fast gapped-read alignment with Bowtie 2. Nat. Methods 9, 357–359 (2012).

Ramírez, F., Dündar, F., Diehl, S., Grüning, B. A. & Manke, T. deepTools: a flexible platform for exploring deep-sequencing data. Nucleic Acids Res. 42, W187–W191 (2014).

Huber, W. et al. Orchestrating high-throughput genomic analysis with Bioconductor. Nat. Methods 12, 115–121 (2015).

Lawrence, M. et al. Software for computing and annotating genomic ranges. PLOS Comput. Biol. 9, e1003118 (2013).
Acknowledgements
We thank members of the laboratory of D. M. Bers for providing the pRYR2 antibody, and S. A. Yi, K. H. Nam, G. A. Akgun, C. Chen and S. Zhang for their contribution. This research is supported by AHA 17MERIT33610009, NIH R01 HL128170, R01 HL113006, R01 HL130020, R01 HL132875, R01 HL141851, Leducq Foundation 18CVD05 (J.C.W.); R01 HL139679, R00 HL104002, AHA 17IRG33410532 (I.K.); Prince Mahidol Award Foundation (V.T.); NIH K99 HL133473 (H.W.); the German Research Foundation (T.S.); National Research Foundation of Korea 2012R1A5A2A28671860 and 2019R1C1C1010675 (J.L.); NIH F32 HL139045 (E.L.); CIRM GC1R-06673-A, R24 HL117756 (M.P.S.); and NIH P50 HG007735 and Howard Hughes Medical Institute (H.Y.C.)
Ethics declarations
Competing interests
H.Y.C. is a advisor to10x Genomics. Stanford University has filed a patent application on ATAC-see technology, in which H.Y.C. is named a co-inventor. J.C.W. is a co-founder of Khloris Biosciences but has no competing interests, as the work presented was performed independently.
Additional information
Publisher's note: Springer Nature remains neutral with regard to jurisdictional claims in published maps and institutional affiliations.
Extended data figures and tables
Supplementary information
This file contains Source Data Gels
About this article
Cite this article
Lee, J., Termglinchan, V., Diecke, S. et al. Activation of PDGF pathway links LMNA mutation to dilated cardiomyopathy. Nature 572, 335–340 (2019). https://doi.org/10.1038/s41586-019-1406-x
Received:

Accepted:

Published:

Issue Date:

DOI: https://doi.org/10.1038/s41586-019-1406-x
Comments
By submitting a comment you agree to abide by our Terms and Community Guidelines. If you find something abusive or that does not comply with our terms or guidelines please flag it as inappropriate.