Abstract
Parkinson's disease is a neurodegenerative disorder with motor symptoms linked to the loss of dopaminergic neurons in the substantia nigra compacta. Although the mechanisms that trigger the loss of dopaminergic neurons are unclear, mitochondrial dysfunction and inflammation are thought to have key roles1,2. An early-onset form of Parkinson's disease is associated with mutations in the PINK1 kinase and PRKN ubiquitin ligase genes3. PINK1 and Parkin (encoded by PRKN) are involved in the clearance of damaged mitochondria in cultured cells4, but recent evidence obtained using knockout and knockin mouse models have led to contradictory results regarding the contributions of PINK1 and Parkin to mitophagy in vivo5,6,7,8. It has previously been shown that PINK1 and Parkin have a key role in adaptive immunity by repressing presentation of mitochondrial antigens9, which suggests that autoimmune mechanisms participate in the aetiology of Parkinson's disease. Here we show that intestinal infection with Gram-negative bacteria in Pink1−/− mice engages mitochondrial antigen presentation and autoimmune mechanisms that elicit the establishment of cytotoxic mitochondria-specific CD8+ T cells in the periphery and in the brain. Notably, these mice show a sharp decrease in the density of dopaminergic axonal varicosities in the striatum and are affected by motor impairment that is reversed after treatment with l-DOPA. These data support the idea that PINK1 is a repressor of the immune system, and provide a pathophysiological model in which intestinal infection acts as a triggering event in Parkinson's disease, which highlights the relevance of the gut–brain axis in the disease10.
Your institute does not have access to this article
Relevant articles
Open Access articles citing this article.
Szu-Ju Chen

&

Chin-Hsien Lin

Journal of Biomedical Science Open Access 27 July 2022

G. Arena

,

K. Sharma

…

J. C. Fitzgerald

Current Neurology and Neuroscience Reports Open Access 08 June 2022

Sujith Pavan

,

Arvind N. Prabhu

…

Mamatha Ballal

Folia Microbiologica Open Access 18 May 2022
Access options
Subscribe to Nature+
Get immediate online access to the entire Nature family of 50+ journals
Subscribe to Journal
Get full journal access for 1 year
$199.00
only $3.90 per issue
All prices are NET prices.
VAT will be added later in the checkout.
Tax calculation will be finalised during checkout.
Buy article
Get time limited or full article access on ReadCube.
$32.00
All prices are NET prices.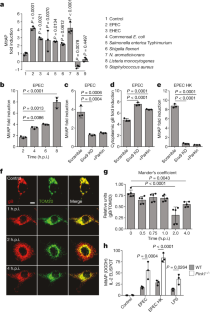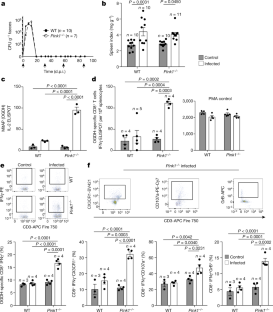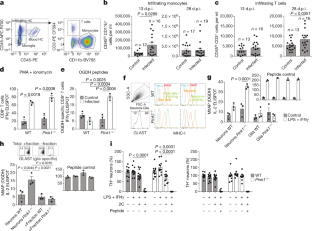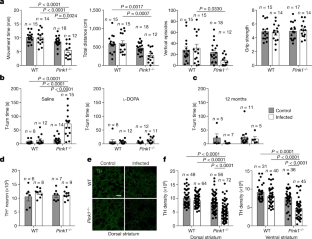 References
Johnson, M. E., Stecher, B., Labrie, V., Brundin, L. & Brundin, P. Triggers, facilitators, and aggravators: redefining parkinson's disease pathogenesis. Trends Neurosci. 42, 4–13 (2019).

Kannarkat, G. T., Boss, J. M. & Tansey, M. G. The role of innate and adaptive immunity in Parkinson's disease. J. Parkinsons Dis. 3, 493–514 (2013).

Farrer, M. J. Genetics of Parkinson disease: paradigm shifts and future prospects. Nat. Rev. Genet. 7, 306–318 (2006).

Narendra, D., Tanaka, A., Suen, D. F. & Youle, R. J. Parkin is recruited selectively to impaired mitochondria and promotes their autophagy. J. Cell Biol. 183, 795–803 (2008).

Allen, G. F., Toth, R., James, J. & Ganley, I. G. Loss of iron triggers PINK1/Parkin-independent mitophagy. EMBO Rep. 14, 1127–1135 (2013).

Kageyama, Y. et al. Parkin-independent mitophagy requires Drp1 and maintains the integrity of mammalian heart and brain. EMBO J. 33, 2798–2813 (2014).

McWilliams, T. G. et al. Phosphorylation of Parkin at serine 65 is essential for its activation in vivo. Open Biol. 8, https://doi.org/10.1098/rsob.180108 (2018).

McWilliams, T. G. et al. Basal mitophagy occurs independently of pink1 in mouse tissues of high metabolic demand. Cell Metab. 27, 439–449.e5 (2018).

Matheoud, D. et al. Parkinson's disease-related proteins PINK1 and Parkin repress mitochondrial antigen presentation. Cell 166, 314–327 (2016).

Houser, M. C. & Tansey, M. G. The gut-brain axis: is intestinal inflammation a silent driver of Parkinson's disease pathogenesis? NPJ Parkinsons Dis. 3, 3 (2017).

Oliveras-Salvá, M., Van Rompuy, A. S., Heeman, B., Van den Haute, C. & Baekelandt, V. Loss-of-function rodent models for parkin and PINK1. J. Parkinsons Dis. 1, 229–251 (2011).

Mueller, S. N., Jones, C. M., Smith, C. M., Heath, W. R. & Carbone, F. R. Rapid cytotoxic T lymphocyte activation occurs in the draining lymph nodes after cutaneous herpes simplex virus infection as a result of early antigen presentation and not the presence of virus. J. Exp. Med. 195, 651–656 (2002).

Tanaka, A., Leung, P. S. & Gershwin, M. E. Environmental basis of primary biliary cholangitis. Exp. Biol. Med. (Maywood) 243, 184–189 (2018).

Mundy, R., MacDonald, T. T., Dougan, G., Frankel, G. & Wiles, S. Citrobacter rodentium of mice and man. Cell. Microbiol. 7, 1697–1706 (2005).

Sliter, D. A. et al. Parkin and PINK1 mitigate STING-induced inflammation. Nature 561, 258–262 (2018).

Ghaem-Maghami, M. et al. Intimin-specific immune responses prevent bacterial colonization by the attaching-effacing pathogen Citrobacter rodentium. Infect. Immun. 69, 5597–5605 (2001).

Nishimura, M. et al. Dual functions of fractalkine/CX3C ligand 1 in trafficking of perforin+/granzyme B+ cytotoxic effector lymphocytes that are defined by CX3CR1 expression. J. Immunol. 168, 6173–6180 (2002).

Nishiyori, A. et al. Localization of fractalkine and CX3CR1 mRNAs in rat brain: does fractalkine play a role in signaling from neuron to microglia? FEBS Lett. 429, 167–172 (1998).

Cebrián, C. et al. MHC-I expression renders catecholaminergic neurons susceptible to T-cell-mediated degeneration. Nat. Commun. 5, 3633 (2014).

Kageyama, S. et al. Potent cytolytic response by a CD8+ CTL clone to multiple peptides from the same protein in association with an allogeneic class I MHC molecule. J. Immunol. 166, 3028–3034 (2001).

Dave, K. D. et al. Phenotypic characterization of recessive gene knockout rat models of Parkinson's disease. Neurobiol. Dis. 70, 190–203 (2014).

Matsuura, K., Kabuto, H., Makino, H. & Ogawa, N. Pole test is a useful method for evaluating the mouse movement disorder caused by striatal dopamine depletion. J. Neurosci. Methods 73, 45–48 (1997).

Kelm-Nelson, C. A. et al. Characterization of early-onset motor deficits in the Pink1 −/− mouse model of Parkinson disease. Brain Res. 1680, 1–12 (2018).

Kitada, T. et al. Impaired dopamine release and synaptic plasticity in the striatum of PINK1-deficient mice. Proc. Natl Acad. Sci. USA 104, 11441–11446 (2007).

Sommer, A. et al. Th17 lymphocytes induce neuronal cell death in a human iPSC-based model of Parkinson's disease. Cell Stem Cell. 23, 123–131.e6 (2018).

Sulzer, D. et al. T cells from patients with Parkinson's disease recognize α-synuclein peptides. Nature 546, 656–661 (2017).

Holmqvist, S. et al. Direct evidence of Parkinson pathology spread from the gastrointestinal tract to the brain in rats. Acta Neuropathol. 128, 805–820 (2014).

Fasano, C., Thibault, D. & Trudeau, L. E. Culture of postnatal mesencephalic dopamine neurons on an astrocyte monolayer. Curr. Protoc. Neurosci. 44, 3.21.1–3.21.19 (2008).

Gundersen, H. J. et al. The new stereological tools: disector, fractionator, nucleator and point sampled intercepts and their use in pathological research and diagnosis. APMIS 96, 857–881 (1988).

Dutz, J. P., Tsomides, T. J., Kageyama, S., Rasmussen, M. H. & Eisen, H. N. A cytotoxic T lymphocyte clone can recognize the same naturally occurring self peptide in association with a self and nonself class I MHC protein. Mol. Immunol. 31, 967–975 (1994).
Acknowledgements
M.D. and H.M.M. received a grant from the Michael J. Fox Foundation. The authors thank M. Guérin for technical support. L.-E.T. was supported by a grant from the Brain Canada Foundation, the Krembil Foundation, the CIHR (grant MOP106556), Parkinson Canada and the Henri and Berenice Kaufmann Foundation. A.-M.P. was supported by the Finnish Parkinson's Disease Foundation. C.D. was supported by a studentship from Parkinson Canada. S.G. was supported by CIHR grants (MOP 133580 and PJT-162406) and NSERC (RGPIN-2014-05119). T.C. was supported by studentships from CIHR and Healthy Brains for Healthy Lives initiative.
Ethics declarations
Competing interests
: The authors declare no competing interests.
Additional information
Publisher's note: Springer Nature remains neutral with regard to jurisdictional claims in published maps and institutional affiliations.
Extended data figures and tables
Supplementary information
About this article
Cite this article
Matheoud, D., Cannon, T., Voisin, A. et al. Intestinal infection triggers Parkinson's disease-like symptoms in Pink1−/− mice. Nature 571, 565–569 (2019). https://doi.org/10.1038/s41586-019-1405-y
Received:

Accepted:

Published:

Issue Date:

DOI: https://doi.org/10.1038/s41586-019-1405-y
Comments
By submitting a comment you agree to abide by our Terms and Community Guidelines. If you find something abusive or that does not comply with our terms or guidelines please flag it as inappropriate.