Abstract
Many genome-processing reactions, including transcription, replication and repair, generate DNA rotation. Methods that directly measure DNA rotation, such as rotor bead tracking1,2,3, angular optical trapping4 and magnetic tweezers5, have helped to unravel the action mechanisms of a range of genome-processing enzymes that includes RNA polymerase (RNAP)6, gyrase2, a viral DNA packaging motor7 and DNA recombination enzymes8. Despite the potential of rotation measurements to transform our understanding of genome-processing reactions, measuring DNA rotation remains a difficult task. The time resolution of existing methods is insufficient for tracking the rotation induced by many enzymes under physiological conditions, and the measurement throughput is typically low. Here we introduce origami-rotor-based imaging and tracking (ORBIT), a method that uses fluorescently labelled DNA origami rotors to track DNA rotation at the single-molecule level with a time resolution of milliseconds. We used ORBIT to track the DNA rotations that result from unwinding by the RecBCD complex, a helicase that is involved in DNA repair9, as well as from transcription by RNAP. We characterized a series of events that occur during RecBCD-induced DNA unwinding—including initiation, processive translocation, pausing and backtracking—and revealed an initiation mechanism that involves reversible ATP-independent DNA unwinding and engagement of the RecB motor. During transcription by RNAP, we directly observed rotational steps that correspond to the unwinding of single base pairs. We envisage that ORBIT will enable studies of a wide range of interactions between proteins and DNA.
This is a preview of subscription content
Access options
Subscribe to Nature+
Get immediate online access to the entire Nature family of 50+ journals
Subscribe to Journal
Get full journal access for 1 year
$199.00
only $3.90 per issue
All prices are NET prices.
VAT will be added later in the checkout.
Tax calculation will be finalised during checkout.
Buy article
Get time limited or full article access on ReadCube.
$32.00
All prices are NET prices.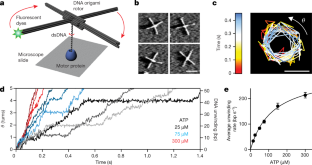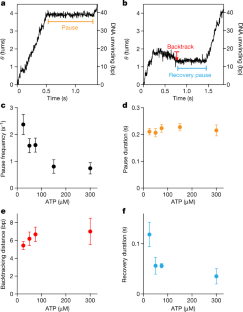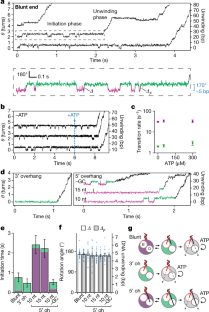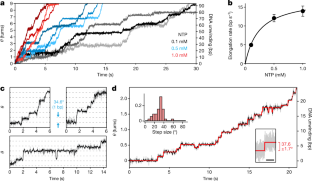 Data availability
The data that support the findings of this study are available from the corresponding author upon reasonable request.
References
Bryant, Z. et al. Structural transitions and elasticity from torque measurements on DNA. Nature 424, 338–341 (2003).

Gore, J. et al. Mechanochemical analysis of DNA gyrase using rotor bead tracking. Nature 439, 100–104 (2006).

Lebel, P., Basu, A., Oberstrass, F. C., Tretter, E. M. & Bryant, Z. Gold rotor bead tracking for high-speed measurements of DNA twist, torque and extension. Nat. Methods 11, 456–462 (2014).

Deufel, C., Forth, S., Simmons, C. R., Dejgosha, S. & Wang, M. D. Nanofabricated quartz cylinders for angular trapping: DNA supercoiling torque detection. Nat. Methods 4, 223–225 (2007).

Lipfert, J., van Oene, M. M., Lee, M., Pedaci, F. & Dekker, N. H. Torque spectroscopy for the study of rotary motion in biological systems. Chem. Rev. 115, 1449–1474 (2015).

Harada, Y. et al. Direct observation of DNA rotation during transcription by Escherichia coli RNA polymerase. Nature 409, 113–115 (2001).

Liu, S. et al. A viral packaging motor varies its DNA rotation and step size to preserve subunit coordination as the capsid fills. Cell 157, 702–713 (2014).

Lipfert, J., Wiggin, M., Kerssemakers, J. W. J., Pedaci, F. & Dekker, N. H. Freely orbiting magnetic tweezers to directly monitor changes in the twist of nucleic acids. Nat. Commun. 2, 439 (2011).

Dillingham, M. S. & Kowalczykowski, S. C. RecBCD enzyme and the repair of double-stranded DNA breaks. Microbiol. Mol. Biol. Rev. 72, 642–671 (2008).

Rothemund, P. W. K. Folding DNA to create nanoscale shapes and patterns. Nature 440, 297–302 (2006).

Douglas, S. M. et al. Self-assembly of DNA into nanoscale three-dimensional shapes. Nature 459, 414–418 (2009).

Nomidis, S. K., Kriegel, F., Vanderlinden, W., Lipfert, J. & Carlon, E. Twist-bend coupling and the torsional response of double-stranded DNA. Phys. Rev. Lett. 118, 217801 (2017).

Roman, L. J. & Kowalczykowski, S. C. Characterization of the helicase activity of the Escherichia coli RecBCD enzyme using a novel helicase assay. Biochemistry 28, 2863–2873 (1989).

Bianco, P. R. et al. Processive translocation and DNA unwinding by individual RecBCD enzyme molecules. Nature 409, 374–378 (2001).

Dohoney, K. M. & Gelles, J. Chi-sequence recognition and DNA translocation by single RecBCD helicase/nuclease molecules. Nature 409, 370–374 (2001).

Perkins, T. T., Li, H.-W., Dalal, R. V., Gelles, J. & Block, S. M. Forward and reverse motion of single RecBCD molecules on DNA. Biophys. J. 86, 1640–1648 (2004).

Liu, B., Baskin, R. J. & Kowalczykowski, S. C. DNA unwinding heterogeneity by RecBCD results from static molecules able to equilibrate. Nature 500, 482–485 (2013).

Saikrishnan, K., Griffiths, S. P., Cook, N., Court, R. & Wigley, D. B. DNA binding to RecD: role of the 1B domain in SF1B helicase activity. EMBO J. 27, 2222–2229 (2008).

Farah, J. A. & Smith, G. R. The RecBCD enzyme initiation complex for DNA unwinding: enzyme positioning and DNA opening. J. Mol. Biol. 272, 699–715 (1997).

von Hippel, P. H., Johnson, N. P. & Marcus, A. H. Fifty years of DNA "breathing": reflections on old and new approaches. Biopolymers 99, 923–954 (2013).

Wu, C. G. & Lohman, T. M. Influence of DNA end structure on the mechanism of initiation of DNA unwinding by the Escherichia coli RecBCD and RecBC helicases. J. Mol. Biol. 382, 312–326 (2008).

Carter, A. R. et al. Sequence-dependent nanometer-scale conformational dynamics of individual RecBCD–DNA complexes. Nucleic Acids Res. 44, 5849–5860 (2016).

Dillingham, M. S., Webb, M. R. & Kowalczykowski, S. C. Bipolar DNA translocation contributes to highly processive DNA unwinding by RecBCD enzyme. J. Biol. Chem. 280, 37069–37077 (2005).

Forde, N. R., Izhaky, D., Woodcock, G. R., Wuite, G. J. L. & Bustamante, C. Using mechanical force to probe the mechanism of pausing and arrest during continuous elongation by Escherichia coli RNA polymerase. Proc. Natl Acad. Sci. USA 99, 11682–11687 (2002).

Adelman, K. et al. Single molecule analysis of RNA polymerase elongation reveals uniform kinetic behavior. Proc. Natl Acad. Sci. USA 99, 13538–13543 (2002).

Neuman, K. C., Abbondanzieri, E. A., Landick, R., Gelles, J. & Block, S. M. Ubiquitous transcriptional pausing is independent of RNA polymerase backtracking. Cell 115, 437–447 (2003).

Abbondanzieri, E. A., Greenleaf, W. J., Shaevitz, J. W., Landick, R. & Block, S. M. Direct observation of base-pair stepping by RNA polymerase. Nature 438, 460–465 (2005).

Righini, M. et al. Full molecular trajectories of RNA polymerase at single base-pair resolution. Proc. Natl Acad. Sci. USA 115, 1286–1291 (2018).

Kabsch, W., Sander, C. & Trifonov, E. N. The ten helical twist angles of B-DNA. Nucleic Acids Res. 10, 1097–1104 (1982).

Kopperger, E. et al. A self-assembled nanoscale robotic arm controlled by electric fields. Science 359, 296–301 (2018).
Acknowledgements
This work was supported in part by the National Institutes of Health. B.D.A. was supported by a National Institutes of Health Training Grant for the Graduate Program in Biophysics at Harvard University and a National Science Foundation Graduate Research Fellowship. M.D. was supported by a Howard Hughes Medical Institute International Student Research Fellowship. X.Z. is a Howard Hughes Medical Institute Investigator.
Ethics declarations
Competing interests
The authors declare no competing interests.
Additional information
Publisher's note: Springer Nature remains neutral with regard to jurisdictional claims in published maps and institutional affiliations.
Extended data figures and tables
Supplementary information
About this article
Cite this article
Kosuri, P., Altheimer, B.D., Dai, M. et al. Rotation tracking of genome-processing enzymes using DNA origami rotors. Nature 572, 136–140 (2019). https://doi.org/10.1038/s41586-019-1397-7
Received:

Accepted:

Published:

Issue Date:

DOI: https://doi.org/10.1038/s41586-019-1397-7
Comments
By submitting a comment you agree to abide by our Terms and Community Guidelines. If you find something abusive or that does not comply with our terms or guidelines please flag it as inappropriate.