Abstract
The biophysical relationships between sensors and actuators1,2,3,4,5 have been fundamental to the development of complex life forms. Swimming organisms generate abundant flows that persist in aquatic environments6,7,8,9,10,11,12,13, and responding promptly to external stimuli is key to survival14,15,16,17,18,19. Here we present the discovery of 'hydrodynamic trigger waves' in cellular communities of the protist Spirostomum ambiguum that propagate—in a manner similar to a chain reaction20,21,22—hundreds of times faster than their swimming speed. By coiling its cytoskeleton, Spirostomum can contract its long body by 60% within milliseconds23, experiencing accelerations that can reach forces of 14g. We show that a single cellular contraction (the transmitter) generates long-ranged vortex flows at intermediate Reynolds numbers that can, in turn, trigger neighbouring cells (the receivers). To measure the sensitivity to hydrodynamic signals in these receiver cells, we present a high-throughput suction–flow device for probing mechanosensitive ion channels24 by back-calculating the microscopic forces on the cell membrane. We analyse and quantitatively model the ultra-fast hydrodynamic trigger waves in a universal framework of antenna and percolation theory25,26, and reveal a phase transition that requires a critical colony density to sustain collective communication. Our results suggest that this signalling could help to organize cohabiting communities over large distances and influence long-term behaviour through gene expression (comparable to quorum sensing16). In more immediate terms, because contractions release toxins27, synchronized discharges could facilitate the repulsion of large predators or immobilize large prey. We postulate that numerous aquatic organisms other than protists could coordinate their behaviour using variations of hydrodynamic trigger waves.
Relevant articles
Open Access articles citing this article.
Francisca Guzmán-Lastra

,

Hartmut Löwen

&

Arnold J. T. M. Mathijssen

Nature Communications Open Access 26 March 2021

Ariel Norambuena

,

Felipe J. Valencia

&

Francisca Guzmán-Lastra

Scientific Reports Open Access 30 November 2020

Daisuke Takagi

&

J. Rudi Strickler

Scientific Reports Open Access 14 February 2020
Access options
Subscribe to Nature+
Get immediate online access to Nature and 55 other Nature journal
Subscribe to Journal
Get full journal access for 1 year
$199.00
only $3.90 per issue
All prices are NET prices.
VAT will be added later in the checkout.
Tax calculation will be finalised during checkout.
Buy article
Get time limited or full article access on ReadCube.
$32.00
All prices are NET prices.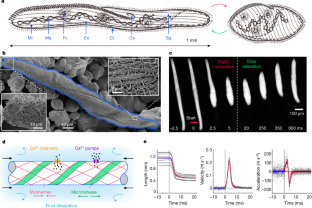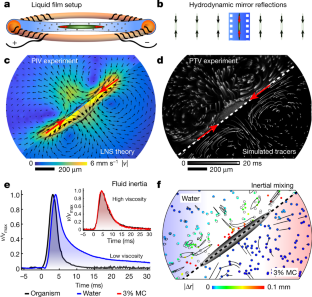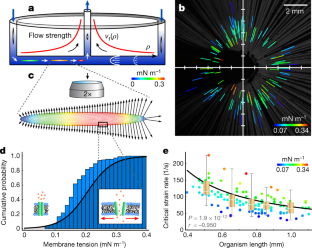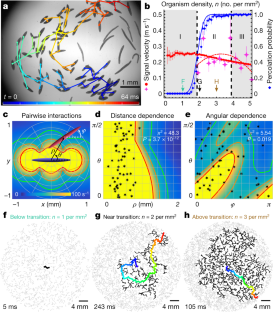 Data availability
The data that support the plots within this paper and other findings of this study are available from the corresponding authors upon request.
Code availability
The computer codes used in this paper are available from the corresponding authors upon request.
References
Weis-Fogh, T. & Amos, W. B. Evidence for a new mechanism of cell motility. Nature 236, 301–304 (1972).

Mahadevan, L. & Matsudaira, P. Motility powered by supramolecular springs and ratchets. Science 288, 95–99 (2000).

Ryu, S., Pepper, R., Nagai, M. & France, D. Vorticella: a protozoan for bio-inspired engineering. Micromachines 8, 4 (2016).

Ilton, M. et al. The principles of cascading power limits in small, fast biological and engineered systems. Science 360, eaao1082 (2018).

Marshall, W. F. Origins of cellular geometry. BMC Biol. 9, 57 (2011).

Purcell, E. M. Life at low Reynolds number. Am. J. Phys. 45, 3 (1977).

Lauga, E. & Powers, T. R. The hydrodynamics of swimming microorganisms. Rep. Prog. Phys. 72, 096601 (2009).

Koch, D. L. & Subramanian, G. Collective hydrodynamics of swimming microorganisms: living fluids. Annu. Rev. Fluid Mech. 43, 637–659 (2011).

Marchetti, M. et al. Hydrodynamics of soft active matter. Rev. Mod. Phys. 85, 1143 (2013).

Elgeti, J., Winkler, R. G. & Gompper, G. Physics of microswimmers—single particle motion and collective behavior: a review. Rep. Prog. Phys. 78, 056601 (2015).

Bechinger, C. et al. Active particles in complex and crowded environments. Rev. Mod. Phys. 88, 045006 (2016).

Winkler, R. G. Low Reynolds number hydrodynamics and mesoscale simulations. Eur. Phys. J. Spec. Top. 225, 2079–2097 (2016).

Mathijssen, A. J. T. M., Doostmohammadi, A., Yeomans, J. M. & Shendruk, T. N. Hydrodynamics of micro-swimmers in films. Fluid Mech. 806, 35–70 (2016).

Latz, M. I. et al. Bioluminescent response of individual dinoflagellate cells to hydrodynamic stress measured with millisecond resolution in a microfluidic device. J. Exp. Biol. 211, 2865–2875 (2008).

Kiørboe, T., Andersen, A., Langlois, V. J., Jakobsen, H. H. & Bohr, T. Mechanisms and feasibility of prey capture in ambush-feeding zooplankton. Proc. Natl Acad. Sci. USA 106, 12394–12399 (2009).

Kim, M. K., Ingremeau, F., Zhao, A., Bassler, B. L. & Stone, H. A. Local and global consequences of flow on bacterial quorum sensing. Nat. Microbiol. 1, 15005 (2016).

Rodesney, C. A. et al. Mechanosensing of shear by Pseudomonas aeruginosa leads to increased levels of the cyclic-di-GMP signal initiating biofilm development. Proc. Natl Acad. Sci. USA 114, 5906–5911 (2017).

Ohmura, T. et al. Simple mechanosense and response of cilia motion reveal the intrinsic habits of ciliates. Proc. Natl Acad. Sci. USA 115, 3231–3236 (2018).

Wan, K. Y. & Goldstein, R. E. Time irreversibility and criticality in the motility of a flagellate microorganism. Phys. Rev. Lett. 121, 058103 (2018).

Tyson, J. J. & Keener, J. P. Singular perturbation theory of traveling waves in excitable media (a review). Physica D 32, 327–361 (1988).

Prindle, A. et al. Ion channels enable electrical communication in bacterial communities. Nature 527, 59–63 (2015).

Gelens, L., Anderson, G. A. & Ferrell, J. E. Jr. Spatial trigger waves: positive feedback gets you a long way. Mol. Biol. Cell 25, 3486–3493 (2014).

Hawkes, R. B. & Holberton, D. V. Myonemal contraction of Spirostomum. I. Kinetics of contraction and relaxation. J. Cell. Physiol. 84, 225–235 (1974).

Phillips, R., Kondev, J., Theriot, J. & Garcia, H. Physical Biology of the Cell (Garland Science, 2012).

Xia, W. & Thorpe, M. F. Percolation properties of random ellipses. Phys. Rev. A Gen. Phys. 38, 2650–2656 (1988).

Takeuchi, K. A., Kuroda, M., Chaté, H. & Sano, M. Directed percolation criticality in turbulent liquid crystals. Phys. Rev. Lett. 99, 234503 (2007).

Buonanno, F., Guella, G., Strim, C. & Ortenzi, C. Chemical defence by mono-prenyl hydroquinone in a freshwater ciliate, Spirostomum ambiguum. Hydrobiologia 684, 97–107 (2012).

Verchot-Lubicz, J. & Goldstein, R. E. Cytoplasmic streaming enables the distribution of molecules and vesicles in large plant cells. Protoplasma 240, 99–107 (2010).

Nüchter, T., Benoit, M., Engel, U., Ozbek, S. & Holstein, T. W. Nanosecond-scale kinetics of nematocyst discharge. Curr. Biol. 16, R316–R318 (2006).

Hawking, S. W. A Brief History of Time (Bantam Books, 1988).

Cortez, R., Fauci, L. & Medovikov, A. The method of regularized Stokeslets in three dimensions: analysis, validation, and application to helical swimming. Phys. Fluids 17, 031504 (2005).

K. Hausmann, Food acquisition, food ingestion and food digestion by protists. Jpn. J. Protozool. 35, 85–95 (2002).

Hines, H. N., Onsbring, H., Ettema, T. J. G. & Esteban, G. F. Molecular investigation of the ciliate Spirostomum semivirescens, with first transcriptome and new geographical records. Protist 169, 875–886 (2018).

Hamilton, T. C., Thompson, J. M. & Eisenstein, E. M. Quantitative analysis of ciliary and contractile responses during habituation training in Spirostomum ambiguum. Behav. Biol. 12, 393–407 (1974).
Acknowledgements
We thank S. Coyle and D. Krishnamurthy and all members of the Prakash Laboratory for discussions. A.J.T.M.M. acknowledges funding from the Human Frontier Science Program (Fellowship LT001670/2017). This work was supported by NSF CCC grant (DBI-1548297) (M.P.), US Army Research Office grant (W911NF-15-1-0358) (M.P.), CZI BioHub Investigator Program (M.P.), the Howard Hughes Medical Institute (M.P.) and NSF grant (award number 1817334) (M.S.B.). We thank M. Gruber for the scientific illustration of S. ambiguum shown in Fig. 1a.
Ethics declarations
Competing interests
The authors declare no competing interests.
Additional information
Publisher's note: Springer Nature remains neutral with regard to jurisdictional claims in published maps and institutional affiliations.
Extended data figures and tables
Supplementary information
About this article
Cite this article
Mathijssen, A.J.T.M., Culver, J., Bhamla, M.S. et al. Collective intercellular communication through ultra-fast hydrodynamic trigger waves. Nature 571, 560–564 (2019). https://doi.org/10.1038/s41586-019-1387-9
Received:

Accepted:

Published:

Issue Date:

DOI: https://doi.org/10.1038/s41586-019-1387-9
Comments
By submitting a comment you agree to abide by our Terms and Community Guidelines. If you find something abusive or that does not comply with our terms or guidelines please flag it as inappropriate.