Abstract
Ascidian embryos highlight the importance of cell lineages in animal development. As simple proto-vertebrates, they also provide insights into the evolutionary origins of cell types such as cranial placodes and neural crest cells. Here we have determined single-cell transcriptomes for more than 90,000 cells that span the entirety of development—from the onset of gastrulation to swimming tadpoles—in Ciona intestinalis. Owing to the small numbers of cells in ascidian embryos, this represents an average of over 12-fold coverage for every cell at every stage of development. We used single-cell transcriptome trajectories to construct virtual cell-lineage maps and provisional gene networks for 41 neural subtypes that comprise the larval nervous system. We summarize several applications of these datasets, including annotating the synaptome of swimming tadpoles and tracing the evolutionary origin of cell types such as the vertebrate telencephalon.
Your institute does not have access to this article
Relevant articles
Open Access articles citing this article.
Yuan Liao

,

Lifeng Ma

…

Xiaoping Han

Nature Communications Open Access 25 July 2022

Duc Tran

,

Bang Tran

…

Tin Nguyen

Scientific Reports Open Access 17 February 2022

Kushal Kolar

,

Daniel Dondorp

…

Marios Chatzigeorgiou

Nature Communications Open Access 12 November 2021
Access options
Subscribe to Nature+
Get immediate online access to the entire Nature family of 50+ journals
Subscribe to Journal
Get full journal access for 1 year
$199.00
only $3.90 per issue
All prices are NET prices.
VAT will be added later in the checkout.
Tax calculation will be finalised during checkout.
Buy article
Get time limited or full article access on ReadCube.
$32.00
All prices are NET prices.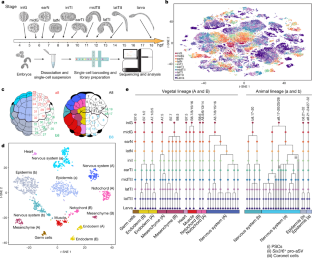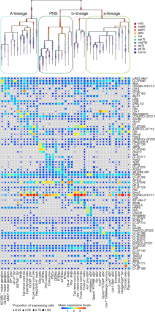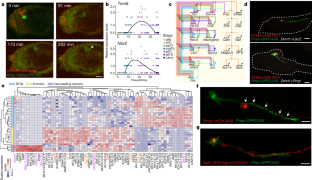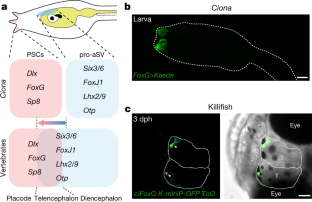 References
Briggs, J. A. et al. The dynamics of gene expression in vertebrate embryogenesis at single-cell resolution. Science 360, eaar5780 (2018).

Farrell, J. A. et al. Single-cell reconstruction of developmental trajectories during zebrafish embryogenesis. Science 360, eaar3131 (2018).

Wagner, D. E. et al. Single-cell mapping of gene expression landscapes and lineage in the zebrafish embryo. Science 360, 981–987 (2018).

Pijuan-Sala, B. et al. A single-cell molecular map of mouse gastrulation and early organogenesis. Nature 566, 490–495 (2019).

Cao, J. et al. The single-cell transcriptional landscape of mammalian organogenesis. Nature 566, 496–502 (2019).

Delsuc, F., Brinkmann, H., Chourrout, D. & Philippe, H. Tunicates and not cephalochordates are the closest living relatives of vertebrates. Nature 439, 965–968 (2006).

Imai, K. S., Levine, M., Satoh, N. & Satou, Y. Regulatory blueprint for a chordate embryo. Science 312, 1183–1187 (2006).

Ryan, K., Lu, Z. & Meinertzhagen, I. A. The CNS connectome of a tadpole larva of Ciona intestinalis (L.) highlights sidedness in the brain of a chordate sibling. eLife 5, e16962 (2016).

Prodon, F., Yamada, L., Shirae-Kurabayashi, M., Nakamura, Y. & Sasakura, Y. Postplasmic/PEM RNAs: a class of localized maternal mRNAs with multiple roles in cell polarity and development in ascidian embryos. Dev. Dyn. 236, 1698–1715 (2007).

Corbo, J. C., Levine, M. & Zeller, R. W. Characterization of a notochord-specific enhancer from the Brachyury promoter region of the ascidian, Ciona intestinalis. Development 124, 589–602 (1997).

Tokuoka, M., Imai, K. S., Satou, Y. & Satoh, N. Three distinct lineages of mesenchymal cells in Ciona intestinalis embryos demonstrated by specific gene expression. Dev. Biol. 274, 211–224 (2004).

Nishida, H. Cell lineage analysis in ascidian embryos by intracellular injection of a tracer enzyme. III. Up to the tissue restricted stage. Dev. Biol. 121, 526–541 (1987).

Nakazawa, K. et al. Formation of the digestive tract in Ciona intestinalis includes two distinct morphogenic processes between its anterior and posterior parts. Dev. Dyn. 242, 1172–1183 (2013).

Veeman, M. T., Newman-Smith, E., El-Nachef, D. & Smith, W. C. The ascidian mouth opening is derived from the anterior neuropore: reassessing the mouth/neural tube relationship in chordate evolution. Dev. Biol. 344, 138–149 (2010).

Stemple, D. L. Structure and function of the notochord: an essential organ for chordate development. Development 132, 2503–2512 (2005).

Suzuki, M. M. & Satoh, N. Genes expressed in the amphioxus notochord revealed by EST analysis. Dev. Biol. 224, 168–177 (2000).

Yagi, K., Satou, Y. & Satoh, N. A zinc finger transcription factor, ZicL, is a direct activator of Brachyury in the notochord specification of Ciona intestinalis. Development 131, 1279–1288 (2004).

Hudson, C. & Yasuo, H. A signalling relay involving Nodal and Delta ligands acts during secondary notochord induction in Ciona embryos. Development 133, 2855–2864 (2006).

Yagi, K., Takatori, N., Satou, Y. & Satoh, N. Ci-Tbx6b and Ci-Tbx6c are key mediators of the maternal effect gene Ci-macho1 in muscle cell differentiation in Ciona intestinalis embryos. Dev. Biol. 282, 535–549 (2005).

Takahashi, H. et al. Brachyury downstream notochord differentiation in the ascidian embryo. Genes Dev. 13, 1519–1523 (1999).

Horie, T. et al. Regulatory cocktail for dopaminergic neurons in a protovertebrate identified by whole-embryo single-cell transcriptomics. Genes Dev. 32, 1297–1302 (2018).

Stolfi, A., Ryan, K., Meinertzhagen, I. A. & Christiaen, L. Migratory neuronal progenitors arise from the neural plate borders in tunicates. Nature 527, 371–374 (2015).

Shi, T. J. et al. Sensory neuronal phenotype in galanin receptor 2 knockout mice: focus on dorsal root ganglion neurone development and pain behaviour. Eur. J. Neurosci. 23, 627–636 (2006).

Holmes, F. E. et al. Targeted disruption of the galanin gene reduces the number of sensory neurons and their regenerative capacity. Proc. Natl Acad. Sci. USA 97, 11563–11568 (2000).

Ryan, K., Lu, Z. & Meinertzhagen, I. A. Circuit homology between decussating pathways in the Ciona larval CNS and the vertebrate startle-response pathway. Curr. Biol. 27, 721–728 (2017).

Korn, H. & Faber, D. S. The Mauthner cell half a century later: a neurobiological model for decision-making? Neuron 47, 13–28 (2005).

Stolfi, A. & Levine, M. Neuronal subtype specification in the spinal cord of a protovertebrate. Development 138, 995–1004 (2011).

Hamada, M. et al. Expression of neuropeptide- and hormone-encoding genes in the Ciona intestinalis larval brain. Dev. Biol. 352, 202–214 (2011).

Ryan, K., Lu, Z. & Meinertzhagen, I. A. The peripheral nervous system of the ascidian tadpole larva: types of neurons and their synaptic networks. J. Comp. Neurol. 526, 583–608 (2018).

Imai, J. H. & Meinertzhagen, I. A. Neurons of the ascidian larval nervous system in Ciona intestinalis: I. Central nervous system. J. Comp. Neurol. 501, 316–334 (2007).

Takamura, K., Minamida, N. & Okabe, S. Neural map of the larval central nervous system in the ascidian Ciona intestinalis. Zool. Sci. 27, 191–203 (2010).

Hekimi, S. & Kershaw, D. Axonal guidance defects in a Caenorhabditis elegans mutant reveal cell-extrinsic determinants of neuronal morphology. J. Neurosci. 13, 4254–4271 (1993).

Winkle, C. C. et al. Trim9 deletion alters the morphogenesis of developing and adult-born hippocampal neurons and impairs spatial learning and memory. J. Neurosci. 36, 4940–4958 (2016).

Abitua, P. B. et al. The pre-vertebrate origins of neurogenic placodes. Nature 524, 462–465 (2015).

Abitua, P. B., Wagner, E., Navarrete, I. A. & Levine, M. Identification of a rudimentary neural crest in a non-vertebrate chordate. Nature 492, 104–107 (2012).

Stolfi, A. et al. Early chordate origins of the vertebrate second heart field. Science 329, 565–568 (2010).

Horie, R. et al. Shared evolutionary origin of vertebrate neural crest and cranial placodes. Nature 560, 228–232 (2018).

Zeng, F. et al. Papillae revisited and the nature of the adhesive secreting collocytes. Dev. Biol. 448, 183–198 (2019).

Hébert, J. M. & Fishell, G. The genetics of early telencephalon patterning: some assembly required. Nat. Rev. Neurosci. 9, 678–685 (2008).

Zembrzycki, A., Griesel, G., Stoykova, A. & Mansouri, A. Genetic interplay between the transcription factors Sp8 and Emx2 in the patterning of the forebrain. Neural Dev. 2, 8 (2007).

Jacquet, B. V. et al. Specification of a Foxj1-dependent lineage in the forebrain is required for embryonic-to-postnatal transition of neurogenesis in the olfactory bulb. J. Neurosci. 31, 9368–9382 (2011).

Carlin, D. et al. Six3 cooperates with Hedgehog signaling to specify ventral telencephalon by promoting early expression of Foxg1a and repressing Wnt signaling. Development 139, 2614–2624 (2012).

Zhong, S. et al. A single-cell RNA-seq survey of the developmental landscape of the human prefrontal cortex. Nature 555, 524–528 (2018).

Christiaen, L., Wagner, E., Shi, W. & Levine, M. Isolation of sea squirt (Ciona) gametes, fertilization, dechorionation, and development. Cold Spring Harb. Protoc. 2009, pdb.prot5344, (2009).

Hotta, K. et al. A web-based interactive developmental table for the ascidian Ciona intestinalis, including 3D real-image embryo reconstructions: I. From fertilized egg to hatching larva. Dev. Dyn. 236, 1790–1805 (2007).

Satou, Y., Kawashima, T., Shoguchi, E., Nakayama, A. & Satoh, N. An integrated database of the ascidian, Ciona intestinalis: towards functional genomics. Zool. Sci. 22, 837–843 (2005).

Butler, A., Hoffman, P., Smibert, P., Papalexi, E. & Satija, R. Integrating single-cell transcriptomic data across different conditions, technologies, and species. Nat. Biotechnol. 36, 411–420 (2018).

Linderman, G. C., Rachh, M., Hoskins, J. G., Steinerberger, S. & Kluger, Y. Fast interpolation-based t-SNE for improved visualization of single-cell RNA-seq data. Nat. Methods 16, 243–245 (2019).

Qiu, X. et al. Reversed graph embedding resolves complex single-cell trajectories. Nat. Methods 14, 979–982 (2017).

Haghverdi, L., Buettner, F. & Theis, F. J. Diffusion maps for high-dimensional single-cell analysis of differentiation data. Bioinformatics 31, 2989–2998 (2015).

Frith, M. C., Li, M. C. & Weng, Z. Cluster-Buster: finding dense clusters of motifs in DNA sequences. Nucleic Acids Res. 31, 3666–3668 (2003).

Khan, A. et al. JASPAR 2018: update of the open-access database of transcription factor binding profiles and its web framework. Nucleic Acids Res. 46, D1284 (2018).

Love, M. I., Huber, W. & Anders, S. Moderated estimation of fold change and dispersion for RNA-seq data with DESeq2. Genome Biol. 15, 550 (2014).

Wagner, E. & Levine, M. FGF signaling establishes the anterior border of the Ciona neural tube. Development 139, 2351–2359 (2012).

Yoshida, R. et al. Identification of neuron-specific promoters in Ciona intestinalis. Genesis 39, 130–140 (2004).

Shaner, N. C. et al. Improving the photostability of bright monomeric orange and red fluorescent proteins. Nat. Methods 5, 545–551 (2008).

Stauffer, T. P., Ahn, S. & Meyer, T. Receptor-induced transient reduction in plasma membrane PtdIns(4,5)P2 concentration monitored in living cells. Curr. Biol. 8, 343–346 (1998).

Shaner, N. C. et al. A bright monomeric green fluorescent protein derived from Branchiostoma lanceolatum. Nat. Methods 10, 407–409 (2013).

Gregory, C. & Veeman, M. 3D-printed microwell arrays for Ciona microinjection and timelapse imaging. PLoS ONE 8, e82307 (2013).

Schindelin, J. et al. Fiji: an open-source platform for biological-image analysis. Nat. Methods 9, 676–682 (2012).

R Core Team. R: A Language and Environment for Statistical Computing (R Foundation for Statistical Computing, 2013).
Acknowledgements
We thank J. B. Wiggins, J. M. Miller and the Genomics Core Facility for technical support of 10x Chromium platform; IT and Bioinformatics staff at the Lewis-Sigler Institute for Integrative Genomics (LSI) for development of the sequence alignment pipeline; E. G. Gatzogiannis (director of the LSI Imaging Core Facility) for building the two-photon microscope and help with imaging; the Shvartsman laboratory in LSI for Imaris access; A. Sánchez Alvarado at SIMR for providing laboratory support and resources; and members of the Levine Laboratory for helpful discussions, and especially N. Treen for suggesting mNeonGreen as fluorescent reporter. This study was supported by a grant from the NIH (NS076542) to M.L. W.W. (SIMR) was funded by the Stowers Institute.
Ethics declarations
Competing interests
The authors declare no competing interests.
Additional information
Publisher's note: Springer Nature remains neutral with regard to jurisdictional claims in published maps and institutional affiliations.
Extended data figures and tables
Supplementary information
About this article
Cite this article
Cao, C., Lemaire, L.A., Wang, W. et al. Comprehensive single-cell transcriptome lineages of a proto-vertebrate. Nature 571, 349–354 (2019). https://doi.org/10.1038/s41586-019-1385-y
Received:

Accepted:

Published:

Issue Date:

DOI: https://doi.org/10.1038/s41586-019-1385-y
Comments
By submitting a comment you agree to abide by our Terms and Community Guidelines. If you find something abusive or that does not comply with our terms or guidelines please flag it as inappropriate.