Abstract
N6-methyladenosine (m6A) is the most prevalent modified nucleotide in mRNA1,2, with around 25% of mRNAs containing at least one m6A. Methylation of mRNA to form m6A is required for diverse cellular and physiological processes3. Although the presence of m6A in an mRNA can affect its fate in different ways, it is unclear how m6A directs this process and why the effects of m6A can vary in different cellular contexts. Here we show that the cytosolic m6A-binding proteins—YTHDF1, YTHDF2 and YTHDF3—undergo liquid–liquid phase separation in vitro and in cells. This phase separation is markedly enhanced by mRNAs that contain multiple, but not single, m6A residues. Polymethylated mRNAs act as a multivalent scaffold for the binding of YTHDF proteins, juxtaposing their low-complexity domains and thereby leading to phase separation. The resulting mRNA–YTHDF complexes then partition into different endogenous phase-separated compartments, such as P-bodies, stress granules or neuronal RNA granules. m6A-mRNA is subject to compartment-specific regulation, including a reduction in the stability and translation of mRNA. These studies reveal that the number and distribution of m6A sites in cellular mRNAs can regulate and influence the composition of the phase-separated transcriptome, and suggest that the cellular properties of m6A-modified mRNAs are governed by liquid–liquid phase separation principles.
Access options
Access options
Subscribe to Journal
Get full journal access for 1 year
$199.00
only $3.90 per issue
All prices are NET prices.
VAT will be added later in the checkout.
Rent or Buy article
Get time limited or full article access on ReadCube.
from$8.99
All prices are NET prices.
Data availability
The RNA sequencing (Fig. 4e, Extended Data Fig. 5a) and ribosome profiling (Fig. 4f, g, Extended Data Fig. 5b, d) data reported in this paper have been deposited in the NCBI Gene Expression Omnibus under accession number GSE125725. All other data are available from the corresponding author upon reasonable request.
Ethics declarations
Competing interests
S.R.J. is scientific founder of, advisor to, and owns equity in Gotham Therapeutics.
Additional information
Publisher's note: Springer Nature remains neutral with regard to jurisdictional claims in published maps and institutional affiliations.
References
1.

Perry, R. P. & Kelley, D. E. Existence of methylated messenger RNA in mouse L cells. Cell 1, 37–42 (1974).

2.

Desrosiers, R., Friderici, K. & Rottman, F. Identification of methylated nucleosides in messenger RNA from Novikoff hepatoma cells. Proc. Natl Acad. Sci. USA 71, 3971–3975 (1974).

3.

Meyer, K. D. & Jaffrey, S. R. Rethinking m6A readers, writers, and erasers. Annu. Rev. Cell Dev. Biol. 33, 319–342 (2017).

4.

Patil, D. P., Pickering, B. F. & Jaffrey, S. R. Reading m6A in the transcriptome: m6A-binding proteins. Trends Cell Biol. 28, 113–127 (2018).

5.

Nott, T. J. et al. Phase transition of a disordered nuage protein generates environmentally responsive membraneless organelles. Mol. Cell 57, 936–947 (2015).

6.

Lin, Y., Protter, D. S., Rosen, M. K. & Parker, R. Formation and maturation of phase-separated liquid droplets by RNA-binding proteins. Mol. Cell 60, 208–219 (2015).

7.

Quiroz, F. G. & Chilkoti, A. Sequence heuristics to encode phase behaviour in intrinsically disordered protein polymers. Nat. Mater. 14, 1164–1171 (2015).

8.

Wiśniewski, J. R., Hein, M. Y., Cox, J. & Mann, M. A "proteomic ruler" for protein copy number and concentration estimation without spike-in standards. Mol. Cell. Proteomics 13, 3497–3506 (2014).

9.

Shin, Y. & Brangwynne, C. P. Liquid phase condensation in cell physiology and disease. Science 357, eaaf4382(2017).

10.

Molliex, A. et al. Phase separation by low complexity domains promotes stress granule assembly and drives pathological fibrillization. Cell 163, 123–133 (2015).

11.

Kroschwald, S. et al. Promiscuous interactions and protein disaggregases determine the material state of stress-inducible RNP granules. eLife 4, e06807 (2015).

12.

Standart, N. & Weil, D. P-bodies: cytosolic droplets for coordinated mRNA storage. Trends Genet. 34, 612–626 (2018).

13.

Zhou, J. et al. Dynamic m6A mRNA methylation directs translational control of heat shock response. Nature 526, 591–594 (2015).

14.

Dominissini, D. et al. Topology of the human and mouse m6A RNA methylomes revealed by m6A-seq. Nature 485, 201–206 (2012).

15.

Meyer, K. D. et al. 5′ UTR m6A promotes cap-independent translation. Cell 163, 999–1010 (2015).

16.

Anders, M. et al. Dynamic m6A methylation facilitates mRNA triaging to stress granules. Life Sci. Alliance 1, e201800113 (2018).

17.

Slobodin, B., Han, R., Calderone, V., Vrielink, J. A., Loayza-Puch, F., Elkon, R. & Agami, R. Transcription impacts the efficiency of mRNA translation via co-transcriptional N 6-adenosine methylation. Cell 169, 326–337.e312 (2017).

18.

Knuckles, P. et al. RNA fate determination through cotranscriptional adenosine methylation and microprocessor binding. Nat. Struct. Mol. Biol. 24, 561–569 (2017).

19.

Wang, P., Doxtader, K. A. & Nam, Y. Structural basis for cooperative function of Mettl3 and Mettl14 methyltransferases. Mol. Cell 63, 306–317 (2016).

20.

Wang, X. et al. Structural basis of N 6-adenosine methylation by the METTL3–METTL14 complex. Nature 534, 575–578 (2016).

21.

Śledź, P. & Jinek, M. Structural insights into the molecular mechanism of the m6A writer complex. eLife 5, e18434 (2016).

22.

Han, T. W. et al. Cell-free formation of RNA granules: bound RNAs identify features and components of cellular assemblies. Cell 149, 768–779 (2012).

23.

Khong, A., Matheny, T., Jain, S., Mitchell, S. F., Wheeler, J. R. & Parker, R. The stress granule transcriptome reveals principles of mRNA accumulation in stress granules. Mol. Cell 68, 808–820.e805 (2017).

24.

Namkoong, S., Ho, A., Woo, Y. M., Kwak, H. & Lee, J. H. Systematic characterization of stress-induced RNA granulation. Mol. Cell 70, 175–187.e178 (2018).

25.

Wang, X. et al. N 6-methyladenosine-dependent regulation of messenger RNA stability. Nature 505, 117–120 (2014).

26.

Bouche, G., Amalric, F., Caizergues-Ferrer, M. & Zalta, J. P. Effects of heat shock on gene expression and subcellular protein distribution in Chinese hamster ovary cells. Nucleic Acids Res. 7, 1739–1747 (1979).

27.

Van Treeck, B. & Parker, R. Emerging roles for intermolecular RNA–RNA interactions in RNP assemblies. Cell 174, 791–802 (2018).

28.

Meyer, K. D. et al. Comprehensive analysis of mRNA methylation reveals enrichment in 3′ UTRs and near stop codons. Cell 149, 1635–1646 (2012).

29.

Kedersha, N. et al. Stress granules and processing bodies are dynamically linked sites of mRNP remodeling. J. Cell Biol. 169, 871–884 (2005).

30.

Zhu, T. et al. Crystal structure of the YTH domain of YTHDF2 reveals mechanism for recognition of N 6-methyladenosine. Cell Res. 24, 1493–1496 (2014).

31.

Xiang, Y. et al. RNA m6A methylation regulates the ultraviolet-induced DNA damage response. Nature 543, 573–576 (2017).

32.

Geula, S. et al. m6A mRNA methylation facilitates resolution of naïve pluripotency toward differentiation. Science 347, 1002–1006 (2015).

33.

Knuckles, P. et al. Zc3h13/Flacc is required for adenosine methylation by bridging the mRNA-binding factor Rbm15/Spenito to the m6A machinery component Wtap/Fl(2)d. Genes Dev. 32, 415–429 (2018).

34.

Wen, J. et al. Zc3h13 regulates nuclear RNA m6A methylation and mouse embryonic stem cell self-renewal. Mol. Cell 69, 1028–1038.e1026 (2018).

35.

Patil, D. P. et al. m6A RNA methylation promotes XIST-mediated transcriptional repression. Nature 537, 369–373 (2016).

36.

Xu, C. et al. Structural basis for the discriminative recognition of N 6-methyladenosine RNA by the human YT521-B homology domain family of proteins. J. Biol. Chem. 290, 24902–24913 (2015).

37.

Zhang, H. et al. RNA controls polyQ protein phase transitions. Mol. Cell 60, 220–230 (2015).

38.

Zhong, S. et al. MTA is an Arabidopsis messenger RNA adenosine methylase and interacts with a homolog of a sex-specific splicing factor. Plant Cell 20, 1278–1288 (2008).

39.

Hoover, D. M. & Lubkowski, J. DNAWorks: an automated method for designing oligonucleotides for PCR-based gene synthesis. Nucleic Acids Res. 30, e43 (2002).

40.

Li, H. et al. Design and specificity of long ssDNA donors for CRISPR-based knock-in. Preprint at https://www.biorxiv.org/content/10.1101/178905v1 (2017).

41.

Linder, B. et al. Single-nucleotide-resolution mapping of m6A and m6Am throughout the transcriptome. Nat. Methods 12, 767–772 (2015).

42.

Dobin, A. et al. STAR: ultrafast universal RNA-seq aligner. Bioinformatics 29, 15–21 (2013).

43.

McGlincy, N. J. & Ingolia, N. T. Transcriptome-wide measurement of translation by ribosome profiling. Methods 126, 112–129 (2017).

44.

Xiao, Z., Zou, Q., Liu, Y. & Yang, X. Genome-wide assessment of differential translations with ribosome profiling data. Nat. Commun. 7, 11194 (2016).

45.

Mi, H. et al. PANTHER version 7: improved phylogenetic trees, orthologs and collaboration with the Gene Ontology Consortium. Nucleic Acids Res. 38, D204–D210 (2010).

46.

Lancaster, A. K., Nutter-Upham, A., Lindquist, S. & King, O. D. PLAAC: a web and command-line application to identify proteins with prion-like amino acid composition. Bioinformatics 30, 2501–2502 (2014).

47.

Gilles, J. F., Dos Santos, M., Boudier, T., Bolte, S. & Heck, N. DiAna, an ImageJ tool for object-based 3D co-localization and distance analysis. Methods 115, 55–64 (2017).

48.

Hubstenberger, A. et al. P-body purification reveals the condensation of repressed mRNA regulons. Mol. Cell 68, 144–157.e145 (2017).

49.

Jain, S. et al. ATPase-modulated stress granules contain a diverse proteome and substructure. Cell 164, 487–498 (2016).

50.

Youn, J. Y. et al. High-density proximity mapping reveals the subcellular organization of mRNA-associated granules and bodies. Mol. Cell 69, 517–532.e511 (2018).

51.

Markmiller, S. et al. Context-dependent and disease-specific diversity in protein interactions within stress granules. Cell 172, 590–604.e513 (2018).

52.

Tsherniak, A. et al. Defining a cancer dependency map. Cell 170, 564–576.e516 (2017).
Acknowledgements
We thank members of the Jaffrey laboratory for comments and suggestions; members of the Epigenomics, Optical Microscopy and Imaging & Flow Cytometry Weill Cornell Cores for their assistance; and J. Hanna and S. Geula for generously providing Mettl14-knockout and control mES cell lines. This work was supported by NIH grants R01DA037755 (S.R.J.), F32CA22104-01 (B.F.P.), R01DK114131 (J.H.L.) and T32CA062948 (A.-O.G.) and an American-Italian Cancer Foundation fellowship (S.Z.).
Peer review information
Nature thanks Richard Kriwacki and Tanja Mittag for their contribution to the peer review of this work.
Extended data figures and tables
Supplementary information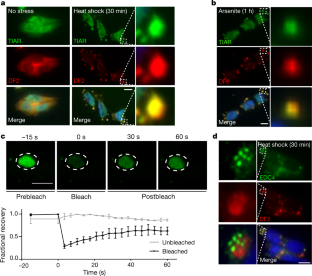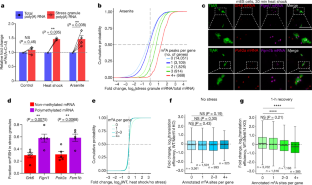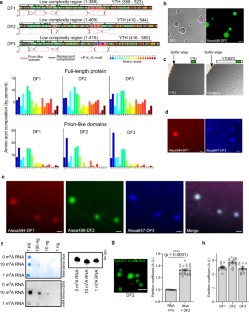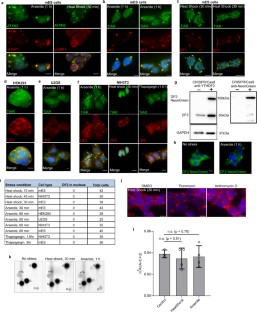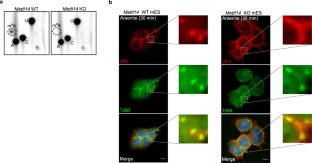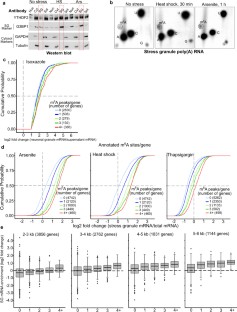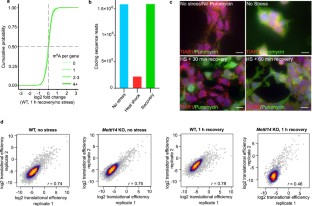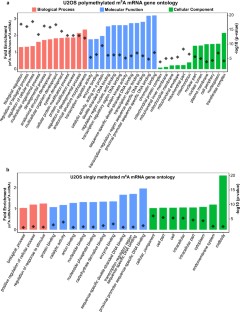 Comments
By submitting a comment you agree to abide by our Terms and Community Guidelines. If you find something abusive or that does not comply with our terms or guidelines please flag it as inappropriate.