Abstract
The integrity of genomes is constantly threatened by problems encountered by the replication fork. BRCA1, BRCA2 and a subset of Fanconi anaemia proteins protect stalled replication forks from degradation by nucleases, through pathways that involve RAD51. The contribution and regulation of BRCA1 in replication fork protection, and how this role relates to its role in homologous recombination, is unclear. Here we show that BRCA1 in complex with BARD1, and not the canonical BRCA1–PALB2 interaction, is required for fork protection. BRCA1–BARD1 is regulated by a conformational change mediated by the phosphorylation-directed prolyl isomerase PIN1. PIN1 activity enhances BRCA1–BARD1 interaction with RAD51, thereby increasing the presence of RAD51 at stalled replication structures. We identify genetic variants of BRCA1–BARD1 in patients with cancer that exhibit poor protection of nascent strands but retain homologous recombination proficiency, thus defining domains of BRCA1–BARD1 that are required for fork protection and associated with cancer development. Together, these findings reveal a BRCA1-mediated pathway that governs replication fork protection.
Relevant articles
Open Access articles citing this article.
Youngho Kwon

,

Heike Rösner

…

Patrick Sung

Nature Communications Open Access 26 January 2023

Emily M. Schleicher

,

Ashna Dhoonmoon

…

George-Lucian Moldovan

Oncogenesis Open Access 18 June 2022

Ruiheng Wang

,

Shufeng Xie

…

Han Liu

Cell Death Discovery Open Access 08 April 2022
Access options
Access Nature and 54 other Nature Portfolio journals
Get Nature+, our best-value online-access subscription
$29.99 / 30 days
cancel any time
Subscribe to this journal
Receive 51 print issues and online access
$199.00 per year
only $3.90 per issue
Rent or buy this article
Prices vary by article type
from$1.95
to$39.95
Prices may be subject to local taxes which are calculated during checkout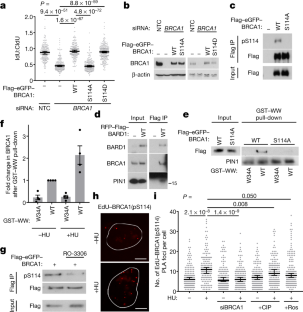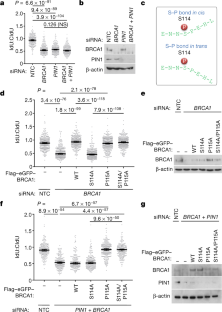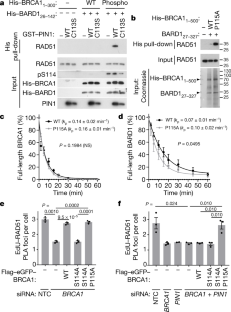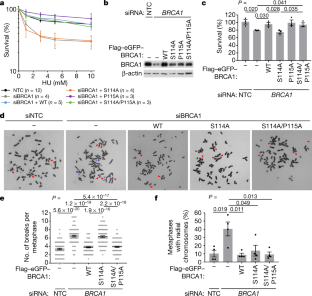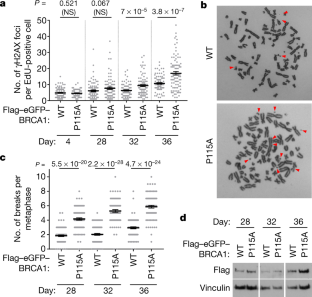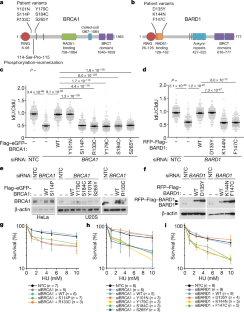 Data availability
All datasets that were generated during the current study are provided as online source data associated with this paper. The custom mouse monoclonal (3C10G8) and rabbit polyclonal antibodies that were raised against BRCA1(pS114) are available on request to the corresponding authors subject to completion of a standard MTA.
References
Zeman, M. K. & Cimprich, K. A. Causes and consequences of replication stress. Nat. Cell Biol. 16, 2–9 (2014).

Sidorova, J. A game of substrates: replication fork remodeling and its roles in genome stability and chemo-resistance. Cell Stress 1, 115–133 (2017).

Cantor, S. B. & Calvo, J. A. Fork protection and therapy resistance in hereditary breast cancer. Cold Spring Harb. Symp. Quant. Biol. 82, 339–348 (2017).

Hashimoto, Y., Ray Chaudhuri, A., Lopes, M. & Costanzo, V. Rad51 protects nascent DNA from Mre11-dependent degradation and promotes continuous DNA synthesis. Nat. Struct. Mol. Biol. 17, 1305–1311 (2010).

Schlacher, K. et al. Double-strand break repair-independent role for BRCA2 in blocking stalled replication fork degradation by MRE11. Cell 145, 529–542 (2011).

Zadorozhny, K. et al. Fanconi-anemia-associated mutations destabilize RAD51 filaments and impair replication fork protection. Cell Rep. 21, 333–340 (2017).

Wang, A. T. et al. A dominant mutation in human RAD51 reveals its function in DNA interstrand crosslink repair independent of homologous recombination. Mol. Cell 59, 478–490 (2015).

Ameziane, N. et al. A novel Fanconi anaemia subtype associated with a dominant-negative mutation in RAD51. Nat. Commun. 6, 8829 (2015).

Higgs, M. R. & Stewart, G. S. Protection or resection: BOD1L as a novel replication fork protection factor. Nucleus 7, 34–40 (2016).

Dungrawala, H. et al. RADX promotes genome stability and modulates chemosensitivity by regulating RAD51 at replication forks. Mol. Cell 67, 374–386 (2017).

Bhat, K. P. et al. RADX modulates RAD51 activity to control replication fork protection. Cell Rep. 24, 538–545 (2018).

Ray Chaudhuri, A. et al. Replication fork stability confers chemoresistance in BRCA-deficient cells. Nature 535, 382–387 (2016).

Yazinski, S. A. et al. ATR inhibition disrupts rewired homologous recombination and fork protection pathways in PARP inhibitor-resistant BRCA-deficient cancer cells. Genes Dev. 31, 318–332 (2017).

Feng, W. & Jasin, M. BRCA2 suppresses replication stress-induced mitotic and G1 abnormalities through homologous recombination. Nat. Commun. 8, 525 (2017).

Dungrawala, H. & Cortez, D. Purification of proteins on newly synthesized DNA using iPOND. Methods Mol. Biol. 1228, 123–131 (2015).

Sirbu, B. M. et al. Identification of proteins at active, stalled, and collapsed replication forks using isolation of proteins on nascent DNA (iPOND) coupled with mass spectrometry. J. Biol. Chem. 288, 31458–31467 (2013).

Schlacher, K., Wu, H. & Jasin, M. A distinct replication fork protection pathway connects Fanconi anemia tumor suppressors to RAD51-BRCA1/2. Cancer Cell 22, 106–116 (2012).

Zhang, F., Fan, Q., Ren, K. & Andreassen, P. R. PALB2 functionally connects the breast cancer susceptibility proteins BRCA1 and BRCA2. Mol. Cancer Res 7, 1110–1118 (2009).

Zhang, F. et al. PALB2 links BRCA1 and BRCA2 in the DNA-damage response. Curr. Biol. 19, 524–529 (2009).

Sy, S. M., Huen, M. S. & Chen, J. PALB2 is an integral component of the BRCA complex required for homologous recombination repair. Proc. Natl Acad. Sci. USA 106, 7155–7160 (2009).

Zhao, W. et al. BRCA1–BARD1 promotes RAD51-mediated homologous DNA pairing. Nature 550, 360–365 (2017).

Paull, T. T., Cortez, D., Bowers, B., Elledge, S. J. & Gellert, M. Direct DNA binding by Brca1. Proc. Natl Acad. Sci. USA 98, 6086–6091 (2001).

Densham, R. M. et al. Human BRCA1–BARD1 ubiquitin ligase activity counteracts chromatin barriers to DNA resection. Nat. Struct. Mol. Biol. 23, 647–655 (2016).

Hayami, R. et al. Down-regulation of BRCA1–BARD1 ubiquitin ligase by CDK2. Cancer Res. 65, 6–10 (2005).

Mertins, P. et al. Integrated proteomic analysis of post-translational modifications by serial enrichment. Nat. Methods 10, 634–637 (2013).

Steger, M. et al. Prolyl isomerase PIN1 regulates DNA double-strand break repair by counteracting DNA end resection. Mol. Cell 50, 333–343 (2013).

Zheng, H. et al. The prolyl isomerase Pin1 is a regulator of p53 in genotoxic response. Nature 419, 849–853 (2002).

Nepomuceno, T. C. et al. BRCA1 recruitment to damaged DNA sites is dependent on CDK9. Cell Cycle 16, 665–672 (2017).

Weiss, M. S., Jabs, A. & Hilgenfeld, R. Peptide bonds revisited. Nat. Struct. Biol. 5, 676 (1998).

Alderson, T. R., Lee, J. H., Charlier, C., Ying, J. & Bax, A. Propensity for cis-proline formation in unfolded proteins. ChemBioChem 19, 37–42 (2018).

Göthel, S. F. & Marahiel, M. A. Peptidyl-prolyl cis-trans isomerases, a superfamily of ubiquitous folding catalysts. Cell. Mol. Life Sci. 55, 423–436 (1999).

Ranganathan, R., Lu, K. P., Hunter, T. & Noel, J. P. Structural and functional analysis of the mitotic rotamase Pin1 suggests substrate recognition is phosphorylation dependent. Cell 89, 875–886 (1997).

Lu, K. P., Hanes, S. D. & Hunter, T. A human peptidyl-prolyl isomerase essential for regulation of mitosis. Nature 380, 544–547 (1996).

Yaffe, M. B. et al. Sequence-specific and phosphorylation-dependent proline isomerization: a potential mitotic regulatory mechanism. Science 278, 1957–1960 (1997).

Lu, P. J., Zhou, X. Z., Shen, M. & Lu, K. P. Function of WW domains as phosphoserine- or phosphothreonine-binding modules. Science 283, 1325–1328 (1999).

Nakamura, K. et al. Proline isomer-specific antibodies reveal the early pathogenic tau conformation in Alzheimer's disease. Cell 149, 232–244 (2012).

Hilton, B. A. et al. ATR plays a direct antiapoptotic role at mitochondria, which is regulated by prolyl isomerase Pin1. Mol. Cell 60, 35–46 (2015).

Zhou, X. Z. et al. Pin1-dependent prolyl isomerization regulates dephosphorylation of Cdc25C and tau proteins. Mol. Cell 6, 873–883 (2000).

Innes, B. T., Bailey, M. L., Brandl, C. J., Shilton, B. H. & Litchfield, D. W. Non-catalytic participation of the Pin1 peptidyl-prolyl isomerase domain in target binding. Front. Physiol. 4, 18 (2013).

Taglialatela, A. et al. Restoration of replication fork stability in BRCA1- and BRCA2-deficient cells by inactivation of SNF2-family fork remodelers. Mol. Cell 68, 414–430 (2017).

Petermann, E., Orta, M. L., Issaeva, N., Schultz, N. & Helleday, T. Hydroxyurea-stalled replication forks become progressively inactivated and require two different RAD51-mediated pathways for restart and repair. Mol. Cell 37, 492–502 (2010).

Hanada, K. et al. The structure-specific endonuclease Mus81 contributes to replication restart by generating double-strand DNA breaks. Nat. Struct. Mol. Biol. 14, 1096–1104 (2007).

Cerami, E. et al. The cBio cancer genomics portal: an open platform for exploring multidimensional cancer genomics data. Cancer Discov. 2, 401–404 (2012).

Gao, J. et al. Integrative analysis of complex cancer genomics and clinical profiles using the cBioPortal. Sci. Signal. 6, pl1 (2013).

Hedau, S. et al. Novel germline mutations in breast cancer susceptibility genes BRCA1, BRCA2 and p53 gene in breast cancer patients from India. Breast Cancer Res. Treat. 88, 177–186 (2004).

Chapman, J. R., Taylor, M. R. & Boulton, S. J. Playing the end game: DNA double-strand break repair pathway choice. Mol. Cell 47, 497–510 (2012).

Min, S. H. et al. Negative regulation of the stability and tumor suppressor function of Fbw7 by the Pin1 prolyl isomerase. Mol. Cell 46, 771–783 (2012).

Lu, K. P., Finn, G., Lee, T. H. & Nicholson, L. K. Prolyl cis-trans isomerization as a molecular timer. Nat. Chem. Biol. 3, 619–629 (2007).

Billing, D. et al. The BRCT domains of the BRCA1 and BARD1 tumor suppressors differentially regulate homology-directed repair and stalled fork protection. Mol. Cell 72, 127–139 (2018).

Ding, X. et al. Synthetic viability by BRCA2 and PARP1/ARTD1 deficiencies. Nat. Commun. 7, 12425 (2016).

Berger, I., Fitzgerald, D. J. & Richmond, T. J. Baculovirus expression system for heterologous multiprotein complexes. Nat. Biotechnol. 22, 1583–1587 (2004).

Subramanyam, S., Ismail, M., Bhattacharya, I. & Spies, M. Tyrosine phosphorylation stimulates activity of human RAD51 recombinase through altered nucleoprotein filament dynamics. Proc. Natl Acad. Sci. USA 113, E6045–E6054 (2016).

Rueden, C. T. et al. ImageJ2: ImageJ for the next generation of scientific image data. BMC Bioinformatics 18, 529 (2017).
Acknowledgements
Grant funding was as follows. CRUK: C8820/A19062 (R.M.D., G.E.R., K.S., H.L.M., H.R.S., J.F.J.B., J.L.C.), C17183/A23303 (G.S.S.); Breast Cancer Now: 2015MayPR499 (K.S.); Wellcome Trust: 206343/Z/17/Z (M.J., A.K.W., A.J.G., A.S.C.), 210658/Z/18/Z (X.Z.); MRC: MR/N000188/1 (X.Z.); and as part of the CRUK centre training (M.D.-M.).We thank S. Cook for the pGEX4T1-PIN1 plasmid, T. Sixma for the BARD127–327 bacterial expression construct, J. Stark for U20S DR-GFP cells, Y. Sun for recombinant RAD51, P. Byrd for advice regarding PALB2 reagents, T. Wallach for generating the S114P mutation, J. Reynolds for advice on metaphase spreads and S. Begum for support with PLAs. In addition, we thank the Microscopy and Imaging Services (MISBU) and the Flow Cytometry Services (UoBFC) in the Tech Hub facility at Birmingham University for support and maintenance of microscopes and FACS equipment.
Ethics declarations
Competing interests
The authors declare no competing interests.
Additional information
Publisher's note: Springer Nature remains neutral with regard to jurisdictional claims in published maps and institutional affiliations.
Extended data figures and tables
Supplementary information
This file contains Supplementary Figure 1, including the uncropped gels and FACS gating strategy, and Supplementary Tables 1-4.
About this article
Cite this article
Daza-Martin, M., Starowicz, K., Jamshad, M. et al. Isomerization of BRCA1–BARD1 promotes replication fork protection. Nature 571, 521–527 (2019). https://doi.org/10.1038/s41586-019-1363-4
Received:

Accepted:

Published:

Issue Date:

DOI: https://doi.org/10.1038/s41586-019-1363-4
Comments
By submitting a comment you agree to abide by our Terms and Community Guidelines. If you find something abusive or that does not comply with our terms or guidelines please flag it as inappropriate.