Abstract
A neuronal population encodes information most efficiently when its stimulus responses are high-dimensional and uncorrelated, and most robustly when they are lower-dimensional and correlated. Here we analysed the dimensionality of the encoding of natural images by large populations of neurons in the visual cortex of awake mice. The evoked population activity was high-dimensional, and correlations obeyed an unexpected power law: the nth principal component variance scaled as 1/n. This scaling was not inherited from the power law spectrum of natural images, because it persisted after stimulus whitening. We proved mathematically that if the variance spectrum was to decay more slowly then the population code could not be smooth, allowing small changes in input to dominate population activity. The theory also predicts larger power-law exponents for lower-dimensional stimulus ensembles, which we validated experimentally. These results suggest that coding smoothness may represent a fundamental constraint that determines correlations in neural population codes.
Relevant articles
Open Access articles citing this article.
Anton Filipchuk

,

Joanna Schwenkgrub

…

Brice Bathellier

Nature Neuroscience Open Access 28 September 2022

Jérémie Sibille

,

Carolin Gehr

…

Jens Kremkow

Nature Communications Open Access 05 September 2022

Stéphane Bugeon

,

Joshua Duffield

…

Kenneth D. Harris

Nature Open Access 06 July 2022
Access options
Subscribe to Nature+
Get immediate online access to the entire Nature family of 50+ journals
Subscribe to Journal
Get full journal access for 1 year
$199.00
only $3.90 per issue
All prices are NET prices.
VAT will be added later in the checkout.
Tax calculation will be finalised during checkout.
Buy article
Get time limited or full article access on ReadCube.
$32.00
All prices are NET prices.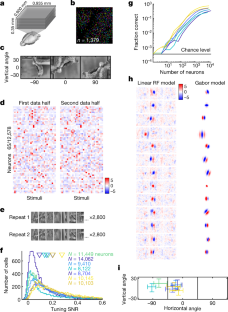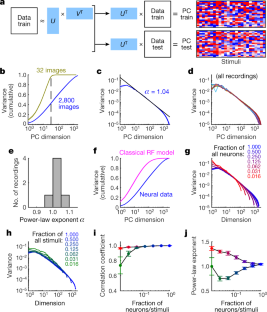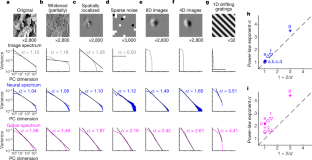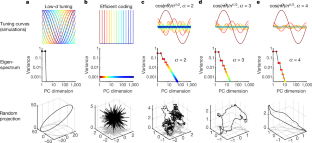 References
Barlow, H. B. in Sensory Communication (ed. Rosenblith, W.) 217–234 (MIT Press, 1961).

Atick, J. J. & Redlich, A. N. Towards a theory of early visual processing. Neural Comput. 2, 308–320 (1990).

Simoncelli, E. P. & Olshausen, B. A. Natural image statistics and neural representation. Annu. Rev. Neurosci. 24, 1193–1216 (2001).

DiCarlo, J. J., Zoccolan, D. & Rust, N. C. How does the brain solve visual object recognition? Neuron 73, 415–434 (2012).

Rigotti, M. et al. The importance of mixed selectivity in complex cognitive tasks. Nature 497, 585–590 (2013).

Chung, S., Lee, D. D. & Sompolinsky, H. Classification and geometry of general perceptual manifolds. Phys. Rev. X 8, 031003 (2018).

Cunningham, J. P. & Yu, B. M. Dimensionality reduction for large-scale neural recordings. Nat. Neurosci. 17, 1500–1509 (2014).

Machens, C. K., Romo, R. & Brody, C. D. Functional, but not anatomical, separation of "what" and "when" in prefrontal cortex. J. Neurosci. 30, 350–360 (2010).

Kobak, D. et al. Demixed principal component analysis of neural population data. eLife 5, e10989 (2016).

Archer, E. W., Koster, U., Pillow, J. W. & Macke, J. H. Low-dimensional models of neural population activity in sensory cortical circuits. In Proc. 27th International Conference on Neural Information Processing Systems (eds Ghahramani, Z. et al.) 343–351 (Curran, 2014).

Sadtler, P. T. et al. Neural constraints on learning. Nature 512, 423–426 (2014).

Chapin, J. K. & Nicolelis, M. A. Principal component analysis of neuronal ensemble activity reveals multidimensional somatosensory representations. J. Neurosci. Methods 94, 121–140 (1999).

Bathellier, B., Buhl, D. L., Accolla, R. & Carleton, A. Dynamic ensemble odor coding in the mammalian olfactory bulb: sensory information at different timescales. Neuron 57, 586–598 (2008).

Churchland, M. M. et al. Neural population dynamics during reaching. Nature 487, 51–56 (2012).

Mante, V., Sussillo, D., Shenoy, K. V. & Newsome, W. T. Context-dependent computation by recurrent dynamics in prefrontal cortex. Nature 503, 78–84 (2013).

Shadlen, M. N. & Newsome, W. T. The variable discharge of cortical neurons: implications for connectivity, computation, and information coding. J. Neurosci. 18, 3870–3896 (1998).

Reich, D. S., Mechler, F. & Victor, J. D. Independent and redundant information in nearby cortical neurons. Science 294, 2566–2568 (2001).

Gao, P. et al. A theory of multineuronal dimensionality, dynamics and measurement. Preprint at https://www.biorxiv.org/content/early/2017/11/12/214262 (2017).

Pachitariu, M. et al. Suite2p: beyond 10,000 neurons with standard two-photon microscopy. Preprint at https://www.biorxiv.org/content/early/2017/07/20/061507 (2016).

Deng, J. et al. Imagenet: A large-scale hierarchical image database. In IEEE Conference on Computer Vision and Pattern Recognition 248–255 (IEEE, 2009).

Vinje, W. E. & Gallant, J. L. Natural stimulation of the nonclassical receptive field increases information transmission efficiency in V1. J. Neurosci. 22, 2904–2915 (2002).

Ringach, D. L. Spatial structure and symmetry of simple-cell receptive fields in macaque primary visual cortex. J. Neurophysiol. 88, 455–463 (2002).

Niell, C. M. & Stryker, M. P. Highly selective receptive fields in mouse visual cortex. J. Neurosci. 28, 7520–7536 (2008).

Softky, W. R. & Koch, C. The highly irregular firing of cortical cells is inconsistent with temporal integration of random EPSPs. J. Neurosci. 13, 334–350 (1993).

Cossell, L. et al. Functional organization of excitatory synaptic strength in primary visual cortex. Nature 518, 399–403 (2015).

Smyth, D., Willmore, B., Baker, G. E., Thompson, I. D. & Tolhurst, D. J. The receptive-field organization of simple cells in primary visual cortex of ferrets under natural scene stimulation. J. Neurosci. 23, 4746–4759 (2003).

Carandini, M. et al. Do we know what the early visual system does? J. Neurosci. 25, 10577–10597 (2005).

David, S. V. & Gallant, J. L. Predicting neuronal responses during natural vision. Netw. Comput. Neural Syst 16, 239–260 (2005).

Touryan, J., Felsen, G. & Dan, Y. Spatial structure of complex cell receptive fields measured with natural images. Neuron 45, 781–791 (2005).

de Vries, S. E. J. et al. A large-scale, standardized physiological survey reveals higher order coding throughout the mouse visual cortex. Preprint at https://www.biorxiv.org/content/early/2018/06/29/359513 (2018).

Field, D. J. Relations between the statistics of natural images and the response properties of cortical cells. J. Opt. Soc. Am. A 4, 2379–2394 (1987).

Ruderman, D. L. & Bialek, W. Statistics of natural images: Scaling in the woods. In Advances in Neural Information Processing Systems 551–558 (1994).

Tao, T. An Epsilon of Room, I: Real Analysis 1.12.3 (American Mathematical Society, 2010).

Szegedy, C. et al. Intriguing properties of neural networks. Preprint at http://arxiv.org/abs/1312.6199 (2013).

Goodfellow, I. J., Shlens, J. & Szegedy, C. Explaining and harnessing adversarial examples. Preprint at http://arxiv.org/abs/1412.6572 (2014).

Stringer, C. et al. Spontaneous behaviors drive multidimensional, brainwide activity. Science 364, eaav7893 (2019).

Pologruto, T. A., Sabatini, B. L. & Svoboda, K. ScanImage: flexible software for operating laser scanning microscopes. Biomed. Eng. Online 2, 13 (2003).

Chen, T.-W. et al. Ultrasensitive fluorescent proteins for imaging neuronal activity. Nature 499, 295–300 (2013).

Friedrich, J., Zhou, P. & Paninski, L. Fast online deconvolution of calcium imaging data. PLoS Comput. Biol. 13, e1005423 (2017).

Pachitariu, M., Stringer, C. & Harris, K. D. Robustness of spike deconvolution for neuronal calcium imaging. J. Neurosci. 38, 7976–7985 (2018).

Stringer, C., Pachitariu, M., Carandini, M. & Harris, K. Responses of ten thousand neurons to 2,800 natural images. Figshare https://doi.org/10.25378/janelia.6845348.v3 (2018).

Jun, J. J. et al. Fully integrated silicon probes for high-density recording of neural activity. Nature 551, 232–236 (2017).

Pachitariu, M., Steinmetz, N. A., Kadir, S. N., Carandini, M. & Harris, K. D. Fast and accurate spike sorting of high-channel count probes with kilosort. In Advances in Neural Information Processing Systems 4448–4456 (2016).

Allen, W. E. et al. Thirst regulates motivated behavior through modulation of brainwide neural population dynamics. Science 364, eaav3932(2019).

Izenman, A. J. Reduced-rank regression for the multivariate linear model. J. Multivariate Anal. 5, 248–264 (1975).

Schwartz, O. & Simoncelli, E. P. Natural signal statistics and sensory gain control. Nat. Neurosci. 4, 819–825 (2001).

Cowley, B. R., Smith, M. A., Kohn, A. & Yu, B. M. Stimulus-driven population activity patterns in macaque primary visual cortex. PLoS Comput. Biol. 12, e1005185 (2016).

Gallego, J. A. et al. Cortical population activity within a preserved neural manifold underlies multiple motor behaviors. Nat. Commun. 9, 4233 (2018).
Acknowledgements
We thank M. Krumin for assistance with the two-photon microscopes, C. Reddy for surgeries, and K. Falconer, A. Gretton and M. Benna for discussions of mathematics. This research was funded by Wellcome Trust Investigator grants (108726, 205093 and 204915) and by a grant from the Simons Foundation (SCGB 325512). C.S. was funded by a four-year Gatsby Foundation PhD studentship. M.C. holds the GlaxoSmithKline/Fight for Sight Chair in Visual Neuroscience. K.D.H. was funded by the European Research Council (694401). N.S. was supported by postdoctoral fellowships from the Human Frontier Sciences Program and the Marie Curie Action of the EU (656528). C.S. and M.P. are now funded by HHMI Janelia.
Reviewer information
Nature thanks Jakob Macke, Ken Miller and Byron Yu for their contribution to the peer review of this work.
Ethics declarations
Competing interests
The authors declare no competing interests.
Additional information
Publisher's note: Springer Nature remains neutral with regard to jurisdictional claims in published maps and institutional affiliations.
Extended data figures and tables
Supplementary information
This file contains the Supplementary Discussion.
About this article
Cite this article
Stringer, C., Pachitariu, M., Steinmetz, N. et al. High-dimensional geometry of population responses in visual cortex. Nature 571, 361–365 (2019). https://doi.org/10.1038/s41586-019-1346-5
Received:

Accepted:

Published:

Issue Date:

DOI: https://doi.org/10.1038/s41586-019-1346-5
Comments
By submitting a comment you agree to abide by our Terms and Community Guidelines. If you find something abusive or that does not comply with our terms or guidelines please flag it as inappropriate.