Abstract
Cancer metastasis is the primary cause of morbidity and mortality, and accounts for up to 95% of cancer-related deaths1. Cancer cells often reprogram their metabolism to efficiently support cell proliferation and survival2,3. However, whether and how those metabolic alterations contribute to the migration of tumour cells remain largely unknown. UDP-glucose 6-dehydrogenase (UGDH) is a key enzyme in the uronic acid pathway, and converts UDP-glucose to UDP-glucuronic acid4. Here we show that, after activation of EGFR, UGDH is phosphorylated at tyrosine 473 in human lung cancer cells. Phosphorylated UGDH interacts with Hu antigen R (HuR) and converts UDP-glucose to UDP-glucuronic acid, which attenuates the UDP-glucose-mediated inhibition of the association of HuR with SNAI1 mRNA and therefore enhances the stability of SNAI1 mRNA. Increased production of SNAIL initiates the epithelial–mesenchymal transition, thus promoting the migration of tumour cells and lung cancer metastasis. In addition, phosphorylation of UGDH at tyrosine 473 correlates with metastatic recurrence and poor prognosis of patients with lung cancer. Our findings reveal a tumour-suppressive role of UDP-glucose in lung cancer metastasis and uncover a mechanism by which UGDH promotes tumour metastasis by increasing the stability of SNAI1 mRNA.
Relevant articles
Open Access articles citing this article.
Wenqing Wei

,

Wenyan Gao

…

Zhihua Liu

npj Genomic Medicine Open Access 02 June 2022

Zhidong Qiu

,

Xuehong Wang

…

Junfei Jin

Cell Death & Disease Open Access 30 May 2022

Mengli Zhang

,

Mei Meng

…

Quansheng Zhou

Breast Cancer Research Open Access 18 December 2021
Access options
Subscribe to Nature+
Get immediate online access to the entire Nature family of 50+ journals
Subscribe to Journal
Get full journal access for 1 year
$199.00
only $3.90 per issue
All prices are NET prices.
VAT will be added later in the checkout.
Tax calculation will be finalised during checkout.
Buy article
Get time limited or full article access on ReadCube.
$32.00
All prices are NET prices.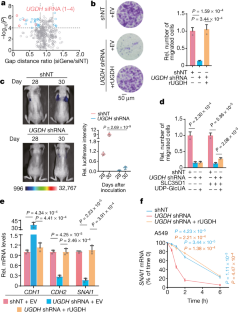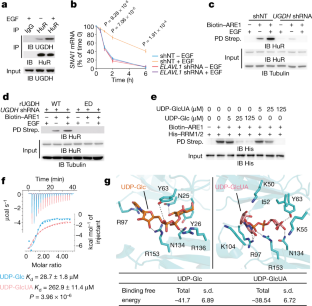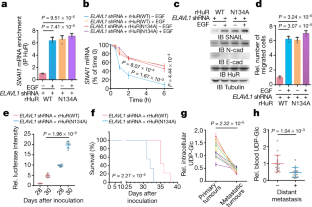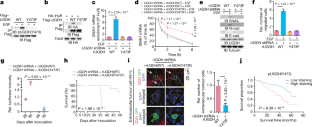 References
Seyfried, T. N. & Huysentruyt, L. C. On the origin of cancer metastasis. Crit. Rev. Oncog. 18, 43–73 (2013).

Sullivan, L. B., Gui, D. Y. & Vander Heiden, M. G. Altered metabolite levels in cancer: implications for tumour biology and cancer therapy. Nat. Rev. Cancer 16, 680–693 (2016).

Boroughs, L. K. & DeBerardinis, R. J. Metabolic pathways promoting cancer cell survival and growth. Nat. Cell Biol. 17, 351–359 (2015).

Spicer, A. P., Kaback, L. A., Smith, T. J. & Seldin, M. F. Molecular cloning and characterization of the human and mouse UDP-glucose dehydrogenase genes. J. Biol. Chem. 273, 25117–25124 (1998).

Hiraoka, S. et al. Nucleotide-sugar transporter SLC35D1 is critical to chondroitin sulfate synthesis in cartilage and skeletal development in mouse and human. Nat. Med. 13, 1363–1367 (2007).

Chaffer, C. L. & Weinberg, R. A. A perspective on cancer cell metastasis. Science 331, 1559–1564 (2011).

Barrallo-Gimeno, A. & Nieto, M. A. The Snail genes as inducers of cell movement and survival: implications in development and cancer. Development 132, 3151–3161 (2005).

Massoumi, R. et al. Down-regulation of CYLD expression by Snail promotes tumor progression in malignant melanoma. J. Exp. Med. 206, 221–232 (2009).

Barberà, M. J. et al. Regulation of Snail transcription during epithelial to mesenchymal transition of tumor cells. Oncogene 23, 7345–7354 (2004).

Dong, R. et al. Stabilization of Snail by HuR in the process of hydrogen peroxide induced cell migration. Biochem. Biophys. Res. Commun. 356, 318–321 (2007).

Zhou, B. P. et al. Dual regulation of Snail by GSK-3β-mediated phosphorylation in control of epithelial–mesenchymal transition. Nat. Cell Biol. 6, 931–940 (2004).

Peng, S. S., Chen, C. Y., Xu, N. & Shyu, A. B. RNA stabilization by the AU-rich element binding protein, HuR, an ELAV protein. EMBO J. 17, 3461–3470 (1998).

Sommer, B. J., Barycki, J. J. & Simpson, M. A. Characterization of human UDP-glucose dehydrogenase. CYS-276 is required for the second of two successive oxidations. J. Biol. Chem. 279, 23590–23596 (2004).

Fell, D. A. & Thomas, S. Physiological control of metabolic flux: the requirement for multisite modulation. Biochem. J. 311, 35–39 (1995).

Lin, R. et al. 6-Phosphogluconate dehydrogenase links oxidative PPP, lipogenesis and tumour growth by inhibiting LKB1–AMPK signalling. Nat. Cell Biol. 17, 1484–1496 (2015).

Wang, J. et al. Multiple functions of the RNA-binding protein HuR in cancer progression, treatment responses and prognosis. Int. J. Mol. Sci. 14, 10015–10041 (2013).

Woodhoo, A. et al. Human antigen R contributes to hepatic stellate cell activation and liver fibrosis. Hepatology 56, 1870–1882 (2012).

Abdelmohsen, K. et al. Phosphorylation of HuR by Chk2 regulates SIRT1 expression. Mol. Cell 25, 543–557 (2007).

Lazarowski, E. R., Shea, D. A., Boucher, R. C. & Harden, T. K. Release of cellular UDP-glucose as a potential extracellular signaling molecule. Mol. Pharmacol. 63, 1190–1197 (2003).

Cerami, E. et al. The cBio cancer genomics portal: an open platform for exploring multidimensional cancer genomics data. Cancer Discov. 2, 401–404 (2012).

Xu, J., Lamouille, S. & Derynck, R. TGF-β-induced epithelial to mesenchymal transition. Cell Res. 19, 156–172 (2009).

Oda, K., Matsuoka, Y., Funahashi, A. & Kitano, H. A comprehensive pathway map of epidermal growth factor receptor signaling. Mol Syst Biol 1, 2005.0010 (2005).

Massagué, J. & Obenauf, A. C. Metastatic colonization by circulating tumour cells. Nature 529, 298–306 (2016).

Zhao, M., Chen, X., Gao, G., Tao, L. & Wei, L. RLEdb: a database of rate-limiting enzymes and their regulation in human, rat, mouse, yeast and E. coli. Cell Res. 19, 793–795 (2009).

Simpson, K. J. et al. Identification of genes that regulate epithelial cell migration using an siRNA screening approach. Nat. Cell Biol. 10, 1027–1038 (2008).

Chandrashekar, D. S. et al. UALCAN: a portal for facilitating tumor subgroup gene expression and survival analyses. Neoplasia 19, 649–658 (2017

Bucsella, B., Fornage, A., Denmat, C. L. & Kálmán, F. Nucleotide and nucleotide sugar analysis in cell extracts by capillary electrophoresis. Chimia 70, 732–735 (2016).

del Val, I. J., Kyriakopoulos, S., Polizzi, K. M. & Kontoravdi, C. An optimized method for extraction and quantification of nucleotides and nucleotide sugars from mammalian cells. Anal. Biochem. 443, 172–180 (2013).

Cannell, I. G. et al. A pleiotropic RNA-binding protein controls distinct cell cycle checkpoints to drive resistance of p53-defective tumors to chemotherapy. Cancer Cell 28, 623–637 (2015).

Wang, X. J. et al. Opposing roles of acetylation and phosphorylation in LIFR-dependent self-renewal growth signaling in mouse embryonic stem cells. Cell Rep. 18, 933–946 (2017).

Wu, Y. B. et al. Concurrent quantification of proteome and phosphoproteome to reveal system-wide association of protein phosphorylation and gene expression. Mol. Cell. Proteomics 8, 2809–2826 (2009).

Lu, Z., Guan, X., Schmidt, C. A. & Matera, A. G. RIP-seq analysis of eukaryotic Sm proteins identifies three major categories of Sm-containing ribonucleoproteins. Genome Biol. 15, R7 (2014).

Wang, H. et al. The structure of the ARE-binding domains of Hu antigen R (HuR) undergoes conformational changes during RNA binding. Acta Crystallogr. D 69, 373–380 (2013).

Morris, G. M. et al. AutoDock4 and AutoDockTools4: automated docking with selective receptor flexibility. J. Comput. Chem. 30, 2785–2791 (2009).

Frisch, M. J. et al. Gaussian 09. Revision D.01 (Gaussian, 2009).

Case, D. et al. Amber 16 (University of California, San Francisco, 2016).

Hornak, V. et al. Comparison of multiple Amber force fields and development of improved protein backbone parameters. Proteins 65, 712–725 (2006).

Jorgensen, W. L., Chandrasekhar, J., Madura, J. D., Impey, R. W. & Klein, M. L. Comparison of simple potential functions for simulating liquid water. J. Chem. Phys. 79, 926–935 (1983).

Berendsen, H. J. C., Postma, J. P. M., van Gunsteren, W. F., DiNola, A. & Haak, J. R. Molecular dynamics with coupling to an external bath. J. Chem. Phys. 81, 3684–3690 (1984).

Ryckaert, J. P., Ciccotti, G. & Berendsen, H. J. C. Numerical-integration of Cartesian equations of motion of a system with constraints: molecular dynamics of n-alkanes. J. Comput. Phys. 23, 327–341 (1977).

Darden, T., York, D. & Pedersen, L. Particle mesh Ewald: an N·log(N) method for Ewald sums in large systems. J. Chem. Phys. 98, 10089–10092 (1993).

Roe, D. R. & Cheatham, T. E. III. PTRAJ and CPPTRAJ: software for processing and analysis of molecular dynamics trajectory data. J. Chem. Theory Comput. 9, 3084–3095 (2013).

Tsai, J. H., Donaher, J. L., Murphy, D. A., Chau, S. & Yang, J. Spatiotemporal regulation of epithelial–mesenchymal transition is essential for squamous cell carcinoma metastasis. Cancer Cell 22, 725–736 (2012).

Labelle, M., Begum, S. & Hynes, R. O. Direct signaling between platelets and cancer cells induces an epithelial–mesenchymal-like transition and promotes metastasis. Cancer Cell 20, 576–590 (2011).

Onn, A. et al. Development of an orthotopic model to study the biology and therapy of primary human lung cancer in nude mice. Clin. Cancer Res. 9, 5532–5539 (2003).

Takahashi, O. et al. Combined MEK and VEGFR inhibition in orthotopic human lung cancer models results in enhanced inhibition of tumor angiogenesis, growth, and metastasis. Clin. Cancer Res. 18, 1641–1654 (2012).
Acknowledgements
This work was supported by the Strategic Priority Research Program of the Chinese Academy of Sciences (XDB19000000 to W.Y.); the National Natural Science Foundation of China (91857120 and 31471324 to W.Y. and 21625302 and 21573217 to G.L.); CAS Interdisciplinary Innovation Team (JCTD-2018-14 to W.Y.); CAS Facility-based Open Research Program and the Thousand Talents Plan-Youth to W.Y. We thank F. Li from D. Gao's laboratory for his help downloading and analysing the TCGA datasets; H. Cheng for technical advice; and the Genome Tagging Project (GTP) Center and the Core Facilities of SIBCB for technical support.
Reviewer information
Nature thanks Lydia Finley, Jennifer Gunter and the other anonymous reviewer(s) for their contribution to the peer review of this work.
Ethics declarations
Competing interests
The authors declare no competing interests.
Additional information
Publisher's note: Springer Nature remains neutral with regard to jurisdictional claims in published maps and institutional affiliations.
Extended data figures and tables
Supplementary information
This file contains a Supplementary Discussion, Supplementary References, Supplementary Figure 1 and Supplementary Tables 1-4.
About this article
Cite this article
Wang, X., Liu, R., Zhu, W. et al. UDP-glucose accelerates SNAI1 mRNA decay and impairs lung cancer metastasis. Nature 571, 127–131 (2019). https://doi.org/10.1038/s41586-019-1340-y
Received:

Accepted:

Published:

Issue Date:

DOI: https://doi.org/10.1038/s41586-019-1340-y
Comments
By submitting a comment you agree to abide by our Terms and Community Guidelines. If you find something abusive or that does not comply with our terms or guidelines please flag it as inappropriate.