Abstract
The evolution of gene expression in mammalian organ development remains largely uncharacterized. Here we report the transcriptomes of seven organs (cerebrum, cerebellum, heart, kidney, liver, ovary and testis) across developmental time points from early organogenesis to adulthood for human, rhesus macaque, mouse, rat, rabbit, opossum and chicken. Comparisons of gene expression patterns identified correspondences of developmental stages across species, and differences in the timing of key events during the development of the gonads. We found that the breadth of gene expression and the extent of purifying selection gradually decrease during development, whereas the amount of positive selection and expression of new genes increase. We identified differences in the temporal trajectories of expression of individual genes across species, with brain tissues showing the smallest percentage of trajectory changes, and the liver and testis showing the largest. Our work provides a resource of developmental transcriptomes of seven organs across seven species, and comparative analyses that characterize the development and evolution of mammalian organs.
Access options
Access Nature and 54 other Nature Portfolio journals
Get Nature+, our best-value online-access subscription
$29.99 / 30 days
cancel any time
Subscribe to this journal
Receive 51 print issues and online access
$199.00 per year
only $3.90 per issue
Rent or buy this article
Prices vary by article type
from$1.95
to$39.95
Prices may be subject to local taxes which are calculated during checkout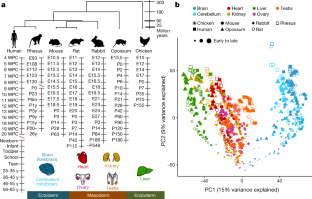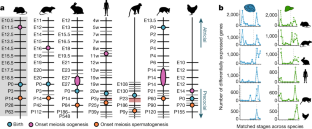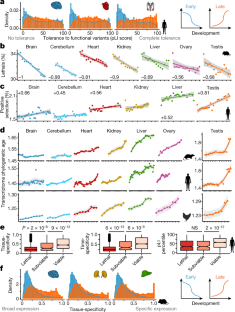 Similar content being viewed by others
References
Pantalacci, S. & Semon, M. Transcriptomics of developing embryos and organs: a raising tool for evo–devo. J. Exp. Zool. Mol. Dev. Evol. 324, 363–371 (2015).

Silbereis, J. C., Pochareddy, S., Zhu, Y., Li, M. & Sestan, N. The cellular and molecular landscapes of the developing human central nervous system. Neuron 89, 248–268 (2016).

DeFalco, T. & Capel, B. Gonad morphogenesis in vertebrates: divergent means to a convergent end. Annu. Rev. Cell Dev. Biol. 25, 457–482 (2009).

Abzhanov, A. von Baer's law for the ages: lost and found principles of developmental evolution. Trends Genet. 29, 712–722 (2013).

Kalinka, A. T. & Tomancak, P. The evolution of early animal embryos: conservation or divergence? Trends Ecol. Evol. 27, 385–393 (2012).

Ferner, K., Schultz, J. A. & Zeller, U. Comparative anatomy of neonates of the three major mammalian groups (monotremes, marsupials, placentals) and implications for the ancestral mammalian neonate morphotype. J. Anat. 231, 798–822 (2017).

Dickinson, M. E. et al. High-throughput discovery of novel developmental phenotypes. Nature 537, 508–514 (2016).

Petrovski, S., Wang, Q., Heinzen, E. L., Allen, A. S. & Goldstein, D. B. Genic intolerance to functional variation and the interpretation of personal genomes. PLoS Genet. 9, e1003709 (2013).

Lek, M. et al. Analysis of protein-coding genetic variation in 60,706 humans. Nature 536, 285–291 (2016).

Cassa, C. A. et al. Estimating the selective effects of heterozygous protein-truncating variants from human exome data. Nat. Genet. 49, 806–810 (2017).

Ruderfer, D. M. et al. Patterns of genic intolerance of rare copy number variation in 59,898 human exomes. Nat. Genet. 48, 1107–1111 (2016).

Hill, M. A. Embryology Carnegie Stage Comparison https://jeltsch.org/carnegie_stage_comparison (2017).

de Bakker, B. S. et al. An interactive three-dimensional digital atlas and quantitative database of human development. Science 354, aag0053 (2016).

Kerwin, J. et al. The HUDSEN Atlas: a three-dimensional (3D) spatial framework for studying gene expression in the developing human brain. J. Anat. 217, 289–299 (2010).

Butler, H. & Juurlink, B. H. J. An Atlas for Staging Mammalian and Chick Embryos (CRC Press, 1987).

Smith, K. K. Early development of the neural plate, neural crest and facial region of marsupials. J. Anat. 199, 121–131 (2001).

Dillman, A. A. et al. mRNA expression, splicing and editing in the embryonic and adult mouse cerebral cortex. Nat. Neurosci. 16, 499–506 (2013).

Glucksmann, A. Sexual dimorphism in mammals. Biol. Rev. Camb. Philos. Soc. 49, 423–475 (1974).

Feng, C. W., Bowles, J. & Koopman, P. Control of mammalian germ cell entry into meiosis. Mol. Cell. Endocrinol. 382, 488–497 (2014).

Soumillon, M. et al. Cellular source and mechanisms of high transcriptome complexity in the mammalian testis. Cell Rep. 3, 2179–2190 (2013).

Ungewitter, E. K. & Yao, H. H. How to make a gonad: cellular mechanisms governing formation of the testes and ovaries. Sex Dev. 7, 7–20 (2013).

Roux, J. & Robinson-Rechavi, M. Developmental constraints on vertebrate genome evolution. PLoS Genet. 4, e1000311 (2008).

Kalinka, A. T. et al. Gene expression divergence recapitulates the developmental hourglass model. Nature 468, 811–814 (2010).

Hu, H. et al. Constrained vertebrate evolution by pleiotropic genes. Nat. Ecol. Evol. 1, 1722–1730 (2017).

Hazkani-Covo, E., Wool, D. & Graur, D. In search of the vertebrate phylotypic stage: a molecular examination of the developmental hourglass model and von Baer's third law. J. Exp. Zool. B Mol. Dev. Evol. 304B, 150–158 (2005).

Garfield, D. A. & Wray, G. A. Comparative embryology without a microscope: using genomic approaches to understand the evolution of development. J. Biol. 8, 65 (2009).

Koscielny, G. et al. The International Mouse Phenotyping Consortium Web Portal, a unified point of access for knockout mice and related phenotyping data. Nucleic Acids Res. 42, D802–D809 (2014).

Kosiol, C. et al. Patterns of positive selection in six mammalian genomes. PLoS Genet. 4, e1000144 (2008).

Kaessmann, H. Origins, evolution, and phenotypic impact of new genes. Genome Res. 20, 1313–1326 (2010).

Stern, D. L. Evolutionary developmental biology and the problem of variation. Evolution 54, 1079–1091 (2000).

Carroll, S. B. Evolution at two levels: on genes and form. PLoS Biol. 3, e245 (2005).

Duret, L. & Mouchiroud, D. Determinants of substitution rates in mammalian genes: expression pattern affects selection intensity but not mutation rate. Mol. Biol. Evol. 17, 68–74 (2000).

Winter, E. E., Goodstadt, L. & Ponting, C. P. Elevated rates of protein secretion, evolution, and disease among tissue-specific genes. Genome Res. 14, 54–61 (2004).

Galis, F. & Metz, J. A. Testing the vulnerability of the phylotypic stage: on modularity and evolutionary conservation. J. Exp. Zool. 291, 195–204 (2001).

Sears, K., Maier, J. A., Sadier, A., Sorensen, D. & Urban, D. J. Timing the developmental origins of mammalian limb diversity. Genesis 56, e23079 (2018).

Plant, T. M., Ramaswamy, S., Simorangkir, D. & Marshall, G. R. Postnatal and pubertal development of the rhesus monkey (Macaca mulatta) testis. Ann. NY Acad. Sci. 1061, 149–162 (2005).

Bruneau, B. G. Signaling and transcriptional networks in heart development and regeneration. Cold Spring Harb. Perspect. Biol. 5, a008292 (2013).

Carelli, F. N., Liechti, A., Halbert, J., Warnefors, M. & Kaessmann, H. Repurposing of promoters and enhancers during mammalian evolution. Nat. Commun. 9, 4066 (2018).

Marin, R. et al. Convergent origination of a Drosophila-like dosage compensation mechanism in a reptile lineage. Genome Res. 27, 1974–1987 (2017).

Wu, T. D. & Nacu, S. Fast and SNP-tolerant detection of complex variants and splicing in short reads. Bioinformatics 26, 873–881 (2010).

Anders, S., Pyl, P. T. & Huber, W. HTSeqa Python framework to work with high-throughput sequencing data. Bioinformatics 31, 166–169 (2015).

Robinson, M. D., McCarthy, D. J. & Smyth, G. K. edgeR: a Bioconductor package for differential expression analysis of digital gene expression data. Bioinformatics 26, 139–140 (2010).

Li, H. et al. The Sequence Alignment/Map format and SAMtools. Bioinformatics 25, 2078–2079 (2009).

Picard. http://broadinstitute.github.io/picard (2015).

Lê, S., Josse, J. & Husson, F. FactoMineR: an R package for multivariate analysis. J. Stat. Softw. 25, 1–18 (2008).

R Core Team. R: A Language and Environment for Statistical Computing (2014).

Anavy, L. et al. BLIND ordering of large-scale transcriptomic developmental timecourses. Development 141, 1161–1166 (2014).

Love, M. I., Huber, W. & Anders, S. Moderated estimation of fold change and dispersion for RNA-seq data with DESeq2. Genome Biol. 15, 550 (2014).

Quinlan, A. R. & Hall, I. M. BEDTools: a flexible suite of utilities for comparing genomic features. Bioinformatics 26, 841–842 (2010).

Nueda, M. J., Tarazona, S. & Conesa, A. Next maSigPro: updating maSigPro Bioconductor package for RNA-seq time series. Bioinformatics 30, 2598–2602 (2014).

Conesa, A., Nueda, M. J., Ferrer, A. & Talón, M. maSigPro: a method to identify significantly differential expression profiles in time-course microarray experiments. Bioinformatics 22, 1096–1102 (2006).

Zhang, H. M. et al. AnimalTFDB 2.0: a resource for expression, prediction and functional study of animal transcription factors. Nucleic Acids Res. 43, D76–D81 (2015).

Giorgino, T. Computing and visualizing dynamic time warping alignments in R: the dtw package. J. Stat. Softw. 31, 1–24 (2009).

Clancy, B., Darlington, R. B. & Finlay, B. L. Translating developmental time across mammalian species. Neuroscience 105, 7–17 (2001).

Smith, K. K. Craniofacial development in marsupial mammals: developmental origins of evolutionary change. Dev. Dyn. 235, 1181–1193 (2006).

Futschik, M. E. & Carlisle, B. Noise-robust soft clustering of gene expression time-course data. J. Bioinform. Comput. Biol. 3, 965–988 (2005).

Kumar, L. & E Futschik, M. Mfuzz: a software package for soft clustering of microarray data. Bioinformation 2, 5–7 (2007).

Eisenberg, E. & Levanon, E. Y. Human housekeeping genes, revisited. Trends Genet. 29, 569–574 (2013).

Domazet-Lošo, T. & Tautz, D. A phylogenetically based transcriptome age index mirrors ontogenetic divergence patterns. Nature 468, 815–818 (2010).

Zhang, Y. E., Vibranovski, M. D., Landback, P., Marais, G. A. & Long, M. Chromosomal redistribution of male-biased genes in mammalian evolution with two bursts of gene gain on the X chromosome. PLoS Biol. 8, e1000494 (2010).

Yanai, I. et al. Genome-wide midrange transcription profiles reveal expression level relationships in human tissue specification. Bioinformatics 21, 650–659 (2005).

Hensman, J., Lawrence, N. D. & Rattray, M. Hierarchical Bayesian modelling of gene expression time series across irregularly sampled replicates and clusters. BMC Bioinformatics 14, 252 (2013).

Hensman, J., Rattray, M. & Lawrence, N. D. Fast nonparametric clustering of structured time-series. IEEE Trans. Pattern Anal. Mach. Intell. 37, 383–393 (2015).

Hensman, J., Rattray, M. & Lawrence, N. D. Fast variational inference in the conjugate exponential family. In Proc. NIPS'12 Proceedings 25th International Conference on Neural Information Processing Systems Vol. 2, 2888–2896 (2014).

Kumar, S., Stecher, G., Suleski, M. & Hedges, S. B. TimeTree: a resource for timelines, timetrees, and divergence times. Mol. Biol. Evol. 34, 1812–1819 (2017).

Vickaryous, M. K. & Hall, B. K. Human cell type diversity, evolution, development, and classification with special reference to cells derived from the neural crest. Biol. Rev. Camb. Philos. Soc. 81, 425–455 (2006).

Wickham, H. ggplot2: Elegant Graphics for Data Analysis (Springer-Verlag, 2009).

Auguie, B. gridExtra: Miscellaneous Functions for "Grid" Graphics. v.2.2.1 (2015).

Wickham, H. Reshaping data with the reshape package. J. Stat. Softw. 21, 1–20 (2007).

Wickham, H. The split-apply-combine strategy for data analysis. J. Stat. Softw. 40, 1–29 (2011).

Kassambara, A. & Mundt, F. factoextra: Extract and Visualize the Results of Multivariate Data Analyses. v.1.0.4 (2017).

Wang, J., Vasaikar, S., Shi, Z., Greer, M. & Zhang, B. WebGestalt 2017: a more comprehensive, powerful, flexible and interactive gene set enrichment analysis toolkit. Nucleic Acids Res. 45, W130–W137 (2017).
Acknowledgements
We thank R. Arguello, F. Lamanna, I. Sarropoulos, M. Sepp and members of the Kaessmann group for discussion; I. Moreira for developing the Shiny application; M. Sanchez-Delgado and N. Trost for figure assistance; P. Dhakal for assistance collecting rat samples; S. Nef for assistance collecting gonadal samples; the Lausanne Genomics Technology Facility for high-throughput sequencing; the Joint MRC/Wellcome (MR/R006237/1) Human Developmental Biology Resource (HDBR), the Maryland Brain Collection Center and the Chinese Brain Bank Center for providing human samples; and the Suzhou Experimental Animal Center for providing rhesus macaque samples. Computations were performed at the Vital-IT Center of the SIB Swiss Institute of Bioinformatics and at the bwForCluster from the Heidelberg University Computational Center (supported by the state of Baden-Württemberg through bwHPC and the German Research Foundation - INST 35/1134-1 FUGG). M.J.S. was supported by the National Institutes of Health (HD020676); P.J. by the European Research Council (322206, Genewell); Y.E.Z. by the National Natural Science Foundation of China (31771410, 91731302); M.C. by Fundação para a Ciência e Tecnologia through POPH-QREN funds from the European Social Fund and Portuguese MCTES (IF/00283/2014/CP1256/CT0012); S. Anders by the German Research Foundation (SFB 1036). This research was supported by grants from the European Research Council (615253, OntoTransEvol) and Swiss National Science Foundation (146474) to H.K. and by the Marie Curie FP7-PEOPLE-2012-IIF to M.C.-M. (329902).
Peer review information
Nature thanks Pavel Tomancak and the other anonymous reviewer(s) for their contribution to the peer review of this work.
Ethics declarations
Competing interests
The authors declare no competing interests.
Additional information
Publisher's note: Springer Nature remains neutral with regard to jurisdictional claims in published maps and institutional affiliations.
Extended data figures and tables
Supplementary information
This file contains Supplementary Tables 1-20 and a guide for the supplementary tables.
About this article
Cite this article
Cardoso-Moreira, M., Halbert, J., Valloton, D. et al. Gene expression across mammalian organ development. Nature 571, 505–509 (2019). https://doi.org/10.1038/s41586-019-1338-5
Received:

Accepted:

Published:

Issue Date:

DOI: https://doi.org/10.1038/s41586-019-1338-5
Comments
By submitting a comment you agree to abide by our Terms and Community Guidelines. If you find something abusive or that does not comply with our terms or guidelines please flag it as inappropriate.