Abstract
Slow-wave sleep and rapid eye movement (or paradoxical) sleep have been found in mammals, birds and lizards, but it is unclear whether these neuronal signatures are found in non-amniotic vertebrates. Here we develop non-invasive fluorescence-based polysomnography for zebrafish, and show—using unbiased, brain-wide activity recording coupled with assessment of eye movement, muscle dynamics and heart rate—that there are at least two major sleep signatures in zebrafish. These signatures, which we term slow bursting sleep and propagating wave sleep, share commonalities with those of slow-wave sleep and paradoxical or rapid eye movement sleep, respectively. Further, we find that melanin-concentrating hormone signalling (which is involved in mammalian sleep) also regulates propagating wave sleep signatures and the overall amount of sleep in zebrafish, probably via activation of ependymal cells. These observations suggest that common neural signatures of sleep may have emerged in the vertebrate brain over 450 million years ago.
Access options
Subscribe to Journal
Get full journal access for 1 year
$199.00
only $3.90 per issue
All prices are NET prices.
VAT will be added later in the checkout.
Rent or Buy article
Get time limited or full article access on ReadCube.
from$8.99
All prices are NET prices.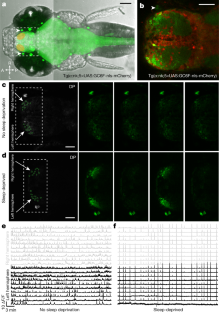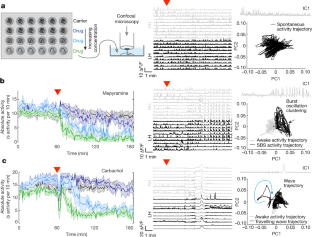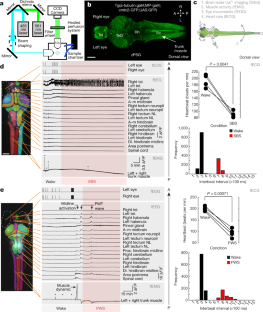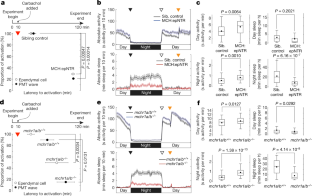 References
1.

Campbell, S. S. & Tobler, I. Animal sleep: a review of sleep duration across phylogeny. Neurosci. Biobehav. Rev. 8, 269–300 (1984).

2.

Leung, L. C. & Mourrain, P. Sleep: short sleepers should keep count of their hypocretin neurons. Curr. Biol. 28, R558–R560 (2018).

3.

Pieron, H. Le Probleme Physiologique su Sommeil (Masson, 1913).

4.

Shein-Idelson, M., Ondracek, J. M., Liaw, H. P., Reiter, S. & Laurent, G. Slow waves, sharp waves, ripples, and REM in sleeping dragons. Science 352, 590–595 (2016).

5.

Prober, D. A. et al. Hypocretin/orexin overexpression induces an insomnia-like phenotype in zebrafish. J. Neurosci. 26, 13400–13410 (2006).

6.

Yokogawa, T. et al. Characterization of sleep in zebrafish and insomnia in hypocretin receptor mutants. PLoS Biol. 5, e277 (2007).

7.

Zhdanova, I. V. Sleep in zebrafish. Zebrafish 3, 215–226 (2006).

8.

Aho, V. et al. Homeostatic response to sleep/rest deprivation by constant water flow in larval zebrafish in both dark and light conditions. J. Sleep Res. 26, 394–400 (2017).

9.

Appelbaum, L. et al. Sleep-wake regulation and hypocretin-melatonin interaction in zebrafish. Proc. Natl Acad. Sci. USA 106, 21942–21947 (2009).

10.

Mueller, T., Dong, Z., Berberoglu, M. A. & Guo, S. The dorsal pallium in zebrafish, Danio rerio (Cyprinidae, Teleostei). Brain Res. 1381, 95–105 (2011).

11.

Berman, J. R., Skariah, G., Maro, G. S., Mignot, E. & Mourrain, P. Characterization of two melanin-concentrating hormone genes in zebrafish reveals evolutionary and physiological links with the mammalian MCH system. J. Comp. Neurol. 517, 695–710 (2009).

12.

Chen, T. W. et al. Ultrasensitive fluorescent proteins for imaging neuronal activity. Nature 499, 295–300 (2013).

13.

Madelaine, R. et al. MicroRNA-9 couples brain neurogenesis and angiogenesis. Cell Reports 20, 1533–1542 (2017).

14.

Chauvette, S., Crochet, S., Volgushev, M. & Timofeev, I. Properties of slow oscillation during slow-wave sleep and anesthesia in cats. J. Neurosci. 31, 14998–15008 (2011).

15.

Borbély, A. A. A two process model of sleep regulation. Hum. Neurobiol. 1, 195–204 (1982).

16.

Borbély, A. A., Daan, S., Wirz-Justice, A. & Deboer, T. The two-process model of sleep regulation: a reappraisal. J. Sleep Res. 25, 131–143 (2016).

17.

Ikeda-Sagara, M. et al. Induction of prolonged, continuous slow-wave sleep by blocking cerebral H1 histamine receptors in rats. Br. J. Pharmacol. 165, 167–182 (2012).

18.

Marzanatti, M., Monopoli, A., Trampus, M. & Ongini, E. Effects of nonsedating histamine H1-antagonists on EEG activity and behavior in the cat. Pharmacol. Biochem. Behav. 32, 861–866 (1989).

19.

Saitou, K., Kaneko, Y., Sugimoto, Y., Chen, Z. & Kamei, C. Slow wave sleep-inducing effects of first generation H1-antagonists. Biol. Pharm. Bull. 22, 1079–1082 (1999).

20.

Niethard, N. et al. Sleep-stage-specific regulation of cortical excitation and inhibition. Curr. Biol. 26, 2739–2749 (2016).

21.

Dissel, S. et al. Sleep restores behavioral plasticity to Drosophila mutants. Curr. Biol. 25, 1270–1281 (2015).

22.

Che Has, A. T. et al. Zolpidem is a potent stoichiometry-selective modulator of α1β3 GABAA receptors: evidence of a novel benzodiazepine site in the α1–α1 interface. Sci. Rep. 6, 28674 (2016).

23.

Sitaram, N., Wyatt, R. J., Dawson, S. & Gillin, J. C. REM sleep induction by physostigmine infusion during sleep. Science 191, 1281–1283 (1976).

24.

Callaway, C. W., Lydic, R., Baghdoyan, H. A. & Hobson, J. A. Pontogeniculooccipital waves: spontaneous visual system activity during rapid eye movement sleep. Cell. Mol. Neurobiol. 7, 105–149 (1987).

25.

Datta, S. Cellular basis of pontine ponto-geniculo-occipital wave generation and modulation. Cell. Mol. Neurobiol. 17, 341–365 (1997).

26.

Baghdoyan, H. A., Lydic, R., Callaway, C. W. & Hobson, J. A. The carbachol-induced enhancement of desynchronized sleep signs is dose dependent and antagonized by centrally administered atropine. Neuropsychopharmacology 2, 67–79 (1989).

27.

Coleman, C. G., Lydic, R. & Baghdoyan, H. A. M2 muscarinic receptors in pontine reticular formation of C57BL/6J mouse contribute to rapid eye movement sleep generation. Neuroscience 126, 821–830 (2004).

28.

Datta, S., Quattrochi, J. J. & Hobson, J. A. Effect of specific muscarinic M2 receptor antagonist on carbachol induced long-term REM sleep. Sleep 16, 8–14 (1993).

29.

Árnason, B. B., Þorsteinsson, H. & Karlsson, K. A. E. Absence of rapid eye movements during sleep in adult zebrafish. Behav. Brain Res. 291, 189–194 (2015).

30.

Roessmann, U., Velasco, M. E., Sindely, S. D. & Gambetti, P. Glial fibrillary acidic protein (GFAP) in ependymal cells during development. An immunocytochemical study. Brain Res. 200, 13–21 (1980).

31.

Conductier, G. et al. Control of ventricular ciliary beating by the melanin concentrating hormone-expressing neurons of the lateral hypothalamus: a functional imaging survey. Front. Endocrinol. 4, 182 (2013).

32.

Dale, N. Purinergic signaling in hypothalamic tanycytes: potential roles in chemosensing. Semin. Cell Dev. Biol. 22, 237–244 (2011).

33.

Rizzoti, K. & Lovell-Badge, R. Pivotal role of median eminence tanycytes for hypothalamic function and neurogenesis. Mol. Cell. Endocrinol. 445, 7–13 (2017).

34.

Peyron, C., Sapin, E., Leger, L., Luppi, P. H. & Fort, P. Role of the melanin-concentrating hormone neuropeptide in sleep regulation. Peptides 30, 2052–2059 (2009).

35.

Logan, D. W., Burn, S. F. & Jackson, I. J. Regulation of pigmentation in zebrafish melanophores. Pigment Cell Res. 19, 206–213 (2006).

36.

Torterolo, P., Lagos, P., Sampogna, S. & Chase, M. H. Melanin-concentrating hormone (MCH) immunoreactivity in non-neuronal cells within the raphe nuclei and subventricular region of the brainstem of the cat. Brain Res. 1210, 163–178 (2008).

37.

Conductier, G. et al. Melanin-concentrating hormone regulates beat frequency of ependymal cilia and ventricular volume. Nat. Neurosci. 16, 845–847 (2013).

38.

Hassani, O. K., Lee, M. G. & Jones, B. E. Melanin-concentrating hormone neurons discharge in a reciprocal manner to orexin neurons across the sleep–wake cycle. Proc. Natl Acad. Sci. USA 106, 2418–2422 (2009).

39.

Jego, S. et al. Optogenetic identification of a rapid eye movement sleep modulatory circuit in the hypothalamus. Nat. Neurosci. 16, 1637–1643 (2013).

40.

Kawauchi, H., Kawazoe, I., Tsubokawa, M., Kishida, M. & Baker, B. I. Characterization of melanin-concentrating hormone in chum salmon pituitaries. Nature 305, 321–323 (1983).

41.

Kwan, K. M. et al. The Tol2kit: a multisite gateway-based construction kit for Tol2 transposon transgenesis constructs. Dev. Dyn. 236, 3088–3099 (2007).

42.

Hieber, V., Dai, X., Foreman, M. & Goldman, D. Induction of α1-tubulin gene expression during development and regeneration of the fish central nervous system. J. Neurobiol. 37, 429–440 (1998).

43.

Muto, A., Ohkura, M., Abe, G., Nakai, J. & Kawakami, K. Real-time visualization of neuronal activity during perception. Curr. Biol. 23, 307–311 (2013).

44.

Bernardos, R. L. & Raymond, P. A. GFAP transgenic zebrafish. Gene Expr. Patterns 6, 1007–1013 (2006).

45.

Tabor, K. M. et al. Direct activation of the Mauthner cell by electric field pulses drives ultrarapid escape responses. J. Neurophysiol. 112, 834–844 (2014).

46.

Appelbaum, L. et al. Circadian and homeostatic regulation of structural synaptic plasticity in hypocretin neurons. Neuron 68, 87–98 (2010).

47.

Renier, C. et al. Genomic and functional conservation of sedative-hypnotic targets in the zebrafish. Pharmacogenet. Genomics 17, 237–253 (2007).

48.

Rihel, J. et al. Zebrafish behavioral profiling links drugs to biological targets and rest/wake regulation. Science 327, 348–351 (2010).

49.

Pitrone, P. G. et al. OpenSPIM: an open-access light-sheet microscopy platform. Nat. Methods 10, 598–599 (2013).
Acknowledgements
We thank all members of the Mourrain laboratory for helpful feedback and discussion during the project and preparation of the manuscript; L. de Lecea, J. Zeitzer, C. Heller, D. Grahn, D. Colas and A. Adamantidis for important feedback; P. Raymond, K. Kwan and H. Burgess for sharing constructs and lines; S. Nishino for the kind gift of zolpidem; L. Alexandre and S. Murphy for their diligent care of our zebrafish; Stanford Cell Sciences Imaging Facility for imaging assistance (funded by NCRR award S10RR02557401); and J. Goldberg (Research To Prevent Blindness) and Stanford Vision Research Core (NIH P30-EY0268771). Funding support was provided by Stanford School of Medicine Dean's fellowship (L.C.L.); JP18H04988, NBRP from AMED (K.K.); NIMH, NIDA, DARPA, NSF, Wiegers Family Fund, AE Foundation, Tarlton Foundation, and Gatsby Foundation (K.D.); NIMH, NINDS, Tashia and John Morgridge Fund (A.E.U.); and NIDDK (5R01DK090065-05), NINDS, NIMH, NIA, Bright-Focus Foundation, Simons Foundation and John Merck Fund (P.M.).
Reviewer information
Nature thanks Herwig Baier and the other anonymous reviewer(s) for their contribution to the peer review of this work.
Ethics declarations
Competing interests
The authors declare no competing interests.
Additional information
Publisher's note: Springer Nature remains neutral with regard to jurisdictional claims in published maps and institutional affiliations.
Extended data figures and tables
Supplementary information
This file contains supplementary text; which includes Supplementary Figures 1 and 2 and Supplementary Tables 1 and 2. Further details on this file can be found in the Supplementary Information Guide.
This file contains the Supplementary Information Guide. It contains more details on the supplementary text, and also includes the links to supplementary videos 1–19 and the video legends, which can also be downloaded from https://drive.google.com/open?id=1CQGSFzxm39KCvN9D_XwJR2rOY6hS7oC5.
About this article
Cite this article
Leung, L.C., Wang, G.X., Madelaine, R. et al. Neural signatures of sleep in zebrafish. Nature 571, 198–204 (2019). https://doi.org/10.1038/s41586-019-1336-7
Received:

Accepted:

Published:

Issue Date:
Comments
By submitting a comment you agree to abide by our Terms and Community Guidelines. If you find something abusive or that does not comply with our terms or guidelines please flag it as inappropriate.