Abstract
Early detection and treatment are critical for improving the outcome of patients with cancer1. Understanding the largely uncharted biology of carcinogenesis requires deciphering molecular processes in premalignant lesions, and revealing the determinants of the intralesional immune reaction during cancer development. The adaptive immune response within tumours has previously been shown to be strongest at the earliest stage of carcinoma2,3. Here we show that immune activation and immune escape occur before tumour invasion, and reveal the relevant immune biomarkers of the pre-invasive stages of carcinogenesis in the lung. We used gene-expression profiling and multispectral imaging to analyse a dataset of 9 morphological stages of the development of lung squamous cell carcinoma, which includes 122 well-annotated biopsies from 77 patients. We identified evolutionary trajectories of cancer and immune pathways that comprise (1) a linear increase in proliferation and DNA repair from normal to cancerous tissue; (2) a transitory increase of metabolism and early immune sensing, through the activation of resident immune cells, in low-grade pre-invasive lesions; (3) the activation of immune responses and immune escape through immune checkpoints and suppressive interleukins from high-grade pre-invasive lesions; and, ultimately, (4) the activation of the epithelial–mesenchymal transition in the invasive stage of cancer. We propose that carcinogenesis in the lung involves a dynamic co-evolution of pre-invasive bronchial cells and the immune response. These findings highlight the need to develop immune biomarkers for early detection as well as immunotherapy-based chemopreventive approaches for individuals who are at high risk of developing lung cancer.
Access options
Subscribe to Journal
Get full journal access for 1 year
$199.00
only $3.90 per issue
All prices are NET prices.
VAT will be added later in the checkout.
Tax calculation will be finalised during checkout.
Rent or Buy article
Get time limited or full article access on ReadCube.
from$8.99
All prices are NET prices.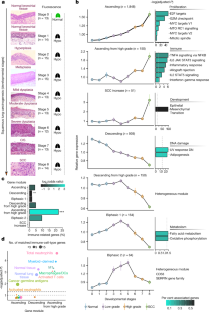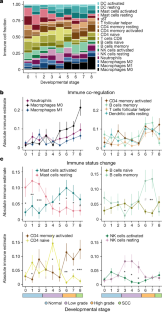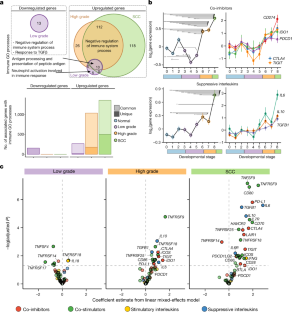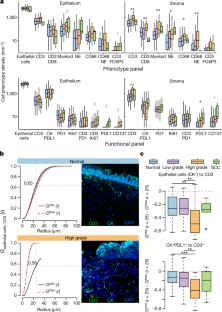 Data availability
Gene expression data are available in the Gene Expression Omnibus database with accession number GSE33479.
References
1.

Goldberg, S. W., Mulshine, J. L., Hagstrom, D. & Pyenson, B. S. An actuarial approach to comparing early stage and late stage lung cancer mortality and survival. Popul. Health Manag. 13, 33–46 (2010).

2.

Bindea, G. et al. Spatiotemporal dynamics of intratumoral immune cells reveal the immune landscape in human cancer. Immunity 39, 782–795 (2013).

3.

Mlecnik, B. et al. Histopathologic-based prognostic factors of colorectal cancers are associated with the state of the local immune reaction. J. Clin. Oncol. 29, 610–618 (2011).

4.

Herbst, R. S., Morgensztern, D. & Boshoff, C. The biology and management of non-small cell lung cancer. Nature 553, 446–454 (2018).

5.

De Koning, H., Van Der Aalst, C., Ten Haaf, K. & Oudkerk, M. PL02.05 effects of volume CT lung cancer screening: mortality results of the NELSON randomised-controlled population based trial. J. Thorac. Oncol. 13, S185 (2018).

6.

Umar, A., Dunn, B. K. & Greenwald, P. Future directions in cancer prevention. Nat. Rev. Cancer 12, 835–848 (2012).

7.

Kensler, T. W. et al. Transforming cancer prevention through precision medicine and immune-oncology. Cancer Prev. Res. 9, 2–10 (2016).

8.

Slaughter, D. P., Southwick, H. W. & Smejkal, W. Field cancerization in oral stratified squamous epithelium; clinical implications of multicentric origin. Cancer 6, 963–968 (1953).

9.

Kerr, K. M. Pulmonary preinvasive neoplasia. J. Clin. Pathol. 54, 257–271 (2001).

10.

Galon, J. et al. Type, density, and location of immune cells within human colorectal tumors predict clinical outcome. Science 313, 1960–1964 (2006).

11.

Galon, J., Angell, H. K., Bedognetti, D. & Marincola, F. M. The continuum of cancer immunosurveillance: prognostic, predictive, and mechanistic signatures. Immunity 39, 11–26 (2013).

12.

Pagès, F. et al. International validation of the consensus immunoscore for the classification of colon cancer: a prognostic and accuracy study. Lancet 391, 2128–2139 (2018).

13.

Pagès, F. et al. In situ cytotoxic and memory T cells predict outcome in patients with early-stage colorectal cancer. J. Clin. Oncol. 27, 5944–5951 (2009).

14.

Fridman, W. H., Pagès, F., Sautès-Fridman, C. & Galon, J. The immune contexture in human tumours: impact on clinical outcome. Nat. Rev. Cancer 12, 298–306 (2012).

15.

Gentles, A. J. et al. The prognostic landscape of genes and infiltrating immune cells across human cancers. Nat. Med. 21, 938–945 (2015).

16.

Teixeira, V. H. et al. Deciphering the genomic, epigenomic, and transcriptomic landscapes of pre-invasive lung cancer lesions. Nat. Med. 25, 517–525 (2019).

17.

Wu, S., Powers, S., Zhu, W. & Hannun, Y. A. Substantial contribution of extrinsic risk factors to cancer development. Nature 529, 43–47 (2016).

18.

Angelova, M. et al. Evolution of metastases in space and time under immune selection. Cell 175, 751–765 (2018).

19.

Mlecnik, B. et al. The tumor microenvironment and immunoscore are critical determinants of dissemination to distant metastasis. Sci. Transl. Med. 8, 327ra26 (2016).

20.

Galon, J. & Bruni, D. Approaches to treat immune hot, altered and cold tumours with combination immunotherapies. Nat. Rev. Drug Discov. 18, 197–218 (2019).

21.

Gandhi, L. et al. Pembrolizumab plus chemotherapy in metastatic non-small-cell lung cancer. N. Engl. J. Med. 378, 2078–2092 (2018).

22.

Reck, M. et al. Pembrolizumab versus chemotherapy for PD-L1-positive non-small-cell lung cancer. N. Engl. J. Med. 375, 1823–1833 (2016).

23.

Brahmer, J. et al. Nivolumab versus docetaxel in advanced squamous-cell non-small-cell lung cancer. N. Engl. J. Med. 373, 123–135 (2015).

24.

Herbst, R. S. et al. Pembrolizumab versus docetaxel for previously treated, PD-L1-positive, advanced non-small-cell lung cancer (KEYNOTE-010): a randomised controlled trial. Lancet 387, 1540–1550 (2016).

25.

Antonia, S. J. et al. Overall survival with durvalumab after chemoradiotherapy in stage III NSCLC. N. Engl. J. Med. 379, 2342–2350 (2018).

26.

Eggermont, A. M. M. et al. Adjuvant pembrolizumab versus placebo in resected stage III melanoma. N. Engl. J. Med. 378, 1789–1801 (2018).

27.

Forde, P. M. et al. Neoadjuvant PD-1 blockade in resectable lung cancer. N. Engl. J. Med. 378, 1976–1986 (2018).

28.

Mascaux, C. et al. Evolution of microRNA expression during human bronchial squamous carcinogenesis. Eur. Respir. J. 33, 352–359 (2009).

29.

Bota, S. et al. Follow-up of bronchial precancerous lesions and carcinoma in situ using fluorescence endoscopy. Am. J. Respir. Crit. Care Med. 164, 1688–1693 (2001).

30.

Breuer, R. H. et al. The natural course of preneoplastic lesions in bronchial epithelium. Clin. Cancer Res. 11, 537–543 (2005).
Acknowledgements
We thank P. Pierard, J. Faber, M. Bruyneel, S. Bensliman and O. Bauwens, who performed bronchoscopy sampling; A.-P. Meert and T. Berghmans, who recruited the patients from Jules Bordet Institute; C. Decoster, B. Martin and J.-F. Godart, who contributed to biopsy collection; Y. Cleuter, A. Vandenbroecke, J.-F. Laes and L. Lafontaine, who shared their technical expertise; B. Grisart, P. Martiat and C. Sotiriou, who opened access to their laboratory; and all the patients who generously participated in this study. This research was supported by the Fund of Medical Scientific Research (Belgium), the National Fund of Scientific Research-Télévie campaign and the ASBL 'Les Amis de l'Institut Jules Bordet'. C.M. was a research fellow from the National Fund of Scientific Research (Belgium) and was supported by a grant from the Louisiana Chapter of the National Lung Cancer Partnership (USA). J.B. was supported by a LUNGevity Foundation Career Development Award. This work was also supported by grants from the National Cancer Institute of France (INCa), the Canceropole Ile de France, INSERM, La Ligue Contre le Cancer, the Cancer research for personalized medicine (CARPEM), Paris Alliance of Cancer Research Institutes (PACRI) and LabEx Immuno-oncology.
Reviewer information
Nature thanks Lynette Marie Sholl and the other anonymous reviewer(s) for their contribution to the peer review of this work.
Ethics declarations
Competing interests
The authors declare competing financial interests: J.G. is co-founder of HalioDx biotech company. A.S. is an employee of Johnson and Johnson. C.M. received honoraria for expertise and speaker roles, being on the advisory board or attending meetings, from Boehringher Ingelheim, Lilly, Bristol-Myers Squibb, AstraZeneca, Roche, Kephren and Novartis. European Patent Application EP19305434.3 was filed on 2 April 2019 by Inserm, Université Paris Descartes, Université Paris Diderot, Sorbonne Université, Université Aix-Marseille, APHM and Université Libre de Bruxelles, and European Patent Application EP19305535.7 was filed on 26 April 2019 by Inserm, Université Paris Descartes, Université Paris Diderot, Sorbonne Université, Université Aix-Marseille, APHM and Université Libre de Bruxelles. The inventors designation is in progress.
Additional information
Publisher's note: Springer Nature remains neutral with regard to jurisdictional claims in published maps and institutional affiliations.
Extended data figures and tables
Supplementary information
About this article
Cite this article
Mascaux, C., Angelova, M., Vasaturo, A. et al. Immune evasion before tumour invasion in early lung squamous carcinogenesis. Nature 571, 570–575 (2019). https://doi.org/10.1038/s41586-019-1330-0
Received:

Accepted:

Published:

Issue Date:
Comments
By submitting a comment you agree to abide by our Terms and Community Guidelines. If you find something abusive or that does not comply with our terms or guidelines please flag it as inappropriate.