Abstract
Tumour-specific CD8 T cell dysfunction is a differentiation state that is distinct from the functional effector or memory T cell states1,2,3,4,5,6. Here we identify the nuclear factor TOX as a crucial regulator of the differentiation of tumour-specific T (TST) cells. We show that TOX is highly expressed in dysfunctional TST cells from tumours and in exhausted T cells during chronic viral infection. Expression of TOX is driven by chronic T cell receptor stimulation and NFAT activation. Ectopic expression of TOX in effector T cells in vitro induced a transcriptional program associated with T cell exhaustion. Conversely, deletion of Tox in TST cells in tumours abrogated the exhaustion program: Tox-deleted TST cells did not upregulate genes for inhibitory receptors (such as Pdcd1, Entpd1, Havcr2, Cd244 and Tigit), the chromatin of which remained largely inaccessible, and retained high expression of transcription factors such as TCF-1. Despite their normal, 'non-exhausted' immunophenotype, Tox-deleted TST cells remained dysfunctional, which suggests that the regulation of expression of inhibitory receptors is uncoupled from the loss of effector function. Notably, although Tox-deleted CD8 T cells differentiated normally to effector and memory states in response to acute infection, Tox-deleted TST cells failed to persist in tumours. We hypothesize that the TOX-induced exhaustion program serves to prevent the overstimulation of T cells and activation-induced cell death in settings of chronic antigen stimulation such as cancer.
Relevant articles
Open Access articles citing this article.
Weimin Wang

,

Yukun Zhang

…

Fadi Li

Microbiome Open Access 29 August 2023

Lucia Salz

,

Alexander Seitz

…

Wolfgang Wagner

Leukemia Open Access 14 July 2023

Shenghao Li

,

Liyuan Hao

…

Xiaoyu Hu

Chinese Medicine Open Access 24 June 2023
Access options
Access Nature and 54 other Nature Portfolio journals
Get Nature+, our best-value online-access subscription
$29.99 / 30 days
cancel any time
Subscribe to this journal
Receive 51 print issues and online access
$199.00 per year
only $3.90 per issue
Rent or buy this article
Prices vary by article type
from$1.95
to$39.95
Prices may be subject to local taxes which are calculated during checkout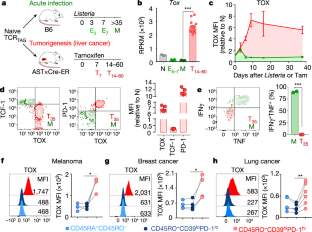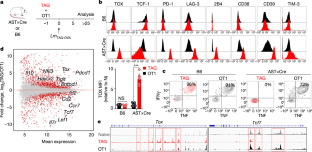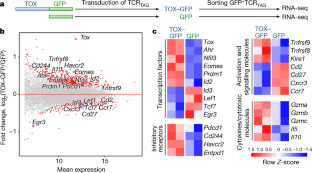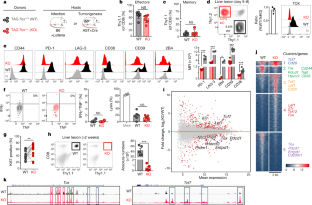 Data availability
All data generated and supporting the findings of this study are available within the paper. The RNA-seq and ATAC-seq data have been deposited in the Gene Expression Omnibus (GEO) under accession number GSE126974. Source Data are provided with the online version of the paper. Additional information and materials will be made available upon request.
References
Thommen, D. S. & Schumacher, T. N. T cell dysfunction in cancer. Cancer Cell 33, 547–562 (2018).

Baitsch, L. et al. Exhaustion of tumor-specific CD8+ T cells in metastases from melanoma patients. J. Clin. Invest. 121, 2350–2360 (2011).

Schietinger, A. et al. Tumor-specific T cell dysfunction is a dynamic antigen-driven differentiation program initiated early during tumorigenesis. Immunity 45, 389–401 (2016).

Mognol, G. P. et al. Exhaustion-associated regulatory regions in CD8+ tumor-infiltrating T cells. Proc. Natl Acad. Sci. USA 114, E2776–E2785 (2017).

Philip, M. et al. Chromatin states define tumour-specific T cell dysfunction and reprogramming. Nature 545, 452–456 (2017).

Henning, A. N., Roychoudhuri, R. & Restifo, N. P. Epigenetic control of CD8+ T cell differentiation. Nat. Rev. Immunol. 18, 340–356 (2018).

Stahl, S. et al. Tumor agonist peptides break tolerance and elicit effective CTL responses in an inducible mouse model of hepatocellular carcinoma. Immunol. Lett. 123, 31–37 (2009).

Kaech, S. M. & Cui, W. Transcriptional control of effector and memory CD8+ T cell differentiation. Nat. Rev. Immunol. 12, 749–761 (2012).

O'Flaherty, E. & Kaye, J. TOX defines a conserved subfamily of HMG-box proteins. BMC Genomics 4, 13 (2003).

Aliahmad, P. & Kaye, J. Development of all CD4 T lineages requires nuclear factor TOX. J. Exp. Med. 205, 245–256 (2008).

Aliahmad, P., Seksenyan, A. & Kaye, J. The many roles of TOX in the immune system. Curr. Opin. Immunol. 24, 173–177 (2012).

Seehus, C. R. et al. The development of innate lymphoid cells requires TOX-dependent generation of a common innate lymphoid cell progenitor. Nat. Immunol. 16, 599–608 (2015).

Page, N. et al. Expression of the DNA-binding factor TOX promotes the encephalitogenic potential of microbe-induced autoreactive CD8+ T cells. Immunity 48, 937–950 (2018).

Wherry, E. J. & Kurachi, M. Molecular and cellular insights into T cell exhaustion. Nat. Rev. Immunol. 15, 486–499 (2015).

Schietinger, A. & Greenberg, P. D. Tolerance and exhaustion: defining mechanisms of T cell dysfunction. Trends Immunol. 35, 51–60 (2014).

Bloom, M. B. et al. Identification of tyrosinase-related protein 2 as a tumour rejection antigen for the B16 melanoma. J. Exp. Med. 185, 453–459 (1997).

Overwijk, W. W. et al. Tumor regression and autoimmunity after reversal of a functionally tolerant state of self-reactive CD8+ T cells. J. Exp. Med. 198, 569–580 (2003).

Li, H. et al. Dysfunctional CD8 T cells form a proliferative, dynamically regulated compartment within human melanoma. Cell 176, 775–789 (2019).

Simoni, Y. et al. Bystander CD8+ T cells are abundant and phenotypically distinct in human tumour infiltrates. Nature 557, 575–579 (2018).

West, E. E. et al. Tight regulation of memory CD8+ T cells limits their effectiveness during sustained high viral load. Immunity 35, 285–298 (2011).

Martinez, G. J. et al. The transcription factor NFAT promotes exhaustion of activated CD8+ T cells. Immunity 42, 265–278 (2015).

Macian, F. NFAT proteins: key regulators of T-cell development and function. Nat. Rev. Immunol. 5, 472–484 (2005).

Man, K. et al. Transcription factor IRF4 promotes CD8+ T cell exhaustion and limits the development of memory-like T cells during chronic infection. Immunity 47, 1129–1141 (2017).

Scott-Browne, J. P. et al. Dynamic changes in chromatin accessibility occur in CD8+ T cells responding to viral infection. Immunity 45, 1327–1340 (2016).

Flanagan, W. M., Corthésy, B., Bram, R. J. & Crabtree, G. R. Nuclear association of a T-cell transcription factor blocked by FK-506 and cyclosporin A. Nature 352, 803–807 (1991).

Jain, J. et al. The T-cell transcription factor NFATp is a substrate for calcineurin and interacts with Fos and Jun. Nature 365, 352–355 (1993).

Staveley-O'Carroll, K. et al. In vivo ligation of CD40 enhances priming against the endogenous tumour antigen and promotes CD8+ T cell effector function in SV40 T antigen transgenic mice. J. Immunol. 171, 697–707 (2003).

Wang, Q., Strong, J. & Killeen, N. Homeostatic competition among T cells revealed by conditional inactivation of the mouse Cd4 gene. J. Exp. Med. 194, 1721–1730 (2001).

Wherry, E. J. et al. Molecular signature of CD8+ T cell exhaustion during chronic viral infection. Immunity 27, 670–684 (2007).

Brockstedt, D. G. et al. Listeria-based cancer vaccines that segregate immunogenicity from toxicity. Proc. Natl Acad. Sci. USA 101, 13832–13837 (2004).

Sinnathamby, G. et al. Priming and activation of human ovarian and breast cancer-specific CD8+ T cells by polyvalent Listeria monocytogenes-based vaccines. J. Immunother. 32, 856–869 (2009).

Espinosa-Carrasco, G. et al. Systemic LPS translocation activates cross-presenting dendritic cells but is dispensable for the breakdown of CD8+ T cell peripheral tolerance in irradiated mice. PLoS ONE 10, e0130041 (2015).

Zhang, N. & Bevan, M. J. TGF-β signaling to T cells inhibits autoimmunity during lymphopenia-driven proliferation. Nat. Immunol. 13, 667–673 (2012).

Hartley, S. W. & Mullikin, J. C. QoRTs: a comprehensive toolset for quality control and data processing of RNA-seq experiments. BMC Bioinformatics 16, 224 (2015).

Wickham, H. ggplot2: Elegant Graphics for Data Analysis (Springer New York, 2009).

Dobin, A. et al. STAR: ultrafast universal RNA-seq aligner. Bioinformatics 29, 15–21 (2013).

Liao, Y., Smyth, G. K. & Shi, W. featureCounts: an efficient general purpose program for assigning sequence reads to genomic features. Bioinformatics 30, 923–930 (2014).

Harrow, J. et al. GENCODE: the reference human genome annotation for The ENCODE Project. Genome Res. 22, 1760–1774 (2012).

Subramanian, A. et al. Gene set enrichment analysis: a knowledge-based approach for interpreting genome-wide expression profiles. Proc. Natl Acad. Sci. USA 102, 15545–15550 (2005).

Li, H. & Durbin, R. Fast and accurate short read alignment with Burrows–Wheeler transform. Bioinformatics 25, 1754–1760 (2009).

Li, H. et al. The Sequence Alignment/Map format and SAMtools. Bioinformatics 25, 2078–2079 (2009).

Liu, T. Use model-based Analysis of ChIP–seq (MACS) to analyze short reads generated by sequencing protein–DNA interactions in embryonic stem cells. Methods Mol. Biol. 1150, 81–95 (2014).

Ramírez, F. et al. deepTools2: a next generation web server for deep-sequencing data analysis. Nucleic Acids Res. 44, W160–165 (2016).

Martin, Marcel. Cutadapt removes adapter sequences from high-throughput sequencing reads. EMBnet J. 17, 10–12 (2011).

Langmead, B., Trapnell, C., Pop, M. & Salzberg, S. L. Ultrafast and memory-efficient alignment of short DNA sequences to the human genome. Genome Biol. 10, R25 (2009).
Acknowledgements
We thank the members of the Schietinger laboratory, S. Reiner and M. Li for discussions and technical help; R. Nadler for technical assistance; A. Hurwitz and N. Restifo for providing TRP2 transgenic mice; MSKCC Flow Cytometry Core, especially R. Gardner; Integrated Genomics Operation Core, especially A. Viale, N. Mohibullah, A. Farina and R. Patel. We thank the J. Sun laboratory and B. Moltedo (Rudensky laboratory) for providing LCMV strains. D.Z., A. Schietinger, M.D.H. and C.A.K. are members of the Parker Institute for Cancer Immunotherapy, which supports the MSKCC Cancer Immunotherapy Program. This work was supported by NIH-NCI grants DP2 CA225212, R00 CA172371 (to A. Schietinger), U54 CA209975, V Foundation for Cancer Research (to A. Schietinger), the Anna Fuller Foundation (to A. Schietinger), the William and Ella Owens Medical Research Foundation (to A. Schietinger), the Josie Robertson Young Investigator Award (to A. Schietinger), NIH-NCI grant K08 CA158069 (to M.P.), V Foundation Scholar Award (to M.P.), Serodino Family Adventure Allee Fund (to M.P.), the Parker Institute for Cancer Immunotherapy (C.A.K. and A. Schietinger), the Weill Cornell Medicine Core Laboratories Center (P.Z., F.D., D.B.), Francois Wallace Monahan Fellowship (to O.L.), NIH-NIAID U19 AI11143 (to M.S.G.), NIH-NIAID R01 AI054977 (to J.K.), the Damon Runyon Cancer Research Foundation CI-96-18 (to C.A.K.), NCI R33 CA22539 (to C.A.K.), the Manhasset Women's Coalition Against Breast Cancer (to C.A.K.), the MSK Cancer Center Core Grant P30 CA008748. The Integrated Genomics Operation Core was supported by Cycle for Survival and the Marie-Josée and Henry R. Kravis Center for Molecular Oncology.
Ethics declarations
Competing interests
C.A.K. is a consultant and/or advisor to Aleta Biotherapeutics, Bellicum Pharmaceuticals, Bristol-Meyers Squibb, Cell Design Labs, G1 Therapeutics, Klus Pharma, Obsidian Therapeutics and Rxi Therapeutics. C.A.K. receives research funding unrelated to this work from Kite/Gilead. M.D.H. has received research funding from Bristol-Myers Squibb; is paid as a consultant to Merck, Bristol-Myers Squibb, AstraZeneca, Genentech/Roche, Janssen, Nektar, Syndax, Mirati, and Shattuck Labs; has received travel support/honoraria from AstraZeneca and BMS; a patent has been filed by MSK related to the use of tumour mutation burden to predict response to immunotherapy (PCT/US2015/062208), which has received licensing fees from PGDx. A. Snyder is a current employee and owns stock in Merck. D.Z. reports grants from Merck, and consulting fees from Merck, Synlogic Therapeutics, Trieza Therapeutics, and Tesaro. D.Z. owns a patent concerning the use of Newcastle Disease Virus for cancer therapy. M.S.G. is a paid consultant to Vedanta Biosciences and Takeda for work unrelated to this study. E.A.C. is a consultant to Pfizer, Novartis, Genentech/Roche, Cota, Heron Therapeutics, and Bristol-Myers Squibb; has received travel support/honoraria from Pfizer and Novartis; and receives research funding from Genentech/Roche unrelated to this work.
Additional information
Publisher's note: Springer Nature remains neutral with regard to jurisdictional claims in published maps and institutional affiliations.
Extended data figures and tables
Supplementary information
About this article
Cite this article
Scott, A.C., Dündar, F., Zumbo, P. et al. TOX is a critical regulator of tumour-specific T cell differentiation. Nature 571, 270–274 (2019). https://doi.org/10.1038/s41586-019-1324-y
Received:

Accepted:

Published:

Issue Date:

DOI: https://doi.org/10.1038/s41586-019-1324-y
Comments
By submitting a comment you agree to abide by our Terms and Community Guidelines. If you find something abusive or that does not comply with our terms or guidelines please flag it as inappropriate.